10 Advanced Features to Make your Healthcare App Successful
The Article covers top 10 most advanced features that you can include in your healthcare app and make your healthcare mobile app more advanced and successful.
The help of the Augmented Reality, Artificial Intelligence, Virtual Reality, and the various other latest technologies has changed the way of working in all fields, including healthcare. Now we have multiple types of healthcare applications that have made it possible for patients and doctors to consult and connect without stepping out of their houses. Rather than that, it also facilitates virtual communication; healthcare apps of the modern world are also transforming with their excellent and outstanding benefits.
However, with their increased use and popularity, such apps have increased the demand for healthcare applications that can serve various causes, from diagnosing diseases to on-demand doctor consultations.
However, with the thousands of apps available on the Play Store or App Store, it is more complex and easy to grab the attention of the targeted audience. You can achieve this by implementing innovative, top-notch features and functionalities and the advanced technologies in it. This article lists some of the essential elements that make healthcare applications achieve immense popularity and success. Let's dive into it!
Introduction: Healthcare App
Developing a smartphone application to improve the user's health and well-being falls under "mobile healthcare apps."
These mobile healthcare apps are helpful to those who have medical conditions or want to improve their health plan activities efficiently. Furthermore, patients and healthcare experts are involved in developing healthcare apps.
It implies that medical applications will help physicians, hospital administrators, nurses, and other staff enhance the efficiency of their tasks and operations. Hence, users may have access capabilities that include practice management, medical coding, medical billing, and telemedicine development via these apps.
Home Healthcare Market
The global home healthcare market was valued at USD 336.0 billion in 2021 and is expected to expand at a compound annual growth rate of 7.93% from 2022 to 2030. Its increasing geriatric population and rising of targeted diseases like dementia and Alzheimer's, as well as orthopedic disorders, are some factors expected to fuel market growth. The increasing treatment cost is the most critical concern for governments and health organizations, and thus they are striving to curb healthcare costs. So, home healthcare is a cost-efficient alternative compared to expensive hospital stay.
Image Source: grandviewreserach.com
According to the report by The Commonwealth Fund," hospital at home" programs enable patients to get acute and correct care at home with fewer complications and a 30% reduction in the cost of care. It helps ensure patient comfort and is projected to serve as the considerable impact ordering driver of a market. Hence, advancements in Medicine have shifted from infectious to noncommunicable diseases in developing countries. High consumption of alcohol and a sedentary lifestyle are some factors responsible for the increased prevalence of lifestyle diseases.
However, the availability of portable devices like heart rate monitors, respiratory aids, and blood glucose monitors has improved the efficiency and effectiveness of home care for lifestyle diseases. In the U.S Medicare reimbursements are most favorable in giving value-based healthcare for improved patient outcomes at a meager cost. Hence, in-home care has the modality of choice for treatment.
Top 10 Healthcare App Development Features for the Patients and Doctors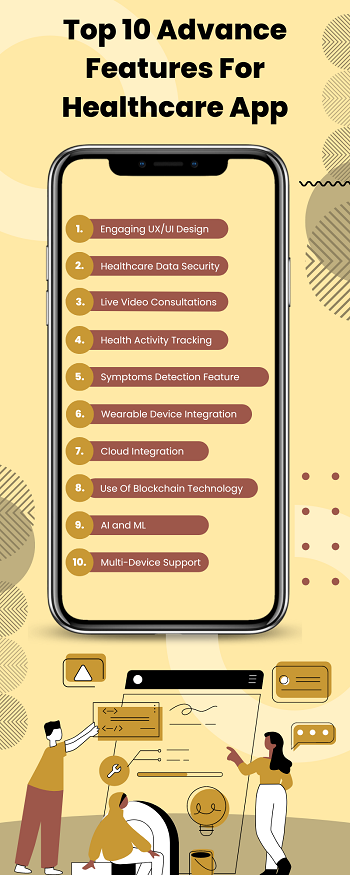 1. Engaging UX/UI Design Features
The UX/UI design of the app is the most crucial thing that comes in app development, so it needs to be attractive. But make sure that the design you make for your app sends volume about your business objectives and offerings. The theme should be related to your business, the navigation should be straightforward, and the interface must be user-friendly. So please hire the experts of healthcare app developers.
2. Healthcare Data Security
Healthcare applications deal with a considerable amount of user data, like the patient's healthcare history, medical records, and many more. However, paying attention to its security can not be ignored. Select the top-notch security measures for your mobile healthcare application to ensure the privacy and integrity of the users' data.
3. Live Video Consultation with the Experts
Nobody wants to take the chance when we talk about health, and integrating features for a live video consultation with healthcare professionals would help with that. Users can speak to specialists in real-time by opting for the video consultation features. As per multiple online studies, healthcare applications with this functionality have a huge chance of success.
4. Health Activity Tracking
Implementing this feature into the healthcare app will help users to monitor their health. Besides this, you can also give them information like tracking blood pressure by entering daily measurements; then, the app can view the list of foods they should ignore to maintain the balance.
5. Symptoms Checking Feature
It is an advanced and innovative feature you can add to your healthcare application. By including symptoms of the health issue, the app should view the health problem they might be suffering from. Hence, you can add features that tell users about the expertise they should visit for further diagnosing the problem.
6. Wearable Device Integration
By including this feature in the healthcare app, users can monitor, store, and sync the data with their applications. This feature helps users to monitor heart rate, sugar level, and many more. Moreover, they can also keep a record of the similarities in the application. Create a Fitness application that helps the users with this feature in the app.
7. Cloud Integration
Delivering cloud storage in healthcare apps will help patients access the information anywhere from any device merely by logging into their accounts. Moreover, it keeps electronic records of patients' prescriptions, medical images, and more. Cloud-based healthcare solutions make it easy to track the data in the cloud.
8. Use Of Blockchain Technology
Blockchain is an emerging technology for healthcare in app development of mobile. It helps to increase the security of the applications and gives the patients a well-synchronized healthcare ecosystem. This technology works on a cryptographic network, which combines with other functionalities that make the transactions secure and protected from cyber-attack.
9. AI and ML
Machine learning and Artificial Intelligence in healthcare can deal with massive amounts of data to get great results. Healthcare app users are aware of the distinct issues in advance. AI and ML-dependent apps are created for diagnosing multiple health issues to help doctors save time and obtain great accuracy in results.
10. Multi-Device Support
Nowadays, users have multiple devices to access healthcare applications, so make sure that your application supports them. For example, if you are creating a healthcare app for Android, ensure it is compatible with all versions of Android. Similarly, if it is for iOS devices, then it is consistent with the iOS version, which helps reach a broad audience.
These are some of the standard features vital to implement in healthcare applications. However, if you are creating a particular type of app, consult with the best healthcare app development company to know about any advanced features that need to be integrated to build the chartbuster among users.
Types of mHealth Apps in Demand
With the increasing use of digital platforms to render healthcare services, there has been a significant demand for healthcare apps. Hence, if you wish to develop a healthcare application, then below are some options you can select from:
1. Medical training app
Consider creating a medical training app for healthcare professionals to train interns. By implementing the potential of augmented and virtual reality, doctors can do surgeries to teach newbies in the medical field.
2. On-demand doctor app
Online consultation and primary treatment are now becoming the new trend in the healthcare industry. Hence, real-time apps that connect patients and doctors are in great demand. Since these types of on-demand doctor apps are already available in the market, you have to create an app with highly advanced features to make your app stand out.
3. A reminder of Medicine or appointment app
Sometimes we forget to take Medicine on time, and we all have experienced something. Hence, giving people an app that reminds them to take Medicine at a time is a great help. A schedule reminder app is also an excellent option to add your healthcare mobile app ideas.
4. Health record-keeping app
The demand for the digital record keeper to store medical history and various health-related information is skyrocketing. These apps help monitor and save their blood pressure, sugar level, weight fluctuations, and health-related information.
Conclusion
Here, we have given the list of the latest features which users can expect from this app. By embedding these functionalities and features into your app, you will surely hit Play Store and App Store. Moreover, We are a trusted name in medical software application development to give a perfect medical software solutions in healthcare industry. Get in touch today with your requirements.
Frequently Asked Questions (FAQs)
1. What do people want in healthcare app development?
Patients usually look for basic functionalities like the ability to schedule or cancel appointments, request prescriptions, and have easy access to medical records.
2. What are mobile health services?
MHealth describes wireless and mobile communication technologies to improve healthcare delivery, research, and outcomes. It plays a more significant role in engaging patients in self-care as smartphone ownership is rising in the United States and globally.
3. What will make your app unique?
The features are an essential part of any application. It helps to differentiate your app from the others. So, it caters to your priorities towards the inputting features in your app that will enhance the user experience.
---
--- ---
Related Articles