20 popular Types of web Hosting platforms explained in detail
Different type of web hostings explained with examples
---
BALVINDER SINGH
5 months ago
|
2 min read
---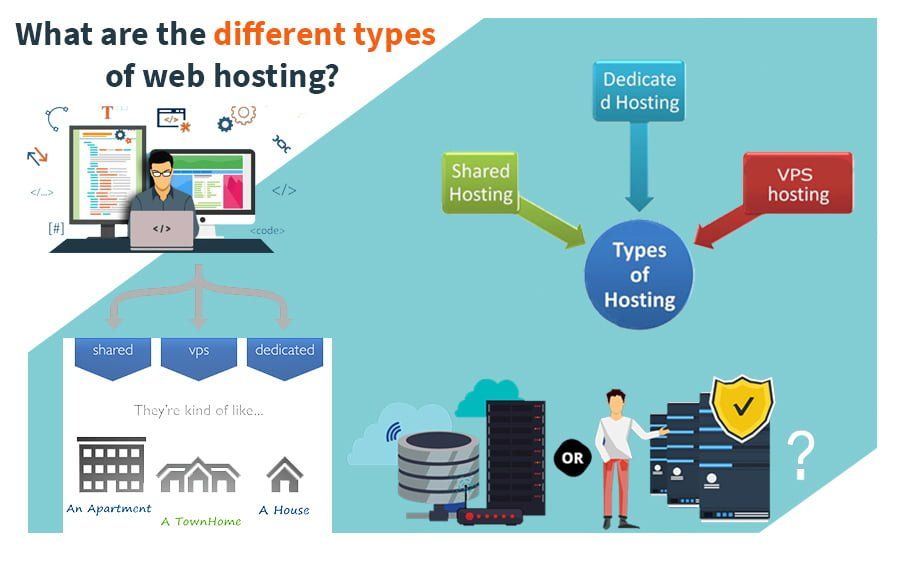 Hi everyone, if you looking for creating a new website, or just a blog. You might be looking for hosting and getting confused about which hosting to go with. Read this article more to know about types of hosting, probably for your next site. I will be sharing this in the series, so it is the first one you gonna read.
Before starting let us discuss what is Hosting and why we need the same.
Hosting or Web Hosting
So simply saying Hosting or Web hosting or say a web hosting server, all refer to the same thing as hosting.
So, Hosting is like a personal computer but someone else's. Let's take an example, we have a personal home computer or office computer where we install some apps like ms office or a game, which we can use as locally, but no one from far away can use. In so same way hosting is a service where someone provides his computer and connected resources for our use from far away, by the connected network.
So collecting all this together, Hosting is a computer with resources like OS, a hard drive connected over a network, available for use by someone over the internet.
We require hosting to install our web app and make it available to people all around the world for use. So now moving to types of Hosting.
Types of Web Hosting Services
Basically, we have two types of hosting.
1. Shared web hosting
2. Dedicated Web Hosting
Shared Web Hosting
It is a big hosting where some resources are common and available for use by multiple users. Let's say we have a machine with 100 CPUs, 10 TB hard disk, and 1024 GB ram. So In this case there can be more than 100 users using this system, without interacting with any other user. As the resources are shared anyone can use the same resource as and when required.
The benefit of this is like one user has some free resources and another needs to do something he will use the resource as another person not using it. After his use, the resources may be free again and can be used by another user and on. This way the hardware cost is reduced, as the resources are not dedicated to anyone and can be shared when there is a requirement.
Most of the hosting companies provide this hosting as the cheaper plans for small websites like GoDaddy, hostinger, etc. This one is best for small sites with less traffic and less load.
Dedicated Web Hosting
This type of hosting as by name shows has the same resources as the shared one, but they are dedicated to a specific user and not shared. So let's say a user wants a system of 2 CPUs, and 8 GB ram. He will be provided with the same hosting and only he will use it, no one else. This one is costlier than shared hosting, as resources are dedicated and will not be shared, even if they stay free anytime.
Hosting like VPS hosting, and cloud hosting are some examples provided by companies like GoDaddy, digital ocean. These hostings are best if you want more heavy sites with large traffic. Another reason is to get full control over your hosting, whatever specific you may want.
Read the full article at

https://tekraze.com/popular-types-of-web-hosting-platforms-explained/
---
Created by
BALVINDER SINGH
Lead Full Stack Developer at Dehazelabs.com. Founder and Blogger tekraze.com and love to write about programming, technology, tips and more.
--- ---
Related Articles