3 Black Friday Stats You Need To Know
Top stats to show the importance of Black Friday in Ecommerce
Black Friday is one of the busiest shopping days of the year. From special offers on retail products to Black Friday software deals, it's a paradise for a consumer. Brands also capitalize on the shopping frenzy to onboard new customers and generate some revenue before the inevitable sales slow down in the fourth quarter.
Here are three intriguing statistics about Black Friday to set the context for this gigantic Ecommerce event in 2021:
1. 2020 was a record-breaking year for online shopping with 100M consumers buying (+8% YoY)
Due to the shut down of physical stores, people spent and bought products online last year. NRF data shows there was a 44% increase in shoppers buying online this year compared with last year. This was of course coupled with a drop in in-store shopping.
2. Hot Wheels, Super Mario 3D All-Stars, Animal Crossing, AirPods, Apple Watches, Lego sets, HP Laptops, and Samsung & TCL 4K TVs were best selling products on Thanksgiving and Black Friday
The Adobe retail insights report pitted the above products as best sellers last year. On Amazon, the top products were the likes of Echo Dot, Fire TV Stick 4K Alexa Voice Remote, and Exploding Kittens Card Game.
3. Consumers have already spent 81B this year as per the Adobe Experience Cloud
In 2020, the revenue stood at 66B. But until the time of writing this article, the forecast of 80B was already exceeded with 25th November clocking a day of 5.13B in revenue as per the Adobe Experience Cloud: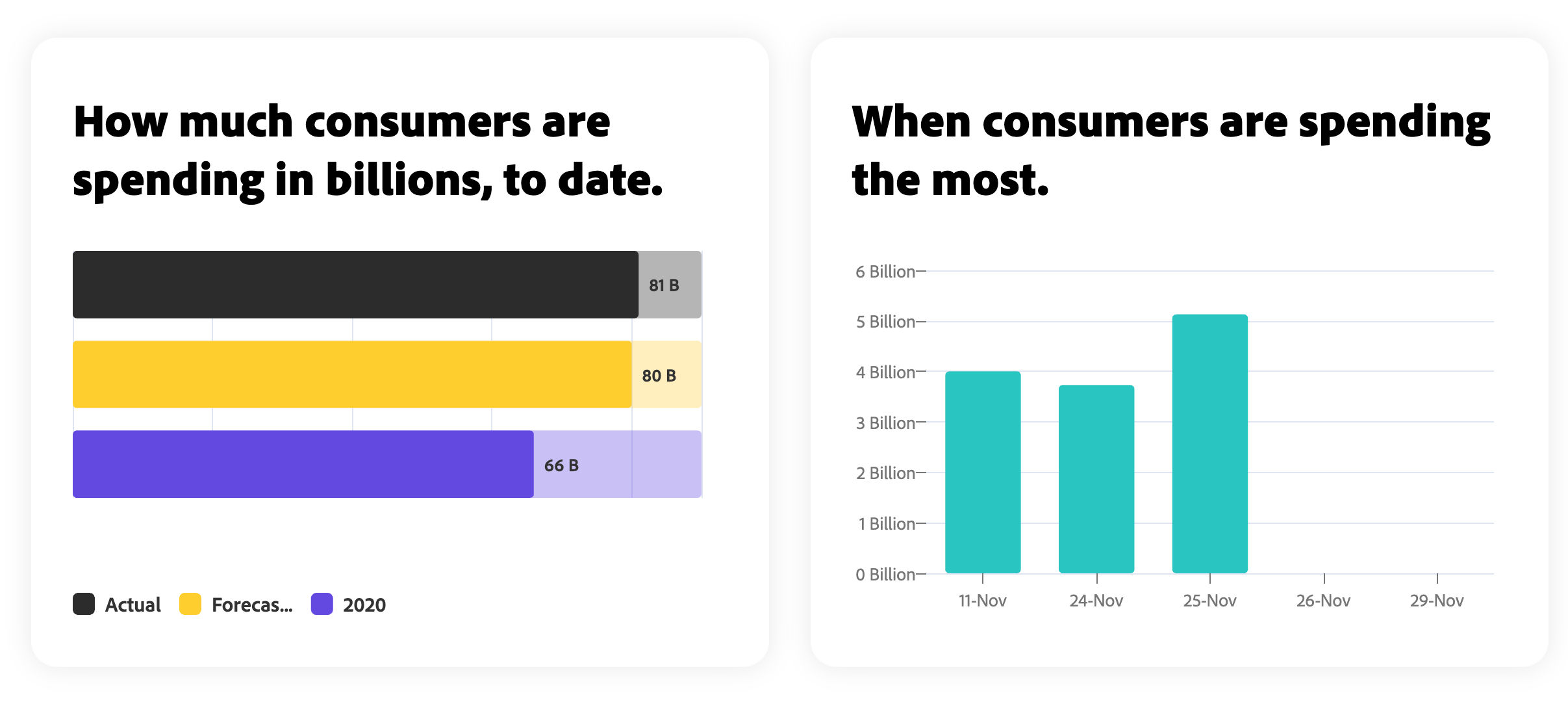 If you're a brand, this could mean capitalizing on the shopping frenzy by sending a special discount offer on your products to your prospects. Put a banner on your site to announce it. If you're a content marketer, blog about the offers by other brands. And don't forget to treat yourself a little this Black Friday as well :)
---
--- ---
Related Articles