3 Easy Hacks to Upgrade Your Resume
As a professional recruiter, I see 100's of resumes. I share 3 easy ways to upgrade your resume.
Photo by NordWood Themes on Unsplash
Yes, your next job interview is within reach!
As a professional recruiter with a focus on accounting and finance roles, I regularly come across hundreds of resumes daily. I am also usually in constant conversations with different companies across multiple industries to get a sense of the types of candidates on paper they are looking for.
In this article, I share 3 easily implementable hacks that you can use to upgrade your resume and increase the number of interview call-backs you get.
The 3 Hacks I will talk about:
Navigating Applicant Tracking Systems (ATS).
Differentiating yourself with your Accomplishments.
Demonstrating Emotional Intelligence.
Applicant Tracking Systems (ATS)
An ATS system is a human resources software that makes life easier for recruiters like me or hiring managers at companies you apply to when searching for candidates.
Companies generally receive hundreds to thousands of resumes every month, and due to the sheer volume of resumes received, carefully assessing and reading each one is nearly impossible for an employer.
ATS systems make this job a little easier. All the employer has to do is to log into their ATS system and apply some search parameters based on what they are looking for and how many resumes they want to see. The ATS system then spits out the resumes that are best aligned with the search parameters.
This means that applicants like yourself will need to optimize and tailor your resume to get through an ATS system and get in front of the employer.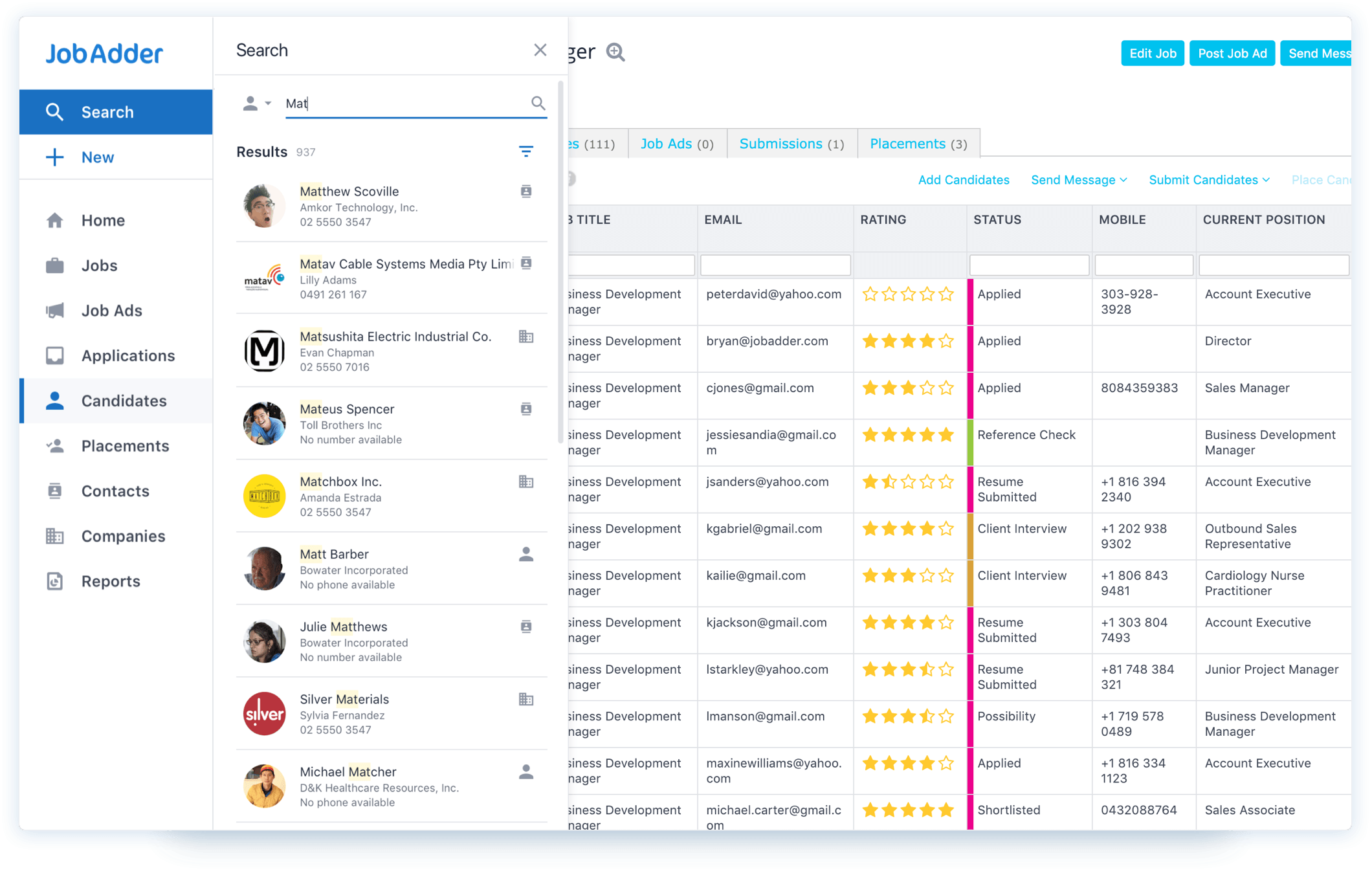 However, what actually happens when you send your resume in response to any job posted online?
HR receives your resume and stores it on their database.
Your resume is then run through a parser that removes all the styling and strips all the text on your resume into recognized strings of characters.
The parser then assigns meaning to your resume, looking at things like education, skills, contact information and experience.
An employer, recruiter or hiring manager then uses keywords to search for candidates in their database.
Your resume is then scored based on relevancy. Relevancy takes into account the semantic matching of the search terms and your years of experience.
As you can see, due to the sheer volume of resumes that the companies you are interested in working for receive, you need to be intentional about designing your resume to beat any ATS system and get in front of the right person.
Regardless of how qualified you are for the posted job you are applying to, if the right person is not seeing your application and subsequently reading your resume, your frustration and disappointment about being ghosted are likely to continue.
So how can you beat an ATS system and get the right person to see your resume?
Keywords
Adding attention-grabbing, concise and relevant keywords throughout your resume is necessary to be scored and ranked high by the ATS system. For example, if you are an accountant, using the keyword "bookkeeping" or "bookkeeper" is much better than "did the books". An employer is more likely to search for "bookkeeping" on their ATS system, instead of "did the books".
Also, review the job posting for relevant keywords and add them to your resume before you send it in. That being said, don't try and be too clever by stuffing your resume with too many keywords, you are unlikely to fool the employer. Focus on crafting the best resume possible based on your skillset.
See below an example of my resume with the keywords highlighted.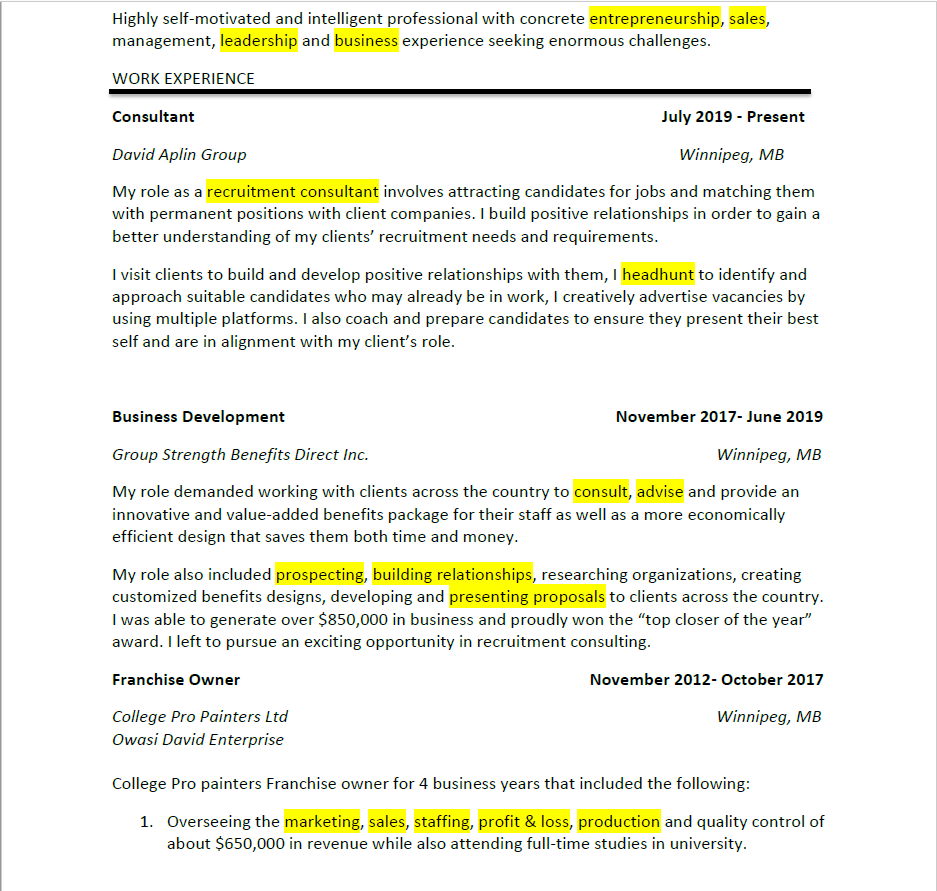 Template
It is essential for the ATS system to easily decode and understand your resume when it is stripped by the parser. To make this job easy for the system, stick to using a simple font type. A Sans Serif font type (e.g. Helvetica) is a good type of letterform for the ATS system to easily interpret.
Avoid using tables, columns, or shapes, they generally confuse the system. Also, stay away from using headers or footers on your resume as they are likely to cause a parsing error.
Structure
For maximum results, design your resume with an easy to understand flow and structure. I generally recommend breaking up your resume into the following structure:
Personal Information
Objective/Introduction
Experience/Qualifications
Education
Other Interests/Extra-curricular activities
To evaluate your resume against key criteria hiring managers and Applicant Tracking Systems look for, use this free resume scanner tool here and see how your resume scores. Also, I have put together a video presentation on LinkedIn explaining this in more detail, check it out here.
Highlighting Accomplishments
I am constantly astonished by the fact that over 65% of the resumes I come across don't include key accomplishments! Most people are only focused on listing all of their responsibilities, this is not a bad thing, except that everyone else with similar experience and skill-levels also only lists similar responsibilities.
Highlight your key accomplishments! Achievements and awards on your resume are one sure way to stand out and show an employer how well you performed your job; this goes beyond telling an employer about your job responsibility. This is a sure way to stand out from your peers.
So, what kind of accomplishments can you highlight?
Revenue or sales you brought for the company.
Money or time you saved for the company.
Problems you identified and solved.
Ideas or innovations you introduced.
Procedures, processes or systems you developed, implemented or optimized.
Special projects you were a part of.
Work or industry-related awards you won (e.g. top salesperson of the quarter).
Media coverage you gained for the company.
Funding, grants or scholarships you received.
Publications, reports or presentations you (co)authored.
Additional training you have completed and professional certifications.
Volunteering or community efforts
Achievements in sports or culture.
Highlighting these accomplishments doesn't have to be complicated or take up a lot of space, you can simply just list them in bullet forms just right after describing your responsibilities. See below an example of how I highlighted my accomplishments (5,6,7) from my time as a franchise owner on my resume.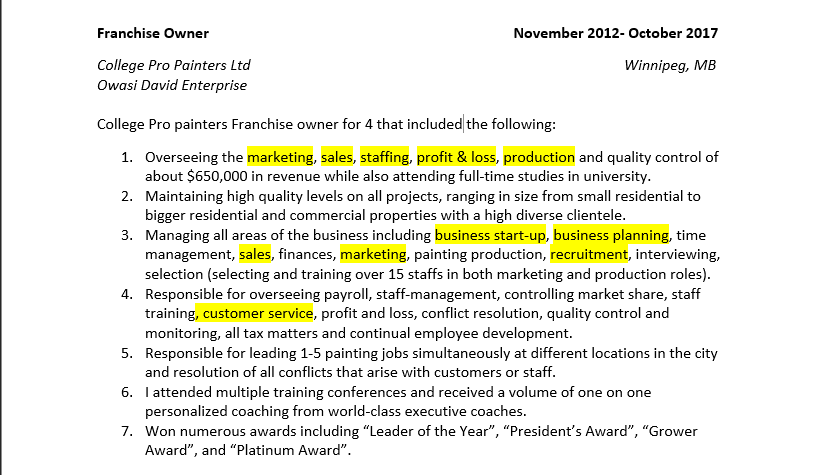 Demonstrating Emotional Intelligence
Leading psychologist Daniel Goleman defines emotional intelligence as the ability to identify and manage your own emotions, as well as the emotions of others. Skill in emotional intelligence is becoming quite a big deal in hiring as employers are looking for candidates who do not just have technical skills but are also able to understand, communicate and work well with others.
In today's ever collaborative work environment, career success takes more than intellectual excellence and technical acumen.
Your ability to demonstrate your skills in emotional intelligence on your resume gives you an aura and provides the X-factor that can help you stand out from the crowd. So, how can your resume detail emotional intelligence?
If you come across a job description that requires interpersonal communication skills, the ability to work with a team or manage others, you will likely have to demonstrate your emotional intelligence on your resume.
I cringe when I see resumes with blanket statements like "great communicator" or "get along well with others". Simply saying them may not be enough to impress employers. Instead, consider these strategies to further define your emotional intelligence on your resume:
Daniel Goleman defines emotional awareness as the ability to recognize your internal states, preferences, emotions and their effects. If you want to show your skills at awareness and perception of emotions, it can help to describe specific accomplishments when you used this skill.
For example, on my resume, I highlighted my accomplishment in successfully resolving conflicts with my staff and customers as a franchise owner. This demonstrates my skill in emotional awareness.
Alternatively, if you have ever conducted consumer research or made workplace improvements that quantifiably improved employee experience or customer satisfaction, you can suggest that you in fact can pick up emotional cues and attend to them before they create issues within the company.
Emotional regulation is your ability to manage your impulse, emotions and behaviour to achieve long term goals.
Highlighting the fact that you can manage your emotion is more than just saying, "I can keep my feelings under control". Instead, you have to demonstrate how you have been able to manage stress and respond well to emotionally heavy or difficult situations.
This may be described on your resume by revealing the types of deadlines you have been able to manage, how you improved productivity by a certain percentage or how you rose to meet a specific sales quota. All of these instances reveal your ability to keep your cool in tense or difficult situations.
I hope you found these 3 strategies to be helpful in upgrading your resume.
Hi, I'm David and I coach professionals to upgrade their resume, improve their emotional intelligence and earn more money. I am a professional recruiter and work as a consultant for a world-class recruiting firm. You can learn more about me at davidowasi.com. Also, feel free to check out my Ultimate Career Guide Course on Udemy.
---
I am a business owner, consultant and creative entrepreneur. I bring a lot of energy, passion and optimism to any project I am involved in. I drive to maximize my talents and potentials alongside those I work with. I bring a wealth of business ownership and coaching experience.
--- ---
Related Articles