3 Ingredients in your Quality content to Win Your Customer's Trust
Everyone can write, but not everyone is a writer. Writing takes passion, energy, and time. Writing is an art, and to make art beautiful, we have to polish that skill regularly. Many people are venturing into content writing and feel very skeptical about getting into B2B content because they feel like "I don't have an engineering background or software background."
---
QServices Inc.
10 months ago
|
2 min read
---
Introduction
Everyone can write, but not everyone is a writer. Writing takes passion, energy, and time. Writing is an art, and to make art beautiful, we have to polish that skill regularly. Many people are venturing into content writing and feel very skeptical about getting into B2B content because they feel like "I don't have an engineering background or software background."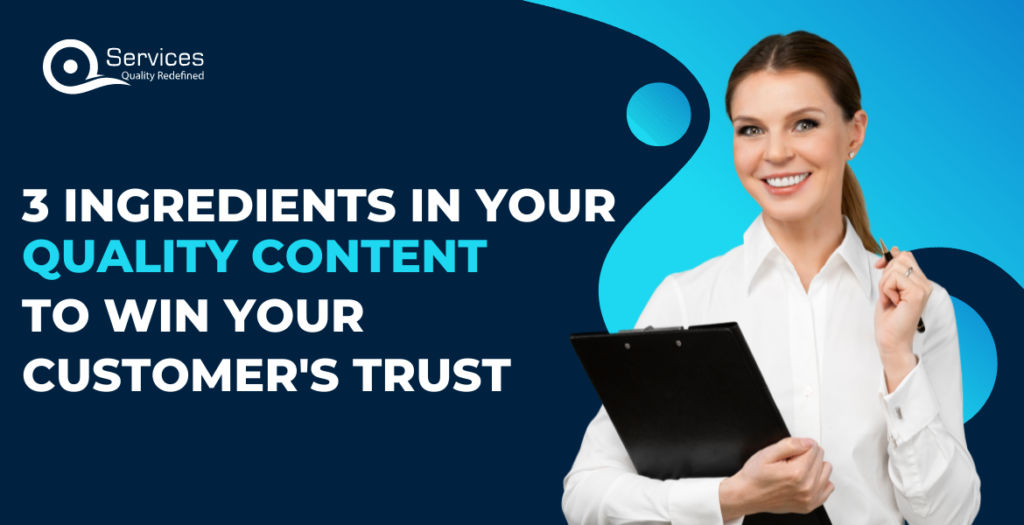 Ingredients of Quality Content
Building website trust brings so many benefits to a business. For example, have you ever seen your email inbox? When you open your emails, you will only respond to those companies where you find some interesting information, while others you delete or unread.
So, write content through which your customers show more responsiveness to open and read your emails, be more loyal to your brand, and are more likely to buy.
QUALITY
UNIQUENESS
AUTHORITY
Let's see them in detail one by one.
Quality
In all honesty, there's no shortage of advice on improving the quality of your content. So well, here is a brief explanation of the things that surely you will be well familiar with. Here they are
Content Writers Need More Practice
Writing is a skill that almost anyone can learn and master but with regular practice. Think of playing the guitar. When you first try it, you surely can produce some sound, but it can hardly be called music.
Alignment of Content
It is a well-studied fact that most people will exit the article before reading it, which will help them evaluate if it is worth reading. If your article doesn't look good, people are unlikely to invest their time in reading it. Here are the things that make your content visually appealing.
Redesign your blog
Quality images
Short paragraphs
Eye-Catchy Headlines
Headlines are a crucial part of your entire article that people will see on Twitter, Facebook, Google, and your blog's homepage. This means you only have about a dozen words to persuade people that your article is worth their attention and to build B2b Content Marketing Strategy. Writing headlines that lure people into your content is both art and science.
Uniqueness
An upsetting trend in blogging and content marketing is when you go after some keywords. So many people research everything already published and then try to squeeze it all into their single article.
But this way, you're only creating a clone of existing content and not adding any extra value. And if it's a clone, it doesn't deserve more attention than the original. So with this approach, you're immediately putting yourself one step back from your competition. Furthermore, it has to be unique if you want to stand out with your content. So how to create unique content?
Well, you still have to research everything that has already been published on the topic. But then you don't create a clone. Instead, you create something that would be different from what's already there.
Read the full article on QServices Inc.
---
QServices is an offshore software development team to architect, design, and develop your vision. We are a group of passionate professionals who shape your ideas with innovative solutions.
--- ---
Related Articles