3 Reasons Why 3D Immersive Environment Will Be The Future of Global Conference
Can virtual conferences beat physical ones?
---
Wow AI
9 months ago
|
3 min read
---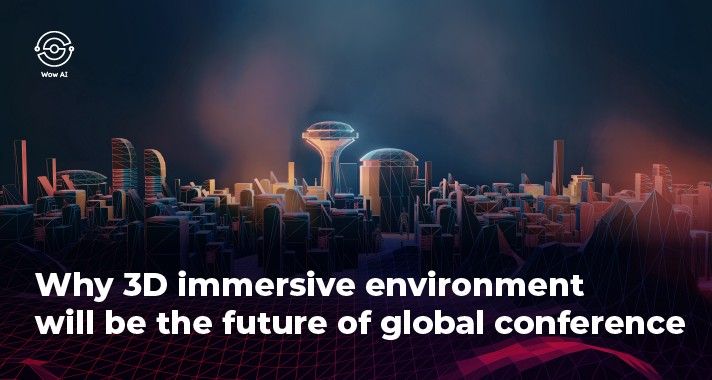 Over the last few months, with work-from-home orders preventing in-person collaboration, we're all more hungry for connection than ever.
Webinar attendance has spiked around the globe, and systems have crashed trying to handle the throngs of online attendees to first-time virtual events. With so many events going virtual and Zoom fatigue becoming the norm, we're now seeing event organizers push past traditional 2D platforms such as On24, Microsoft Teams, and Zoom in an effort to provide fuller immersion and engagement.
Let's see what is 3D immersive environment and how it can leverage your experience!
What is a 3D immersive virtual conference?
Danny Stefanic, CEO of MootUp, echoes this sentiment: "3D platforms put the audience at the center of the experience. They provide the ability to have those chance encounters and hallway meetings, and to drive social connection."
When it comes to hybrid events, these platforms are also offering innovative solutions. It takes advantage of thousands of real-life venues that have been scanned and input into a virtual environment. This enables remote attendees at a hybrid event to virtually explore the exact venue where the in-person event is being held, leading to a more cohesive experience and facilitating the event design process for organizers.
Meanwhile, some platforms allow for 360-degree cameras to be set up at the in-person event so that virtual attendees can view the immersive live stream and look around the room as if they were in the audience.
Stefanic believes that this technology is a precursor to more immersive virtual reality experiences down the line:
"I'm a big believer in virtual reality, but it still has a long way to go. Our platform is kind of a bridge — it allows people to use the devices they have today while also allowing them to dip their toes into using virtual reality."
Photo by Wow AI
How 3D makes memorable experiences
Traditional webinars are appropriate for some situations. Attendees typically view a live presenter, who may also use a slideshow to deliver information to a wide number of people. There may be some interaction through a chat window; attendees ask questions, and a moderator selects from them for a response from the presenter. These events have become commonplace but they lack the impact of a more immersive experience and fall short when it comes to disseminating complex and engaging information and concepts.
In contrast, an immersive 3D virtual event is interactive, with visually stimulating 3D graphics providing an environment they can explore and experiences that engage them. For example, an immersive 3D virtual event can mimic a real conference, where the user moves around the various areas of event space, all with live or recorded content and options to set up meetings or see 3D product demos.
1. Immersive 3D virtual events let users choose their own journeys
Traditional webinars create passive experiences; users primarily listen to content in a serial format. An immersive 3D virtual event allows attendees to wander between many parallel activities per their interests and priorities. Like attending a real-world event, they can choose when and where to go. Even better than a real-world event, the experience can be recorded, so users can continue to explore even after the live event has ended. While live interactions would be limited to the live event schedule, the experiences and content on an immersive event platform would continue to bring them value and allow a much wider audience to attend.
2. Immersive virtual events make a lasting impression
So why 3D? It's all about creating those memorable experiences. Recent research has shown that users in virtual and 3D environments have improved learning outcomes and increased memory retention due to spatial presence. Embodying an avatar and engaging in a 3D world ignites areas of the brain typically reserved for physical encounters. It also allows for more self-expression through the ability to customize and animate avatars and peer-to-peer interaction.
3. Immersive virtual events facilitate networking and engagement
On traditional web meeting platforms, it works best when one person speaks at a time, making it difficult to network unless users want to do so in the chat box. But networking is one of the main reasons people attend events. Online event platforms give them exactly what they want through integrated communication systems like:
Chat rooms according to interests

One-on-one communication with exhibitors, sponsors, or other attendees

3D product demos with live video, voice, or chat
And more
Attendees can go anywhere and choose to interact through video or chat. That means they can check out areas such as:
Keynote speeches

Breakout rooms

Networking lounges
and more! All with their peers!
Photo by Wow AI
Experience a 3D immersive environment at Worldwide AI Webinar
Worldwide AI Webinar is brought to you by Wow AI — a global provider of high-quality AI training data. With a view to gathering all the best AI researchers and practitioners and promoting a stronger network of AI and Machine Learning professionals around the world, Wow AI launched this must-attend Worldwide AI Webinar
Join our Worldwide AI Webinar!
🔸 Event details
Time zones: 9:00 AM — 6:00 PM New York Time
Date: 29–30 September 2022
Language: English
Fee: Free & open to everyone
Follow us on LinkedIn, Twitter, Facebook, and YouTube to receive daily industry updates!
---
Wow AI is a trusted partner that provides high-quality data for AI training in different languages at a large scale. We are experienced professionals with a track record of success in numerous types of data collection. With a crowd of over 100,000 project contributors all over the world, we can provide massive, scalable, high-quality data across data types. We also provide off-the-shelf data and tailor-made data for your AI/ML projects.
--- ---
Related Articles