These 4 Entrepreneurs are simultaneously improving the women's and environmental health in India
SAATHI, founded by Kristin Kagetsu, Tarun Bothra, Amrita Saigal, and Grace Kane – the graduates of MIT, Harvard, and Nirma University
Ever wondered why is there so little done about female sanitation products? Why have there been negligible innovations in this important field? Or how about if there really is a way to make sanitation products which would make the environment better too?
Though India has emerged as one of the greatest countries to live in, that has changed little for many women who have been using pieces of cloth for generations. Women need more than just a sheet of shame and it seems that SAATHI has figured it all out. Continue reading to learn more.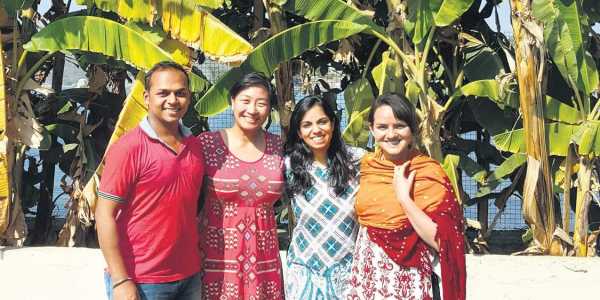 The taboos around menstrual hygiene that women face in India aren't unheard of. Only 12% of women have access to sanitary napkins with 88% of them using any piece of cloth they find. 70% of women are at risk of health-related issues and over 23% of girls drop out of school at puberty! Providing sanitary napkins alone isn't going to bring a change. A change starts when you bring new hope, a new idea to the market! And, this is exactly what brought the four pillars of SAATHI together.
SAATHI, founded by Kristin Kagetsu, Tarun Bothra, Amrita Saigal, and Grace Kane – the graduates of MIT, Harvard, and Nirma University, aims at creating eco-friendly, compostable sanitary napkins. SAATHI pads:
are made using biodegradable and compostable plant materials
are made with banana fibers instead of other natural fibers
degrade within 6 months– 1200 faster than plastic pads
Founded in 2015, SAATHI has already been recognized as one of the most innovative and sustainable innovations of our generation. They have been listed as the 3rd Most Innovative Company in India along with winning the 2019 St Andrews Prize for the Environment. They have been named Grand winner at Asia Social Innovations Award 2017and has finished as one of the top 18 finalists at Cartier Women's Initiative Awards.
WHAT MAKES SAATHI PADS DIFFERENT?
SAATHI isn't a regular sanitary napkin manufacturing company, it has rather introduced the concept of manufacturing bio-degradable sanitary napkins from banana fiber. Though it might sound like a simple idea, what goes behind the process of manufacturing makes this company special. The company promotes the idea of working along with local suppliers to ensure their growth in the market. The banana fiber used is provided by local farmers which, in turn, not only increases job opportunities but also promotes the importance of sanitation and hygiene among local people.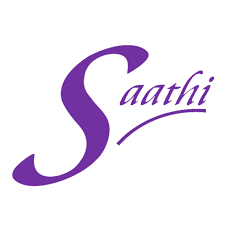 WHY USE BIODEGRADABLE PADS MADE FROM BANANA FIBER?
Many women have issues with rashes and irritation from the plastic that goes into making regular pads. Since a normal sanitary pad contains about 3.4g of plastic, an average woman generates 23 kg of plastic from discarding pads in her lifetime. A 2017 report suggests that around 170,000 tonnes of sanitary pad waste was disposed of.
Saathi pads degrade within six months, in comparison to the 500-800 years taken by regular sanitary. A massive boost of around 1200 times! Also, banana fiber has excellent absorbent properties, along with the environmental and social benefits of its supply chain.
THE 4 CO-FOUNDERS THAT MADE THE DIFFERENCE
The driving force for these 4 co-founders was the age-old idea of improving women's access to sanitary pads in India.
Kristin had previously launched and worked on commercializing a sustainable product by local artisans in Uttarakhand. She was extremely passionate about making a product that is sustainable using natural materials and impacts women. Tarun had a bad experience of a family member having to face the taboos around menstrual hygiene in India. He thus wanted to bring his business experience in renewable energy, materials, and passion for improving the lives of the people of India.
Read More: MEngage: An engaging story of a doctor-patient engagement app that's revolutionizing the healthcare facilities
Grace and Amrita were passionate about sustainable product design and wanted to develop an innovative product to positively impact the lives of women in India.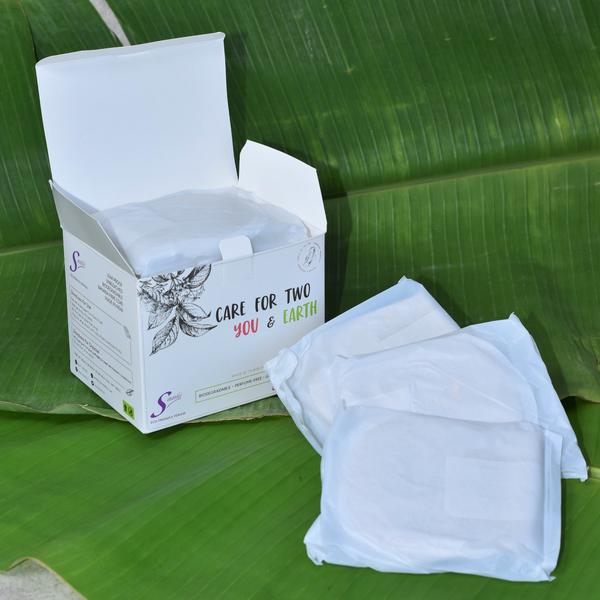 They all had personal reasons or passions which drove them to revolutionize the sanitary pad industry. The cofounders together found a way to source natural eco-friendly materials for sanitary pads. Thus, they ended up with a product that not only positively impacted women but also improved the environment's health.
We were motivated by the potential to make a positive difference for women in India while using an engineering approach focused on ecology and sustainability.
HOW ARE THEY REACHING OUT TO THE PEOPLE?
Enjoy, work and improvise!
This is the company's mantra which inspires its team members to work every single day and bring creativity in its products. By instilling a similar driving force in their employees, they ensure a productive and efficient working space. They have created a strong customer base through effective and consistent digital marketing. Moreover, they hope to be in a prominent place in the next five years by expanding their products on a global network.
Read More: Cuero: A tale of creativity, imagination, and beautifully handcrafted shoes
They believe in constantly learning and using adaptive methods to move with the times and keep their product ever-relevant to the masses. They also conduct workshops which focus on bringing awareness among young girls and women. These workshops provide females with secure platforms for open discussions for them to learn and share more about their bodies. They have reached out to hundreds of women through these workshops and plan on conducting more in the future.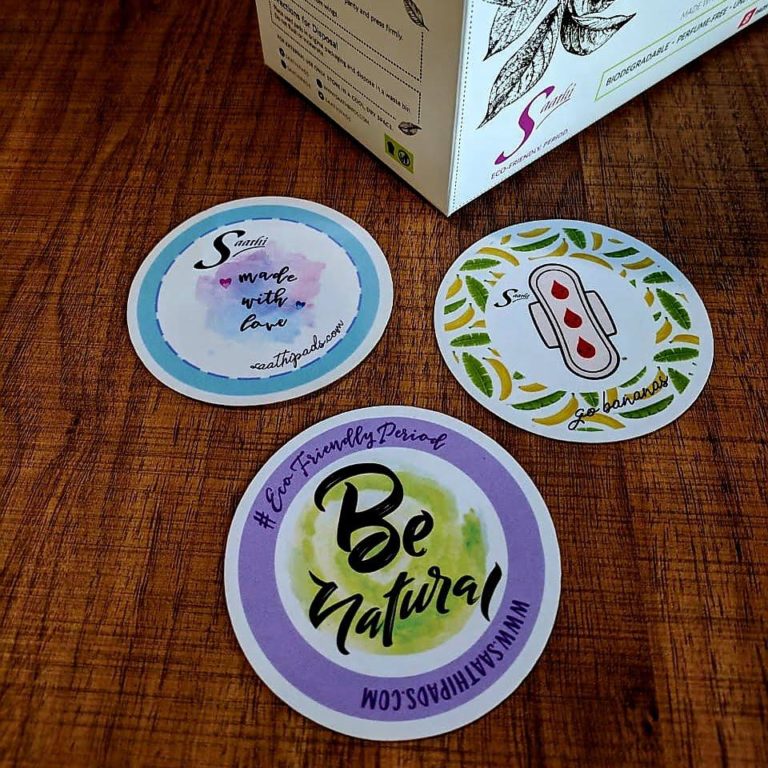 A short Film based on Saathi story, "Miyan Biwi aur Banana" was also made and successfully screened at a major film festival. They have also delivered over a hundred thousand pads to women in and around rural Jharkhand through their #OneMillionPads program.
THE FUTURE PROJECTS
Sanitary napkins are just one among the many biodegradable products the company works on. Though the other products haven't been introduced to the market yet, the Saathi pads have already managed to put the company in a highly respected place in the society. With the idea of improving women's access to sanitary napkins in India and impacting their lives, this company is an inspiration to all the upcoming startups who aim at bringing a change in the society. Their business model embodies circular economy, work together and grow together.
Saathi is more than just a startup's story, it is a tale of dedication and revolution.With its inspiring ideology and strong business model, Saathi is definitely a name bound to touch the skies soon.
---
Ideas are easy, Implementation is Hard, learn from the ones who knows how to start. A Publication by Tealfeed.
--- ---
Related Articles