Exclusive
4 self-reflection activities have helped me go through the not-so-good phase of freelancing
Freelancing is tough. It's a wild ride. It's literally an emotional and psychological roller coaster. And if you have dared to get on the ride, you will need these four habits to handle both the thrills you feel when you're at your highest and the pit you feel when you're at your lowest in this journey.
---
Shweta Gautam
in
The Wellwords Newsletter by Shweta Gautam
5 months ago
|
4 min read
---
Hello freelancer,
Welcome to the second edition of The Wellwords newsletter.
[If you haven't read the first edition yet, you can do that here].
Before I jump into giving you all the nuggets and secrets of building a satisfying freelancing career, I want to get the basics out of our way.
I have been practicing some of these from the first day of my freelancing journey and I figured out the rest of them along the way. All in all, it took me 1.5 years to get these right. But, you don't have to waste that much time.
The goal today is to set a strong foundation for you with habits that will yield results in the long run.
If you have been around my social media for a while, you would already know I am a pen-and-paper girl.
I started my self-education as a freelancer in May 2022 and began implementing my learning in September 2022.
Along with all the "preparation" I did to kickstart my professional writing journey, there have been a lot of changes and transformations with time. But there's one habit that has stayed with me from Day 1.
Along with that one habit, I have layered a few others to keep the momentum of workflow even on my bad days.
So, let's see how things have unfolded for me with reference to these habits and how you can implement them to leverage your writing skills and ultimately create a flourishing career out of them:
In 2020 and 2021: Everyday To-do lists
The image you see below is what my very first week as a freelance writer and blogger looked like.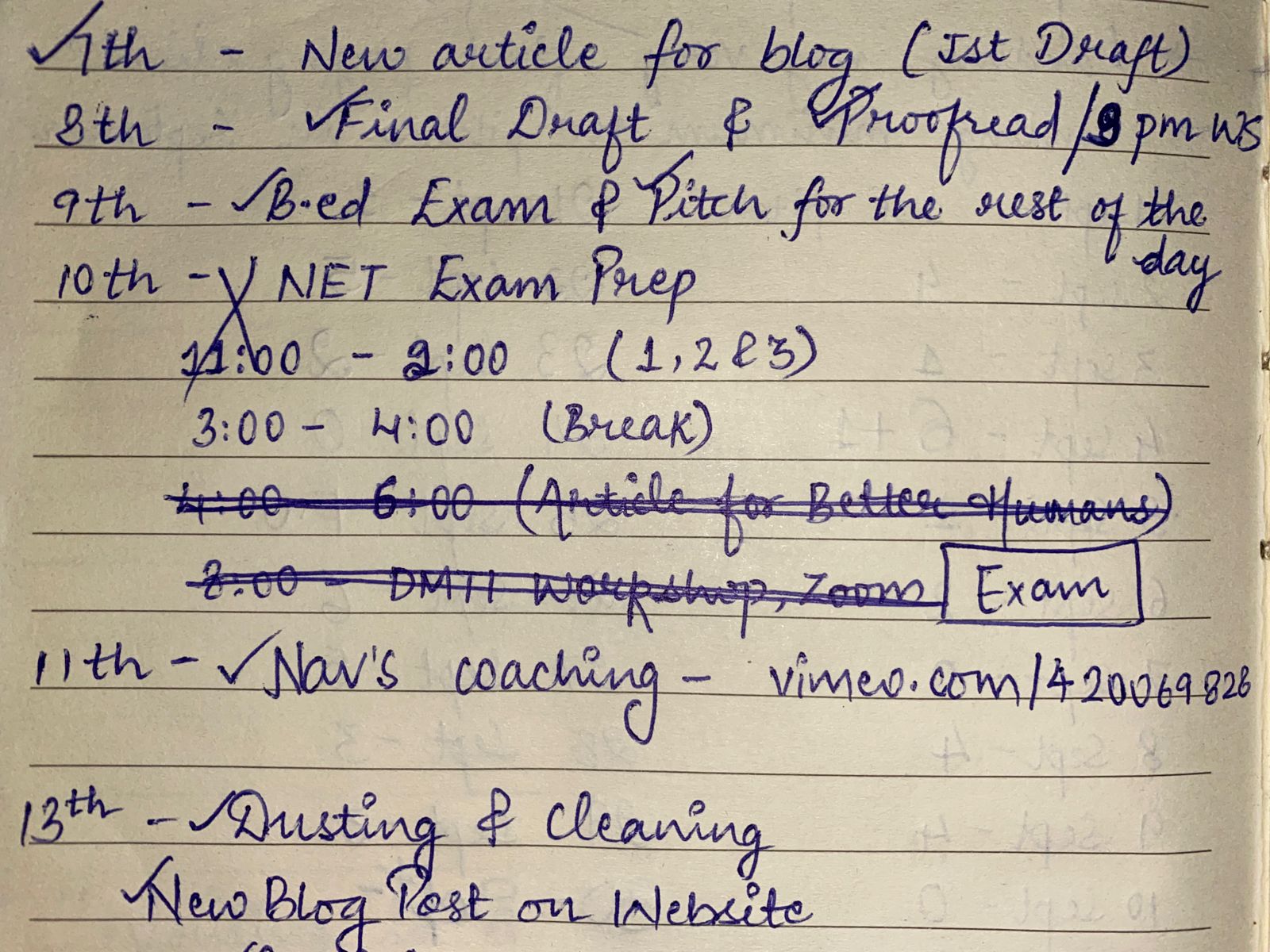 I know there isn't much on the list because I started with the notion of writing the major task for the day. However, this changed within a week.
I watched a video by a writing coach who emphasized having a minimum of 3 to 5 tasks on your everyday to-do list. She also mentioned that you must write these tasks in the order of priority for the day.
This was the foundational habit that has stayed with me even after 2.5 years in the profession. Since then, there hasn't been a day when I sat down at my laptop without knowing what my day would look like.
But as I mentioned: THINGS CHANGED.
The content below this will be accessible to your subscribers ONLY
Subscribe to my Newsletter
A weekly, ad-free newsletter that helps designers stay in the know, be productive, and think more critically about their work.
---
Created by
Shweta Gautam
in
The Wellwords Newsletter by Shweta Gautam
--- ---
Related Articles