4 Tips for Using Event Management Software Effectively
Users and event organizers can access and control all parts of an event, including registrations, publicity, communication, connections, physical organizing and preparation, data, analytics, and more, with a fully complete event management system.
Users and event organizers can access and control all parts of an event, including registrations, publicity, communication, connections, physical organizing and preparation, data, analytics, and more, with a fully complete event management system.
What Components Makeup Event Management?
Event infrastructure, audience, participants, organizers, venue, and media are the six main components of event management. All these components must be manageable by your online event software. Check to discover how.
Infrastructure for Events
The system should provide resources for organizing the kinds of events you enjoy. The programs should be able to build and display the agenda, speakers, presentation materials, location, and hotels for corporate events.
Target Audience
The event management software should make it simple for you to reach your target audience. For instance, the event management CRM should be able to extract client information from CRM or mailing lists and send automated emails to invite them to your event.
Attendees
Following registration for your event, invitees turn into attendees. Therefore, online registration should be included in your event management system. The finest event management software, such as the InLogic event management system, enables invitees to register online via the app and interact with speakers and other attendees after completing their registration.
Event Planning Software
The event should always be completed within the organizers' control. Keeping track of your event is simple with the InLogic event management system internationally accessible web platform. Using the Guide mobile app, you can create and amend the event's schedule, time, sessions, and presenters and automatically notify attendees.
Event Location
The program should be able to check guests in at the venue, print badges for attendees and register attendees for in-person events.
Media
For formal and business events, the software you employ should be compatible with social media, email, and other marketing software so that you can spread the word and advertise your event.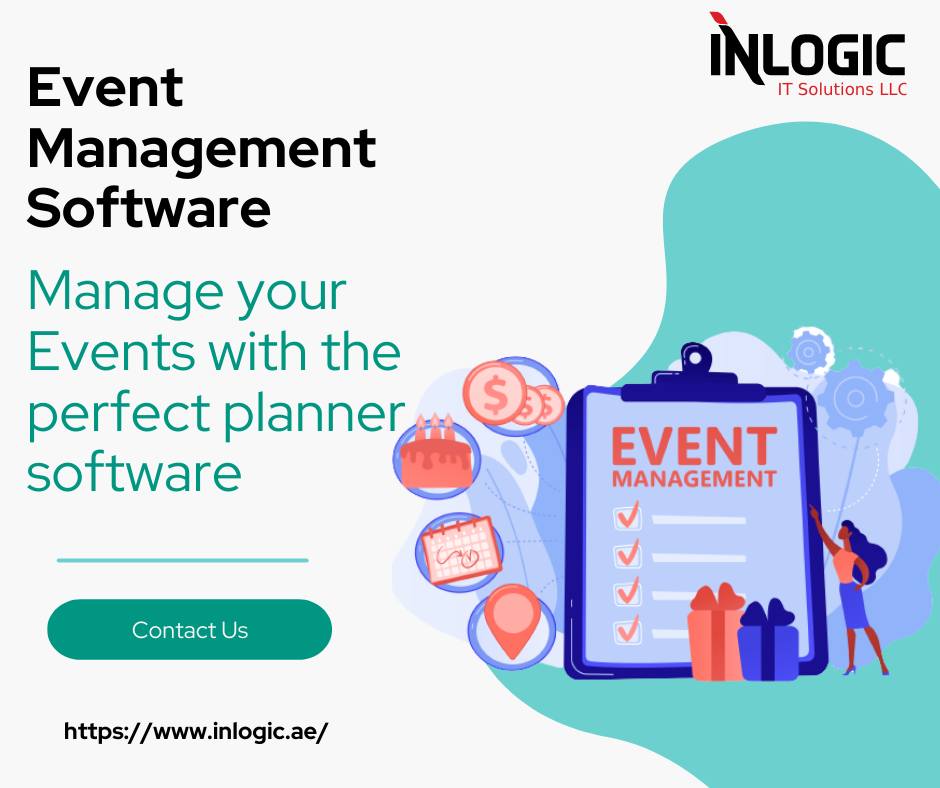 4 Tips for Using Event Management Software Effectively
Define Your Goals For Using Event Registration Software
By making it simple to measure your profits and provide information as required by creating sales reports, the correct event management system may help in this area. Track tentative events to promote consumer follow-through. Watch for trends in event cancellations so you can take action to reduce them.
Identify The Types Of Events You Typically Host
Corporate, private, and charitable events can all be categorized separately. While private gatherings are more leisurely and charity events are for altruism, corporate events emphasize businesses and clients.
The finest corporate events have objectives that are specific and doable. It makes sense, considering how much money is spent on each one and how much planning is involved.
Choose The Right Event Management Software For Your Needs
Automation has the one-word response you're looking for. Naturally, this requires awareness of its applications and range to the numerous essential components of event preparation.
Event management solutions
In contrast to most video conferencing services, they are signed to provide specialized experiences and unique advantages to various enterprises, such as automating time-consuming and manual event duties.
The appropriate event management software must be a game-changer for event planners, enabling them to monitor the whole flow of an event and handle both the physical and virtual components with ease.
A valuable event registration software helps both organizers and exhibitors to automate most operations for rapid and flawless execution, from registration and check-in through lead gathering and reporting.
Sending out invites, manually admitting last-minute participants, handling cancellations, and restricting access to certain event sessions are administrative activities that may be done easily.
By assisting your exhibitors in evaluating their business outcomes via event management tools, you should be able to gauge your influence as an organizer.
The ideal online event software should provide you with transparent and user-friendly dashboards and data that let you visualize your success and guarantee that you optimize your investment return.
Event management tools are crucial to keeping each audience's experience top of mind. Interactions allow visitors and exhibitors to provide feedback on the overall event experience.
Access all engagement data from live chat and video conferencing technologies, as well as from recorded, contactless encounters at live events, in one location to ensure that your event management software supports the engagement of a distributed audience across many channels.
Create event reports using statistics to examine what went well and where you might do better the next time. Keep in mind that if you are aware of your competitor's performances, you will also be.
Use Social Media To Promote Your Events And Connect With Attendees.
Use these 5 strategies to advertise your next event on social media with event management system.
Hashtags

. Make a hashtag for the event and use it consistently.

Contests

. Contests are a simple method to persuade your guests to tweet, post on Instagram, or use Facebook.

Ambassadors

.

Recurring

Posting

.

Communication

with Your Followers.
What to Look for in an Event Management System Provider?
A feature set that smoothly connects all the moving parts of your event portfolio is the foundation of effective event management software like InLogic's event management system.
Your team can save a ton of time and money while providing a consistent experience at all your business meetings and events by combining all event planning procedures into a single platform that works well with your current technologies.
---
Created by
Inlogic IT Solutions
Inlogic IT Solutions is a global IT Solutions company specializing in shaping its customers' future by combining deep business insights with the understanding of how technologies will impact industry and business models.
--- ---
Related Articles