5 Productivity Apps That Will Aid Your Creative Process
Take your creativity to the next level with these five must have productivity apps!
Just like the classic "starring at a blank screen" feeling, sitting down to get creative can be daunting. While the most important thing to remember is that sometimes it just takes time, there are some tools that I use along the way that help get the ball rolling and keep my jumbled up mind somewhat organized.
1. NOTION — The ultimate one-stop-shop
I like to notion think of it as my home base workspace. Everything I want to remember goes in notion: Memorable quotes I hear, to-do lists, a database of books I want to read, ideas for blog posts, calendar, workout routine…and the list goes on.
What is so amazing is that Notion is completely customizable for you. They provide templates for budgeting, school schedule, content calendar, application tracker. Whatever you do, you have the ability to make it work for you.
Here is a little snapshot of what a Notion page for my blog looks like, but like I said, it's a blank slate to create it however you like.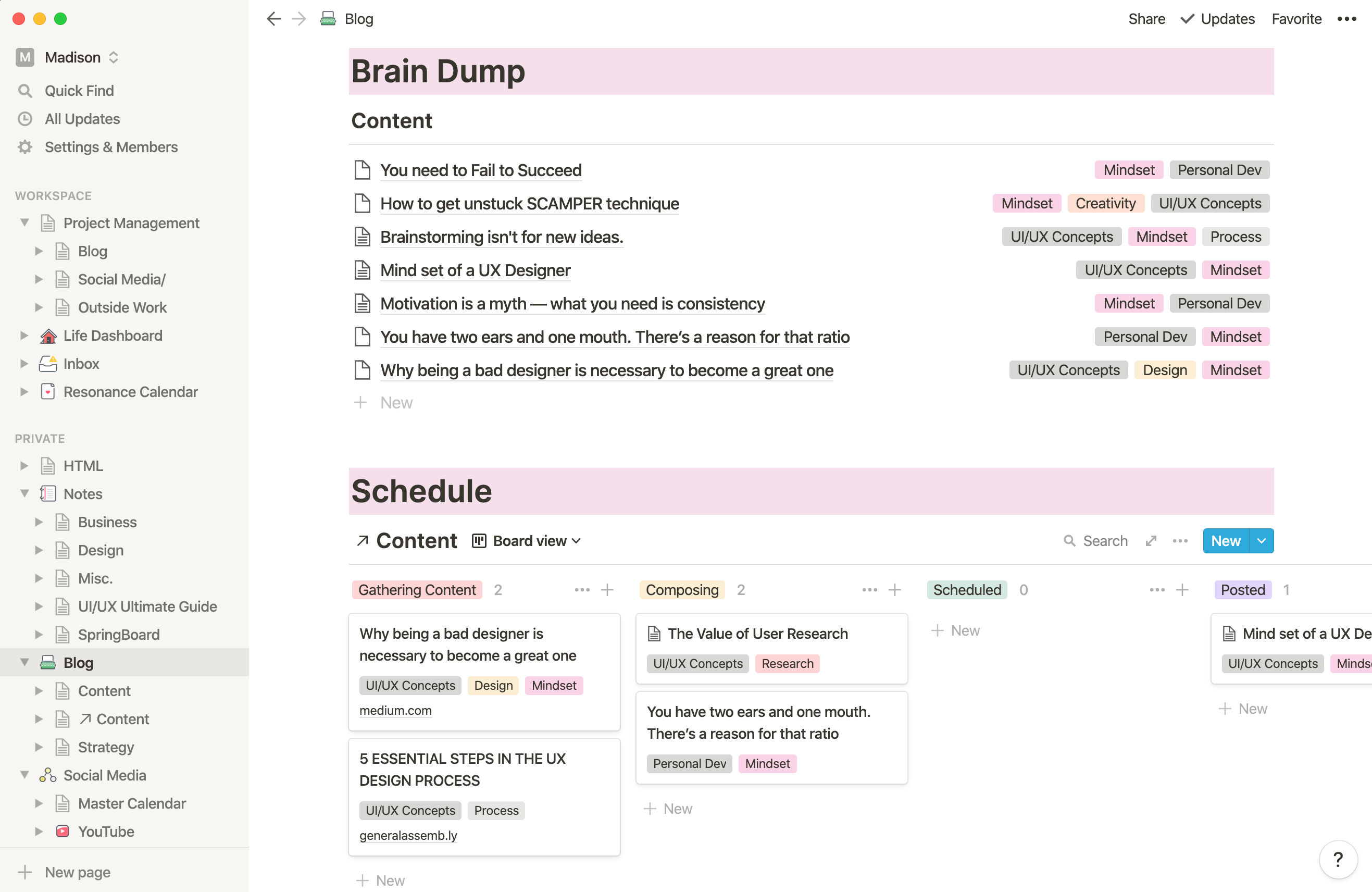 Nothing I say can quite put it to justice, so I recommend downloading it ASAP to see for yourself.
Get Notion here!
2. FOREST — Stay focused and plant a tree.
The Pomodoro method is a time management method that increases focus. It traditionally entails 25 minutes of work followed by 5 minutes of break. Knowing that you'll get a break soon allows the mind to work hard for that 25 minutes. It also helps prevent fatigue through frequent breaks. I typically will do 45 minutes of work and 15-minute breaks, but find the sweet spot for you.
If you use forest, it will plant a tree as you work. If you leave the app before the time is over, your tree dies. If you complete you work time, you will get coins that you can use to buy different types of foliage. The best part? Every time you use those coins, it goes towards planting real trees!
Note: You can us whatever Pomodoro app that works for you.
Get Forest Here!
3. DRAFTS — Just get writing
If your creative process includes any type of frequent writing, I recommend using Drafts. It is a no-nonsense app that encourages you to just write. I'll write the first drafts of my blogs there. Something about going into an app called "Drafts" (vs opening up a word document) makes me feel less pressure to write something amazing and, instead, just get writing. This has saved me tons of "blank screen staring" time.
Plus, it automatically saves and syncs with all your devices so no more worrying about computer crashes and you can pick up whenever, wherever you'd like
Get Drafts here!
4. CANVA — Graphic Design for Everyone
This is the secret to wowing all of your co-workers with your eye for design. If you are trying to make anything visual (PowerPoint decks, social media posts, flyers, album covers, website banner…etc) this is your go-to place. Canva is filled with templates for any occasion and has an easy to use interface so that you can customize any of your content. You can whip up some content in seconds and look like you've been doing it for years (regardless of your skill level.)
Use Canva today!
5. MY INSTAGRAM "BUNDLE"
I wanted to show you 3apps that can be used to completely transform your Instagram game + save time creating beautiful and unique posts/stories.
Unfold: Has amazing, sleek story collage templates that you can use to spice up your IG stories
Planoly: Plan and organize your Instagram posts and create large multi-grid layouts
VSCO: Look like a photography pro with their simple editing tools and presets
BONUS: SIDECAR — Screen Mirroring
Not an app, but very worth the mention for anyone who does a robust amount of creative work on their digital devices and has a mac + iPad.
Having a second display to spread out your work can be a game-changer and you don't need to buy a monitor if you already have an iPad. And Not only can you use it as a second monitor, but you can use your pencil in apps like photoshop or other design tools.
Check out how to turn your iPad into a second monitor here!
---
Created by
Madison Mariani
--- ---
Related Articles