5 Things Your Sales Funnel Needs to Convert More Leads Into Sales
Your funnel will take off on its own once you have these in place
Prospects navigating through your sales funnel is like you going on a road trip. The better the experience, the more satisfied with what you spent your money on.
Your prospects and customers go through the same journey when buying from you. Their experience makes all the difference. A great buying experience leads to longer customer retention.
The ideal sales funnel every business should have
A sales funnel isn't something you have to build. It's something you have to design. Every business is different by nature. Therefore, the sales processes and funnel are different in practice too.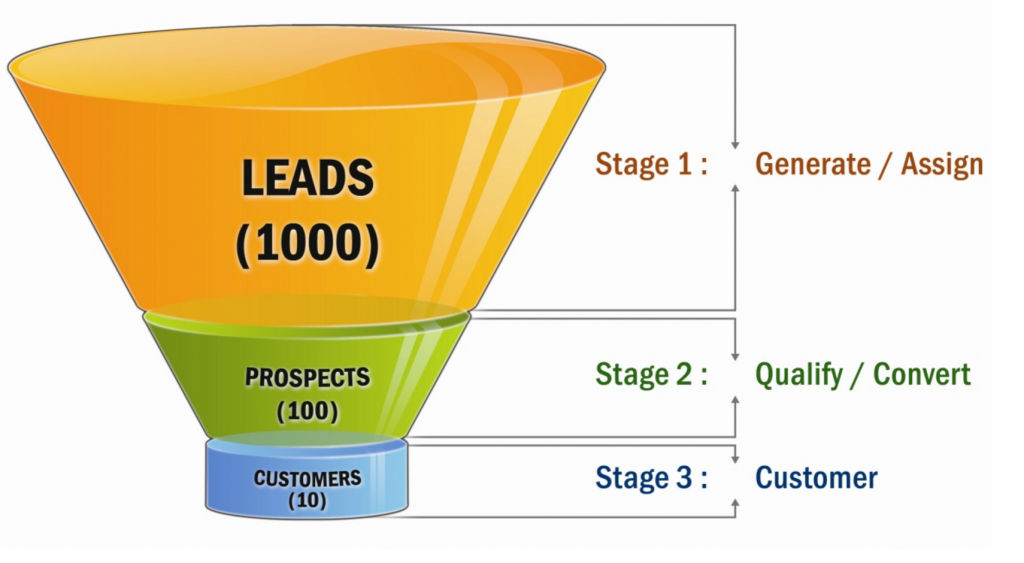 A lot of businesses take pride in complicated upsells and downsells in their funnel. Well, as a copywriter who writes copies who successful businesses, I found out that it should be the opposite. It's mind-blowing to see 6 to 7 figures businesses make ridiculous money through simple and well-optimized funnels.
The simpler your sales funnel is, the higher you convert.
These businesses don't make their funnel bigger, they find leaks and fix them over time. When something is working, they optimize them to the max. And there's one thing I find particularly brilliant in their processes…
They focus 80% of their effort on the backend of their funnel. In other words, once they acquire customers, they will stretch their customers' lifetime value to the best of their abilities.
It's not their interest to constantly find leads month in and month out. They are in the business of serving, not lead gen. So, if you could increase CLV, you'll have more revenue with less. That's the ideal sales funnel for every business.
How does a high-converting sales funnel look like?
You might be wondering about the requirements of a high-converting sales funnel we talked about earlier. Let me give you some idea of how it looks like based on my experience. It may not be what you think it is.
A well-optimized, high-converting sales funnel:
put emphasis on the customer journey
activate the prospects with persuasive + results-based content
makes irresistible offers that solve a painful problem
moves prospects closer to their desirable after state
inspire the prospect to achieve their end results
educate prospects how to solve problems using a specific solution
focus on buying intent rather than interest (this is key!)
6 to 7 figures businesses don't play the numbers game. They won't try to get 1000 leads and convert only 10 of them. Thus, a 1% conversion rate. For them, that's a waste of resources.
Instead, they play the inbound game (based on Hubspot's Flywheel Model). Yes, it'll take time to gain momentum. But don't forget the backend revenue is what makes these businesses sustainable.
It's time to think about making more with less. Inbound marketing won't get you 1000 leads per month. It'll probably only get you 20 leads. But these leads are buyers. Ready to do business with you once they see a fit.
With that being said, here are the things you absolutely need in your sales funnel.
#1: Results-based content
If you want to attract buyers, you'd need to get this done right. It doesn't matter who you're selling to or what you're selling. Buyers want solutions. Results attract buyers.
Marketers are so obsessed with the need to educate prospects on their products they forget the most important part of the buyer's journey — the desired end result of the prospect.
Educating the prospects about the product will grab their attention and make them consider it. That's interest-based marketing. To be profitable in business, revenue is the ultimate KPI. Therefore, you'd want to implement intent-based marketing (revenue is the KPI).
Examples of results-based content:
Success stories (results generated by past performances)
Strategies breakdown (backed by data)
Trend analysis & comparisons (takeaways for consumers)
Specific & detailed thought leadership (expertise content)
Topic discussion (focuses on results & trends)
#2: Social proof
Here's the thing about social proof. We think social proof is about reviews and testimonials. Well, it's more than that. Social proof is proof that your product or service works for prospects.
It has nothing to do with the crowd or how good others say about your product or service. It's all about how the prospects imagine their lives after they buy from you based on those reviews and testimonials.
Therefore, the best type of social proof follows this formula:
Before + After = Transformation
You have to let the prospect see what they can expect from you. Social proof can be a trust factor and a sales booster if done correctly.
#3: Credibility & authority
Credibility and authority do two things for your business. They separate you from the competition. And help you grab your prospects' attention easily. Who wouldn't want to listen to the expert of the industry, right?
One best way to exert credibility and authority is to inject specificity into your content (take this article for example). It'll work because most of the content on Google is generalized. In fact, the majority of the content on the Internet needs improvement. They lack real expert advice to many extents.
When you publish content that are practical and super useful to the market, people will see you as credible and authoritative. Your content is your greatest marketing asset. Use them wisely.
#4: Effective customer touchpoints
Customer touchpoints are different yet correlated to the customer journey. Customer journey is the prospects' state of awareness of your business; while touchpoints are interactions between your representative and the prospects.
Your content will develop brand awareness in your prospects. Their touchpoints will reinforce the brand perception. Both are equally important but the latter is what you should focus on to boost your sales. Because brand perception is trust in a much simpler context. Trust leads to more sales.
Ways to improve your customer touchpoints:
train customer service reps to be helpful and friendly
hire experienced sales reps to conduct sales meetings
create a pleasing environment for discussion or brainstorming
design intuitive checkout processes for seamless transactions
create mobile-friendly websites and social media handles
#5: A solid backend strategy
This is the game-change part for any business. The backend is where all the money is made. Once a prospect becomes a customer, they are part of your community. How you serve them determines how much monetary exchange you'll have.
After a prospect becomes a customer, it's not the end of their journey. They should be ascending your value ladder. A value ladder is basically product or service upsells. Some customers would want to buy your higher-end offers.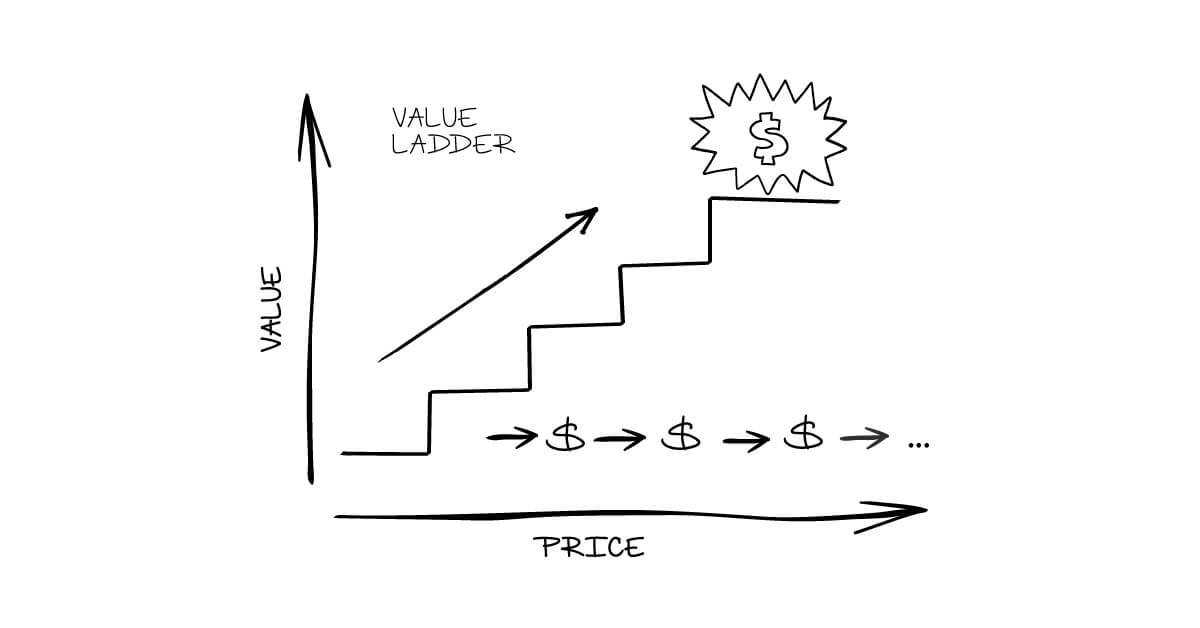 Because they were amazed to see how reliable you are in solving their nerve-wracking problems. That is the start of a business relationship. They would want you to keep working with them so they can focus on working on their business.
Audit your funnel and optimize accordingly
If there's one thing you'd need to work on your sales funnel, it'll be your value ladder. It's the fuel of your business. A good value ladder equals more profit. Use what we discussed in this article to guide prospects and customers through your value ladder.
---
P.S. The first sale is the hardest to convert. You'll need a well-optimized conversion mechanism that attracts and converts prospects into quality leads efficiently through paid or organic methods. These leads should then progress into sales seamlessly.
P.P.S. I help SMEs attract and convert high-quality leads into sales with conversion copywriting. This type of copywriting focuses on filling your funnel with potential sales through high-converting ads, landing pages, and emails.
If you need help with setting up a conversion mechanism, we should have a chat. Email me at nick@wisdomcopy.com with the subject line "Conversion mechanism". I'll reply to your email ASAP.
---
Your sales message is the fundamental key to marketing success. I'm writing to share everything I know about neuromarketing so you can apply what works to get more leads and sales. Follow me for more content on persuasion and marketing.
--- ---
Related Articles