5 Tools to Find Trending Topics that People Would Want to Read
5 tools that every writer should know about for finding inspiring topics that are trending.
This article originally appeared on Medium as 5 Tools for Finding Popular Topics that People Would Actually Read
Most writers have gone through the stress of staring at a blank sheet of paper (or in the digital world, a blank page with a blinking cursor). You beg your brain for ideas, but it can sometimes feel like the well of creativity has dried up. Maybe you need a little help in coming up with topics? Maybe you just need inspiration.
Then you finally start writing again. Your article comes alive. Your masterpiece is done and you hit publish! Such a relief!
That is until the other most second dreadful feeling in the world starts to creep in. You start doubting yourself. Is your work going to be read by anyone?
Luckily, there are tools out there that help with these two problems. You can use these to find topic inspirations and to gauge the popularity of your chosen topic. This gives you the best chance of publishing stories that people would want to read.
So let's get on with it. Here are five tools to help you with what you need:
1. Buzzsumo: This is the most useful tool for content creation and marketing. Buzzsumo gives you a list of the most popular articles on topics or specific websites based on their social media engagement. There's a free version and a paid one. The free version gives you the top 10 articles on any given topic. This could be worldwide or you could limit it to specific countries (via the ccTLD of the publishing site). Simply type in your keyword or the website you want to check. The paid subscription gives you so much more. You can also filter results by language, and date range. You can also analyze the data for the website or the topic to find out which social network works best, what day is the most popular for user engagement, and much more.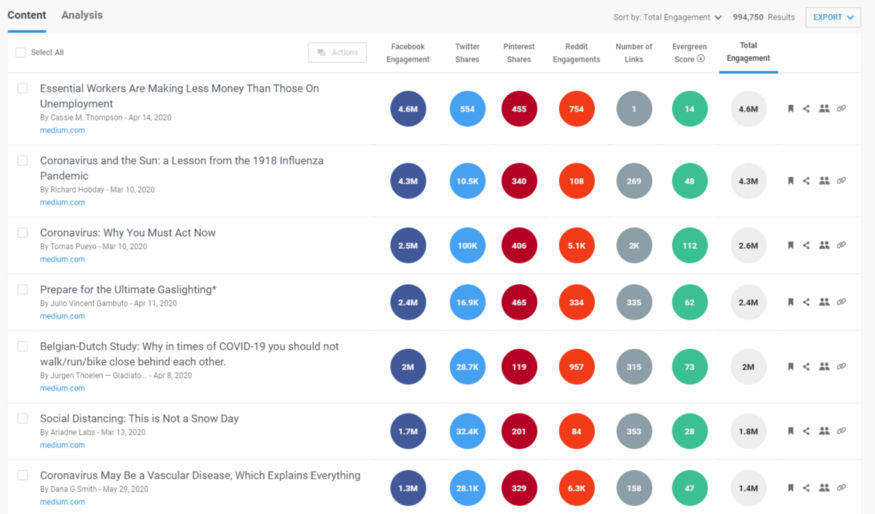 2. Answer the Public: Don't you wish someone would collate the most popular questions being asked about certain topics? Check out Answer the Public. They do it beautifully with the visualization of the topics. This website also has a free version and a paid subscription, with the paid subscription allowing users to perform unlimited searches, compare data over time, and export to CSV. Just type in your topic, brand name, or product. Then, it generates a visualization of all the questions coming from your specified country.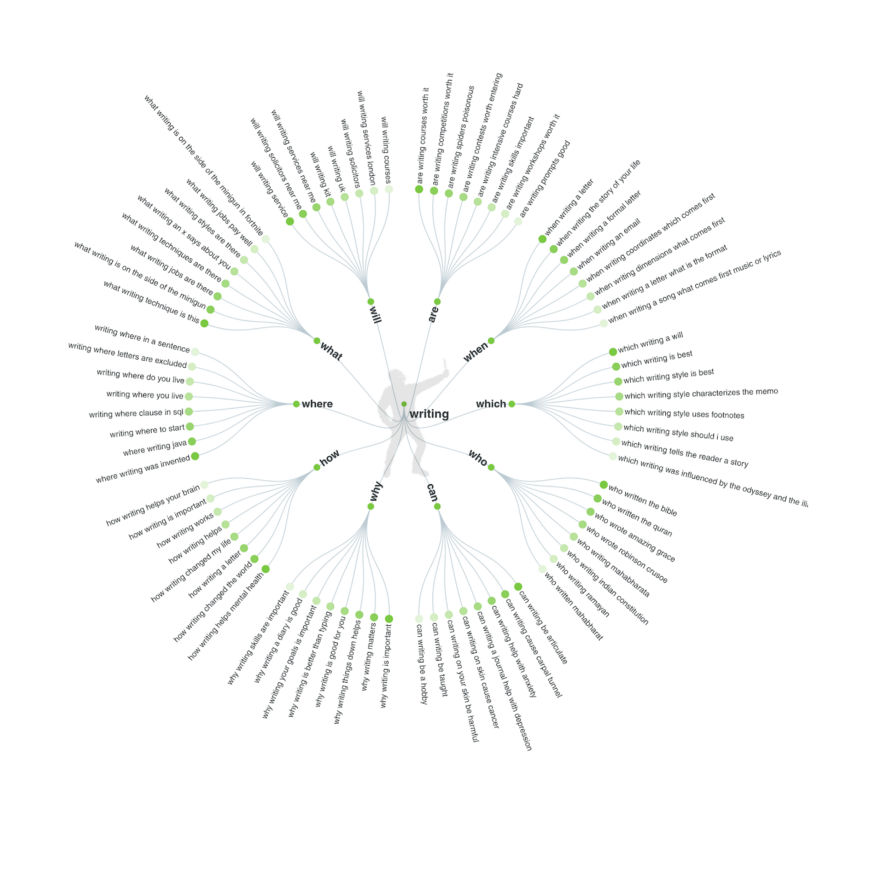 3. Google Trends: Google offers a lot of tools for exploring topics you can write about. I highly recommend Google Trends. It shows you trending topics worldwide. You can also filter the topics by location and by date range.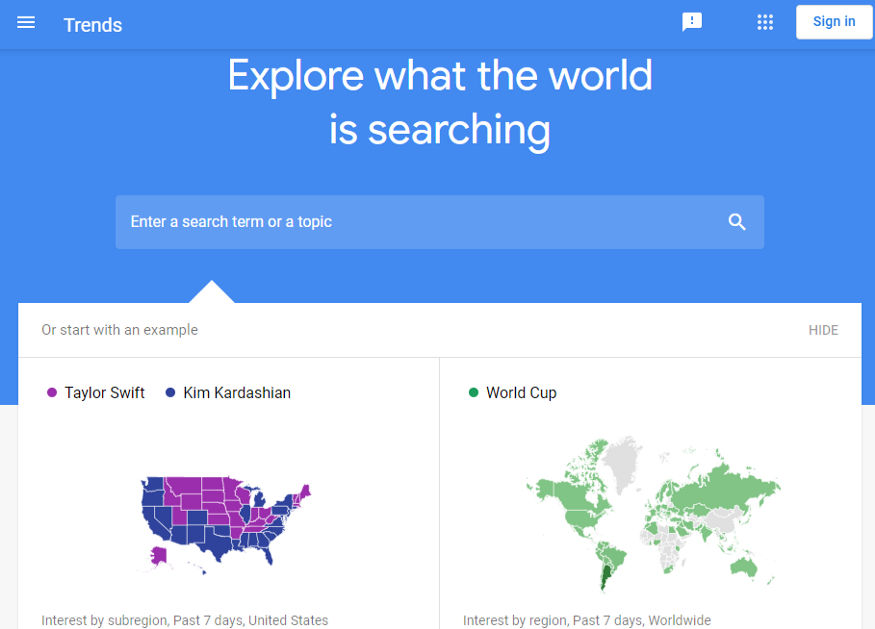 4. Google — The search engine has a lot of functionalities to give you an idea about what people are looking for in relation to your chosen topic. There are four main ones to look out for:
Auto-complete : When you start typing out a topic, Google will suggest queries based on what people usually look for.
Related searches: This appears at the bottom of the search results page when you enter your query in Google.
People also ask: If you type in a question in the Google search bar, it will serve up the answers. Even better, the search engine shows you other questions related to the one you queried.
People also search for: This part doesn't always come out when you type in a query. Google sometimes offers these alternative searches when you click on a result and hit the back button to go back to Google.
5. Google Keyword Planner — If you run Google Ads, they have a tool called Google Keyword Planner that gives you the search volume for queries. Marketers use this tool to find search queries to bid on. Keyword Planner is not open to the public. It requires you to log in and set up your Google Ads account to access it. That's pretty easy to do. Once you're done setting it up, the tools section will appear. Just a quick note on this, the results will vary depending on whether you have an active ad or not. If you have an active ad, it will show you very specific numbers related to the query. If you don't have one, you'll get a more broad number.
That's it! Five nifty tools to that are designed to help get those creative juices flowing and to find topics that people are actually searching for (and will be more likely to read). Using the data-driven approach to content creation can help set you on the path to a successful and profitable writing career.
---
Created by
Jade-Ceres Dolor
--- ---
Related Articles