5 Ways To Grow Your eCommerce Store's Email List
Read on to find out how you can grow your eCommerce store's email marketing list
Maintaining a curated email list of your existing and potential customers is a great way to build exposure and awareness for your brand while engaging in one of the most effective forms of digital marketing through email.
But, in order to get started with an email newsletter, you first need to build a comprehensive, inclusive email list. Here are a few tips on how to effectively and quickly build your email list while reaping a lot more benefits as well.
Read on to find out how you can grow your eCommerce store's email marketing list with a few simple tips and tricks.
Referral Programs
A referral program not only helps you increase your interaction with your customers, it also provides an incentive to convince your visitors into helping you grow your brand awareness among their friends and family. The added benefit is that you can collect email addresses as you go along.
Offering incentive or prizes to your visitors on referring your website or product such as discounts on their cart items is god way to catch the attention of your customers and to build brand loyalty while automatically building a new customer base.
This trick can also be used in the context of a newsletter subscription that helps you send a personalised list of your products or services to customers each month which again directly translates into helping you grow brand awareness, customer retention and brand loyalty.
Gamified Interactive Popups
Some users may find pop-ups intrusive and distracting. This is only the case when the pop-ups are poorly designed, poorly targeted and poorly executed.
Gamified popups are a great way to increase customer engagement with your popup and eventually grow your email list.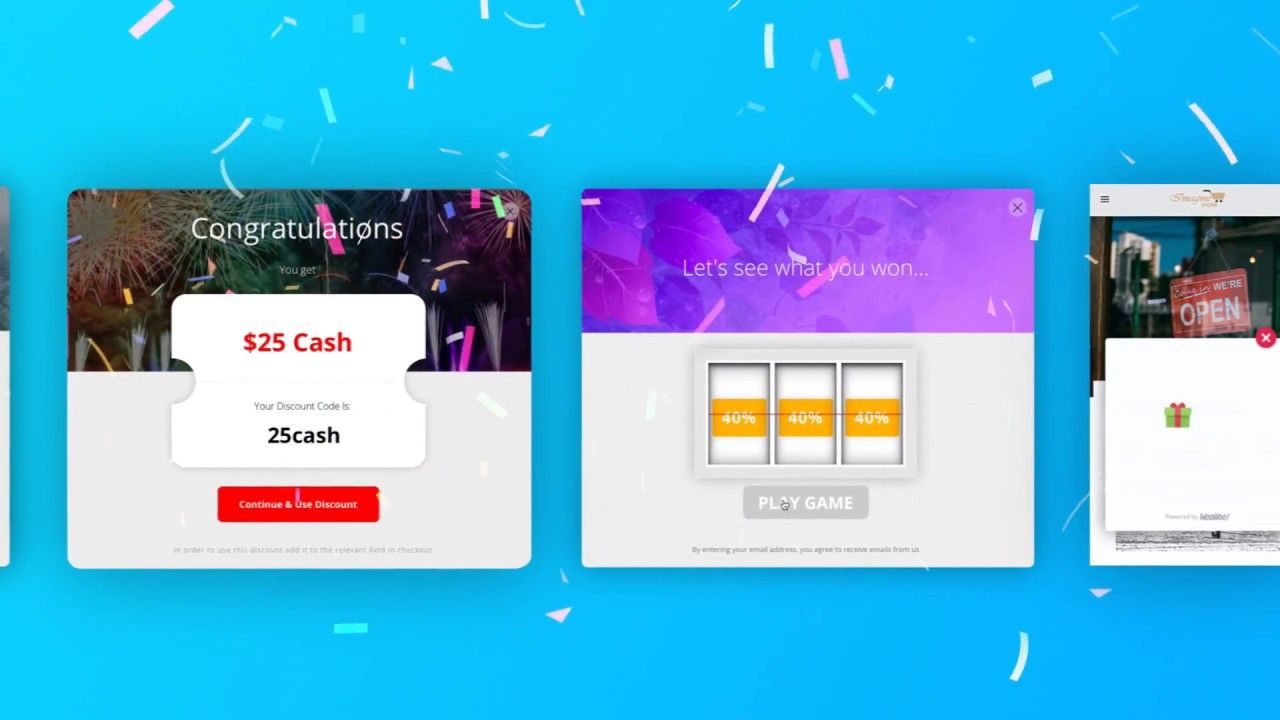 Image by https://insights.jumper.ai/
But remember to keep the pop-ups small, non-intrusive and non-repetitive (do not fill in the ENTIRE screen) to keep your customers from getting annoyed or distracted.
VIP Rewards Programs
A well-crafted rewards program can help you increase customer retention, brand affinity and repeat purchases. This also helps you identify your VIP customers and create a VIP segment among your customer base which have a larger customer lifetime value or more repeat purchases, allowing you to upsell them on various offers and products.
From early access and sneak peaks to better discounts and coupons, you can incentivize your VIP regards program in any way you like and combine it with your referral program for double the benefits. This can also be implemented with a redeemable points system to increase customer interest and retention while allowing you to keep your cash flow running.
In return, you get customers that can provide you with detailed statistics and information for your benefit by offering a simple sign-up procedure on your eCommerce store.
Interactive and Engaging Content
Why not add an element of curiosity and fun to the customer experience? Building your email list by using interactive content placed strategically at different points on your site is a smart move for the long run. Its an edge that can bring more attention to your store in a very saturated landscape.
Quizzes, mini games, questionnaire or videos are all good ways to boost customer engagement, CTR and brand loyalty. Combining these with a rewards or referral system brings layered benefits that can provide you with a growing email list on one hand, and more business for your store on the other.
It is also a good way to introduce new products, services or offering to your customers. Furthermore, it can provide you with some valuable analytics regarding customer preferences and behavior which can help you mold the user experience on your site for better success.
Giveaways and Prizes
Giveaways can quickly launch your ecommerce store to popularity if they are executed with the right end goals in mind. You do not have to create a huge budget; it can start with a small product or service. The trick is to offer something that appeals to the largest number of potential customers and visitors.
The benefit of this take is that apart from the engagement you will get from the giveaway campaign, other people not interested in the giveaway but in the product or service will be able to hear about your store. This means more sales, more brand awareness and new customers.
As far as the giveaway is considered, the trick to a successful campaign is making sure that the largest amount of people get to know about it. For this purpose, utilizing the many social media platforms is a great way to get the word out and can be taken one step further with a few paid promotions.
Sending giveaways to popular influencers across social media is a clever tactic as well to get people engaged and interested. Combined with the power of your referral and rewards program, your email list and customer base are both bound to grow quickly.
Conclusion
Combining these strategies into a layered and targeted approach to marketing can guarantee some fast results for your eCommerce business while helping you build a regular email list for your existing and potential customers.
In the end, all strategies serve the ultimate goal of helping you promote your sales while ensuring that people keep coming back to your store for more.
Keeping your past and potential customers in the loop with regular updates and offers can help you drive engagement and retention while helping you take your brand to more people.
Have a go at some of the tricks mentioned in this article and find out the benefits for yourself.
Remember to personalize each strategy to meet your niche for most effective results.
For more eCommerce content join the Shopify Q & A discussion group on Facebook: 👉🏻 https://www.facebook.com/groups/484476479072376
Cheers,
Panos.
This article was originally published by Panos Tzitzinos on medium.
---
Created by
Tealfeed Guest Blog
--- ---
Related Articles