6 Best Gaming Headsets of 2021 Reviewed In Detail
Video games present a chance to escape into entirely different worlds than what you're used to. Video games come in a variety of genres and titles, with each one offering a unique experience. To journey into whatever world is on offer and experience these titles the way the developers intended, one is required to completely immerse oneself in the experience, both visual and audio.
This article was originally published by @otakugamer at 6 Best Gaming Headsets of 2021 Reviewed In Detail
Video games present a chance to escape into entirely different worlds than what you're used to. Video games come in a variety of genres and titles, with each one offering a unique experience. To journey into whatever world is on offer and experience these titles the way the developers intended, one is required to completely immerse oneself in the experience, both visual and audio.
Your screen caters to the visuals, and your gaming headsets to the audio. With this in mind, getting quality gaming headsets should be a priority for any gamer. In this buying guide, we cover a selection of the best gaming headsets in 2021, read on to find out what headsets impressed us the most with their array of features, comfort, and value for money.
#Best Gaming Headsets of 2021 Reviewed In Detail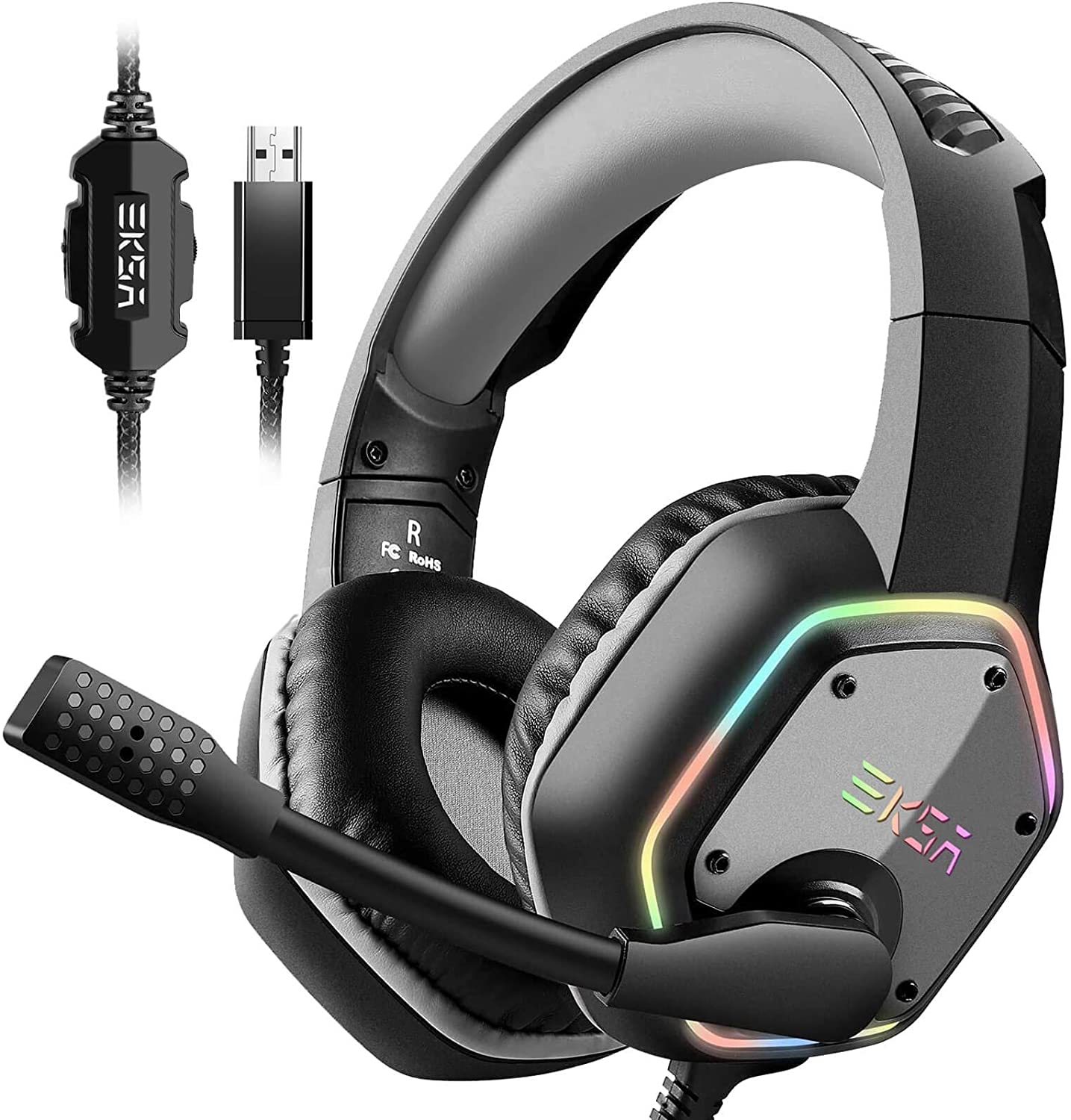 Most Comfortable
This gaming headset is compatible with various consoles, PCs, and other devices with a USB audio port. It boasts an impressive noise-canceling mic with great audio output and is very comfortable.
The EKSA USB Gaming Headset comes with a 7.1 surround sound, a 120° adjustable noise-canceling microphone that is sensitive enough to pick up your voice and eliminate background noise effectively. Its breathable ear pads and memory foam ear cup ensure you remain comfortable even with extended use. It has an inbuilt 50mm magnetic neodymium driver that delivers very good quality sound. It comes in 4 colors, blue, grey, green and red.
Key Features
50mm Magnetic Neodymium Driver
7.1 Surround Sound
Available in four colors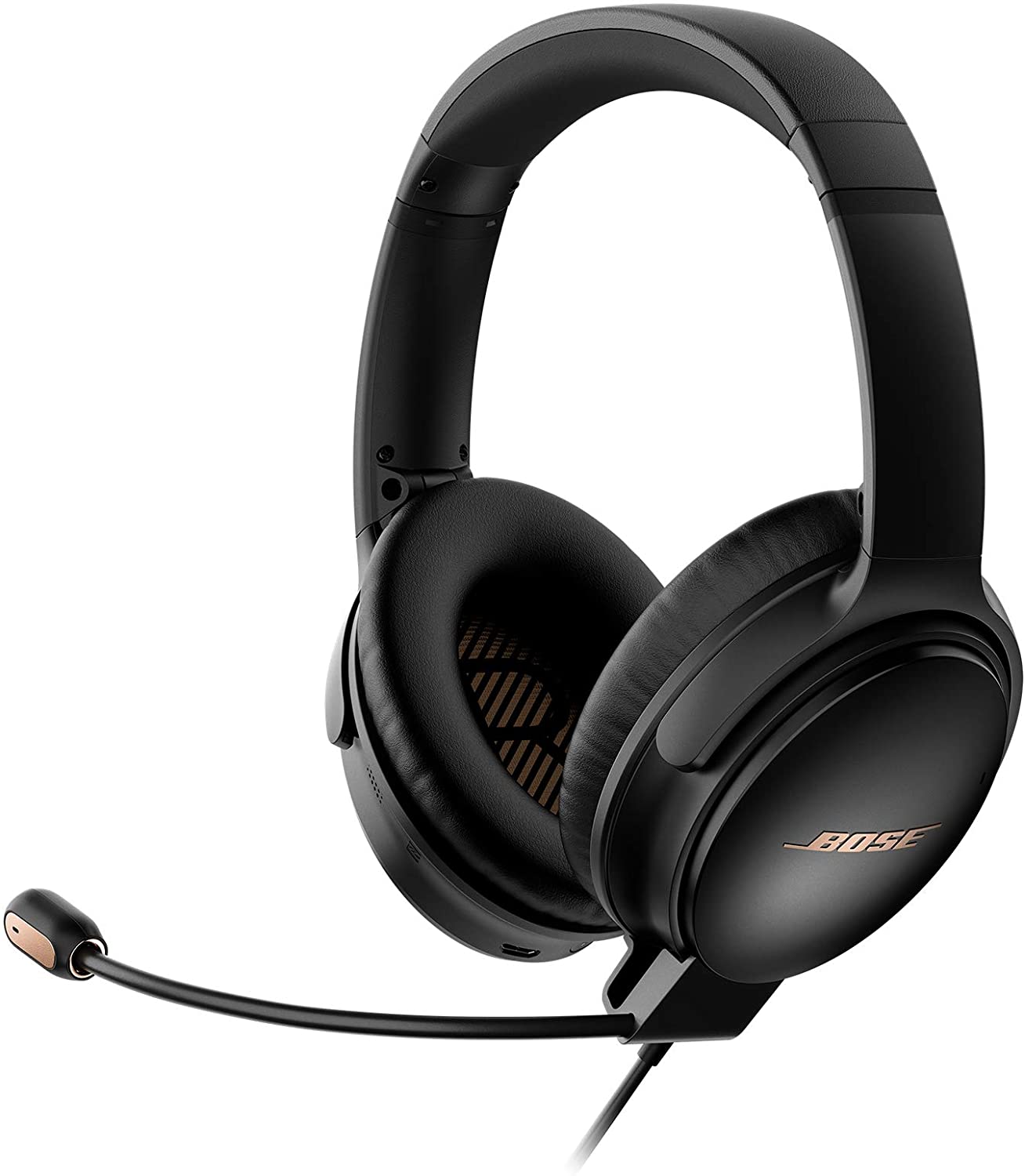 Best overall
This is a 2 in 1 gaming headset offering both wireless and wired connections. It offers excellent noise-canceling technology and a mic monitoring feature that lets you listen to your own voice. It has a built-in voice assistant feature and is universally compatible.
The Bose QuietComfort 35 Series 2 Gaming Headset weighs 5.3 ounces. It has an Acoustic Noise Cancelling technology that filters all background noise to deliver excellent quality audio with amazing clarity. It features a detachable gaming module with a noise rejecting mic that can be easily plugged into a 2.5mm jack, built-in Amazon Alexa and Google Assistant, Bluetooth connectivity, and a battery that can last up to 40 hours on a full charge.
Key Features
Offers excellent noise cancellation and sound quality
Integrated Bluetooth connectivity
Comes with an in-built voice assistant feature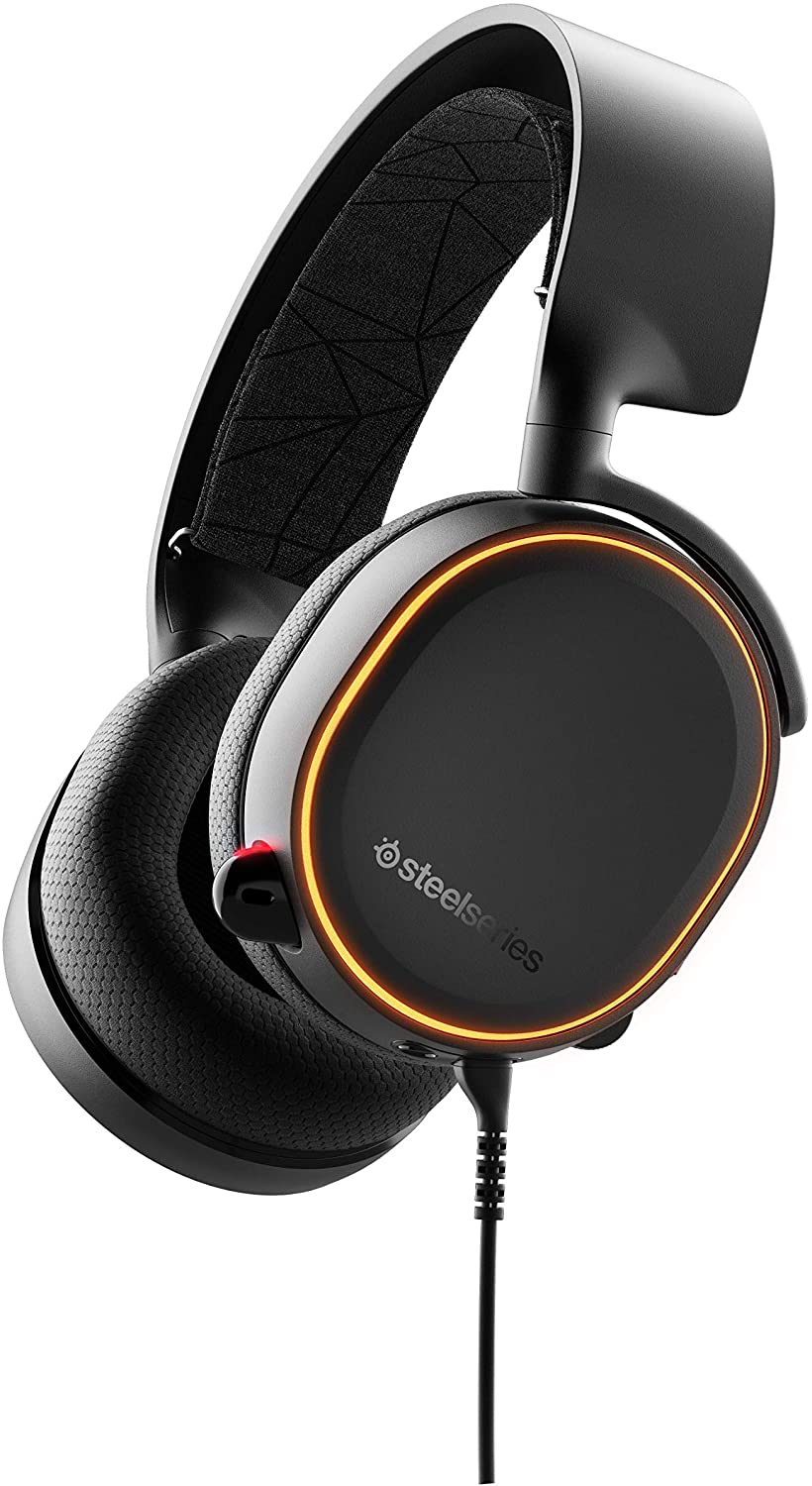 Best PC Headset
This headset is specifically designed with PC gamers in mind. It fits very comfortably on your head with pressure evenly distributed. Its audio output is excellent and it allows easy control of chat and audio volume.
The SteelSeries Arctis 5 headset weighs 12.8 ounces. It features top-notch DTS surround sound technology to enhance subtle in-game sounds, and a USB ChatMix dial for independent game and chat volume control. It can be connected to PC, Mac, or PS4 through USB, and to Xbox, Switch, and mobile devices through a special 3.5mm adapter. ChatMix, surround sound, and RGB illumination is only available with a USB connection. It is available in black and white.
Key Features
Offers independent game and chat volume control
DTS surround sound technology
It can be used with a variety of devices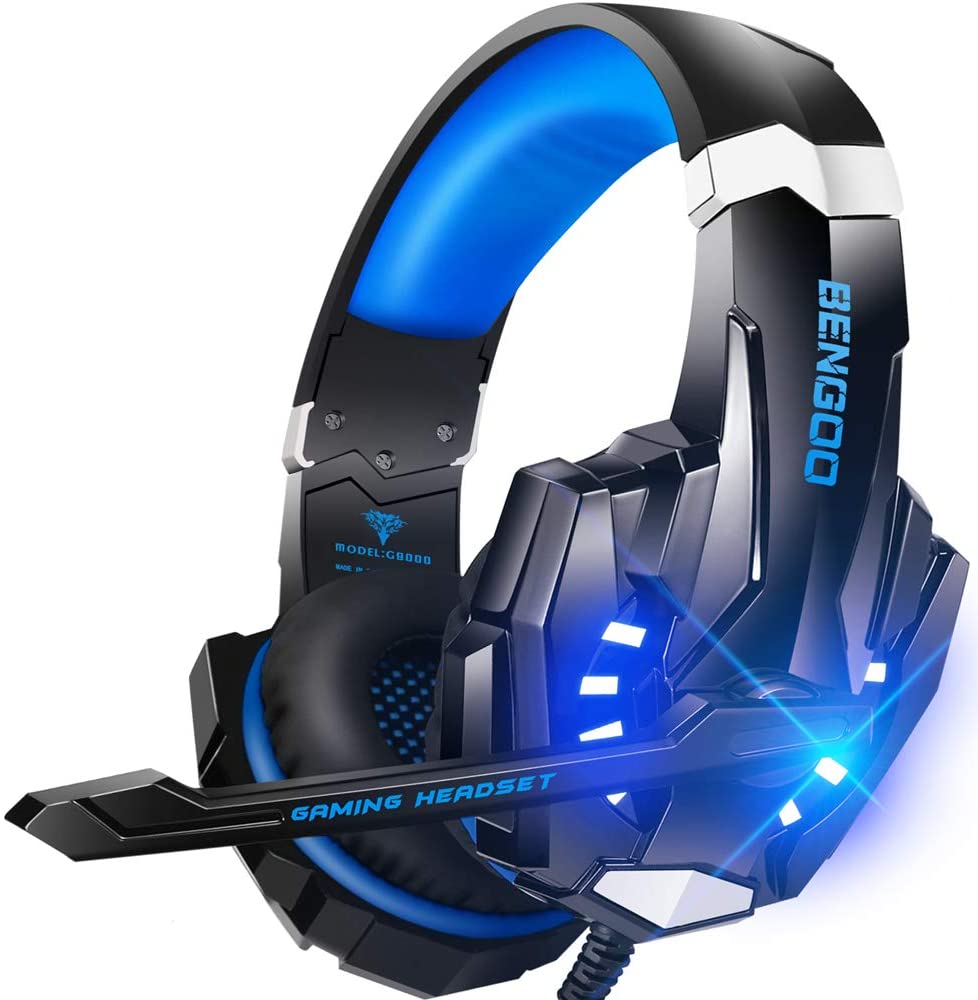 This universally compatible headset has an adjustable headband for optimal fit. It comes with a noise-canceling microphone and earmuffs made with soft memory foam. It offers 3D stereo surround sound.
The BENGOO G9000 Stereo Gaming Headset comes in 3 colors; blue, purple, and red. It features a 40mm speaker with a sensitivity of 105+/-3dB and a frequency range of 15 Hz-20KHz. It has an omnidirectional noise-canceling microphone that is adjustable by as much as 120° and with a sensitivity of -38+/-3dB. It weighs 9.6 ounces, so it feels very comfortable on your head even after prolonged use.
Key Features
40mm speaker with excellent sensitivity
Lightweight design, weighs 9.6 ounces
Available in three colors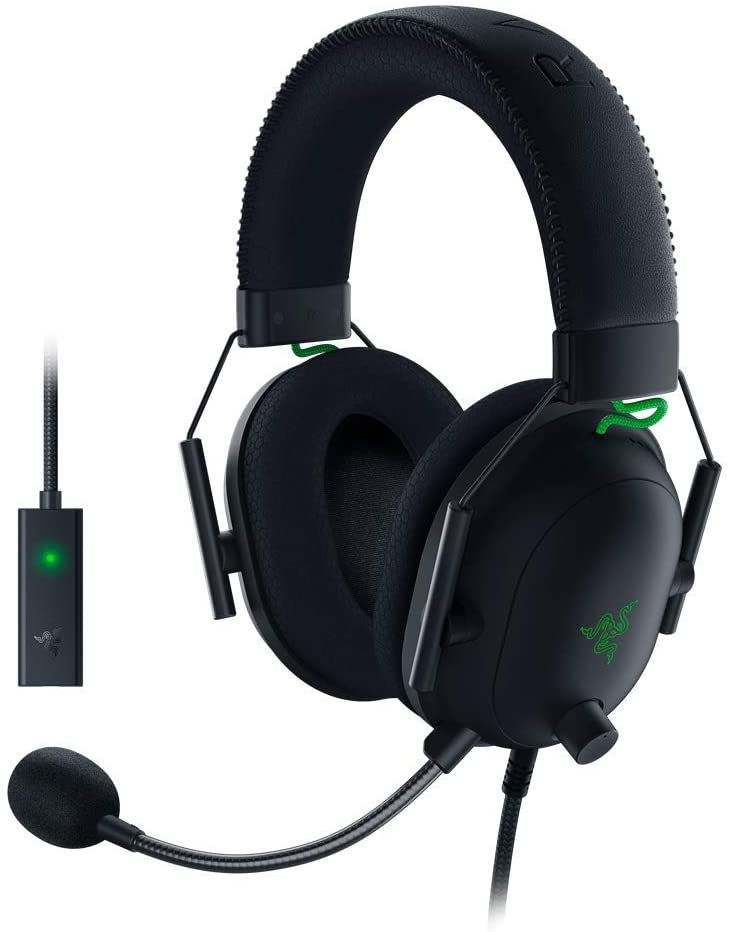 This headset produces superior quality sound with excellent spatial differentiation for better positional awareness. It is very comfortable and offers advanced sound isolation technology.
The Razer BlackShark V2 uses THX 7.1 Surround Sound capable of providing accurate spatial audio information. It features Triforce Titanium 50mm High-End Sound Drivers with specific tuning for highs, mediums, and lows to give you the most accurate listening experience, and a detachable Razer Hyperclear Cardioid Mic with advanced voice adjustment features for crystal-clear vocal input. It has cooling gel-infused cushions for your comfort and it weighs 1.25 lbs so it does not feel too heavy on your head. Also, it comes in a gorgeous black color.
Key Features
It features an excellent sound system
It provides accurate spatial information
The cushions are gel-infused and very comfortable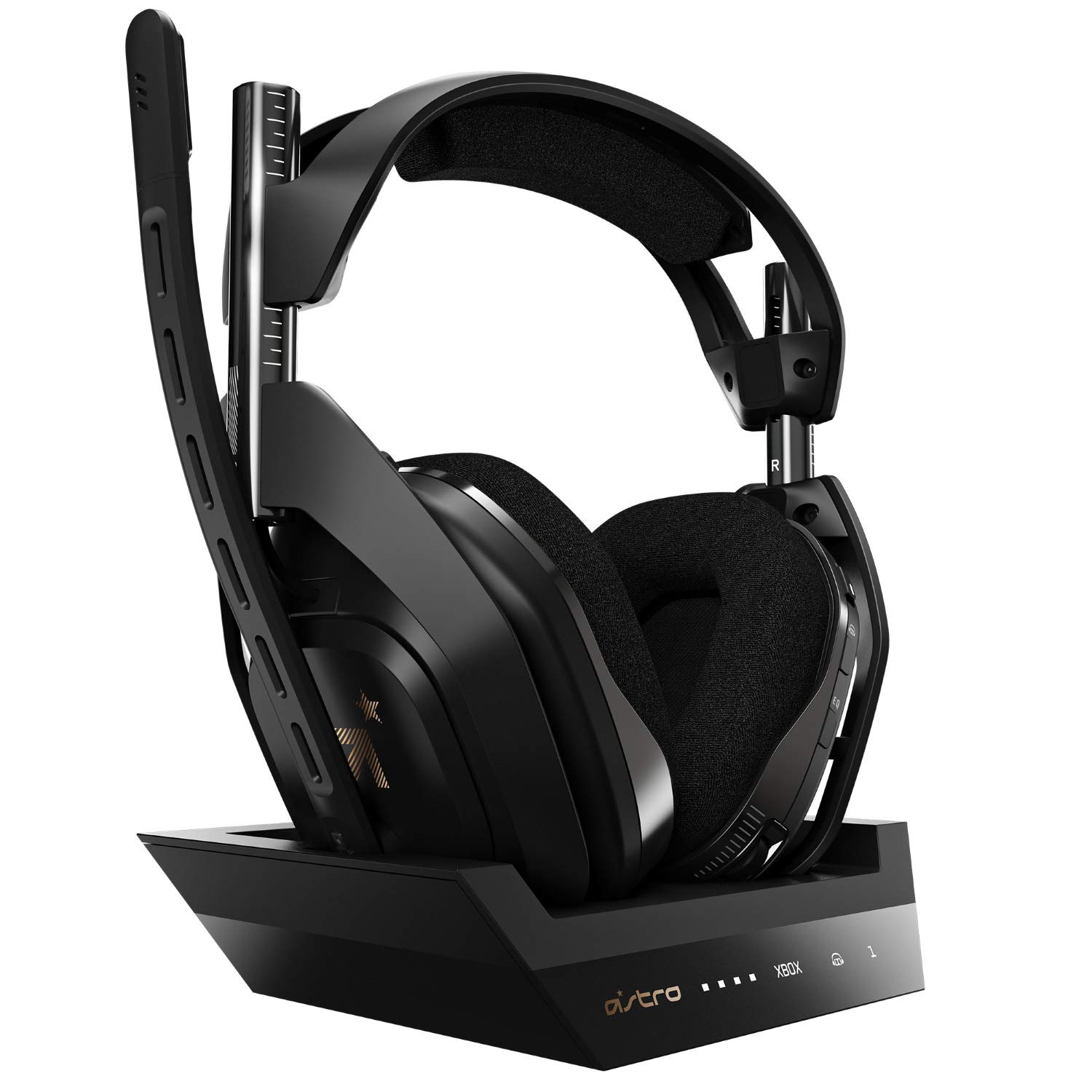 This wireless headset is ultra-durable with great battery life. It delivers supreme sound quality, comfort, and a flip-to-mute mic. It offers software that gives you more control over your voice settings.
The ASTRO Gaming A50 headset comes with a base station that simplifies headset pairing and charging. It offers Astro Audio V2, Dolby Audio, and Dolby Atmos for Xbox to deliver the highest quality sound, and the accompanying Astro command center software offers exceptional control over your listening experience. It weighs 1.49 pounds and features a battery that can last over 15 hours on a full charge.
Key Features
15+ hours of battery life on a single charge
It comes with a simple flip to mute mic function
Astro command center software for complete audio settings control
#Best Gaming Headsets Buying Guide
As any gamer knows, excellent sound quality is essential for a fully immersive gaming experience. Although this can very often be provided by good-quality speakers, it would only be a matter of time before your housemates and neighbors get tired of you. This is where gaming headsets come in; they cater to your sound needs while ensuring you remain in the good books of those around you. Regardless of what console or gaming computer you own, buying gaming headphones is a good idea for any gamer.
#What Is A Gaming Headset And Why Should You Buy One?
Gaming headsets are central pieces of equipment to your video gaming experience. They provide to the user, and only the user, superior quality audio often with excellent spatial differentiation, surround sound, noise cancellation, and sound isolation. They can be wireless or wired, with some models offering both wireless and wired connectivity. They also come fitted with microphones with sound isolation features for greater clarity of voice, which serve to improve communication with your teammates in multiplayer gaming events.
All of these factors combine to make gaming headsets superior to your regular headphones or loudspeakers, at least as far as video gaming is concerned. They come in different colors and designs, and offer varying specifications and features that enhance functionality and comfort while catering to different budgets and tastes.
#What Factors Should You Consider Before Choosing A Headset?
With the variety of gaming headset models boasting a vast array of features and priced very differently on the market, settling on just one can be a very difficult and frustrating experience especially for the uninitiated. Although we have provided you with a list of the best products on the market, we recognize that this may not be enough help in your search. And so, we will go a step further and provide you with a detailed guide on what features to look out for in your search for the perfect video gaming headset.
#Compatibility
A prime consideration before purchasing a gaming headset is what platform you'd play the games on. This applies especially to Mac users and if you're looking to buy wireless headphones for use with an Xbox. A lot of headphones these days are multi-platform compatible, but it is still important that you check as some offer access to the full array of features only on selected platforms, or require plug-ins or accessories to function on some platforms. You should take note of the headset compatibility so as not to end up spending big bucks on headphones that are useless to you.
#Connection Type: Wired or Wireless
Although these don't directly play a part in how good your headset sounds, or how clear the microphone is, it is still an important consideration.
Wired headphones tend to cost less. They do not require charging before use, so you can play for however long you want without having to worry about battery life, but the wired connection means you can only move as far away from the screen as the length of the wire allows, which might be a problem if you play on larger screens. It also means that your wires can get tangled and/or damaged, both resulting in very frustrating experiences.
A wireless headset is more convenient to use as it gives you a greater range of motion. These tend to cost more and can present challenges where connection and compatibility are concerned. And there's also the battery life to worry about, as you'd need to recharge the headphones whenever it runs out of battery before you can use it again.
#Comfort
You're likely to wear your gaming headset for extended periods of time, and so, it is of great importance that they are both comfortable and practicable. You want to pay attention to the ergonomics of the headset. Factors such as its weight, the material the ear pads are made from (preferably memory foam), whether or not the foam is gel-infused, whether or not it features adjustable headbands with a pressure dispersion system, and more must be considered.
If you wear glasses, you should consider getting velour pads for use with your headset, or prefer gaming headsets with space in the ear pads for eyeglasses so as not to compromise the seal.
#Noise cancellation
This serves to improve audio output. You should pay attention to what systems are put in place to screen noise, the quality of the seal, and how well it fits over your ears. A bad fit can jeopardize the integrity of the seal and decrease the effectiveness of the noise reduction/canceling ability of the headphones.
#Microphone Specifications
Having an inbuilt microphone is an important feature of gaming headsets. For good clarity of voice during your chats, you should pay attention to the mic sensitivity, its sound isolation, from what directions it picks up sounds, and how easily adjustable it is to ensure you won't experience any issues with the microphone.
#Surround Sound
When playing video games, spatial awareness is very important. Imagine you're stalking through a forest on Fortnite and you begin to hear footsteps, having headphones that can tell you the exact direction the sound is coming from can give you a distinct gameplay advantage. With surround sound, headsets can offer a soundscape of up to 360°. This means that you can easily pinpoint the direction of a sound's source without having to pan the camera about and look for visual cues. Surround sound comes in various standards, with each offering varying degrees of functionality.
#Sound Quality
A gaming headset is first and foremost a headset. And so, it should provide good quality audio output so that gunfire sounds like gunfire, and explosions sound like explosions, and whistles and car engines sound like they should. You should pay attention to the sound quality of the headset, and this can be confirmed by checking out the technical specifications of the headset.
#How Much Do Gaming Headsets Cost?
Different brands offer different features and cater to different budgets. You can buy a decent gaming headset for as little as $20 or as much as $450.
#Best Gaming Headsets FAQ
Q: Do I need to buy a gaming headset?
A: It's not entirely necessary, but it provides a much more immersive gaming experience than regular headphones.
Q: Which is better, wireless or wired headsets?
A: It's a matter of personal preference, they both are capable of producing very similar sound experiences. The main difference is in the ease of use and better range of motion that the wireless headset offers.
Q: Can I use my gaming headsets for non-gaming purposes?
A: Yes, you can. You can use them with any compatible device for whatever function, some models even come with detachable microphones so you don't always have to keep those in. Gaming headsets are optimized for gaming, however, so they may not perform as well as you'd like for other functions.
This article was originally published by @otakugamer at 6 Best Gaming Headsets of 2021 Reviewed In Detail
---
The place for programmers, startups, CEOs, and gamers to share their stories with the world.
--- ---
Related Articles