7 (Really) Free SEO Tools You Can Use Today
Not a free trial in sight
Back when I decided to leave my job and pursue freelance writing, I honestly knew hardly anything about SEO. Even now, I'm only a few months in, and I've barely scratched the surface. When you look at it as an outsider, it's one of those things that looks totally foreign, and fear of the unknown sets in.
That's why people make a living from knowing how to do SEO alone, especially the technical stuff. And as I've found out, if you want to make a living from writing online (not just on Medium), you need to add SEO to your skillset.
As a beginner in SEO, it's quite likely you're unable to afford the top tools like SEMrush or Ahrefs — though they are great resources for information, do check their blogs/academies out. I can't afford them. So how does a newbie or budget-conscious person like you or me start? With the free stuff, of course.
This article is about free tools, not just free trials of premium tools. You still need to sign up and give your data (can't help that one, sorry.) Some of these are website specific, in that you should use them if you own a website or business. Others can be used for research and outreach, but I'll be sure to specify the context in each of them below.
1. Keyword Surfer
If you struggle with coming up with keywords, or you'd rather have some hard data to back up your decisions, then Keyword Surfer is the Chrome extension for you. In their own words:
"Keyword Surfer is the fastest way to reveal search data and perform keyword research in Google Search. It's 100% free. Forever."
So, as you can probably tell, you can use this tool to help you with keyword research. What makes this tool so useful to beginners is that it comes up with a helpful list of keyword ideas related to your search term. For example, when I type in productivity, I get the following information in the search bar.

This tells me at the moment, the estimated search volume in the US is 49,500, and the cost per click for Google Ads (CPC) is $1.53. Then, the ideas box shows me this.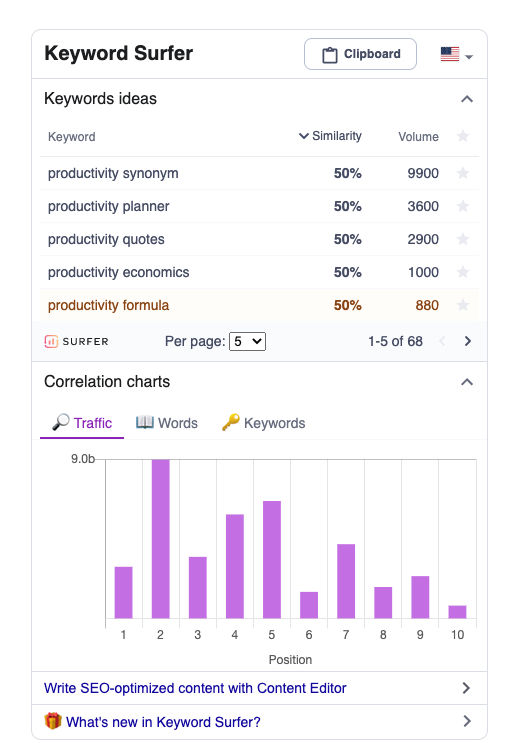 The ideas box is a good place to play around with some topic ideas and keywords that you can include in your related topic.
As a bonus, it'll also tell you the estimated monthly traffic for the search results domains (important to note, this is different from page traffic), how many words are on the page, and how many times the keyword appears.
📷📷Screenshot by author
2. Answer The Public
Another tool to help you identify topics to write about in your niche is Answer The Public. This one is super free because you don't even need to give them your data. Just type in your general topic and watch as tens to hundreds of results pop up in a tidy data visualization graph.
For example purposes, I typed in writing online, and this is what came up.

There are even more graphs as you might notice via the tabs at the top listing questions, prepositions, comparisons, alphabetical, and related. The questions part alone is a goldmine of topic ideas for your articles, but remember to research specific keywords afterward.
I like to use Answer The Public when I have a vague idea of which topic to write about, but not necessarily the angle I want to take. The results will often populate something I hadn't considered where I have enough personal or professional experience to cover them.
3. Rank Math
Moving onto on-page SEO, Rank Math is a tool that yes, has a premium version, but the free version isn't timed, and it's still handy for starting.
When you start a website using WordPress (or you're writing for a client that uses it), the guided system prompts you to install Yoast when you first build your site. Now, I'm not saying Yoast isn't decent, but Rank Math does the job way better. It's more user friendly and provides more helpful data or suggestions.
I'll be using my website to demonstrate since I've been using it for a while personally. I won't give you a walkthrough of installing the plugin, but I remember the process was pretty simple. As for the data it gives you, you'll want to focus on the SEO Analysis report in the main plugin section as a beginner starting a new website. For me, it looks like this.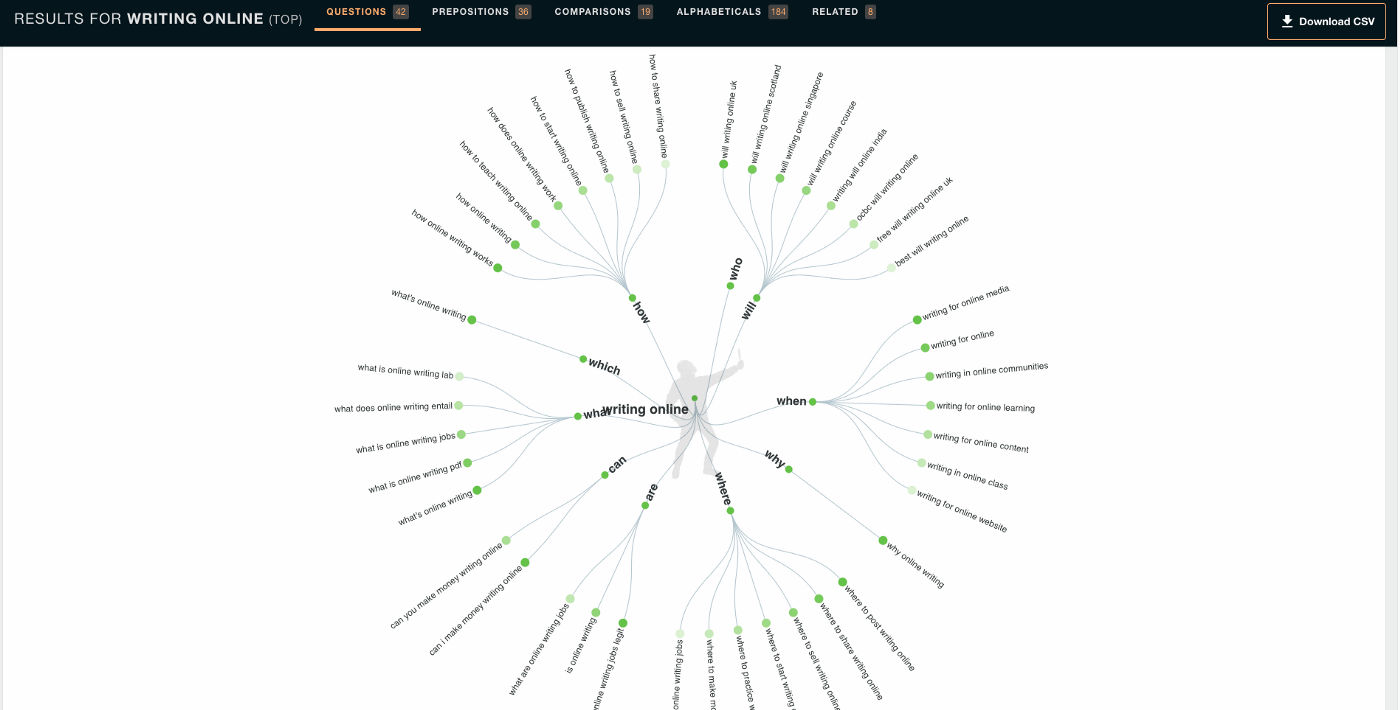 As you can see, I have some room for improvement, but more importantly, it tells you where and how to improve your SEO score. It gives you feedback on both basic and advanced SEO and the keyword cloud, which is a nice feature.
Of course, it also has post-specific SEO too. In this way, it's similar to Yoast, but again, it looks better and is more user-friendly. You only get one focus keyword, but be sure to sprinkle in a few others in your content, so it doesn't get too repetitive or robotic.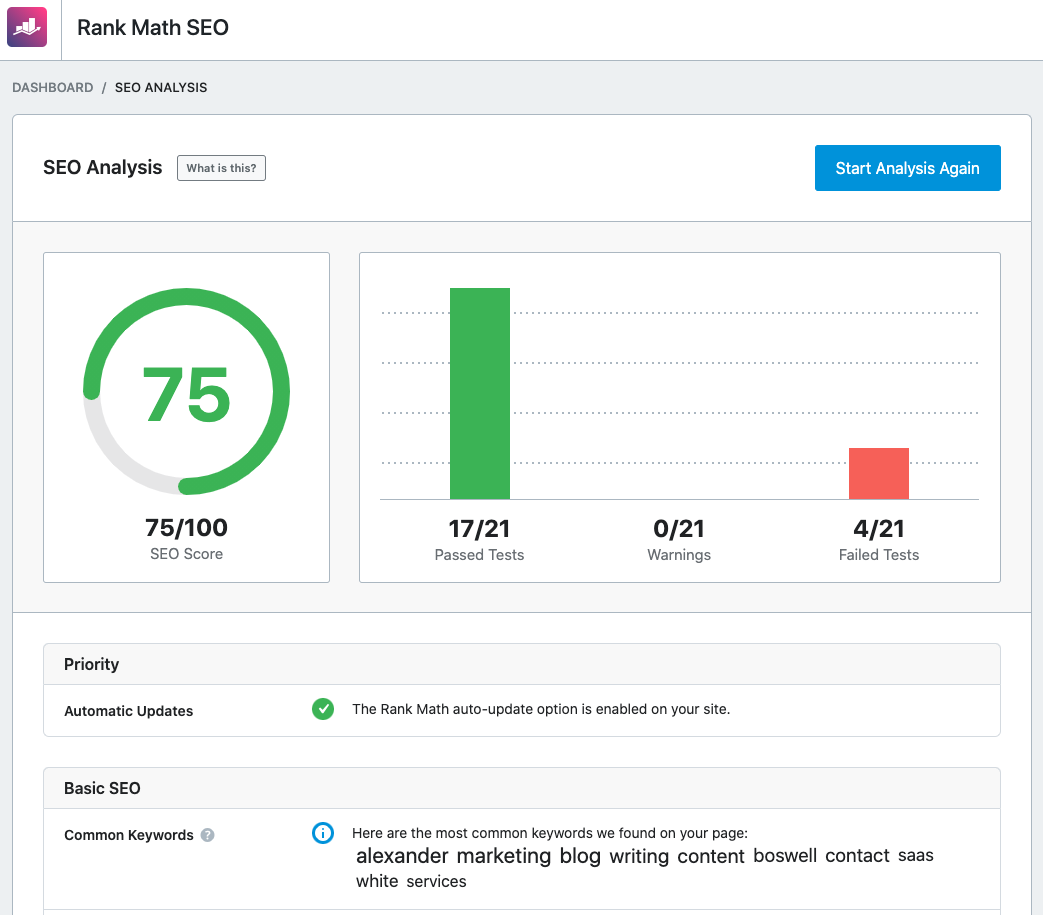 4. Hunter.io
Alright so you've got your keywords set, and even your post is optimized nicely, but what about link-building? This is one of the subjects that I'm still fairly new at, but teaching is the best form of learning. What I do know is that on-page SEO isn't enough if you want your content ranking in search engines. For that, you'll need to build good backlinks.
In comes Hunter.io to the rescue. Assuming your posts target a specific niche, what Hunter.io lets you do is find the emails of those in your industry for outreach. Yes, this part involves communicating with other humans but as providers of a product or service that'll be our job.
You'll need to identify posts or webpages featuring content in your niche, but when you do, you can use Hunter.io to find emails of the website operators/company marketing teams to ask them to link to your content. This part involves an element of sales, but Hunter.io also usefully provides a directory of email templates you can use.
I like to use the Domain Search function and then cross-reference with either the company website or LinkedIn the check out job titles. It can be a bit tedious if there are lots of results like this one.

It's definitely a useful tool to start with. The free account lets you have 50 searches per month, which is okay if you're new, but be wise about your search choices. I use the non-account version to see if there are any company results before I login to see them, instead of wasting a credit on no results.
5. Ahrefs Webmaster Tool
So at this point, you've got everything on the go. You have SEO ready posts, you've made sure your website has a decent SEO analysis score in Rank Math, and you've even secured a few backlinks! Your job is done, right? Hold your horses because you'll still need to monitor the situation as time goes on.
For that, you can look to Ahrefs Webmaster Tool. This tool is another free version of the (quite expensive) premium suite Ahrefs offers, but it isn't attached to a trial, so I can include it here. It's also only for the use of website owners, as it's verified either manually or through Google Search Console.
It has it's own SEO Health Score similar to Rank Math and shows you things to fix to improve your site. However, what makes AWT even better is that it gives you more free data.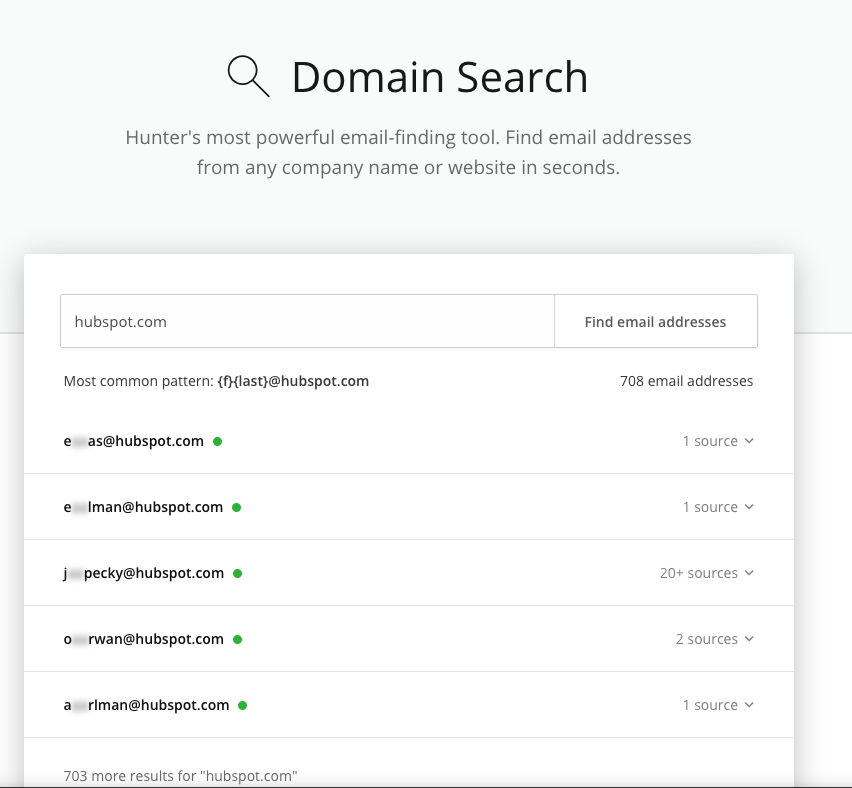 The screenshot above shows all the stuff you can explore for your site, including links. As a bonus, you can also use the site explorer to get an overview of your traffic, domain rating, backlink profile, and keyword rankings.
6. Google Analytics
Of course, this article wouldn't be complete without a mention of Google's own tools. Google Analytics is potentially the most widely used tool in the industry. Again, you'll need to own or have access to a website to use it.
While the other tools like AWT can give you an overall traffic report, Google Analytics can get right down into the minute details of how visitors behave on your site. It's pretty essential if you're running a website of any kind.
It can tell you all sorts of information like if a visitor clicks through multiple pages, how often visitors leave from the first page, how long they stay, and much more. It's such a vast tool that hundreds of courses exist on how to use it, including Google's own courses.
My websites are still too small to be able to give any significant examples to share. However, you can get access to a demo account provided by Google for free (of their online merch store). I'd recommend having a poke through the demo if you want to find out more of what it can do without having to own a website firsthand.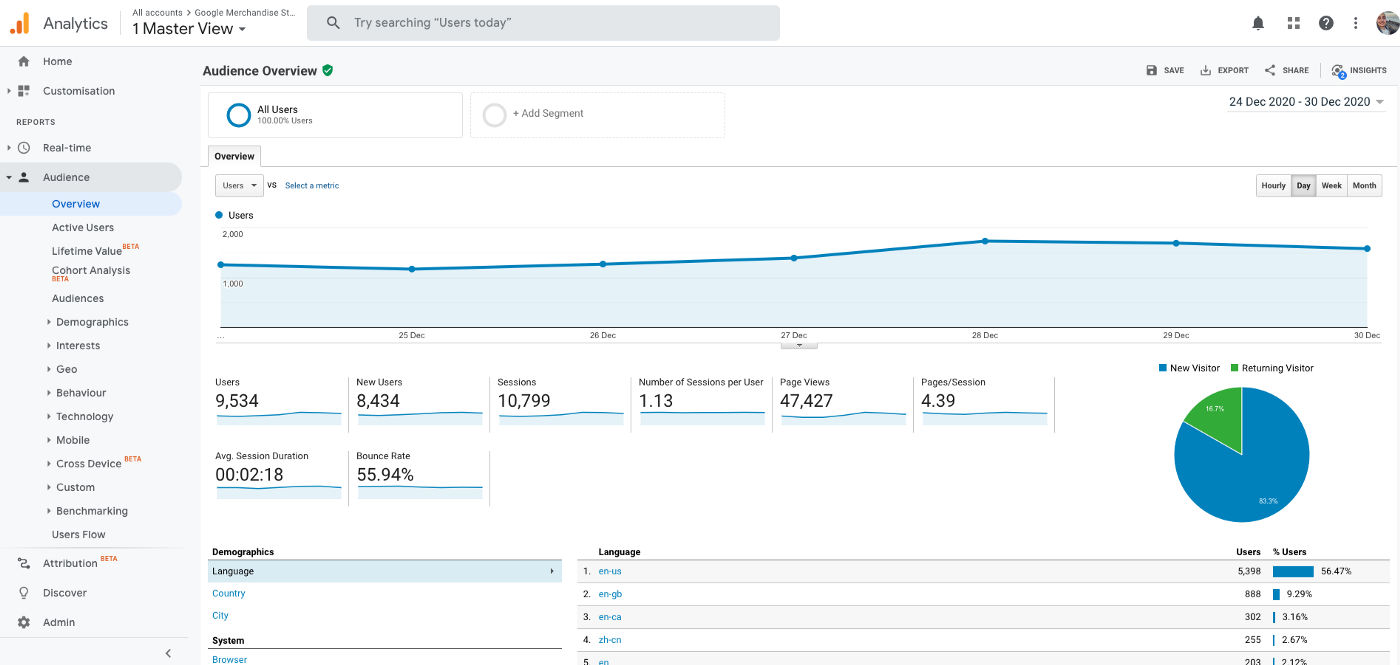 By regularly checking your site through Google Analytics, you can find pages that may need an SEO audit and also find your most and least valuable pages.
7. Google My Business
To add another Google tool to the list, registering on Google My Business is also an easy local SEO boost if you've got a physical store or service in a specific area. Since I have neither, I cannot give personal examples behind the scenes on this one. However, I am a customer and user of Google.
As a searcher, most of the time, when I'm looking for a service in my area, I will use the business profiles that pop up at the top of the search results page. The majority of the time, I'm clicking through to the business website to check if they're what I'm looking for. I'm sure you can relate to this one.
If I'm not clicking through to the website right away, I'll also be checking Google Maps if the store/service is close enough to me to use and the reviews if relevant. Optimizing your listing with relevant keywords can really help your service.
Google also states:
"Your position in web results is also a factor, so search engine optimisation (SEO) best practices apply."
So on top of the relevance to the search and location of the searcher, your prominence on the web (and therefore, overall website SEO) is important for Google My Business listings. As such, we have come full circle.
Honourable Mentions
While not free (but really cheap), Keywords Everywhere is a plugin very similar to Keyword Surfer. It's instrumental in figuring out some long-tail terms, which is just as important as the shorter terms.
I'm not to only one to love Keywords Everywhere either — top content marketers like Elise Dopson and Michael Keenan swear by using it as part of their keyword research.
Another honourable mention is Databox where you can combine different sources of analytical data (like Hubspot, Google Ads, and Analytics) into all-in-one dashboards. The caveat here is that the free version only lets you connect three sources of data.
Summary
As I mentioned in the beginning, SEO is one of those things that can feel like riding a huge, scary beast towards the depths of the Mariana Trench. With some helpful (free) tools and resources though, you can get started quite easily with the basics and build yourself up from there.
The tools I've listed also come with massive libraries of information in their blogs, on their webpages as well as hosting their own courses. I'm currently making my way through Ahrefs' Blogging for Business course. Be sure to check them out and implement what you learn. After all, your success is also theirs.
---
Created by
Alexander Boswell
Alexander Boswell is a Business Ph.D candidate specialising in Consumer Behaviour and uses this knowledge as a freelance writer in the Content Marketing and B2B SaaS space. Find him on Twitter @alexbboswell or his website alexanderbboswell.com
--- ---
Related Articles