8 high-value courses taught by individuals to learn design
UX for Freelancers
There are many approaches a person can take when deciding how to learn UX or UI design. Options might include taking a Bootcamp, design school or mentorship. There is a big trend now among professionals who have many years of experience and later decide they want to transfer their knowledge to students.
In recent years I saw many new courses risen and even I have taken some, others I just know from peers. This time I review popular courses you could take instead of design school, but rather a course taught by an individual professional.
If you ask a question about why you might consider taking a course from a single person rather a design school? Firstly they are more affordable and can share practical knowledge gained from working in the field. Although with some courses you get community, consultation and some mentorship.
Some of them after the courses continue to do workshops and learn even further. One thing to mention that these courses are not only for beginners starting in design. If you are at some level experienced these courses might be useful to refresh knowledge or get some new creative approach.
The courses I reviewed are:
UX for freelancers
David Travis UX
UX with Janda
Shiftnudge
UI learn
Learn UI.design
Flux Academy
Product Psychology Mastery (coming soon)
Bonus: TheFutur
UX for Freelancers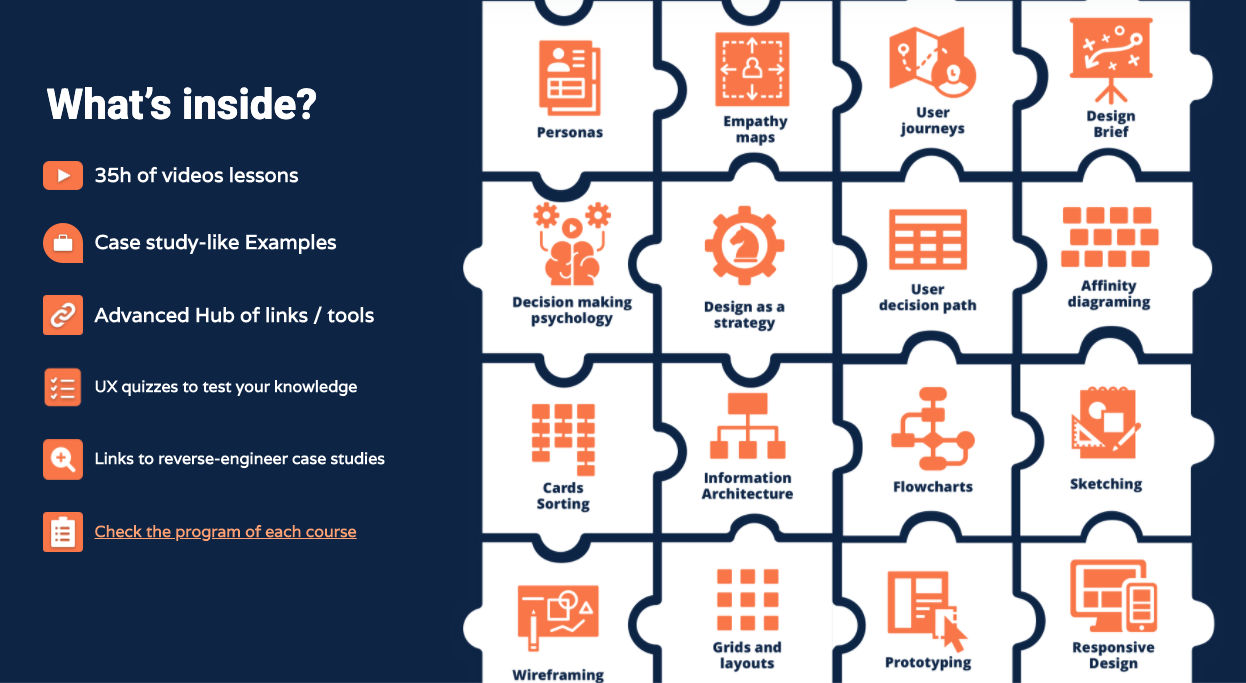 One of my personal favourites in UX Design is UX for freelancers. I remember I joined it when it was still in early beta version, but I had a feeling this might be a high-value course.
The Instagram content of the teacher is visually pleasing and engaging. In this course is everything you might need to get started or improve yourself in the UX field. The course name states that this is intended for freelancers, but personally I applied knowledge also by working in a design agency.
This course has a ton of content and it teaches everything you need to know about UX design by applying 'double diamond' approach. The course has many good examples, you get access to Notion course database with all resources and useful templates to apply in your everyday work.
During the course, you have all support from the teacher and after the course, you can join creative workshops. The price for the entire course is $250 or alternatively, you can buy one of "separate diamond" package for $150.
David Travis (Udemy)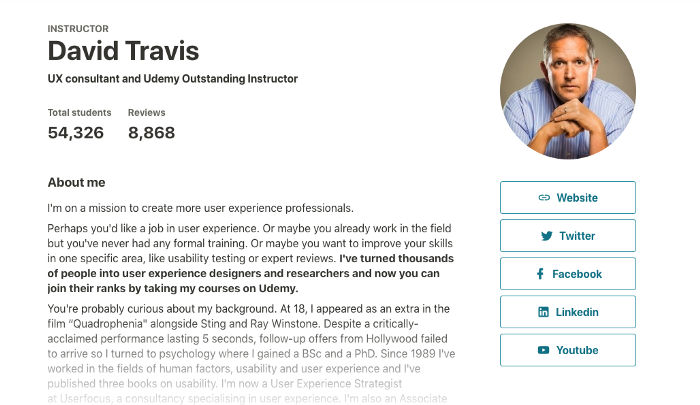 One of the best-valued course you can find on Udemy on UX. I discovered this course years ago accidentally and I still have good memories from the enrollment. The teacher is a UX consultant with a lot of experience in the field.
The specific courses I took in the past are: "User Experience (UX): The Ultimate Guide to Usability and UX" and "How to carry out a usability expert review".
These courses are not much advertised elsewhere as I saw, but the content and the quality instructor provides is exceptional. The courses cover everything about UX with a big emphasis on usability and how products should be usable. It has great storytelling with his own experiences and great examples to understand the real problem.
If you are starting in UX or want to refresh the knowledge this is a good course to start. The price is only $129.99, but there are many Udemy sales per year and you can get this for $9.99 on a good deal.
UX with Janda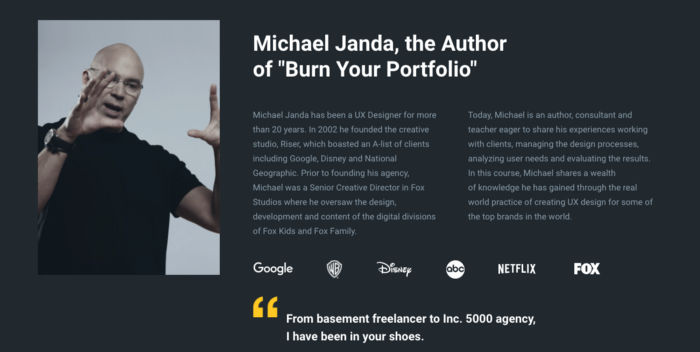 This particular course personally I haven't tried, but the course instructor Michael Janda is well known for his book "Burn your portfolio". At this moment he is working as a consultant, but before he was a founder of a successful design agency.
So the course content can be expected from the creative agency side and how to work with the client. As the previous courses before this one is affordable and has a fair price for its content. The content what he offers is rich and you can expect to learn a lot.
Also, to mention that instructor's teaching style is not boring! By watching a couple of sample videos from the website "UX with Janda" you can see that this one might be worth the try. The price for the course is $299.
Shiftnudge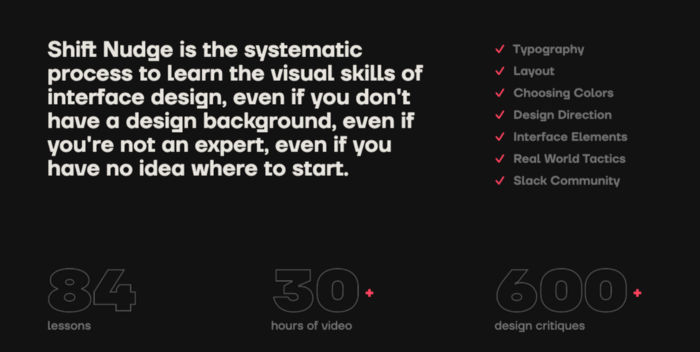 Shifnudge is a new UI design course on the market with a release in September. The course specifically covers UI Design with a focus on aesthetics and accessibility. Tend to say that this might be the best interface design course overall on the market.
However, this one has a solid price range starting from $1600 and going up. The price is not visible if enrollment is not active and usually you get the price after subscribing for updates later on.
However, as I hear from other people this is worth it in its quality and people wanting seriously to learn design from the best would pay. The course seems like is not only for beginners, but experienced designers would find it useful to refresh knowledge or learn some new tricks under the sleeve.
The instructor is really a highly experienced designer with some experience including lecturing and teaching. So the course itself is engaging and definitely will draw you in. One important aspect is that enrollment for the course opens only two times per year. As Matt himself mentioned this is because it is easier to support students and management overall.
Learn UI.design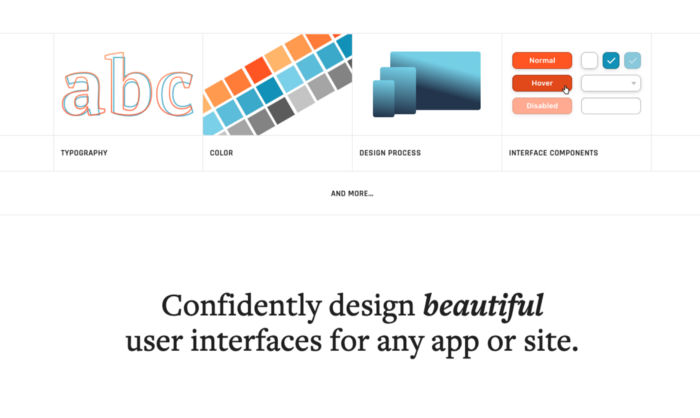 This might be a bit cheaper alternative for Shiftnudge, but the same principle for pricing goes here. You can not find out price unless you subscribe to be informed when it launches. By the last information, it goes around $900 and has enrollment also a couple of times per year.
This course has been around for some time, so in comparison is not new in the market. Overtime time it managed to build some social proof and overall feedback about this course seems positive enough. Worth checking out the website and social media of the course instructor to get some feeling what content to expect.
I am subscribed to the email news from this course creator, so to say the content previews which are coming to inbox seems to be valuable. From the course content, it looks like a course which covers all the things you need to improve to start in UI design.
UI Learn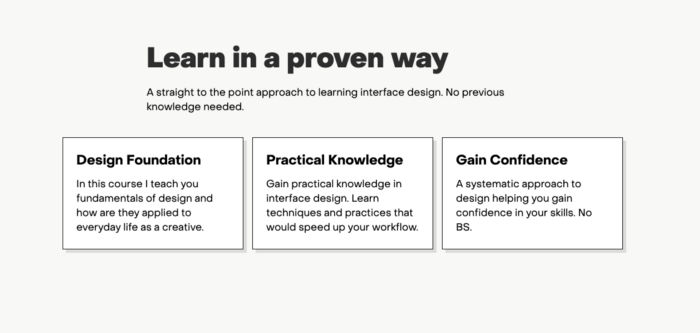 Another visual UI design course, but this one is more affordable compared to the ones before. UILearn pricing is only $140 and this is a relatively good deal. If you want to preview the teaching style and what content to expect on the website there is a sneak peek preview.
By watching the intro you would know what to expect there. By enrolling to the course you get access to the Slack where the instructor does a review on the homework and also you can chat with other people.
Almost every section has a requirement to complete some sort of homework to move to another, so it is practical and it requires you to participate in it. If you are on the budget this is one might be a good shot. The content itself is good quality, the instructor also uses a lot of examples why some designs work and some not.
Flux Academy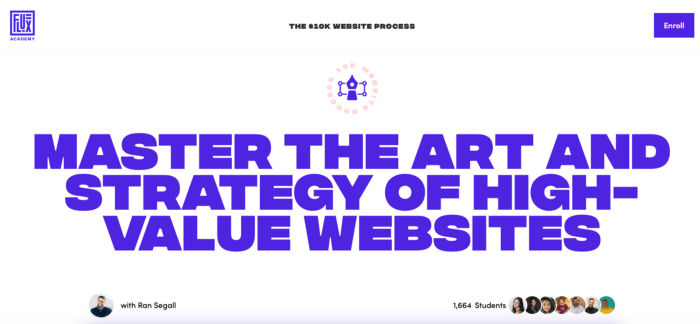 As the name states it is branded as "Flux Academy", but there is one teacher who is lecturing all the series. The focus of the course is a web design and there is one "Webflow" course if some people want to "code" the website or learn successful freelancing.
The price of "10k website process" cost $497, according to friends who took the course the quality is worth the price. It will teach you the skills of choosing the right typography, some colour theory, general good design practices.
Surprisingly the course is also teaching copywriting, storytelling methods and how to work with clients. In the website or Youtube channel, you can see the preview and what possibly you could expect from this course. Furthermore, his Instagram and Youtube channel is loaded with useful information.
Product Psychology Mastery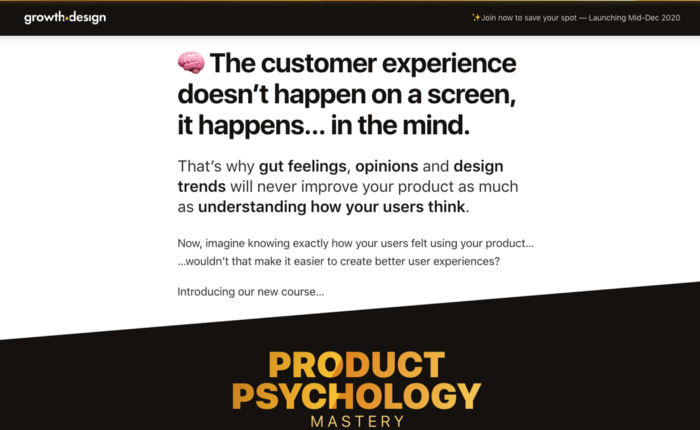 This course is made by two friends who run a popular website for case studies. In the design world, this resource is well known for its unique approach to doing and presenting case studies.
They review famous products which we use every day from a psychology perspective and how people feel using the product. Interestingly it is shown as a comic book with funky illustrations.
One thing to mention the course is launching soon and currently, is advertised for their subscribed members. The expected launch might be mid-December or January. The course should teach all psychology and behaviour tactics, that way you could inspect any website from the lens of psychology and how users are feeling.
Regarding the price, it is relatively expensive compared to other courses in design and it starts from $1400 at its original price if the discount is not applied.
Bonus: TheFutur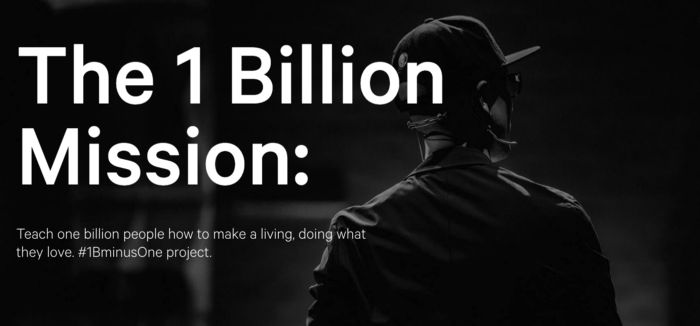 This is an extra resource as a bonus section, since it is not run by an individual but rather is a proper school. It has a variety of different teachers with it's each topic. One thing to mention the person you should look forward the most is Chris Do.
Personally this by far most advanced resource to learn the business side of design, since it is not always only about design. It is teaching you many soft skills which you need for the job.
In theFutur website there are many topics to choose from, but surprisingly the content they offer for free at no cost is a tremendous value. Even sometimes I feel this should be normally charged as a full course. And this feeling I don't get very often.
The recommendation would be to check their website and Youtube channel first. This is the place where you can learn many things for free and see some previews if any of the topics interests you.
To Conclude
There is no shortage of design courses at the moment, but I reviewed my personal favourites. At some level I know these are high-quality courses you should not regret, however, the price and quality proportion might vary. If it is still confusing for which course to go for, the best advice would be to reflect on your personal goals.
There might be a specific topic which you want to explore deeper or some specific skill improvement needed.
Whatever is the choice such course is only a fraction of your career success and there is no magic way to get skills fast. A lot of varies on practise, hard work and dedication to not stop improving. It might be only your first step to success, but a lot of varies on personality traits and how you plan to apply the knowledge you get. So go only for the course which will get closer to your desired goal and vision.
---
I enjoy turning complex problems into simple, beautiful and intuitive designs. I am providing most effective solutions and presenting information in an understandable way. The hunger to learn more and do better has helped me to achieve business requirements the company might have and ability to see the problems from a different point of view.
--- ---
Related Articles