8 Top Things To Make Your Kakadu Trip Memorable
Tours in Kakadu are incomplete without a visit to Nourlangie Rock. It is an immensely beautiful place with a serene atmosphere to enjoy the beauty of sunsets and sunrises.
---
Inspiring Vacations
5 months ago
|
2 min read
---
Kakadu National Park is the largest nature park in Australia and a perfect getaway from the daily hustles of life. Tours in Kakadu are the best way to relish the soothing hands of nature and rejuvenate.
It is a heritage site that preserves and upholds the culture of the people of the country of kangaroos. It's truly a terrific place to get the best experience of nature's lap.
Below is a list of a few things that you should not miss out on at Kakadu
NOURLANGIE ROCK VIEWPOINT
Tours in Kakadu are incomplete without a visit to Nourlangie Rock. It is an immensely beautiful place with a serene atmosphere to enjoy the beauty of sunsets and sunrises.
The viewpoint serves you with the sight of the beautiful Burrungkuy region. It gives you a complete insight into what Kakadu portrays.
The vastness and architecture of the place will hit you hard with prehistoric feelings.
BARRAMUNDI FISHING TRIP
If fishing is one of your hobbies, you must take advantage of a trip to Yellow Water Billabong on a small boat.
Experiencing sunrise at the yellow water Billabong is extremely relaxing and insanely beautiful.
As it is still silent at daybreak, you get to see a lot of wildlife that otherwise does not stray out in the open.
UBIRR ROCK ART
Arriving at the parking lot, you will find several rock-art sites within a 1 km radius that unfold the rich cultural history.
Despite the very beautiful scenery and rich history, the sunset point at the top of the trail will leave you breathless.
It is among the few locations where you can stare straight at the fiery red ball without being blinded.
GUNLOM FALLS
Enough about sunrises and sunsets; now let's talk about something that will soothe your soul.
Gunlom Falls is a favourite among travellers because of its mind-blowing beauty.
A cascading pool series at the top provides a glorious opportunity to explore the Australian waters.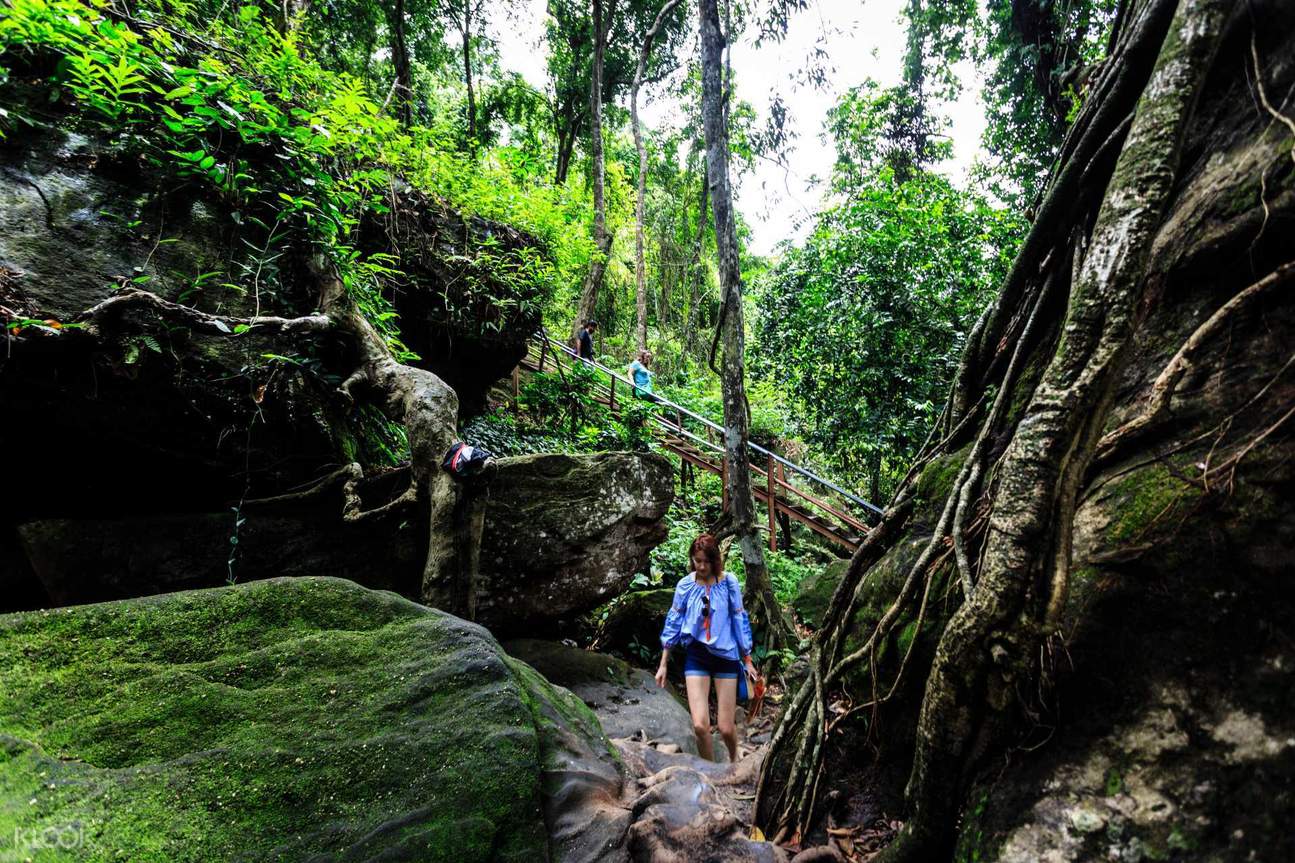 MOLINE FALLS
It is a hidden spot off the main road with a beautiful waterfall tucked away in the trees.
The water is incredibly clear and offers a perfect place to swim. Being away from sunlight makes the water a bit chilly.
CAHILLS CROSSING
Cahills Crossing is the only point of entry into Arnhem Land, a remote region of the northern territory.
This crossing experiences water rise at high tides, meaning drivers must time their run and make it across during low tides.
It is also among the biggest Australian hotspots for saltwater crocodiles, making it all the more deadly.
HANGI LUNCH
Don't miss out on the local preparation of Hunger Lunch. It is the traditional way of cooking buffaloes by burying them in a coal bed.
It will be among the unique lunch experiences you will ever have.
JIM JIM FALLS
Jim Jim Falls is the biggest at Kakadu-approximately 200 metres high, and can be found 2 km into the return journey from the monsoon forest.
Conclusion
We hope our little information and insights will help you plan amazing tours Kakadu with your family or friends to have an unforgettable vacation.
Source : https://inspiringvacationsaus.blogspot.com/2022/11/8-top-things-to-make-your-kakadu-trip.html
---
Created by
Inspiring Vacations
Discover a wealth of history and culture with Inspiring Vacations Egypt Tours. Our experienced tour guides will take you on an unforgettable journey through one of the most fascinating countries in the world. Explore ancient ruins, marvel at the magnificent pyramids, and soak up the exotic atmosphere – all with the peace of mind that comes with our expert knowledge and support. Book your place today and prepare to be inspired!
--- ---
Related Articles