From actor to writer to painter, meet Shweta: the multi-talented expressionist
They say "sky is the limit", and Shweta Rohira is a perfect example of the same! Shweta is a multi-talented star and expressionist, and has donned many hats including the ones of influencer, writer, and actress. From saying no to her debut acting chance to sharing why she later excitedly took the same role, Shweta gets candid in this exclusive interview with Tealfeed and shares an important piece of advice for all the artists out there.
They say "sky is the limit", and Shweta Rohira is a perfect example of the same! Shweta is a multi-talented star and expressionist, and has donned many hats including the ones of influencer, writer, and actress.
From saying no to her debut acting chance to sharing why she later excitedly took the same role, Shweta gets candid in this exclusive interview with Tealfeed and shares an important piece of advice for all the artists out there.
Tell us about Shweta before you made it in the writing and acting industry. Tell us about your childhood.
Practically I don't think I have grown up from my childhood; I have just been the same. As a child, I always loved painting. I was not a sports person because my father was overprotective. Be it cycling or skating, I was always refrained from sports and pushed more towards hobby classes. Books have been my best friends since I was a kid. Going to the library and paintings has been my thing since childhood.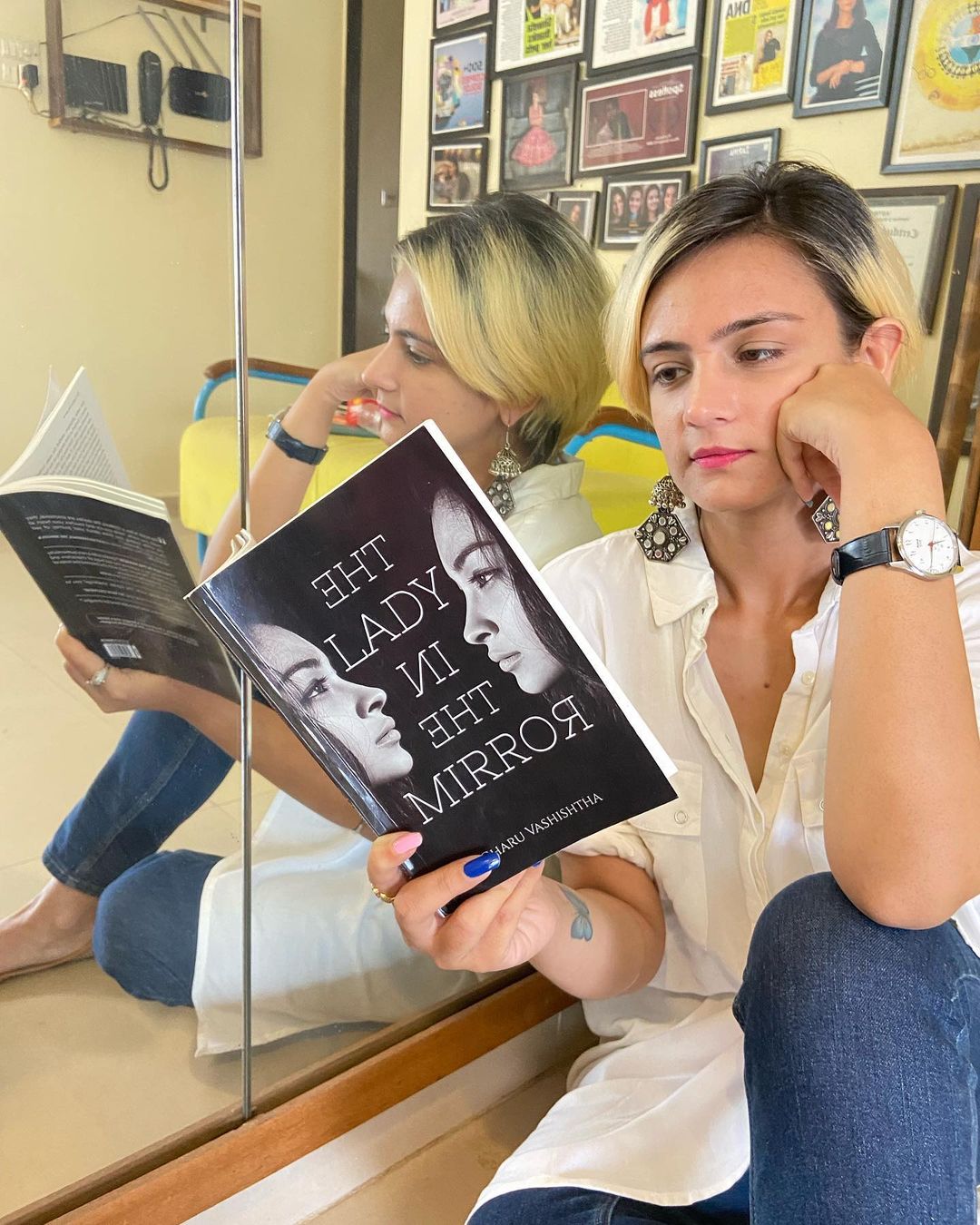 Today, what people call Instagramming or Influencing, Instagram is my scrapbook. Every artist has a scrapbook, just like we all did when we were kids. Instagram serves as my social, digital scrapbook. When I post a picture, I imagine it as if I'm putting it on handmade paper and writing a caption around it. That's how I see my Instagram.
If you ask me as an actor, I haven't grown up either. 'Nautanki' was something I used to enjoy as a child as well. As a child, I used to dance in front of my grandparents and asked my grandfather for money, stating that I had performed for him.
You're also an Instagram Influencer and as your bio says, you express your views with photos, captions, and writing. So, what role does writing play in your life? And what made you opt for Instagram?
To be honest, words mean a lot to me because I believe that one should always express oneself. It is critical to express yourself, to tell others what and how you feel. I consider myself an expressionist because I express myself through writing, painting, and acting. Those are the three ways I express myself, and I believe the reason I chose or was drawn to Instagram is because, as I previously stated, it is similar to a scrapbook.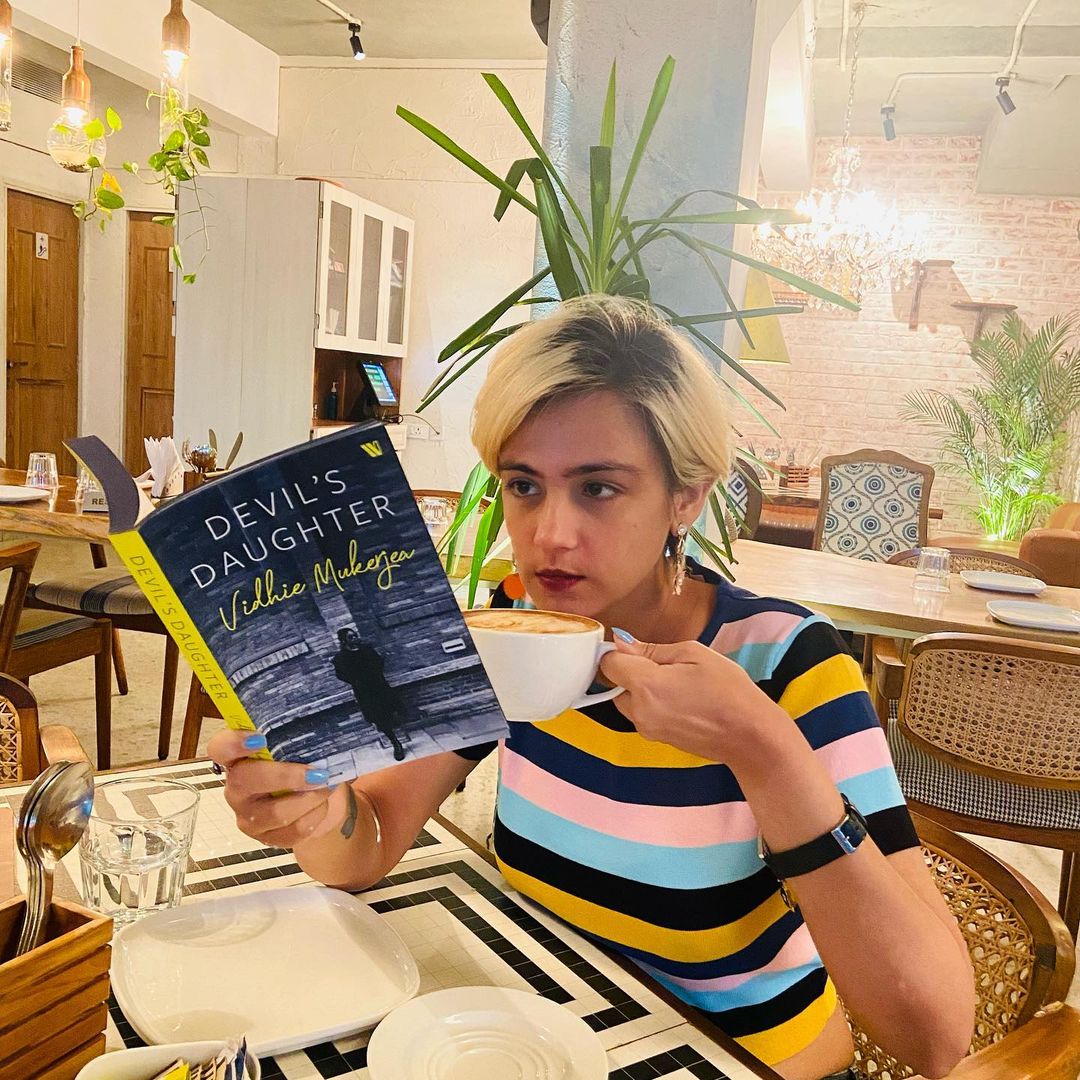 I can post a picture and write, and these are both activities that I have always enjoyed. I was the type of person who would go around with a camera and an extra reel. When Nokia introduced mobile phones, the idea of roaming around with a camera became outdated; otherwise.
I would always roam around with a camera to capture life's moments.
You're a writer and your first book, 'Filmy Chick' published in 2018 got amazing reviews. So, how was that experience? What was the thought process behind the book?
I completed my Master's degree in Entertainment. My elective subject was Journalism, which is when I discovered that I enjoy interviewing and writing while working on my projects. I decided to write a book. I had loved books since a very long time, so it was a dream to write a book. There were lots of stories in my head, so I figured out one story from my bucket list.
I remember 'Filmy Chick' is a part of me that I turned into a fictional story because anyone who knows me knows me as the protagonist. After all, I was born and raised in Bollywood, especially the 90s, and so I have a great fascination for songs and dance.
So Filmy Chick is someone I totally relate to, and that's why I think people liked it because it's a story about a girl who keeps positivity in her life and goes back to movies to keep that positivity out. For her, the difference between her reel and reality is the same. That's exactly how I am.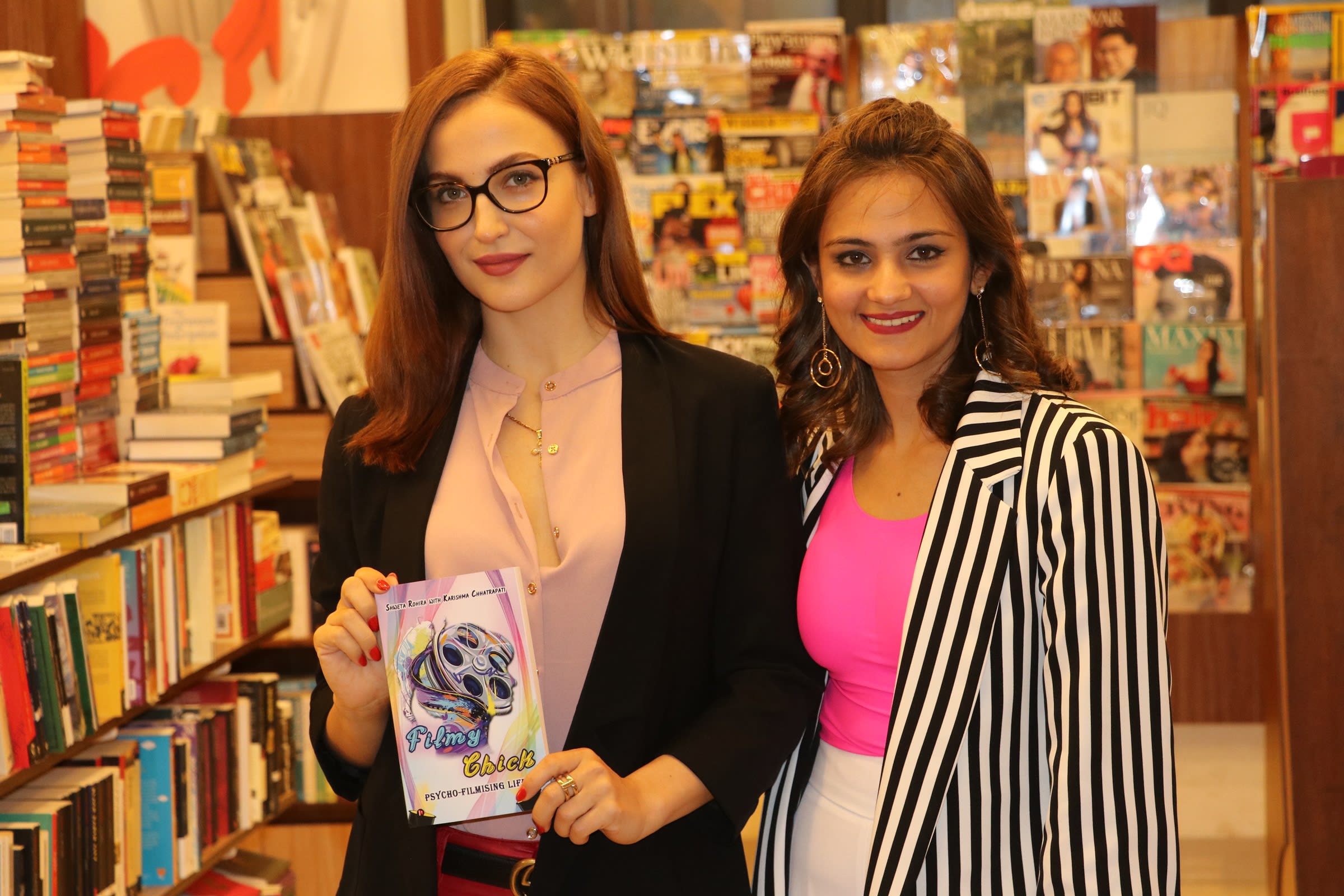 What's that one aspect of being a writer that no one talks about?
I think everyone thinks that writing is a difficult thing and that everyone cannot be a writer but I personally feel that everyone can be a writer and everyone can be a painter.
All you need is discipline because we all have stories to tell and its your choice how you bring these ideas out.
How did acting happen to you in the first place? Were you one of those kids who just love to be on the stage or it is something that you developed later?
I have always enjoyed being in front of the camera and watching plays. Still, I have never been an overly ambitious person because I am so much in my now and enjoying what I am doing all the time that I don't really struggle. Still, luckily I got everything at the right time, and theatre happened coincidently to me where I had done a short film which was again a coincidence, and it wasn't like I went for an audition or anything.
They just saw me and thought I fit the character, and because it was a father-daughter story, I got all tempted. My first film was Pareeniti, which was a short film with Kanwaljit Singh. I have been his fan since I was a child when I used to watch 'Family No.1' and 'Satte pe Satta,' and I was like I need to spend two good days with him and click selfies.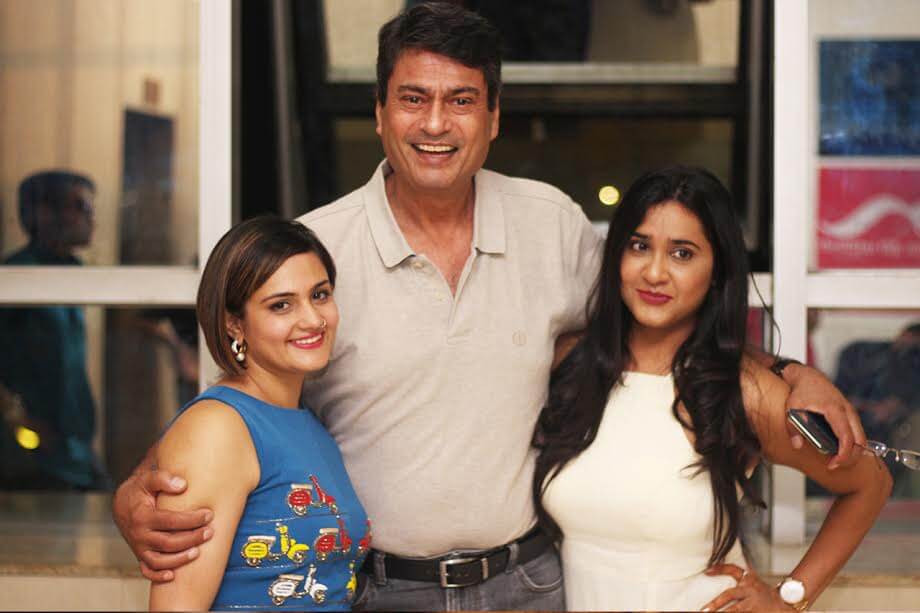 As I mentioned before, it was a father-daughter story, and I am super attached to my father, so I thought of it as a good opportunity to work with one of my favorite actors. He made my first experience a memorable one. He taught me how it works, and the entire team was a lot of fun, so I decided I wanted to work on this seriously and take this craft seriously.
After that, theatre came to me, and I remember walking in and feeling like I was auditioning. Theatre is too disciplined, and for me, I love watching plays, so I know the hard work that comes with it.
I haven't done any acting workshops as such, so I thought there was no way that I would clear this, and also having such a big thing like Bharat Dhabolkar directing you and performing with Anant Mahadevan on the stage, it's almost impossible and a dream for every actor but when I was called, I thought they were going to take my case like Bheja Fry or something because why would they want me, but I cleared it.
We performed for three years, and, as I previously stated, I am always in the right place at the right time. My need was so great that the universe simply gifted me, and after that, I put in a lot of hard work, effort, and discipline, and I thought now that I'd been given the opportunity, I wanted to make the most of it.
You've done both theatre and short films. What do you prefer more?
Nothing beats theatre. The euphoria of being on stage and having an audience is incredible. It's as if you're living in the present.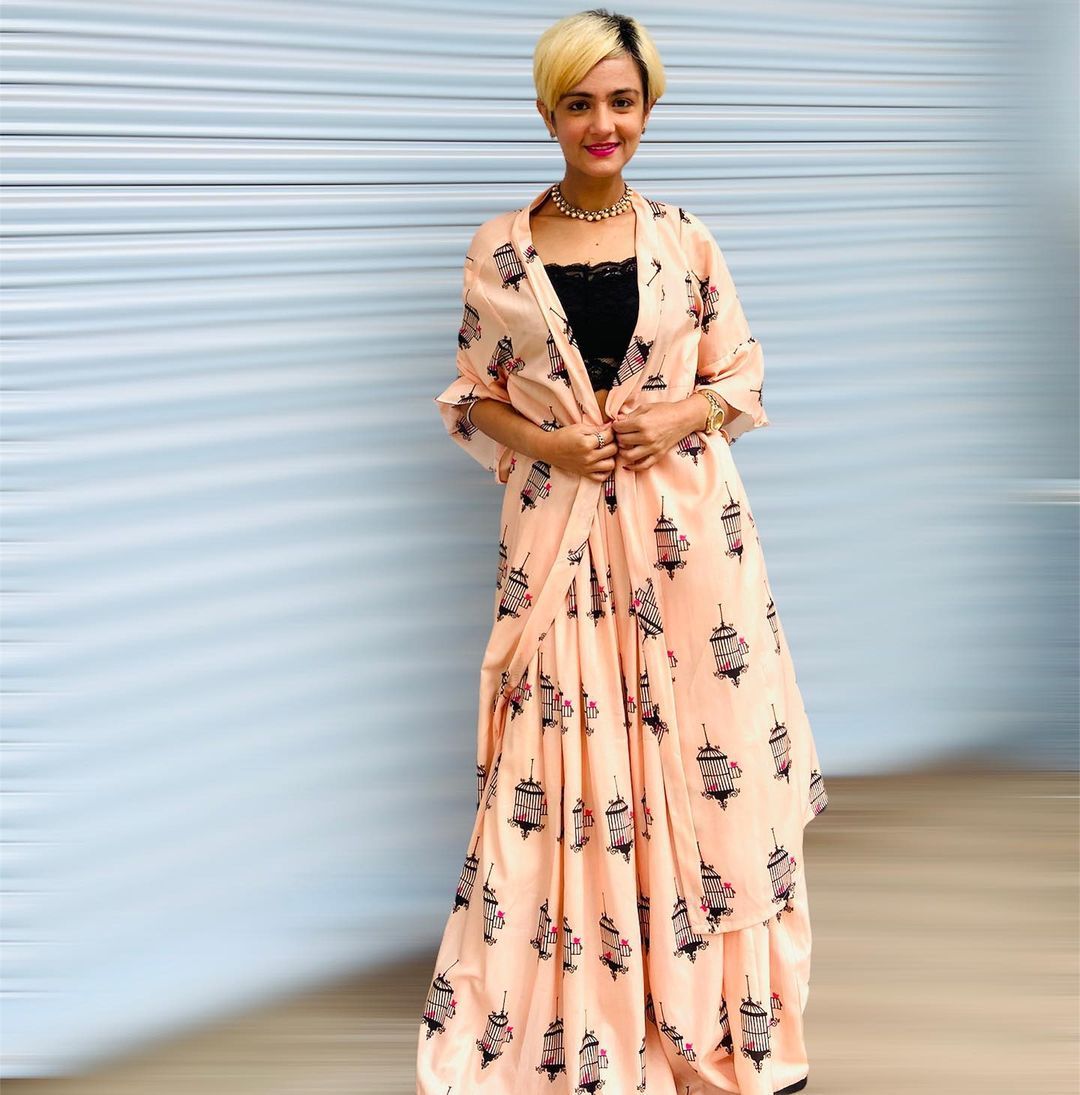 My show today cannot be the same as my show tomorrow, even if the audience is the same because there are no retakes.
It teaches you so much about life and fills you with creative satisfaction at a greater level.
More often than not, people fail to see years of struggles that finally lead to that one show/film that changes everything. Take us through what it was like after you played a lead in a Hinglish play, 'That's My Girl (2018).'
I believe that everything I do changes something in me. From 'Parineeti,' I got 'That's My Girl,' and from that, I got my next short film, 'Spotless,' and then I did a play called 'Blind Date,' with RJ Pritam and Karan Sharma. So I believe one leads to the other. And I also believe that everything you do in life changes something and carries you to another path.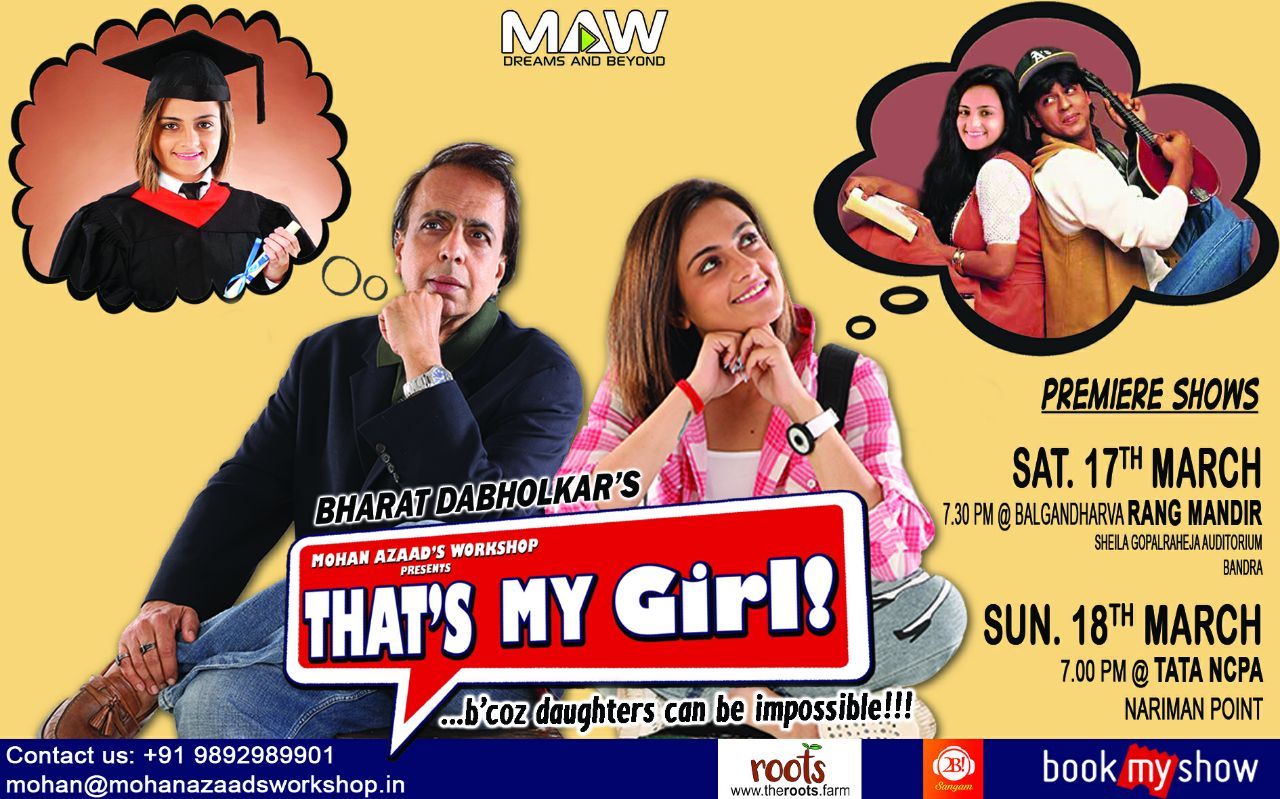 You have also done a short film with Sonu Nigam, 'Spotless' which was selected for several National and International Film Festivals. Tell us about your experience when you were shooting for that film.
As I previously stated, I am a child of the 1990s, and I have heard Sonu Nigam's songs, and the majority of the songs I have heard from the 1990s are sung by him, so the prospect of working with him was exciting. Plus, he is such a sweet person that he made me feel very comfortable while shooting.
When the script came to me, I had no idea that Sonu Sir was a part of it, but when I read the story about a massive survivor, I thought that they are the hope for people tomorrow, so it was very important for me to be a part of that movie, and I am glad that people appreciated the story and spread it further.
How supportive your family has been throughout your journey.
Since the beginning of my madness, they have been a pillar of support for me, and they have applauded me. They have always been supportive whenever I have come up with a new idea, such as now I want to act or now I want to write a book.
As a result, I believe that having a family is extremely important. My mother and father, as well as my brother and sister, have been my backbone, every single one of them. They have been there for me in every way possible and have shared every joy with me.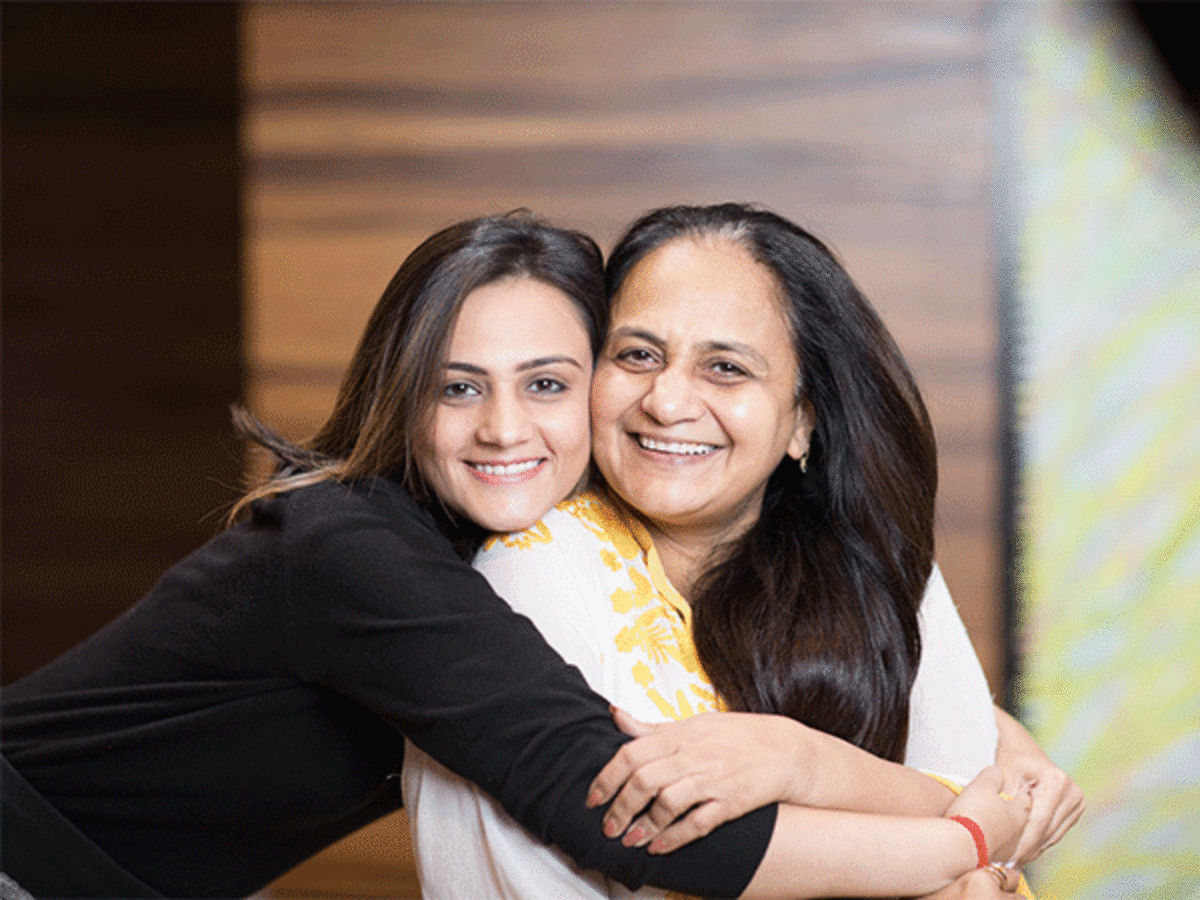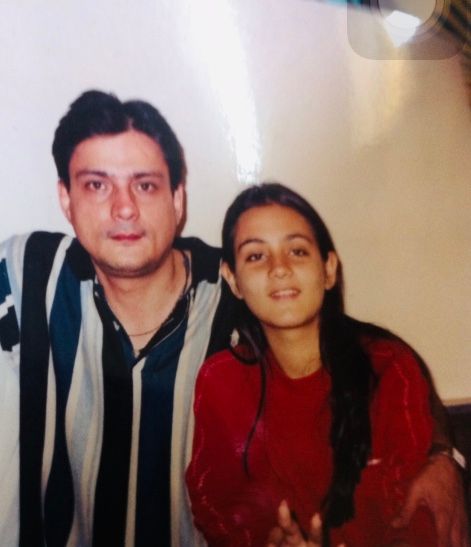 Tell us about your thought process when you received the offer to portray Parineeti in your first short film, 'Parineeti' in 2018.
When director Sunil Thadani approached me about playing Parineeti, I told him I didn't want to act. He said it was a father-daughter story, but I refused because I had already decided I didn't want to act. I enjoyed doing "nautanki", but I had given up acting in movies.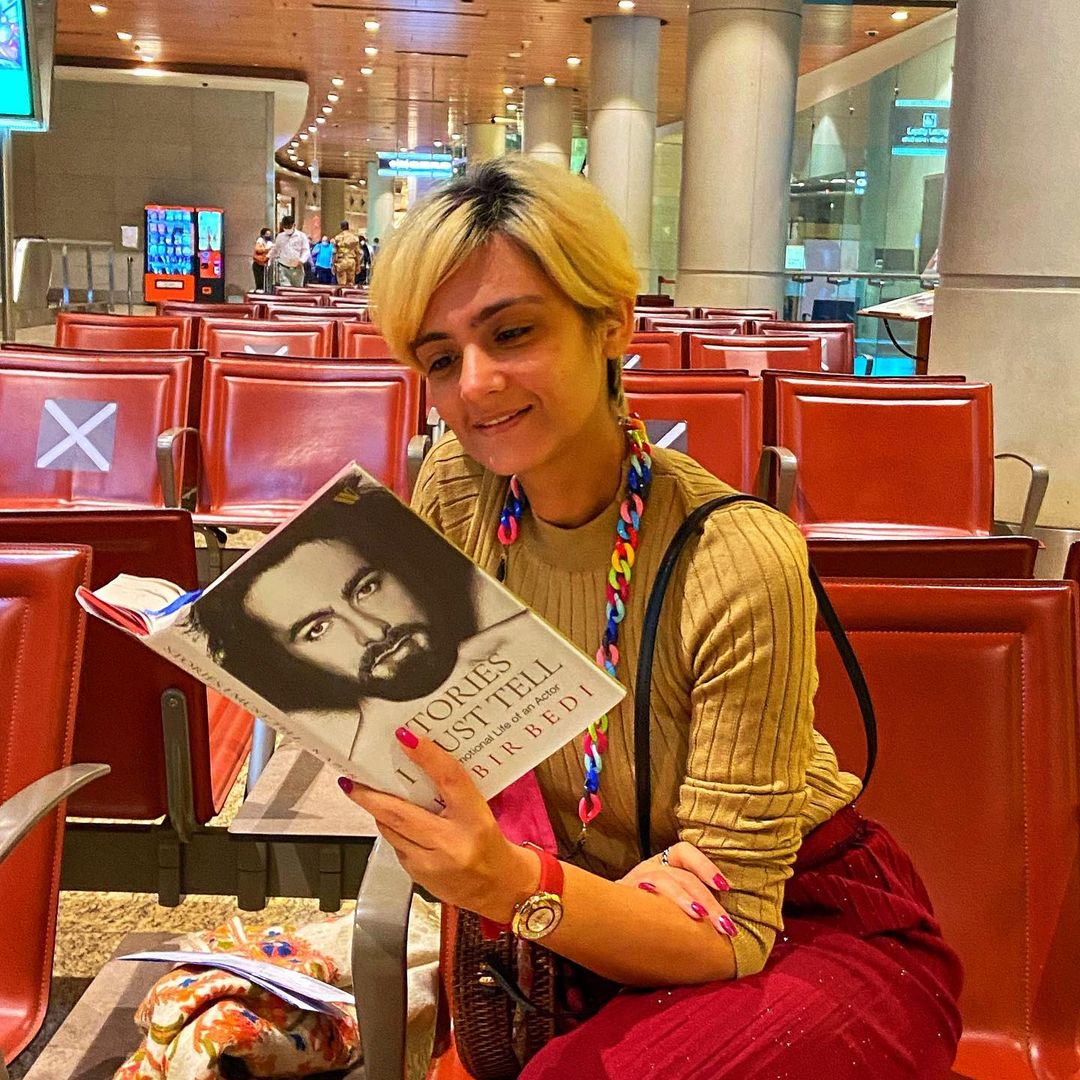 I did a music video with Falguni Pathak in college, but I dropped the idea of acting somewhere along the way, and it was long forgotten. As a result, it never came up again. I told him I didn't want to do it when he approached me. At the time, he suggested some big-name actors, and I told him I still didn't want to act. I asked him what he saw in me that reminded him of Parineeti.
He said, "I saw you, and I know you fit the character," so I replied, "Yes, but I'm sure a hundred more people fit the character." He asked if you liked the story, knowing how close you are to your father. I told him that I enjoyed the story and that I could assist him but that I didn't want to act in it.
Then one day I was just walking by, and I saw him on the road, and it had been a while so I asked him about the short film and he informed me it got delayed. He told that he has finalised Kanwaljit Singh and is still looking out for the female lead. So I asked him, "Can you take me in the film?" He was stunned.
I've always admired Kanwaljit Singh and wished to share the stage with him. That's how Parineeti came to be. I enjoyed those two days of shooting and, when I saw myself in the short film, I realized I needed to do a lot more shredding if I wanted to do this. I remember my nutritionist came to the short film screening and took me aside and asked if I wanted to continue acting, and I said yes. She then said that I needed to lose some more weight, and I said yes.
How did you start preparing yourself to portray the role of Parineeti? How much is Shweta similar to Parineeti?
Shweta and Parineeti have a lot in common, in my opinion. The bond she has with her father and how she is portrayed in the film is similar to mine. As a result, it came naturally to me. In That's My Girl, the same thing happened. Because Shweta and the character were so similar, both things worked.
But, no matter how similar they appear, they are not the same person. So you have to understand their mannerisms and the chemistry between the daughter and father in the role and learn your lines because you can't afford retakes and rehearsing a lot in a short film or even in a theatre.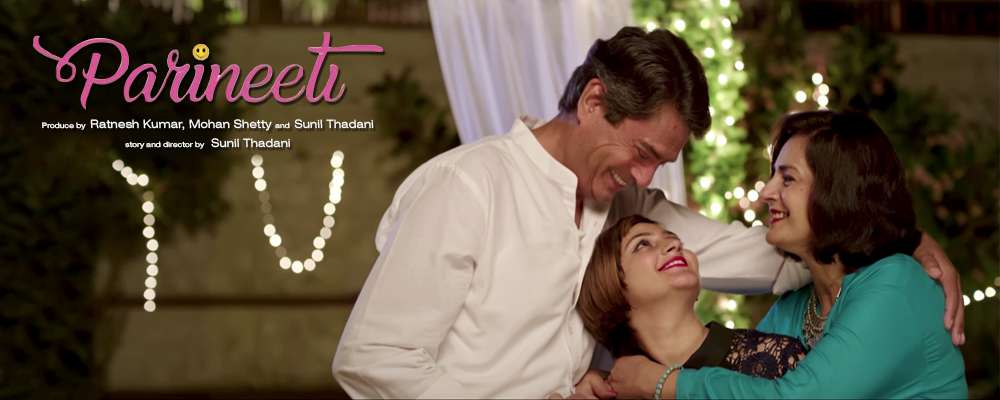 What does the future look like for you? Considering acting, what kind of roles would you want to do in the coming times? Tell us about your upcoming projects?
There are many things in the process, and hopefully, we'll be doing a lot of interviews about them in the future. I don't know where I see myself in the future because I live one day at a time.
So, if you ask me today, I am an actor whose short films are out there, theatres are opening up, and hopefully, we will be performing our plays very soon. That's exactly what's in store.
What are your favourite shows or movies?
I watch movies and TV shows, but I'm not a binge-watcher because I prefer books, so I'm picky about what I watch. I enjoy light entertainment, such as Korean romantic dramas. I'm not a big fan of thrillers, but I did enjoy Money Heist.
I usually prefer romantic shows or movies. I can rerun 90s movies like Shahrukh's DDLJ and Mohabbatein at any time. As a result, I enjoy watching the light and romantic shows on Netflix, such as Mismatched.
What role does painting play in your life?
I've been painting cafes and commissioning art for more than four years. I've painted for Farmers Cafe in Mumbai and Myfroyoland across India, from Hyderabad to Calcutta to Bombay, where they have about 4-5 stores.
I've painted a lot of bungalows in Bombay, and I do a lot of commissioned arts on canvas. I've also painted on fabrics for designers. In fact one of the designers was from New York, her one dress was painted by me, and she used it in New York Fashion Week. As a result, I've taken up painting as a profession as well.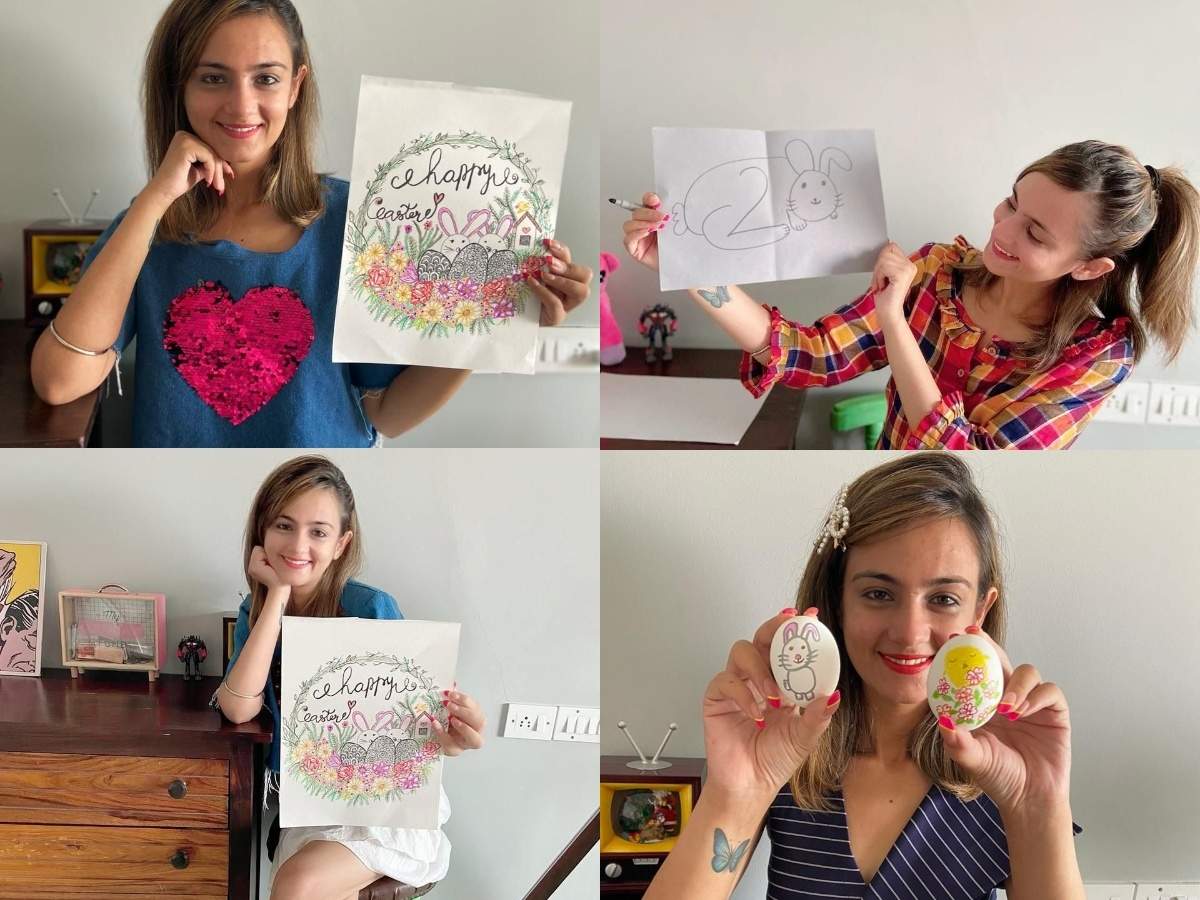 What would be your advice to every young kid who would want to pursue a career in a creative field?
I'd just say go for it because if you put in your hard work and determination without thinking about long-term goals, there's no way you won't achieve all of this.
"SRK in one of his famous movies said, 'Agar kisi cheez ko dil se chaaho to puri kayanat usey tumse milane ki koshish mein lag jaati hai.' So be patient, hang in there, and keep giving your best."
---
"Tough times never last, but tough people do." Road to Fame, a Publication by Tealfeed, gives a sneak-peek into the inspiring journeys and struggles of celebrities who made it big with their passion and determination.
--- ---
Related Articles