Adopt a Design Thinking Approach to Navigate Uncertainties
An overview of the design thinking approach, methods and tools
Design thinking workshops and approaches have helped me to effectively navigate through today's VUCA environment, where the "test and learn" approach is often favoured over "plan and implement".
Background
I attended my first design thinking workshop a couple of years ago while I was working at an internal startup team — it has changed the way I approach problems since. I've been applying the concepts in one way or another in my daily work throughout, and have found them useful.
The methods and tools can be applied across many areas of my work ranging from addressing design feedback, crafting new strategies, recruitment approaches, and product development.
I have found the methods and tools to be useful in guiding my train of thought towards creativity.
A prime example is the Creative Map, which forces me to think from the perspective of companies from different industries, e.g. "How would X company approach this problem?" to overcome complex challenges through novel solutions.
While there are many variations of the design thinking approach used by companies across the board, I'll be writing about the framework and approach that have worked for me.
The Framework and Approach
The approach I use is a rather simplified one — enough to guide my thoughts quickly with or without a team.
The framework guides us to adopt two main types of thinking:
Divergent — think broad and cover as much grounds as possible.
Convergent — think narrow and scope down to several key solutions.
The thinking process is applied in an iterative manner across four steps:
Discover — define and frame the problem space.
Ideate — scope key problems and form hypotheses.
Prototype — explore and test solutions to address hypotheses.
Scale — design, build and deliver scalable solutions to the market.
The framework is commonly represented as a "double-diamond" as illustrated below.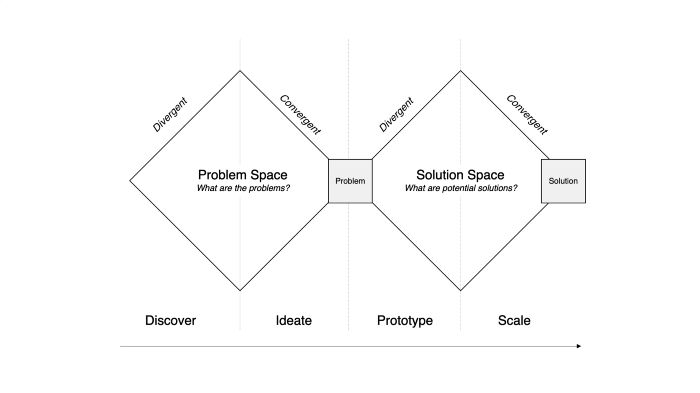 Image by Author
I will provide some examples of the tools and methods used in each of the respective stages below — with a brief explanation of their purposes. Before you read further, do bear in mind these three things:
The methods and tools are not fixed and can be used in any of the stages — they are mainly guides.
The stages are meant to be iterative — you can transition back and forth across the stages should there be further clarifications needed.
The activities should be timeboxed, and overruns are common.
Discover
The objective of this stage is to define and frame the problem properly. Here are some useful tools and methods which I have used in this stage:
Territory mapping — defines the boundaries of the problem to solve.
Interviews — creates empathy and understanding about the problems.
Affinity clustering — makes sense of the information gathered by placing them into groups.
Ideate
This stage focuses on prioritising key problems to work on in the subsequent stage. Below are several tools to assist with coming up with a list of potentially workable ideas:
Journey mapping — captures the "peaks and throughs" of a user's journey, presenting opportunities for ideation.
Statement starters ("How might we?") — scopes the problem to invite solutions exploration.
Creative matrix — provides an "alternate world" perspective by generating ideas in the context of different companies.
Round robin — isolates the person from the idea, encourages co-creation and critique of ideas which leads to the development of new concepts.
Importance matrix — prioritises the concepts by importance and difficulty.
Concept posters — elaborates the concept in deeper detail to assess potential value before moving forward with creating prototypes.
Rose, thorn, and bud — facilitates the acquisition of useful feedback and critique to validate concepts.
Prototype
The objective of this stage is to explore ways to realise the concepts and ideas generated from the ideation stage into something tangible. A tangible prototype serves as an "enhanced sand table exercise" that helps to identify further gaps in the solution.
Prototypes can be developed in a variety of ways and combinations listed below:
Paper mockups and sketches
Videos
Roleplays and props
Wizard of Oz prototyping
PowerPoints
Online tools, e.g. Marvel, InVision
After the prototypes have been developed, tools in the previous stages such as "Rose, thorn and bud" can be incorporated at this stage to gather useful feedback for reiteration and improvement of the prototypes.
Scale
Once a prototype has been assessed and tested to be potentially viable, this stage attempts to scale the prototype to the next level — whereby it can be properly launched and tested in the market.
These are the typical set of tools and activities in this stage:
Lean business canvas — considers additional dimensions of the prototype, such as resources, costs, channels, etc.
Business proposals — includes slightly more components compared to the lean business canvas, e.g. financial projections, long-term road maps, programme/project structure, governance models, etc.
Solution architecture diagrams — ensures that the prototype is easily scalable to the masses and streamlined with minimal technical debt from the technology architecture and governance perspective.
Project management and delivery plans — provides visibility on the major project milestones and deliverables.
Product backlogs, KPIs and metrics — breaks down the product into bite-sized deliverables prioritised based on metrics and KPIs.
You can find most of the abovementioned tools and methods on the Internet. Websites like DesignKit.org provide a variety of methods and tools to facilitate design thinking workshops.
Additional Logistics
Apart from the digital tools and methods mentioned above, there are usually additional logistics required — it depends on the objectives of the workshop.
Some of the objectives of workshops can be to:
Establish strategic priorities and general direction collaboratively
Develop innovative ideas to solve complex problems via co-creation
Understand users via empathy and roleplays
To conduct the workshop effectively face-to-face, you'll need to factor in these three considerations:
Basic logistics: markers, post-its and whiteboards.
A diverse team for best results (human logistics): include people from different departments, industries, specialisation, and backgrounds, etc.
Templates: printed blank templates of frameworks and tools, e.g. journey maps, priority matrixes, business canvas, etc.
The Benefits
The design thinking approach and workshops can potentially bring huge benefits to your team — especially in today's VUCA environment. Based on my experience with the workshops, these are the three key benefits:
Create novel solutions and ideas — the combination of tools such as the creative matrix, user journey mapping, etc. coupled together with a fun and challenging environment encourages creativity and problem-solving.
Provides ownership of ideas — when the relevant stakeholders are involved in the idea generation process, it's easier to obtain buy-in and alignment, especially during the "scale" stage.
Increases focus and reduce noise — the exercises create empathy and understanding, which allows your team to pinpoint the relevant problems that users are facing and start working towards a targeted solution.
Potential Pitfalls
There are also several areas where the workshops could be rendered unproductive and lead to a waste of everyone's time. Here are some of the things to avoid:
Jumping to conclusions and criticising other teammates' ideas — this discourages participation and prevents people from sharing, which can be counter-productive.
Inefficient grouping of participants — putting senior and junior management in the same workshop could potentially affect the sharing of ideas and thoughts freely due to hierarchical influences, fear, etc.
Fear of speaking up or participating — the main benefits of the workshop lies in the open sharing of ideas comfortably and allow ideas to build upon one another. The lack of involvement usually results in inferior solutions and workshop failures.
---
In perpetual beta—playing at the intersection between digital technology and business.
--- ---
Related Articles