My advice for job-hunting junior designers
A perspective from someone on the other side of the process
The market for junior designers is ruthless right now. Competition is fierce and there are not enough roles to go around. It's also a tough time for people hiring. I recently recruited for a junior UX/UI designer and thought I could share my experience to shed some light on the process.
I was working as the sole designer on our product team. There were a lot of jobs I was doing that my team thought we could give to another designer to free up my time. So I wrote up a quick job description and I posted it in the Fearless community jobs channel.
Within 24 hours, I got more than twenty applications. People's experiences ranged from new bootcamp grads to senior freelancers. I set aside a few hours and got to reviewing portfolios.
I found myself seeing similar mistakes and weaknesses that made it 'easy' to reject people. It sounds cold but I needed to find someone quickly, and this was one thing I did to stay sane.
Everyone got a fair review but in the end, I had to narrow down my search to a single person.

Getting to an interview is as tough as nailing an interview.
Many designers who didn't get the job would have been a good choice, but I had to narrow the pool somehow.
The points below are the things I used to choose between candidates. I'm hoping that by sharing my views like this I can help make you harder to reject.
Show me how can you help me
Designer's portfolios tend to focus on themselves and their journeys. Which is great, but it can get predictable.
A lot of descriptions I was seeing from people were about how much they love design. I saw the words passionate and exciting quite a lot, and after a while, they lost their impact.
The people that stood out the most got across how they could help me and my situation. They showed me how they'd helped other businesses. The way they talked about their impact was tangible.
They felt real. I could imagine having them on my team and helping me get my work done. The most impressive designers didn't need to tell me they were passionate about design because I could see it in their process.
I'd love to hire someone on enthusiasm alone, but at the end of the day, I'm also looking for someone I can trust. A designer that fits the picture in my head of who I need to complete my team.
Selling yourself in this way is a bit strange, but it makes you a convincing professional rather than an enthusiastic hobbyist.
Don't tell me what you can do, sell me a solution to my problem.
Break the mould
After a while, people's portfolios started to look the same to me. If your portfolio contained any of the following things, I've already seen it at least a dozen times:
A typical case study layout. Customer research → Personas → Wireframes → Prototype → User testing → Final design
A Figma/Invision prototype showing a sign-up process
A redesign of a popular platform (eg, Spotify, Amazon, Netflix)
If your case studies are long and typical, my attention will start to wane. I'm trying to stay focused, I promise, but your portfolio isn't the first one I'm seeing today. And it's not going to be the last.
This video breaks down a lot of mistakes I was seeing the same people make. Things like showing everything and not telling your story clearly. Like Lily says, recruiters will spend 5–10 minutes on your portfolio. You have to keep your stories brief and dense.
Skip to around 3:07
Your portfolio should grab someone's attention. Hook them in and keep them interested. Sell yourself.
You need your work to stick in someone's mind, so standing out from other designers is a must. Don't be afraid to break the formula a little if it means you can tell your story in a way that's authentic.
You'll have about thirty seconds of someone's divided attention to make an impression. Use it wisely.
Check your portfolio for errors
I was hiring for a design role. I needed someone on my team with good attention to detail and strong organisation skills. On the majority of portfolios I got, I spotted at least one error.
Things like typos, placeholder URLs, misaligned content. As I was hiring for a UI Designer, I was even looking for the quality of thumbnails and mockups.
It shocked me how many applicants had obvious mistakes on their websites. The occasional small error is forgivable, but if I can spot one instantly, then that's not okay.
Check your work before you share it. Have some pride. Think about your user's journey and what they'll take away from it.
If your own portfolio isn't your best and proudest work, then it's harder to trust you with my project files.
Follow the instructions
In our job advert, I asked people to fill in an application form. This was so that I could keep everything in one place. A few people contacted me through other channels.
They'd send me a Slack message expressing interest and then not bother to fill in the form. In the end, we didn't consider them. The only candidates the rest of my team ended up seeing were the ones who filled in the form.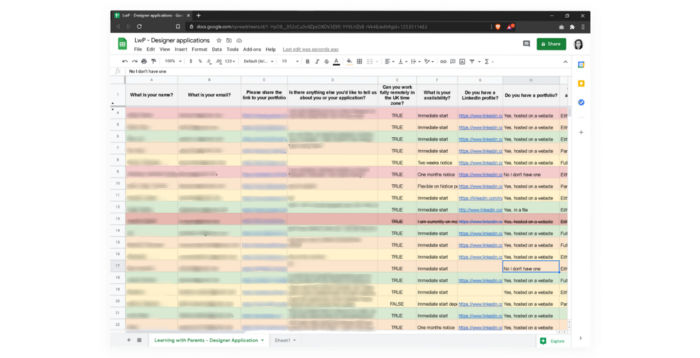 We used the spreadsheet generated by the form to track candidates.
It's nice to make a unique impression by sending a message, but that's not an alternative to following a process. Managing job applicants is one of the many things on my plate.
If your name isn't in the spreadsheet by the time I do a portfolio review, I'm going to forget it.
The application process can feel cold and clinical, but it makes my search much easier.
Be yourself
It's tempting to put on a persona when you're applying for jobs. The problem with this is that the interviewer won't get a sense of the real you. Presenting yourself in a way that isn't authentic is stressful, and that's the last thing you need in an interview.
If you're in an interview, your portfolio has already impressed them. The main reason people have in-person interviews is to find out who you are, not what you can do. I'm asking myself "will you fit into the team" and "will I enjoy spending time with you".
These are things I'm only going to know by talking to you as if we were already working together.
You don't need to be the 'perfect candidate' for the role. Please just be your authentic self.

---
--- ---
Related Articles