AI in Banking: Can Banks Meet The Challenge?
How is the banking sector dealing with the challenges that AI has brought about?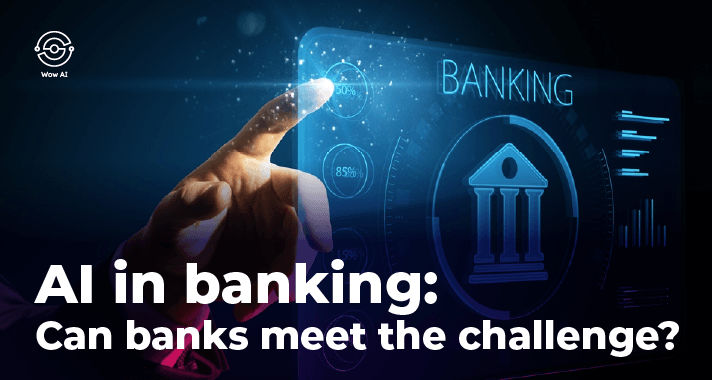 Technology and the fourth industrial revolution have penetrated their way into many sectors. This technology is now reconstructing social skills and the workforce. Not only limiting the existence of a changing workforce, but the use of artificial intelligence is very evident in the banking sector. Let's find out more about the future of banking and the hurdles blocking the way of implementing AI models in banking!
How will the
AI-first Banks
of the Future Look?
The implementation of AI in banking is largely demand-driven and customer-oriented. Accenture compiled a survey of banking customers and their ever-evolving needs to find that 71% of the respondents would prefer computer-generated customer support. While 78% of the respondents would use automated support for investments. The next frontier of AI-first institutions is poised to include:
Asset Management

: AI-based advisors can be implemented to generate advice based on world events. They have the potential to forecast the impacts of such events on asset prices and are useful for risk modeling.

Credit Scoring

: AI-based credit scoring offers a nuanced evaluation of data to expedite accurate decisions. AI tools use techniques like machine learning (ML) and ensemble learning to analyze data for predicting scores with the ease of scalability and reevaluation.

Fraud Detection: Advanced pattern-matching analytics helps bank systems detect fraudulent activity and is an essential element in designing a preeminent anti-money-laundering process. Adopting ML passes all transactions through a legitimate screening process while saving costs and reducing the chances of unscrupulous proceedings.

Market Research: AI-driven intelligent agents use NLP to curate and semantically index research content. They assist bankers with strategic trade information and trends by analyzing keywords within websites, research reports, and news from the financial markets.

Customer Support: AI assistants and chatbots use cognitive ML to identify context and emotions during customer support chats. Natural language processing (NLP) allows them to revert to customer queries instantly and offer personalized financial advice. Self-help customer service enhances digitized customer experience while saving costs for banks.
The Three Key Challenges of AI in Financial Services
According to the recent report of Mckinsey, the banking sector is facing two types of challenges. While on one hand, they need to achieve speed and agility in their operations, on the other hand, they also need to continue managing the security standards and regulatory compliances.
To better understand the challenges, let us look at the three major obstacles banks face.
Legacy Infrastructure
Implementation of AI into business processes often poses new requirements for data, infrastructure, and technology needed to build and scale models. It is not only expensive to replace large legacy systems but building AI banking applications can be compute-intensive, resulting in off-putting upfront costs.
Governance Structures and Regulations
Implementation of any new technology can be at odds with the highly regulated banking and financial services industry. Risk and compliance teams may struggle to understand the potential vulnerabilities or create appropriate internal regulations. Without the right governance, the deployed AI solution may result in unintended consequences such as access denied to financial products or privacy breaches.
Lack of Clear Strategy
In a constantly evolving technological environment, amid high costs for new infrastructure and human capital, executives may fail to fully embrace AI technology. If that happens, it will be difficult to implement a successful organization-wide strategy to effectively utilize the AI technological capabilities.
What AI experts say about overcoming these challenges of AI in Banking & Financial Institutions at the Worldwide AI Webinar
We have looked at just a few of the many challenges of artificial intelligence and machine learning in the banking sector. Overall, AI in banking makes banks more reliable, efficient, customer-friendly, and responsive. However, in deciding to adopt AI-based systems, banks need to be mindful of the risks and challenges that accompany them.
Register at our Worldwide AI Webinar to listen to top-industry experts about building and applying AI in banking! This is one of our core topics featured in this event.
Join us at: https://event.wow-ai.com/worldwideAI2022/
🔸 Event details
Time zones: 9:00 AM — 6:00 PM New York Time
Date: 29–30 September 2022
Language: English
Fee: Free & open to everyone
Follow us on LinkedIn, Twitter, Facebook, and YouTube to receive daily industry updates!
---
Wow AI is a trusted partner that provides high-quality data for AI training in different languages at a large scale. We are experienced professionals with a track record of success in numerous types of data collection. With a crowd of over 100,000 project contributors all over the world, we can provide massive, scalable, high-quality data across data types. We also provide off-the-shelf data and tailor-made data for your AI/ML projects.
--- ---
Related Articles