Amazon Is Killing Its Shopping Experience — and Somehow It's Profitable
Ads are a sweet poison
Ten seconds after Brandon Fishman opened the Amazon app, he started to boil with rage. He'd typed "Vitacup," the name of his coffee-making startup. Here's what he saw.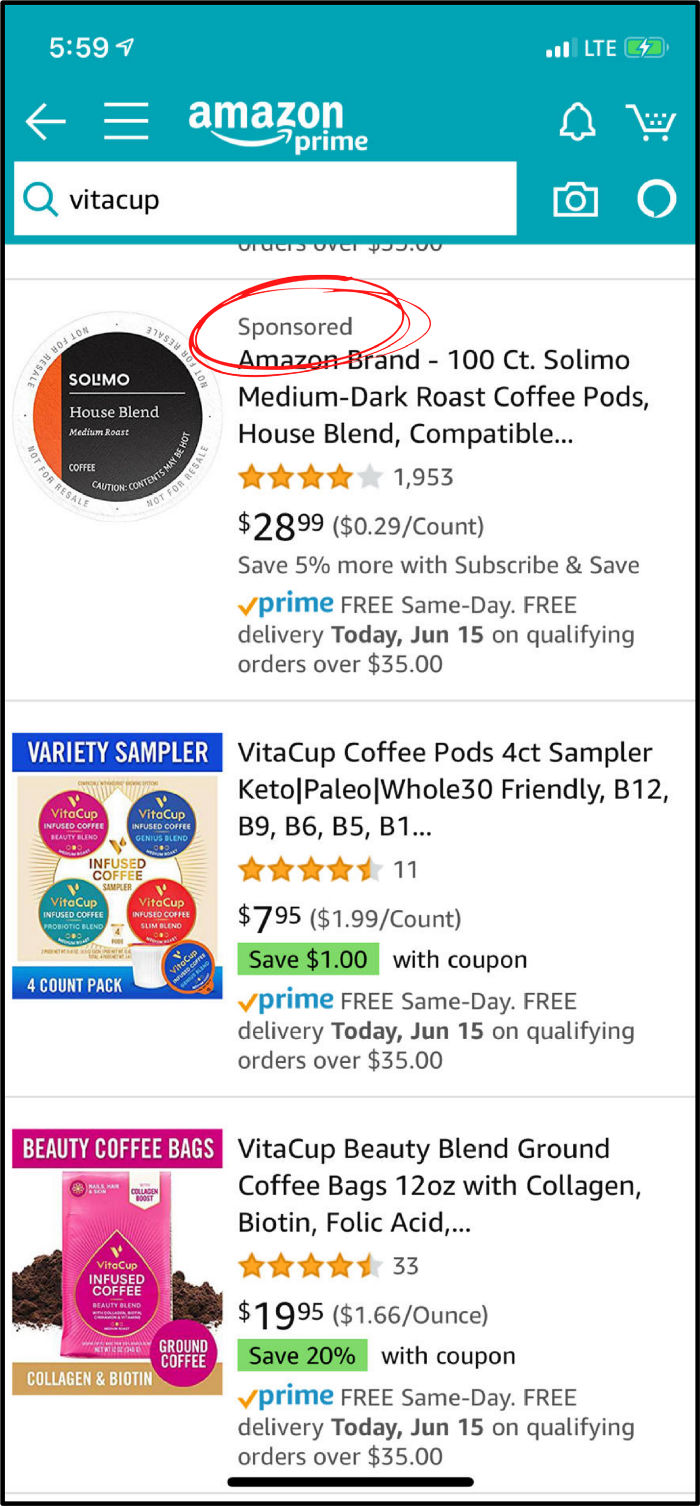 Amazon sponsoring its line of coffee would've been understandable if Fishman wasn't paying almost $100,000 per month in ads.
"We spend a fortune on Amazon ads. We give Amazon a large piece of every sale," Fishman wrote. "I don't mind if they have private label brands. I do mind when they bid competitively on their own client's brand."
Amazon Kills the "Buy Now" When They Feel Like It
Fishman had another frustrating story with Amazon. Back in 2019, a small online store that offers low prices in exchange for slow shipping suggested they list VitaCup's coffee. The website put a 30% promotion that lasted a few days.
Amazon's super smarts algorithms found out and punished Fishman for it.
One of Amazon's competitive tactics is to sweep the internet, comparing its prices with other ecommerce platforms. If the algorithm finds a lower price elsewhere, it removes the "Buy Now" and "Add to cart" buttons from the product's page. That's what happened with VitaCup and others.
As a result, many businesses raise their prices on other sites to avoid being unplugged from Amazon.
There's more.
Even if you're a top seller, you're not immune to being canceled. Plugable is a computer hardware business that has been thriving on Amazon since 2009. Bezos himself praised the company for its successful run on the platform.
Ten years later, however, things changed.
Like what happened with VitaCup's coffee, one of Plugable's popular products was denied the "Buy" button. Except, this time, there was no apparent reason.
Amazon said they did it because of complaints from customers. Surprised, Plugable's CEO called his Amazon contact to investigate the incident.
They found nothing. Amazon denied Plugable four days of sales and $100,000 of revenue for no reason. In the meantime, Amazon's line of computer hardware filled the gap Plugable had left. Surprise, surprise.
"We really built the company on Amazon," Plugable's CEO said. "But today, our focus has to be getting diversification off Amazon," he added. "We are dealing with a partner who can and will disrupt us for unpredictable reasons at any time."
Two years after the VitaCup and Plugable incidents, both companies still rely on Amazon. I scoffed it off at first, and then I realized they don't have a choice. Sure, the Amazon game is rigged, but it's the only game in town — and businesses aren't the only losers.
Amazon Doesn't Care About Its Customers
People praise Amazon for being "customer-centric." It'd been true when search results ranked products by relevance and reviews. We trusted the platform because previous buyers helped us make the right choices.
It's no longer the case.
Here's an example I stole from New York Times contributor Shira Ovid.
Imagine you hop on Amazon to buy a dog bed. Your screen will display sponsored posts so subtle they look like organic search results.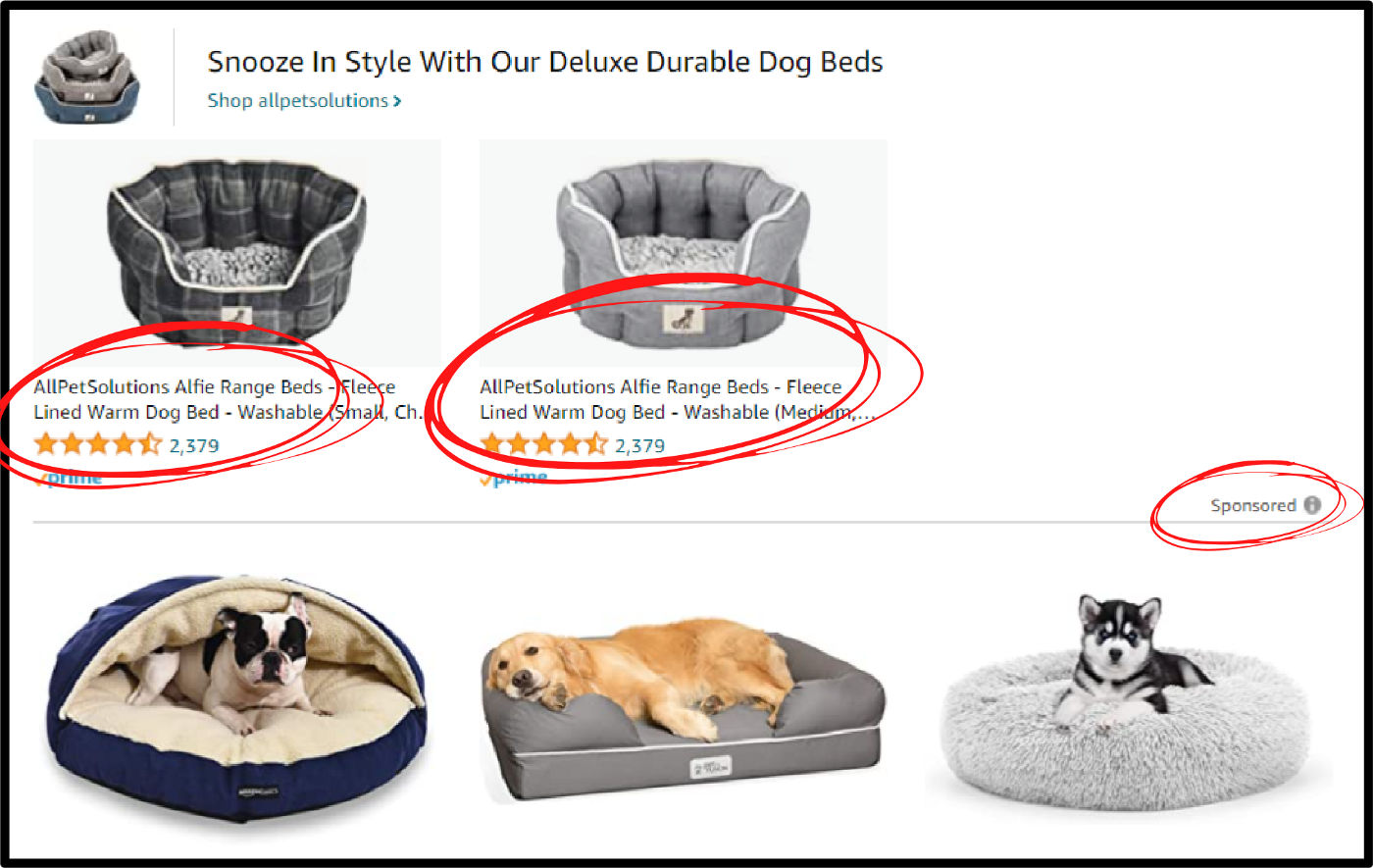 "When Amazon takes money from a dog bed company in exchange for making it the first item we see, that's not necessarily the best dog bed," Ovid wrote.
"It may not even be a good dog bed. Showing that ad is definitely good for Amazon and often for the merchant as well. But it's much harder to make the case that it's good for us."
If you want to make a worthwhile purchase, you'll have to invest extra time and energy to evaluate brands and avoid potential traps.
Jeff Bezos and his board knew ads would hurt the shopping experience. Still, they concluded that the ad-generated gains could finance new customer-oriented services — that or build useless giant clocks and expensive fancy yachts.

There's No Way Out of the Amazon Trap
While researching Amazon's shady schemes, I assumed the company was self-destructing. After all, killing the shopping experience for extra profit feels like burning your house to throw a BBQ party. Enjoy now, suffer later.
I couldn't be more wrong.
Amazon has been doing the same thing for the last couple of years, and its ad revenues continue to skyrocket. They made $6.9 billion from ads in 2021's first quarter.
"The advertising team has done a great job of turning clicks into productive sales," Amazon CFO Brian Olsavsky said. "We're using new deep learning models to show more relevant sponsored products, we continue to improve the relevancy of the ads being shown on the product detail pages, and we've seen rapid adoption of the video creative format for sponsored brands, among other things."
The better Amazon gets at placing ads, the worse things get for businesses and customers. Companies will have to pay more than the competition to be featured. They'll also remain at the mercy of Amazon's ruthless algorithms and random we-pulled-the-plug-for-no-reason stunts.
As for consumers, ads will subtly nudge them toward more purchases.
In the meantime, here are two things we can do about Amazon's scary monopoly.
Consumers: Keep your eyes sharp on what appears on your Amazon search results. Watch out for "sponsored" labels and fake reviews.
Marketers: Don't think of Amazon as an ally. See it as a selfish partner that can turn against you if doing so means profit. Try to diversify your retail options by working with other retail platforms.
---
Business | Psychology | Marketing — What's your favorite quote? Mine is "True masters are eternal students."
--- ---
Related Articles