Analysis of Power over Ethernet (PoE) Solutions Market Size by Research Nester Reveals the Market to Grow with a CAGR of ~10% During 2023-2035
Power over Ethernet Solutions Market
---
Garry wayne
3 months ago
|
3 min read
---
Research Nester's recent market research analysis on "Power over Ethernet Solutions Market: Global Demand Analysis & Opportunity Outlook 2035" delivers a detailed competitors analysis and a detailed overview of the global power over Ethernet (PoE) solutions market in terms of market segmentation by type, device type, application, end-user, and by region.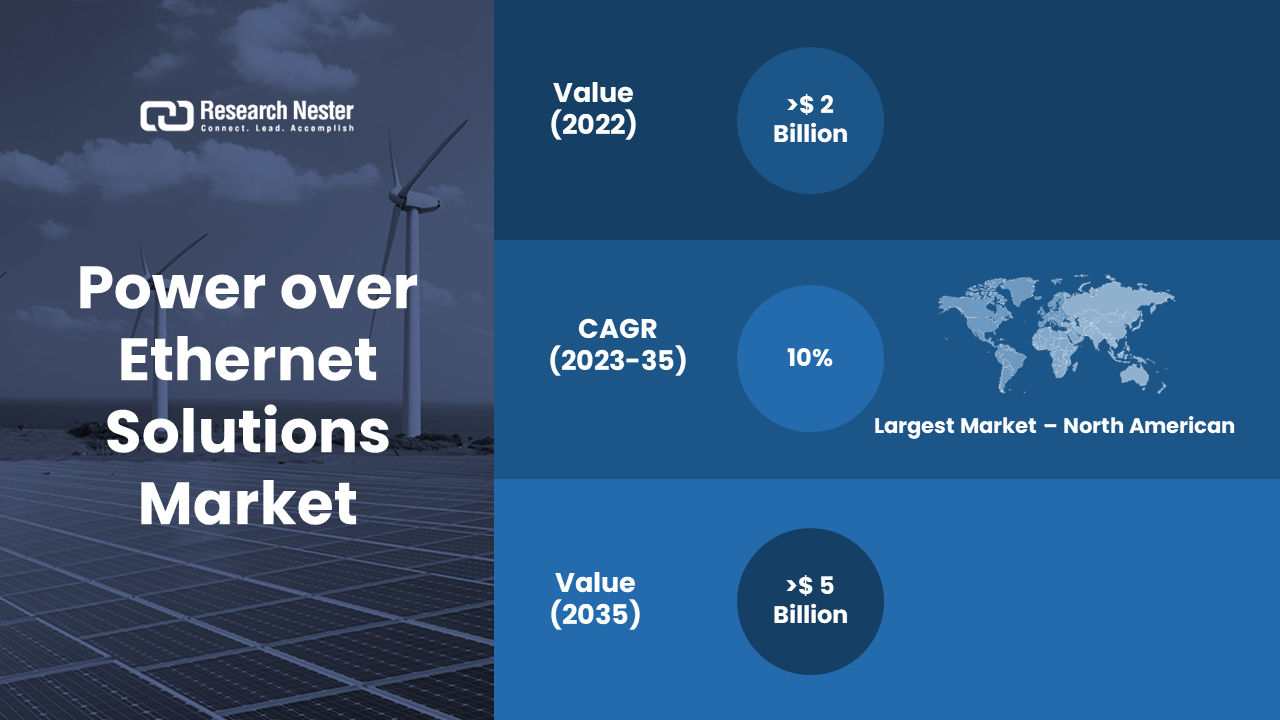 Growing Use of PoE in LED Lighting to Boost the Global Power over Ethernet (PoE) Solutions Market
The market for power over Ethernet (PoE) solutions market is anticipated to grow on account of the growing use of PoE in LED lighting. A smart lighting solution called power over ethernet (PoE) combines light-emitting diode (LED) luminaires with digital controls to produce the desired lighting effect. The luminaries (LED lighting fixtures) in this modern lighting solution receive low-voltage power from an Ethernet cable, which also transmits data between the luminaries and the control software. Wasteful power-conversion stages for LED lights used in a retrofitted, traditional AC-powered socket are reduced when they are connected to a PoE network. As a result, there is exceptional energy efficiency.
The usage of PoE is also expanding in the smart grid in order to power and deliver data over a single line to field devices that enable the efficient use of physical space and data communication technologies. In order to support cutting-edge technology and services, smart grids need a methodical network infrastructure upgrade. As a result, there is a rising need for PoE solutions. Additionally, a number of nations are funding smart grid initiatives, which are estimated to further fuel market growth.
Some of the major growth factors and challenges that are associated with the growth of the global power over ethernet (PoE) solutions market are:
Growth Drivers:
·Surge in Security Breaches
·Rise in the Use of PoE Solutions by Data Centers
Challenges:
Power inadequacy is an issue with the most recent generation of PoE power supplies. In particular, they could provide sufficient electrical energy for basic pan, tilt, and zoom cameras, whereas they are insufficient for high-power consumption devices such as network PTZ cameras. Another disadvantage of the PoE approach is that often, a single PoE power source or switch connects to a number of powered devices. These PoE network devices would all cease to function if one of them develops a fault. Additionally, using PoE to power independent devices is rather expensive. In summary, constructing a dedicated electrical line for a steady platform is less expensive over time, however, it is not nearly as flexible as a PoE line.
Access our detailed report at:
https://www.researchnester.com/reports/power-over-ethernet-poe-solutions-market/5029
By end use, the market for power over ethernet (PoE) solutions is segmented into commercial, residential, and industrial. Out of this, the commercial segment is anticipated to garner the highest revenue by the end of 2035. The three major commercial sectors that majorly use PoE solutions include office, retail, and health care. Moreover, similar to smart houses, the preference for smart offices is also growing which is further boosting the demand for PoE. Since the commercial sector utilizes more energy, they are adopting PoE solutions to save their cost on energy.
By region, the Europe power over Ethernet (PoE) solutions market region is estimated to grow over the projected period. Europe region is going through rigorous technology development, hence with this the manufacturers in this region are constantly developing their PoE solutions. Moreover, the government is a major factor in the market's expansion in this area since it has established regulations for the use of PoE solutions. Additionally, they are starting a number of strategies and working with key stakeholders to create opportunities for growth.
This report also provides the existing competitive scenario of some of the key players of the global power over ethernet (PoE) solutions market which includes company profiling of Cisco Systems, Inc., Avaya LLC, Analog Devices, Inc., Dell Inc., Broadcom Inc., Silicon Laboratories, Netgear, Juniper Networks, Inc., D-Link Corporation, Extreme Networks, and others.
Request Report Sample@
https://www.researchnester.com/sample-request-5029
Research Nester is a leading service provider for strategic market research and consulting. We aim to provide unbiased, unparalleled market insights and industry analysis to help industries, conglomerates, and executives to make wise decisions for their future marketing strategy, expansion investment, etc. We believe every business can expand to its new horizon, provided the right guidance at the right time is available through strategic minds. Our out-of-the-box thinking helps our clients to make wise decisions in order to avoid future uncertainties.
Contact for more Info:
AJ Daniel
Email: info@researchnester.com
U.S. Phone: +1 646 586 9123
U.K. Phone: +44 203 608 5919
---
--- ---
Related Articles