Applicant Tracking Systems Are All Business, With A Little Bit of Tech
Applicant tracking systems (ATS) are becoming common in businesses of all sizes. They manage applications and track candidate progress through the recruitment process. While there are many different ATS platforms, they all have one common goal - to make the recruitment process easier for employers.
---
Daniel Martin
9 months ago
|
4 min read
---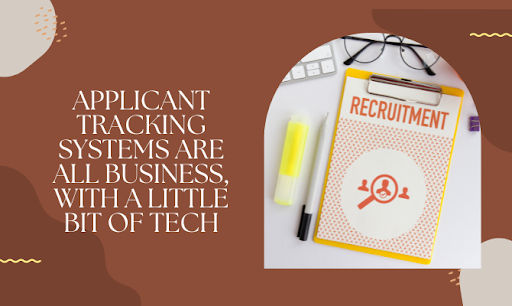 Applicant tracking systems help organizations in various ways. It helps identify and track applicants who have submitted applications for a job. ATS includes applicant tracking databases, job boards, and email alerts.
These systems can help organizations to:
Manage their applicant pool,

Determinate candidates who may be fit for a job, and

Improve the efficiency of their recruitment process.
Applicant tracking systems (ATS) are becoming common in businesses of all sizes. They manage applications and track candidate progress through the recruitment process. While there are many different ATS platforms, they all have one common goal - to make the recruitment process easier for employers.
ATSs can help organizations automate the recruitment process. It eases the burden on human resources departments while providing a more accurate view of applicant progress.
How Application Tracking System Technology Makes Recruitment Easier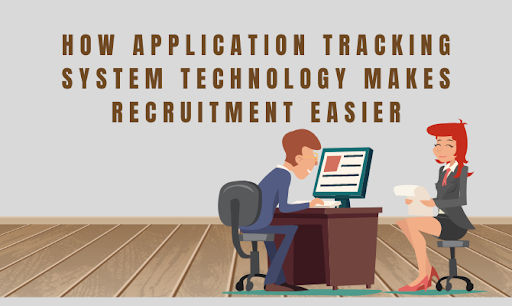 Applicant tracking systems (ATS) are all business, with some tech. They keep track of who is applying for what job and save time by ensuring that only qualified candidates are interviewed. This is how they revolutionize a business:
1. ATS Saves Your Time
Log the time it takes to manually publish a job to a job board. Add up the time spent analyzing resumes and emailing each applicant including those you know are not a suitable fit for the advertised post. It begins to add up, don't you think?
An ATS can automate and streamline all these labor-intensive processes, cutting hiring time by up to 20%. For instance, using AI, CVs may be impartially evaluated to cut all candidates.
All applications will be compared to the job requirements you specify using the proper ATS. Candidates will be accepted or rejected based on their suitability for the post they have applied for.
2. ATS Improves Work Efficiency
With recruitment agency software, recruiters can efficiently manage candidates. You can keep track of their crucial data. By doing so, you may maintain the organization of your applicant information. And construct it available to the whole team.
With an ATS, you may look for candidates in your talent pool based on the criteria you specify. These are things such as education, location, talents, or languages.
3. ATS Makes Hiring Managers More Productive
Application tracking system technology has made the recruitment process considerably easier for organizations. ATS helps managers identify key hires and track their progress. It allows them to assess their performance better. Also, make better decisions about future hires. This saves time and money, as well as provides a more accurate picture of the work done by current employees.
Before automation techniques, performing a single activity could take many hours. Which resulted in weariness and skewed judgment. These repetitious procedures can be optimized and automated with an ATS, though.
This frees recruiters from hours of labor that would be better used effectively. It also interacts with the most significant number of candidates. This will enhance the candidate experience and boost team productivity.
4. ATS Increases the Standard of Hiring
Organizations must find and hire the best candidates in today's competitive job market. Organizations can improve their recruitment process by using an applicant management system.
ATS technology allows employers to track applications and resumes from beginning to end. It provides them with a comprehensive view of all candidates. This information can then assess candidates and make better hiring decisions.
Recruitment management software has many benefits for employers. First, it lets them see how many applications for each job posting have been submitted and which are the most relevant.
This information can help employers determine which candidates to interview. Also, how best to evaluate their resumes. Additionally, application tracking system technology can help employers identify potential hires who have not yet been interviewed but may be a good fit for the position.
5. ATS Gives You Access to More Data
ATS technology has revolutionized how businesses recruit employees. It gives employees access to job applications, resumes, and other data. ATS technology makes recruitment easier for businesses of all sizes.
An adequate ATS gives recruiters analytical data to track the most crucial hiring KPIs. It enhances their hiring practices. This can aid in identifying performance issues and basic patterns that impact the processes.
Additionally, having data on their prior procedures makes it easier to create new hiring procedures. Because they will be aware of the specific steps, they should enhance and omit them going forward.
This technology allows businesses to find the best candidates more quickly and efficiently than ever. Additionally, ATS technologies can help identify hiring trends. It also solves potential problems early in the recruitment process.
6. ATS Boosts the Experience of Candidates
Many employers have recently turned to application tracking system technology for better management. By using an ATS, companies can more easily research and review the applications of job candidates.
Besides, this technology can help organizations identify potential liabilities. It also helps identify potential employees before they apply. As a result, using an ATS has proven beneficial for both the employer and the candidate.
One of the most paramount factors of the hiring process is the candidate's experience which recruiters frequently ignore. An applicant tracking system (ATS) enables recruiters to communicate with candidates more successfully. They do it by:
Monitoring each applicant's progress, and

Allowing communication with them via built-in emailing systems.
7. ATS Improves Employer Branding
Many businesses are turning to applicant tracking systems (ATS) to improve their employer branding. An ATS can help a company keep track of applications and interviews, ensuring they receive the best candidates.
Additionally, an ATS can help a company measure and identify areas for improvement. This is a powerful tool for improving hiring outcomes and retaining top talent.
Customization and branding possibilities are essential features to look for in an ATS. Suppose candidates apply through a page or portal that accurately represents the company's image and values. In that case, they will feel more at home and involved with your business.
Candidates will feel like a part of the organization from the beginning of the process. So, this will increase the retention rate of applications and reduce drop-outs by 40%.
Final Verdict
Applicant tracking systems are essential in any business. With a little bit of tech, they can be even more effective. Companies can better identify and track the progress of potential employees. This has become possible by using candidate tracking systems. It makes the recruitment method more accessible and efficient.
---
--- ---
Related Articles