How to Attract Generation Z Towards Your Business
They purchases online, sell online, interact online, research online, and even study online.
In the simplest terms, millennials, or Generation Y are people who became adults during the first half of the 21st century. Although there is not definite range for the birth year of millennials, 1976 is considered the earliest year, and 2004 is considered as the latest. Generation Z is the succeeding generation, comprising of people, who were born during the mid-1990s. They are technology freaks and social media addicts, just like most of the millennial community, and their frequent mode of communication is texting.
If you follow consumer stereotypes, you are most likely to get an impression that Generation Z are unconfident, irresponsible and are unable to take purchase decisions, and if they do make purchases, they do it online, sell online, interact online, research online, and even study online. However, if you are planning to market your products (or services) to the Generation Z, you cannot afford to buy into these myths. Businesses that do not plan to include the Generation Z in their target audience, they are surely missing out on a lot, as these people are the future, no matter how imperfect they are.
The Generations are defined in the table below:

A recent Bloomberg analysis reveals that before we bid adieu to 2019, India's Generation Z population will witness a steep rise to about 472 million. On a global scale, the 2019 Generation Z population is about 32%, which exceeds 31% of millennials. They are even considered to be more educated, smarter and more liberal than the millennials — qualities that emphasize on the ability to take the right decisions.
So, do you see the loss you are going to encounter if you do not include them in your target demographics?
Let us now discuss a few characteristics of Generation Z people to help you understand how they are beneficial for your marketing campaign:
Media Consumption: Their media consumption tendencies reveal that they are somewhat different from the millennials. According to the Vision Critical data, the millenials spend about 16 hours per week on the desktops, while Generation Z spend about 15 hours on their smartphones itself. Moreover, the same analysis shows that the Generation Z people seldom use their desktops. They mostly use laptops.
Buying Decisions: The Generation Z people also prefer cool products over a cool experience. This characteristic widely varies from the millennials, who root for better experiences than actually better products. Moreover, the Gen Z people are also more inclined towards ads that include national/global celebrities (about 27%) than the Gen Y people(about 20%). However, the former also feel less moved by advertisements that try to create an emotional connection.
Skills and Qualifications: While the Generation Y are mostly skilled in entrepreneurship and marketing, global studies, journalism and electronic media, the Gen Z people excel in business management, psychological studies, education and development. They are highly skilled in conducting successful online research and are innovators in their respective fields.
Employment Behaviour: Almost 17% of Gen Z people want to start their own business as soon as possible. They are natural entrepreneurs, who are also tech-savvy (about 46%) and can connect well with people. However, the Gen Y population are more inclined towards being workplace specialists (52%) and independent workers (45%).
Marketing Behaviour: The Generation Z teenagers are not just our regular teenagers, they are born innovators. They have access to quick cash, as they love to turn their hobbies into their income. These people are more connected to visual storytelling and edgy type of marketing efforts. Social media videos are widely accepted, acknowledged and shared by these teenagers.
Most of the businesses have already gained an insight into the way they can attract the millennials towards their products/services. Now, it is time to include the Generation Z people in their marketing demographics as well. They are the future, and you cannot afford to ignore the future, can you?
If you are wondering how to develop marketing strategies around the Gen Z people, the following suggestions can be of some help:

➤ Use images and videos to create an experience:
As mentioned before, both the millennials, and the Generation Z population are more inclined towards visual marketing than the traditional form of marketing. You should utilise attractive images and videos along with eye-catchy content, if you wish to get their attention. Use the social media platform to create an experience that lasts. According to recent surveys, 72% of Generation Z people watch YouTube on a regular basis. However, they do not tend to respond to advertisements as much as the millennials (59%). Also, the Gen Z do not stay on a single page for more than 8 seconds, while the millennials may afford to lose 4 more seconds on the same page.
➤ Find influencers to promote your brand:
Although the influencer marketing strategy was innovated by the millennials, it is the Generation Z people, whose buying decisions are almost entirely dependent on it.
To quote the words of Tracy Repchuk, InnerSurf Online Brand & Web Services, "Both are mobile- and social-platform-motivated, but Gen Z bounces around more."
Hence, if you wish to market your brand to Generation Z, you should provide authentic information from authentic sources that evoke trust. These people love to be a part of a community or a movement. Your company or their purchases are not merely buying decisions but reflect their own choices, inspiration and sometimes, their goals in life.
➤ If you want their loyalty, create meaningful conversations:
The Generation Z people love to be retained by the brand they purchase from. But, you have to put in a lot of effort to make that happen. They seldom buy randomly, and they do a lot of research before they shop online. Therefore, customer retention should top your marketing priority list, if it isn't already. This is also because getting a new customer is way more expensive than retaining an old one, who trust you.
See how the Gen Z buyers react to brand loyalty, as compared to millennials: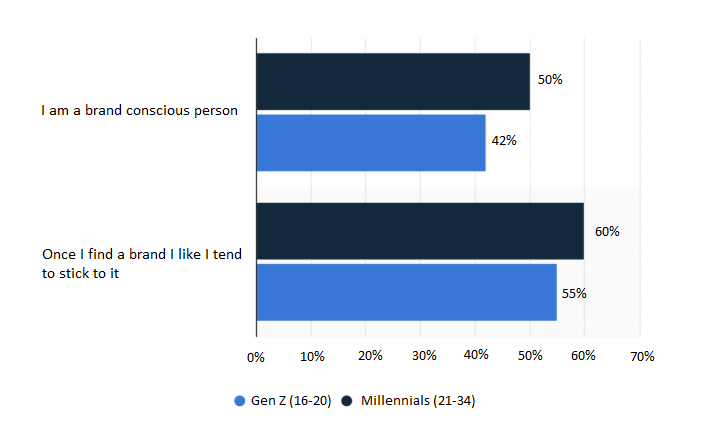 According to a Lab42 survey, The Gen Z buyers are less likely to be motivated by loyalty programs as compared to the millennials. If you are targeting the Generation Z to remain loyal to you, you have to work really hard. However, one of the most effective ways to achieve that end is through meaningful conversations.
Most of the Generation Z buyers are eager to communicate with the brands they root for.
42% may also participate in online games for brand campaigns
38% are more likely to attend events that are sponsored by a brand
44% may love to take part in interactive sessions, for example, giving design ideas to their brands for their latest campaign
36% may also create digital content for their favorite brands
So, you know how to get them hooked, right?
➤ You should optimize their mobile experience from time to time:
As mentioned earlier, the Generation Z people choose smartphones and tablets as the widely-used devices for media consumption. In fact, a survey by IBM reveals that about 75% of Gen Z population consider the smartphone as their favourite device. This is quite likely as the Gen Z teeangers mostly receive their first smartphone at quite a young age (12–13 years), compared to the millennials, who received their first smartphone probably at the age of 20.
An eminent eMarketer analyst, Mark Dolliver, explains: "Part of the appeal of smartphone usage for people this age is that the phone is probably the first big-ticket item that has belonged to them personally."
Moreover, Google holds that the Gen Z mostly make purchases on their smartphones. The main reason for this tendency of theirs is the inherent convenience it provides: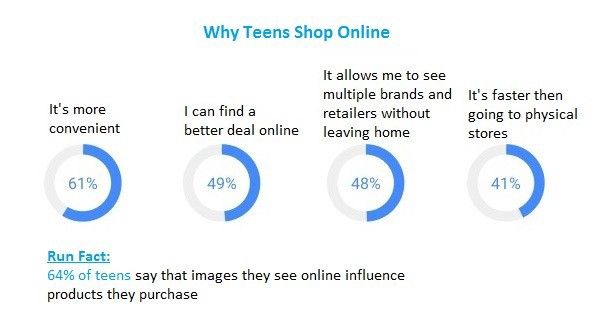 Therefore, if you want the Generation Z people to buy your services/products, you should keep on improving their mobile experience by optimizing your existing website for mobile from time to time.
➤ You should focus more on video content:
The Gen Z people watch about 68 videos daily. Hence, it is quite evident that if you wish to connect with them, you should stress on motion graphics and interactive video content. It will be best if you can develop your next visual marketing campaign based on a motion graphic, which can be extended to static infographics and social media narratives. That way, you will be able to give your campaign a feeling of consistency and stay in budget as well.
➤ Provide the Gen Z people with seamless customer service:
The Gen Z people have a lot of queries that need to be resolved from time to time. If you cannot provide them with seamless customer service, they may not opt for your products in the future. For example, if you buy a glucometer from the chemist's, you will need a demonstration of the product. What if you get that over the phone? It will reduce your time and effort spent on that particular product. Also, you may have queries in future that should be resolved over the phone itself.
Do you see how necessary it is to create a proper customer service network for the Generation Z? They may not like the idea of wasting their precious time in running to the store they got the product from.
➤ Be edgy for the Gen Z, but be classy at the same time:
If you carefully analyze the consumption of social media content by the Generation Z, you will notice that the rate of engagement for edgy content is more than traditional ones. It is clear that these people are attracted to brands that tend to 'show off'. On top of that, they also like content that adds some humor element and tickle their funny bones. However, you should not take this suggestion in a way that you start roasting people (your competitors) on social media. That will not be the right way, of course. You can develop content on sarcasm and humor, which gels well with these teenagers.
Lastly, "You can't do the same things you've always done and expect a different result. Going online isn't enough to effectively engage Millennials if your strategy and if your contents ae the same as what they used to be…[You need] a story with content and messaging that's going to capture and hold the attention of a young person on the internet."
So, pull up your socks and start innovating your existing marketing strategies today!
This article was originally published here.
---
Brand Manager at HashCash Consultants
--- ---
Related Articles