Attractive Opportunities in the Personal Protective Equipment Market
According to OSHA, workplace injuries have witnessed an increase each year in the US. OSHA reported that workplace eye injury costs an estimated USD 300 million a year in medical treatment, lost productivity, and worker compensation. Data from the U.S. Bureau of Labor Statistics (BLS) also supports the fact, stating that a majority of the injured workers were not wearing PPE at the time of the accident.
---
Mangesh S
4 months ago
|
2 min read
---
The global personal protective equipment market will be USD 64.2 Billion by 2027, at a CAGR of -1.3% from USD 68.5 Billion in 2022. Personal protective equipment is equipment worn to minimize exposure to hazards that can cause serious injuries. It is commonly referred to as PPE. Personal protective equipment protects workers from life-threatening hazards such as chemical burns, explosions, contamination, and falls from height. It includes gloves, safety glasses and shoes, respirators, earplugs, hard hats, coveralls, and full-body suits. Personal protective equipment's mainly used in the healthcare, manufacturing, construction, oil & gas, mining, transportation, food, and firefighting industries.
Head protection is expected to register the highest CAGR, in terms of value, during the forecast period. Hard hats or industrial safety helmets are used to protect against swinging objects and materials falling from heights. They also offer protection while working near exposed electrical conductors by reducing electrical shocks. Hard hats resist penetration by objects, absorb shocks of blows, and are water resistant. They are mainly used in the construction, building repair, motorcycle riding, and terrain vehicles. Other head protection equipment includes bump caps and caps nets.
Download PDF:

https://www.marketsandmarkets.com/pdfdownloadNew.asp?id=132681971
The manufacturing end-use industry accounted for the second-largest share of the global personal protective equipment market, in terms of value, in 2021. The manufacturing segment involves various risky operations such as grading, excavating, trenching, digging, boring, drilling, blasting, and concreting. In the manufacturing industry, personal protective equipment is used in the production of chemicals, electronics, pulp & paper, metal fabrication, steel, wood, and glass, among others. The different types of personal protective equipment required in the manufacturing industry include hand & arm protection, eye & face protection, protective clothing, hearing protection, and head protection.
North America was the largest market for personal protective equipment, in terms of value, in 2021 due to the strong presence of key personal protective equipment manufacturers. North America was one of the highest impacted regions due to COVID-19. There is an increased demand for medical protective clothing such as coveralls, masks, gloves, drapes, and others. However, the market in this segment is projected to witness a decline during the forecast period as the number of cases are decreasing. The demand for personal protective equipment from the construction industry is expected to increase due to safety mandates by governments, coupled with awareness among workers.
Sample Request:

https://www.marketsandmarkets.com/requestsampleNew.asp?id=132681971
The personal protective equipment market is dominated by key players such as Honeywell International Inc. (US), DuPont De Nemours, Inc. (US), 3M Company (US), Lakeland Industries, Inc. (US), Alpha Pro Tech, Ltd. (Canada), Sioen Industries NV (Belgium), Radians Inc. (US), Kimberly-Clark Corporation (US), Ansell Ltd. (Australia), and MSA Safety Inc. (US), among others. These players have a strong foothold in the global personal protective equipment market as well as a strong distribution network across the globe.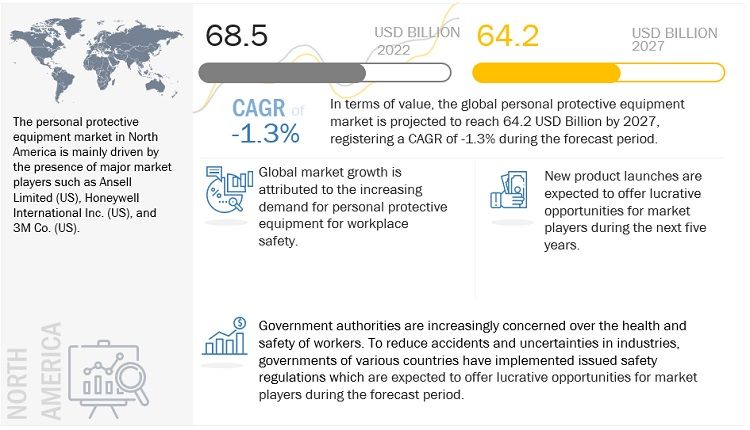 ---
--- ---
Related Articles