Benefits of Being Active on LinkedIn
LinkedIn Profile: Another Social Media Account or Burning Necessity?
LinkedIn Profile: Another Social Media Account or Burning Necessity?
Drop this question to any successful business owner, Forbes contributor, career coach, or digital marketer, and they will tell you - if you don't have a well established LinkedIn profile these days, you are practically invisible in the business space.
You have a job. You have clients. You are an active social media user already trying to keep up with everything on Facebook, Instagram, and Twitter...Why creating an account on LinkedIn? And why then spending a whole lot of time keeping it up-to-date and engaging with other users? My friend, I'll tell you WHY. Basically, you have zero reasons not to.
As we currently witness a rapid growth of technologies and global communication, especially in the post-pandemic reality, the value of a well-written, impactful LinkedIn profile is higher than ever.
Since March 2020, due to repetitive lockdowns and the increasing need for remove workers and services, nearly the entire business world moved to the digital space. Millions of professionals daily visit this platform looking for jobs, talents, clients, and new business opportunities.
1. Top business platform
To be more specific, with over 720 million members, 40% active daily users, and 2 people joining every second, LinkedIn is renowned as a B2B and B2C goldmine. Statistically, it is the most trusted social network in the U.S. - 73% of social media users agree that LinkedIn protects their privacy and data. Founded on the American soil 17 years ago, this platform has become truly international and by far the best place to make professional connections.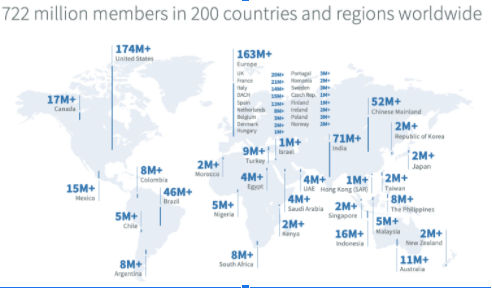 Here are only a few gems you can dig out on LinkedIn with an impressive profile and active engagement:
♦ Rewarding jobs
♦ Continuous flow of leads and clients
♦ New freelance projects and gigs
♦ Mutually winning business partnerships
♦ High visibility of your brand.
2. Top job hunt portal
In our ever-changing world, it is always better to be prepared for the times when unfortunate, force majeure circumstances unexpectedly hit us in a head. My friend, hear my advice to avoid being caught off-guard - start creating or updating your LinkedIn profile and get actively involved in networking BEFORE you need a job, not after.
Going back to numbers, 40 million people use LinkedIn for job search each week. If you put an effort in making your profile look and sound appealing, you will surely manage to stand out and get noticed, becoming one of 3 people who are hired through LinkedIn every minute.
Bear in mind what steps to take to succeed: first, you optimize your CV and profile; second, you actively network and build business relationships; third, you do your best to stay visible; and forth, you apply for the openings of your interest, as the need arises.
Networking and engagement take time, but even if your profile just sits there, you can still be contacted and headhunted for jobs. My personal profile, for example, doesn't indicate me as a jobseeker in any context. Still, I regularly receive notes from recruiters and hiring managers with job offers or suggestions to apply because I would be a good fit for the role.
3. Lucrative audience
Here I'm using "lucrative" not only in a sense of "capable to pay" (which is also true). The LinkedIn audience represents a concourse of educated, accomplished, goal-focused individuals who advocate for diversity and inclusion, fight for good causes, discuss trending issues, and share stories that motivate and uplift others.
From my experience, this platform makes the impossible possible. You can connect with leaders you admire and start conversations with high-profile influencers on how to make a broader impact. I managed to land a few gigs from some big LinkedIn names simply by engaging with their content and showing my support.
Also, there are endless opportunities for affiliate marketing, content marketing, and influencer marketing in certain industries and niches.
4. Excellent website alternative
For those of you about to launch a new business, project, or service, your LinkedIn page (both personal profile and company page) can become an invaluable tool for market positioning, client sourcing, and overall brand promotion. I know many small business owners and service providers who operate solely on LinkedIn, without having a website or using other social media.
If for some reason you don't have a website at the moment, LinkedIn allows optimization of your profile for searches (SEO works here too), featuring your portfolio of achievements, adding certificates and media, and otherwise showcase your expertise. The space of your profile is a good place to articulate your USP and reach out to your target audiences while various features and premium packages help navigate your sales and marketing activities.
On top of that, you can monitor various metrics, from the number of profile views to keywords used to find you via search engines, to adjust your strategies and tactics aimed to attract clients or employers.
5. Learning hub
And the last but not the least, LinkedIn is an endless well of knowledge – the source you can tap into anytime you need. The platform offers multiple courses for jobseekers and business owners from Lynda, which in partnership with LinkedIn created a LinkedIn Learning platform.
With the first free month and further upgrade, users can upskill in a broad range of areas, from hard and tech skills (software development, graphic design, etc.) to people skills (online presentations, job interviews, and so on).
In addition to the official space for online courses, you can continuously learn from the content daily posted on LinkedIn. I joined it three years ago, and practically everything I know about digital marketing, social selling, leadership, self-awareness and self-care, emotional intelligence, and many other integral aspects of today's professional life, I learned from LinkedIn content creators. From people who aren't shy to discuss their mistakes along with the lessons learned, share their success stories (a proper case study sometimes), and offer expertise on various topics.
We live in a world of continuous informational exchange. And if you're looking for some quality information, engagement, and collaboration, LinkedIn is a platform for you.
Your profile will help you define or redefine yourself. People you meet will help you discover your true potential. Tools that LinkedIn provides will help you establish your digital presence for business or career. Are you with me? If so, see you there!
---
Galyna Daniel is a Contributor, Keynote Speaker, Co-founder of Dream Job CV, and a Founder of Shiny Profiles (personal branding and digital marketing agency). She's a Certified Resume Writer, Copywriter, and Career Coach who helps jobseekers get employed.
--- ---
Related Articles