The Best Game Ideas That Can Make You Lots Of Money
Creating a successful game can be lucrative, but it requires a lot of work. The process is complex, from brainstorming and researching ideas to creating a prototype, testing your game and marketing it.
---
Pankaj Choudhary
10 months ago
|
7 min read
---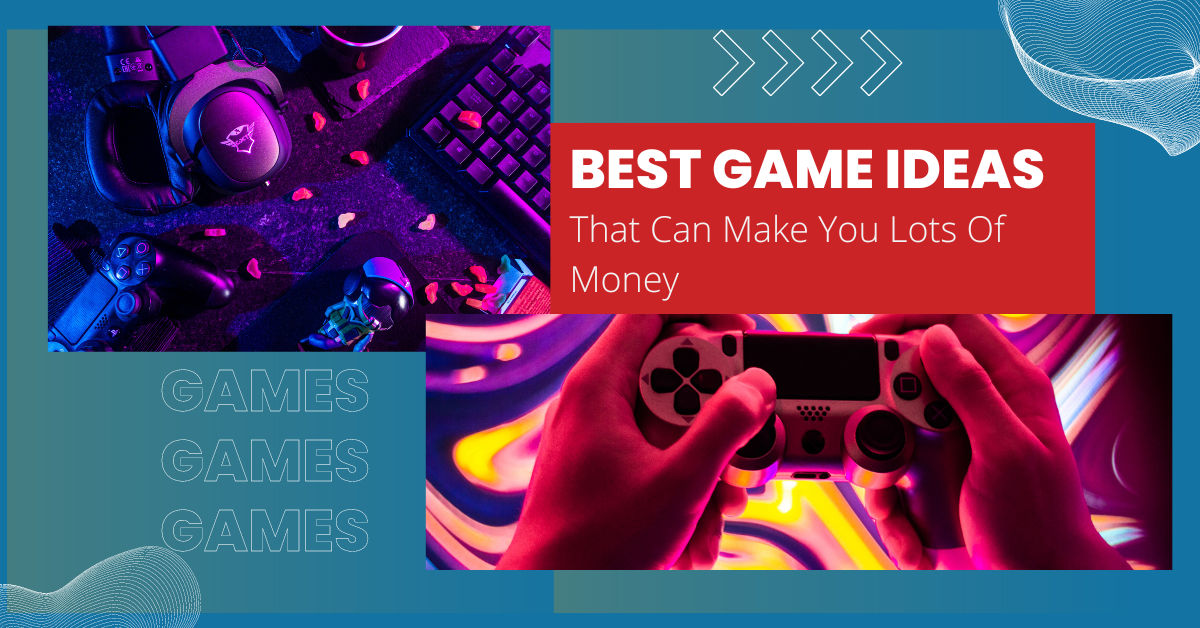 The Best Game Ideas That Can Make You Lots Of Money
Do you have an excellent idea for a game but need to know where to start? Developing a game like a ludo game development can be a daunting prospect, especially when it comes to generating income. We'll look at the best game ideas to help you make money. We'll discuss the different strategies and techniques you can use to develop a successful game and share tips on ensuring your game stands out from the rest. So, if you want to turn your game idea into a profitable reality, read on to learn more!
Brainstorm Your Ideas
The first step to creating a successful game that can make money is brainstorming your ideas. Think of all the games you have ever played and what you liked about them. Make a list of game mechanics, themes, or elements that stand out to you. Think of ways to combine them together to create something new and unique. It's essential to think outside the box here, as there may be some aspects of a game that you have yet to consider. Once you have a list of ideas, it's time to start researching.
Research What Games Are Popular
Before you create a game, it's essential to research what types of games are popular in your target market. This can be done by analyzing the top-selling titles on mobile app stores and online gaming platforms and looking at reviews of the most successful games. Knowing what games are trending can give insight into what type of gameplay, graphics, and features people enjoy. You can also look for any gaps in the market, such as genres that still need to be represented. Once you've identified what's currently popular and where there might be potential for something new, you can think about your unique game idea.
Find A Niche Market
When creating a successful game, you must find a niche market you can fill. Start by researching what games are popular, and look for an area that could benefit from a different game. Ask yourself questions like:
What genre of the game does the market lack?

What topics would gamers be interested in?

Are there any specific game mechanics that have yet to be explored?
Once you've identified potential niches in the gaming industry, start researching those topics and make sure they're suitable for your target audience. For example, there may be better choices than a horror game if you're targeting children. It's essential to understand your target demographic deeply so you can create a game that resonates with them.
Once you've identified a suitable niche market, start thinking about how to craft a unique experience. Develop an idea and build a prototype using whatever tools you have available. You don't need to spend money at this stage – the goal is to get a basic version of the game up and running.
Creating a successful game requires careful planning, but the reward can be huge. If you can identify a niche market that needs your game and develop something unique, you can make lots of money. All it takes is some research and creativity!
Create A Prototype
Once you have your game idea, the next step is to create a prototype. This will help you test your game's mechanics and ensure it works. It doesn't have to be complicated; you can use essential tools such as paper, pencils, and even a drawing program.
Start by jotting down the core concepts of your game. Make sure to consider any level, difficulty settings, or special features that make your game unique. Then, use this information to create a playable prototype. This could be a basic version of your game with some placeholder graphics and sounds.
If you're familiar with coding and programming, you should create a digital prototype of your game. This could be done using an engine such as Unity or Unreal. This would allow you to playtest your game and add more complex mechanics.
When creating a prototype, remember that the important thing is to get a working version that you can play and test. Your prototype doesn't have to look perfect; it just needs to be functional so that you can start making tweaks and improvements based on user feedback.
Test Your Game
Before releasing your game to the public, it's essential to test it and ensure it works as intended. Testing your game can be done through user testing, beta testing, or focus groups. User testing involves having people outside your development team play the game and provide feedback on its performance. Beta testing is a more advanced form of user testing, where you have a select group of testers playing the game to provide feedback before the official release. Focus groups are typically held in person and give people an incentive to play the game and discuss their experiences.
Testing your game is essential to ensure that the game plays well and provides a good player experience. It also allows you to get feedback from potential players and make any necessary changes before the official release. After testing the game and making necessary changes, you can move forward with marketing and releasing it to the public.
Market Your Game
Marketing your game is essential to the success of your product. With the proper marketing, you will be able to get people to play your game. The key to success is reaching the right people and getting them interested in your game.
Target Audience
Start by identifying who your target audience is. Think about what types of gamers would be most interested in your game. Once you know your target audience, you can create a marketing plan to reach them.
Social Media
There are many ways to market your game. You can use social media such as Facebook, Twitter, or YouTube for advertising and reaching new players. You can also create a website for your game and use search engine optimization techniques to increase your visibility on search engines.
Sponsored Videos Or Reviews
You can also promote your game through sponsored videos or reviews. Reach out to popular gaming websites or YouTube channels and ask them to review or feature your game. This type of marketing can be very effective and help you reach a larger audience.
Advertisements
Finally, remember traditional methods of advertising such as print or television advertisements. These marketing strategies can be costly but can help you reach a large audience and generate more interest in your game.
No matter what type of marketing you choose, the important thing is that you are consistent and put in the time and effort necessary to make it work. You can make your game a success with the right marketing plan and strategy!
Make Money!
Making money with your game idea can be done in many ways. You can create a free game with in-app purchases, offer subscriptions, run ads, and sell your game outright. Each method has advantages and disadvantages, so you must consider how you want to monetize your game.
In-app Purchases
In-app purchases are a great way to quickly start making money from your game. Players are encouraged to purchase items or upgrades that enhance the gameplay experience. However, ensure you don't overdo it – too many in-app purchases can be a turn-off for some players.
Subscriptions
Subscriptions are another great way to monetize your game, though they often require more development work. Subscription plans typically give players access to exclusive content or unlockables, providing an incentive for them to keep playing and paying.
Ads
Ads are a popular monetization method but should be used sparingly as they can detract from the user experience. Only use ads if they are non-intrusive and complement the game.
Outright
Finally, you can make money by selling your game outright. This option is attractive because it offers a one-time payment for the entire game rather than recurring payments. However, you may need to invest in marketing to attract people to buy your game.
No matter which method you choose, you should always prioritize creating a great user experience. This will help ensure that your players stick around and keep playing your game, leading to more income in the long run. Good luck!
Best Game Ideas That can Make you lots of money
Here are some best games ideas to grow your market and make lots of money:
Mobile Games
Mobile gaming has become a lucrative industry with the popularity of smartphones and tablets. Simple, addictive games like Angry Birds and Candy Crush have proven incredibly successful.
Online Multiplayer Games
Games like Fortnite and League of Legends have substantial player bases and generate significant revenue through in-game purchases and advertising.
Virtual Reality Games
As VR technology becomes more accessible, the market for VR games is expected to grow. Creating an immersive and unique gaming experience can lead to success.
Esports
Competitive gaming is becoming increasingly popular and is expected to become a billion-dollar industry. Developing a good-suited game for esports tournaments can be a profitable venture.
Augmented Reality Games
With the success of Pokemon Go, AR games have gained popularity. AR games offer players an interactive experience in the real world, making it a potential area for game development.
Free-to-play Games With In-app Purchases
Many successful games, like Clash of Clans, generate revenue by offering in-app purchases for players to advance more quickly or gain access to additional features.
It's worth noting that creating a successful game takes more than a good idea. It takes a team of professionals, a good marketing strategy and a lot of dedication.
Conclusion
Creating a successful game can be lucrative, but it requires a lot of work. The process is complex, from brainstorming and researching ideas to creating a prototype, testing your game and marketing it. However, by doing the necessary research and development, you can create an entertaining game that people will love and make money from. You can develop a game that earns you a profit with the right strategy and dedication. So take the plunge and start developing your own game today by Game Climax!
About Game Climax
Game Climax is the best Game Development Company in India. We provide a high-quality game development service that enables you to experience real sports with the help of an experienced team of online game developers. Get attractive quotations on services for online game development right away! At Game Climax, We offer you various game development services that improve users' gaming skills and make your audience earn money at the same time. We provide multiple game development services such as Roulette game development, Poker game development, etc.
---
Created by
Pankaj Choudhary
--- ---
Related Articles