Best Gaming Graphics Card: Get The Best Performance
Graphics cards are the lifeblood of every gaming pc or editing rig. They take on graphically intensive tasks and games, making our workflow, and gaming experience so much smoother. With the scarcity of graphics cards in 2020 due to the lockdowns, you might have not gotten the chance to upgrade your rig and, hence, should be more than excited about the best gaming graphics cards in 2021.
This article was originally published by

@spencerdaniels

at

Best Gaming Graphics Card: Get The Best Performance

Graphics cards are the lifeblood of every gaming pc or editing rig. They take on graphically intensive tasks and games, making our workflow, and gaming experience so much smoother. With the scarcity of graphics cards in 2020 due to the lockdowns, you might have not gotten the chance to upgrade your rig and, hence, should be more than excited about the best gaming graphics cards in 2021.
New and exciting cards have flooded the market from Nvidia and AMD with performance and value you haven't experienced before. In this post, we dive into the best graphics cards on the market right now. We discuss their features, and in our buying guide, we show what features matter the most, and what you should look out for when shopping. A gaming graphics card is an investment, and you want to make sure you're equipped with the best product that will serve you for years to come.
#Comparing the Best Gaming Graphics Cards of 2021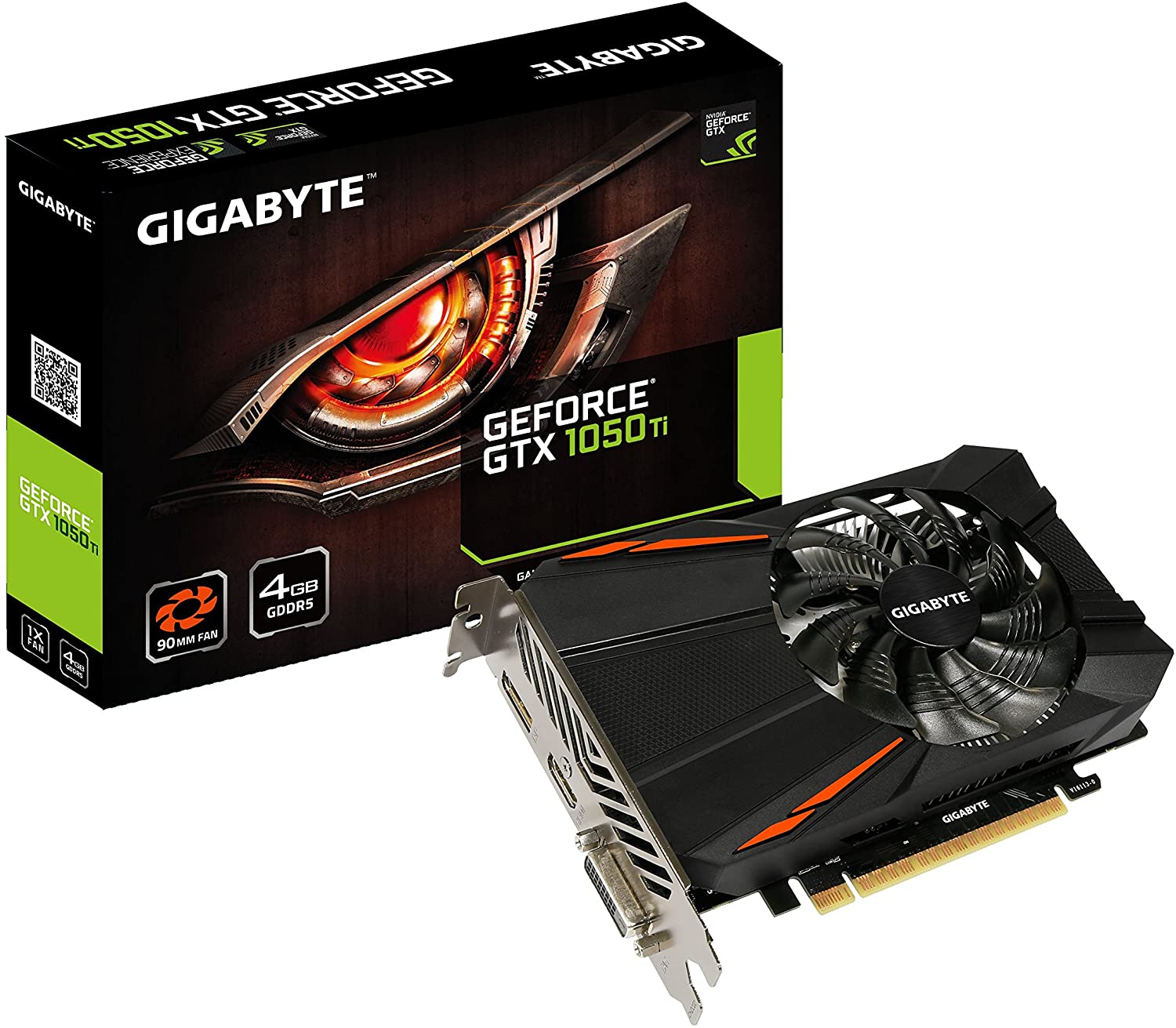 Best Classic Card
The GTX 1050ti is a great performer despite its age. It can run circles around most modern games at 1080p with decent frame rates and is a perfect starter GPU for budget gamers. It is a small form factor GPU that packs a massive punch. It comes with 4GB of GDDR5 RAM with a boost clock of 1442MHz for blazing-fast performance.
This graphics card can support up to 4 display monitors at once and handle titles with a max resolution of about 4096x2160 at 60Hz or 4K, which is still the standard for triple AAA gaming now. The whole card is just 167 millimeters, which makes it small enough to fit inside basically any rig.
Key Features
Small form factor

4GB GDDR5 RAM with 1442Mhz boost clock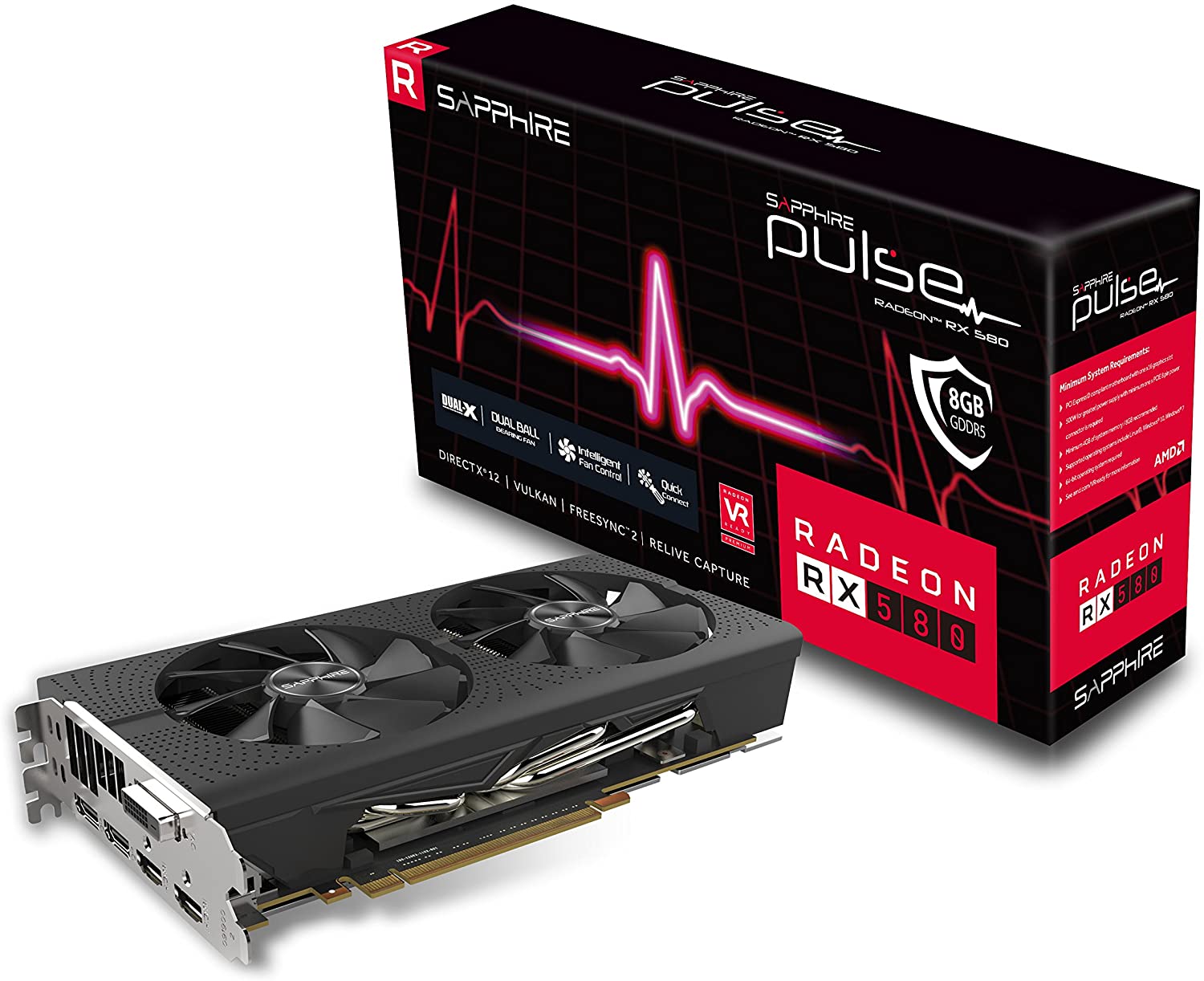 Best for Mac
One of the most powerful GPUs from the AMD Radeon line, this souped-up monster GPU can take on older and more modern titles at max setting without breaking a sweat. It fully supports Mac OS and works nearly the instant it is connected.
The Sapphire Radeon Pulse RX 580 is a chunky performer packed to the top with impressive specs. It has 8GB of GDDR5 memory, with a boost clock of 1366MHZ. Despite its size, it has a low 255-watt power draw and is compatible with both Windows and Mac systems. The card is constructed with high-polymer aluminum capacitors guaranteed to last you years.
Key Features
8GB of GDDR5 memory

High-polymer aluminum capacitors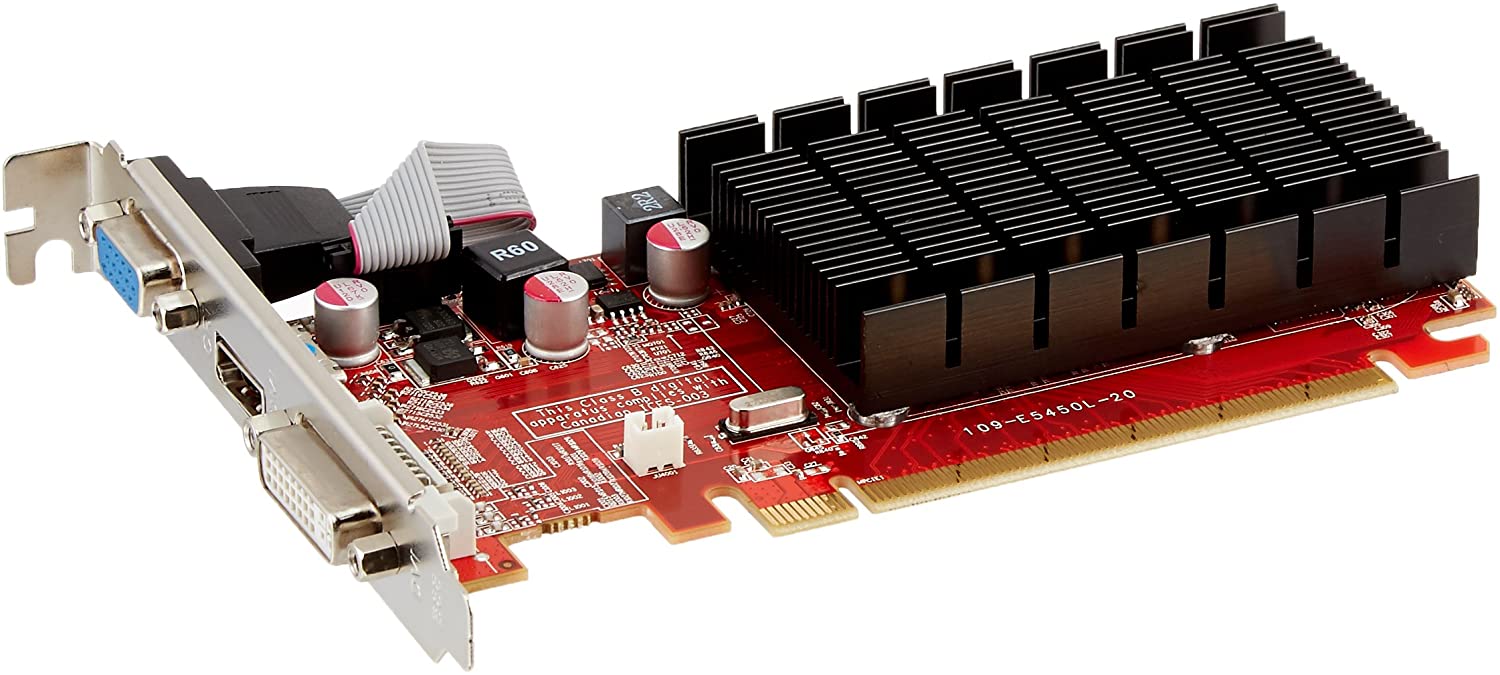 Best Low-Budget Card
The VisionTek Radeon 5450 is a perfect choice for video editors and gamers who want a great budget GPU. This graphics card is no powerhouse, but it will run most modern games on decent settings and will net you decent render speeds on your favorite video editing app.
The VisionTek 5450 card performance is remarkable when you consider the pricing and form factor. It is equipped with 2GB DDR memory, and compatible with the latest DirectX software on Windows PCs. It ships with the Avivo enhanced video decoder 2 and supports up to 2 monitor screens simultaneously. It uses a 16 lane-PCI express slot, sports an aggressive red design, and has an impressive clock speed of 667 MHz.
Key Features
Great card for video editing

Handles most classic and modern games well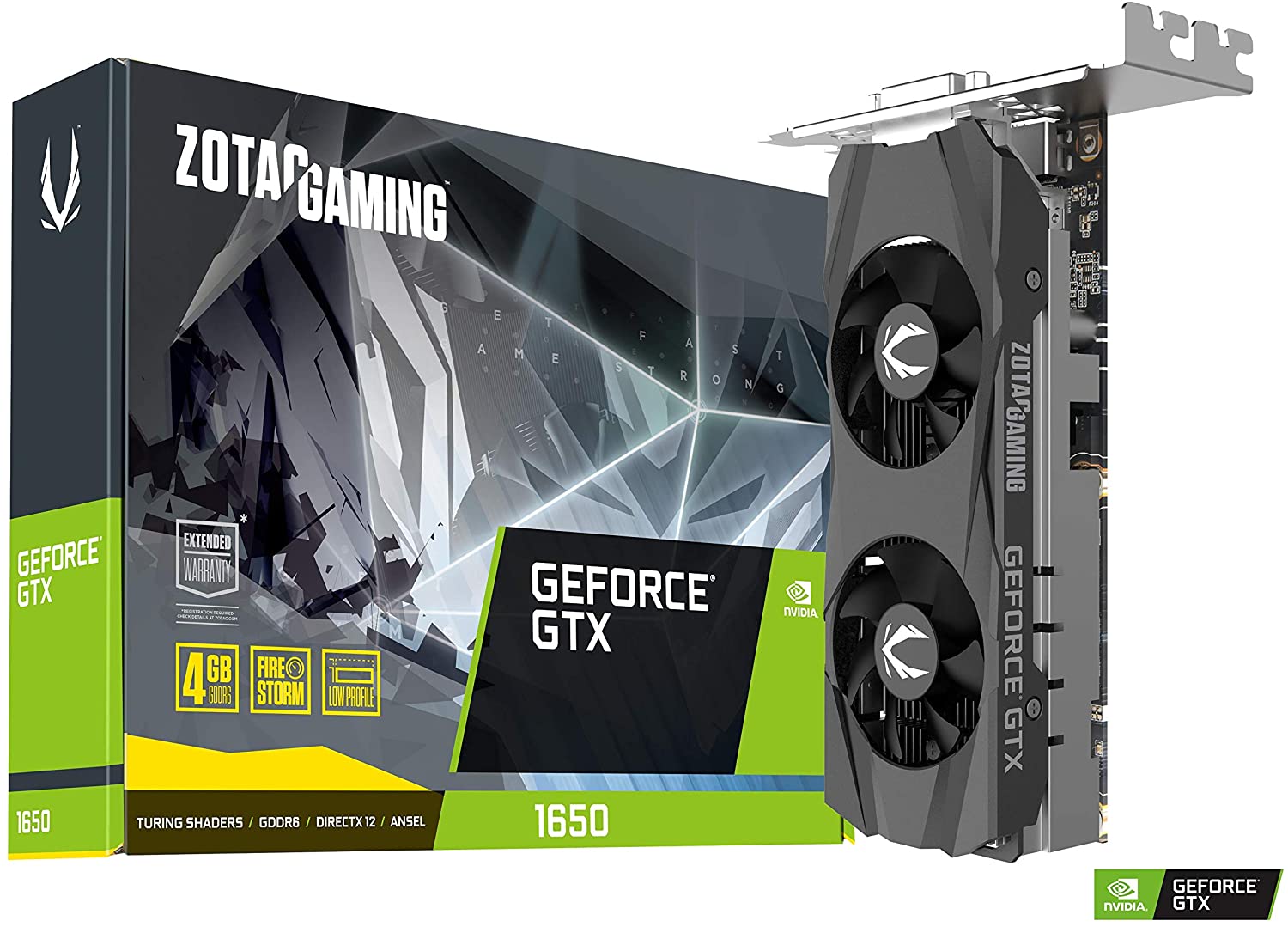 Compact Powerhouse
The Zotac Gaming GeForce GTX 1650 is a new generation GPU with great performance and an appealing overall aesthetic. It was designed for that hard-core gamer looking for great performance all-round.
The Zotac Geforce GTX 1650 comes with 4GB of GDDR5 memory, and runs on a basic 16-lane PCI-Express slot. It is compatible with most modern computer systems and is dual slot and 4k ready. The amazing device has a promising base clock of around 1590 MHz, which is the highest we've seen thus far, and it is a 30-inch card meaning it will fit inside most computer systems.
Key Features
Fast memory

Outstrips the previous GTX 1050 model in every aspect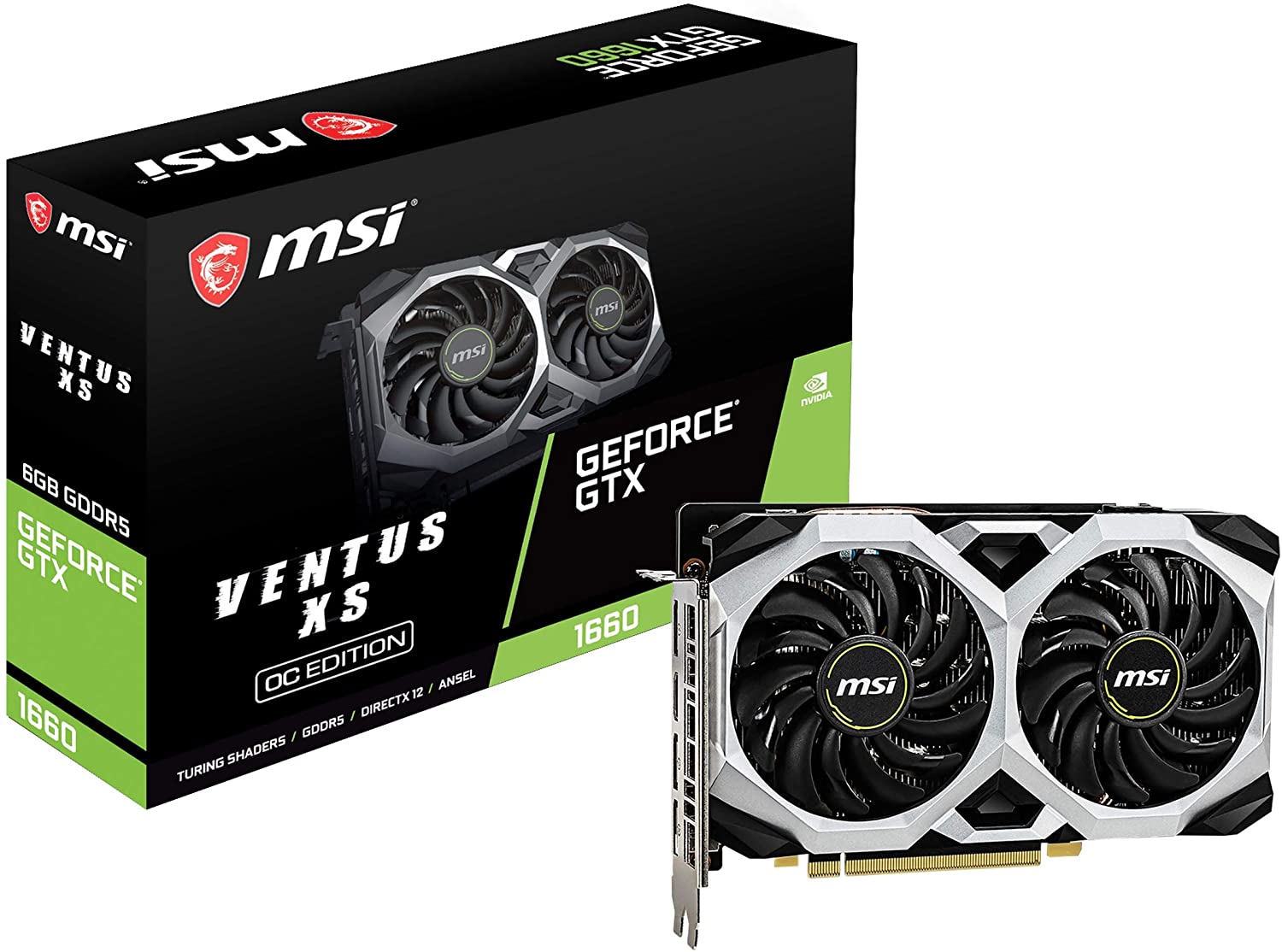 Most Versatile
The MSI Gaming GeForce GTX 1660 is an impressive piece of gaming tech that will push your computer and take your experience to the next level. It is several times faster, and more energy-efficient than other GeForce GTX products. You can trust its performance for several years to come.
The Nvidia GeForce GTX 1660 gaming graphics card from MSI Gaming comes packed with a hefty 6GB of GDDR5 RAM. Its power consumption is at a conservative 120W and full support for DirectX 12. The GTX 1660 has a boost clock of 1830 MHz and can output to 3 display screens simultaneously.
Key Features
The GTX 1660 has fast GDDR6 memories

This graphics card also has an impressive boost clock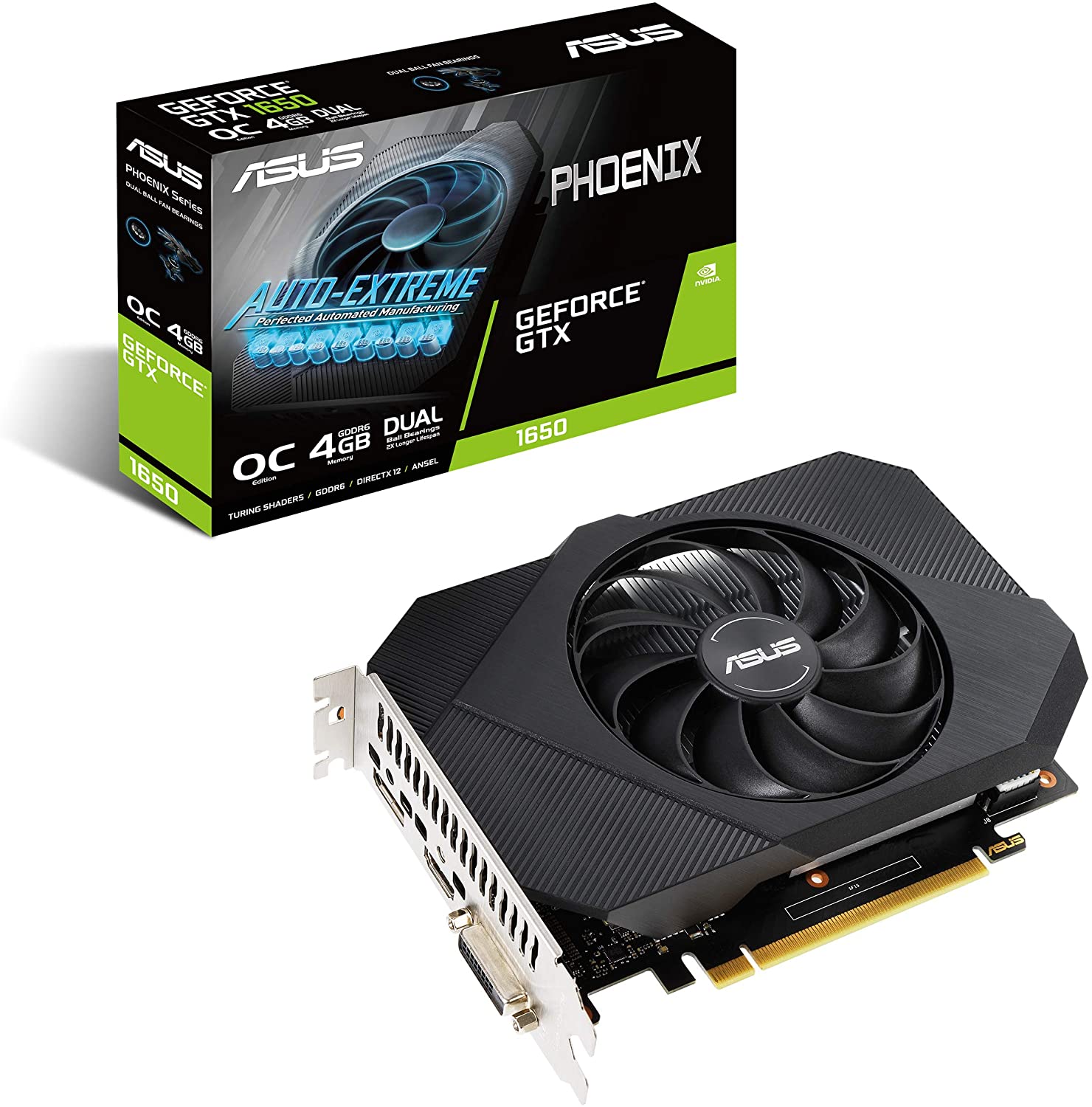 Also Consider
The Asus Phoenix GTX 1650 is a souped-up version of the basic 1650 card with faster memory, higher clock speeds, and better performance. It also has an improved overall aesthetic style and is perfect for new and old gamers, and video editors.
With this graphics card, you get faster 4GB DDR6 memory storage, and the all-new fan using axial tech that provides better ventilation and speed. The GPU has a boost clock of 1665 Mhz at normal mode, and 1635 on gaming mode. Its original external chassis is swapped out for stainless steel which is guaranteed to stand the test of time.
Key Features
4GB DDR6 memory

It has an improved cooling system

Built to last years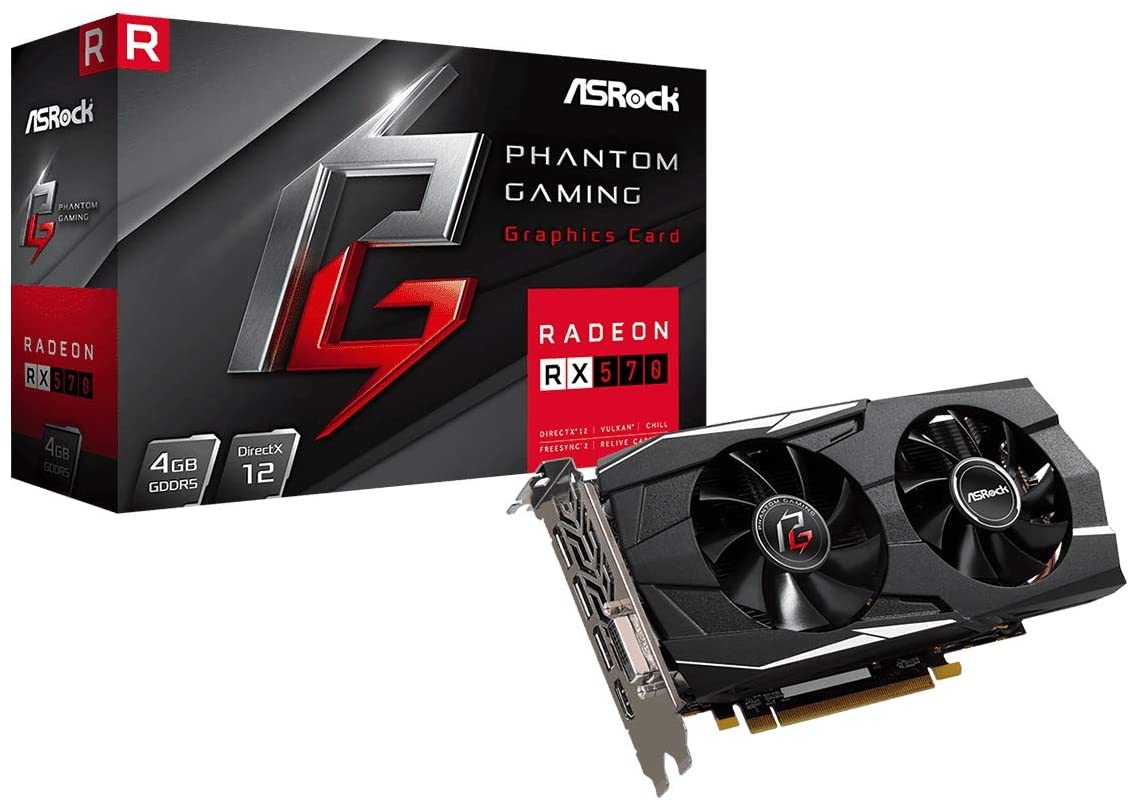 Also Consider
The AsRock Radeon RX 570 is a beefy high-performing gaming GPU with an impressive performance and distinct aesthetic. It is excellent for competitive gamers, modeling artists, video editors, or any other type of creative.
The AsRock Radeon RX 570 features 4GB 256-Bit GDDR5 memory with an impressive boost clock of 1283 MHz. It has 3 display ports 1.4, 1 Dual-link DVI-D, and HDMI 2.0. It uses an 8 channel PCI Express with an estimated memory clock speed of about 7600MHZ.
Key Features
It is one of the better AMD GPUs

It has a faster graphics RAM
---
#Best Gaming Graphics Card Buying Guide
Gaming graphics cards do most of the heavy lifting when we perform visually demanding tasks on the computers, like playing games or editing videos. There are hundreds of pc games, both new and old, that will push your device to the limit. Often, the best gaming graphics card is the difference between a great gaming experience and a mediocre one, and that is why it's important to find and choose the best card for your rig.
In this section of the post, we'll be going over the different parts that make up a great graphics card and discussing various factors that should affect your buying decision.
#What Specs Should You Prioritize When You're Buying A GPU?
Tons of specifications and features contribute to the overall performance of a graphics card. Let's take a brief look at the ones that matter the most.
#Graphics card memory amount
This is arguably the most important feature of a graphics card. The higher the graphic memory, the more graphical processing it can handle, and the better and faster it will perform. If you want decent frame rates with your resolution capped at 1080p, then 4GB or 6GB of memory might be sufficient. However, if you want everything turned up to the maximum, with a 4K resolution, and great performance, only an 8GB GPU will give you the performance you want.
#Form Factor
Pay attention to the weight, height, and length of the graphics cards you're looking at, and make sure they fit the dimension of your tower. Graphics cards typically come in slim, single-slot, dual-slot, and rarely triple-slot sizes.
#Power Connector
The average gaming graphics card draws more than the standard 75 watts that the standard x16 PCIe Slot provides. Your card will need supplementary power connectors, and these come in the 6 and 8 pin variety, though beefier Nvidia cards have used 12 pins before. If your power supply can't keep up with the power requirements you will need to either draw power from SATA or Molex connectors temporarily and make the shift to getting a more powerful power supply.
#Ports
Make sure the graphics card you settle for has display connectors compatible with your monitor. Some monitors use Displayport, HDMI, and older units use DVI.
#Clock Speed
Higher clock speeds most often translate to better performance for your GPU all around the board. Companies often overclock their GPUs to squeeze out extra performance from them and include that in their marketing. Clock speeds are not the definitive measure of a GPU's performance though. Often cooling is just as important.
#CUDA Cores
Cuda cores are kind of like clock speed too. They give you a measure of the GPU's performance. Products with higher Cuda cores are typically faster.
#TFLOPS
TFLOPS, which stands for trillions of floating-point operations per second, is another measurement of a GPU's performance. It is the theoretical maximum performance of a GPU. The TFLOPS are typically used when comparing the speed of two chips.
#Memory Bandwidth
The memory bandwidth is yet another measurement for speed in a GPU. Only this time, it's for the memory of the GPU. Higher generation memories are typically faster and better performing. For example, a GDDR6 1660 Ti should be 15% faster than the same graphics card with GDDR5 memory bandwidth.
#How Much Should You Pay For A Graphics Card?
This entirely depends on your budget, and what type of game you play. If you have a 1440p monitor and you are into first-person shooters, you don't need the RTX 3070 GPU. There are great products at all price ranges, but we recommend a minimum of a current-gen GPU or last-gen GPU with abundant memory and high enough CUDA cores.
#Should You Buy A Name-Brand Graphics Card Or A Third-Party Design?
Opting for either version of a graphics card has its advantages and disadvantages. Graphics cards from the manufacturers are already excellent performers and will deliver, but modified cards from third-party companies often perform better. They are either overclocked or feature beefier cooling fans. A few products offer both. Looking to buy from a third party often means a huge step up in price, and you should only consider it if you can afford it.
#Best Gaming Graphics Card FAQ
Q: Can I use my GPU for other things aside from gaming?
A: Yes, you can. Creative professionals often rely on gaming GPUs to help them with tasks like rendering, animations, video editing, and even mining cryptocurrencies.
Q: How long should I use my GPU?
A: One or two years, then you should sell it. A great GPU should be able to keep up with new releases for at least two years or a year and a half at least before you can justify its cost. Also, your GPU will become outdated in a couple of years, so upgrading to the latest version is ideal to ensure you can play the latest games and software without any lag.
Q: Can you play games at 4k on a gaming graphics card?
A: Yes, you can. Higher-end and third-party modified gaming graphics cards can run some of the most graphically demanding titles at 4k 60fps.
HackerNoon Picks
Disclaimer: This story contains referral links to the products mentioned within it.
The prices of the products are unaffected, but a small portion of sales will go towards making HackerNoon an even better platform for readers and writers around the world!
This article was originally published by @spencerdaniels at Best Gaming Graphics Card: Get The Best Performance





---
The place for programmers, startups, CEOs, and gamers to share their stories with the world.
--- ---
Related Articles