What are the Best RAMs For Gaming in 2021?
When designing a new gaming PC or upgrading your older one, the most critical and often overlooked part is to get the finest RAM for gaming in your toolkit. It may seem obvious to experienced gamers, but with so many high-quality RAM options available for PC gaming these days, choosing the best gaming RAM is not child's play. We hope that this guide will help you find the best RAMs for gaming in 2021, providing you with a quick look at some of the most amazing performers available in the market.
---
HackerNoon
2 years ago
|
10 min read
---
This article was originally published by @technophile at What are the Best RAMs For Gaming in 2021?
When designing a new gaming PC or upgrading your older one, the most critical and often overlooked part is to get the finest RAM for gaming in your toolkit. It may seem obvious to experienced gamers, but with so many high-quality RAM options available for PC gaming these days, choosing the best gaming RAM is not child's play. We hope that this guide will help you find the best RAMs for gaming in 2021, providing you with a quick look at some of the most amazing performers available in the market. So, if you want to maximize your system's performance, here are some of our top picks that you should definitely consider.
#What are the Best RAMs For Gaming in 2021?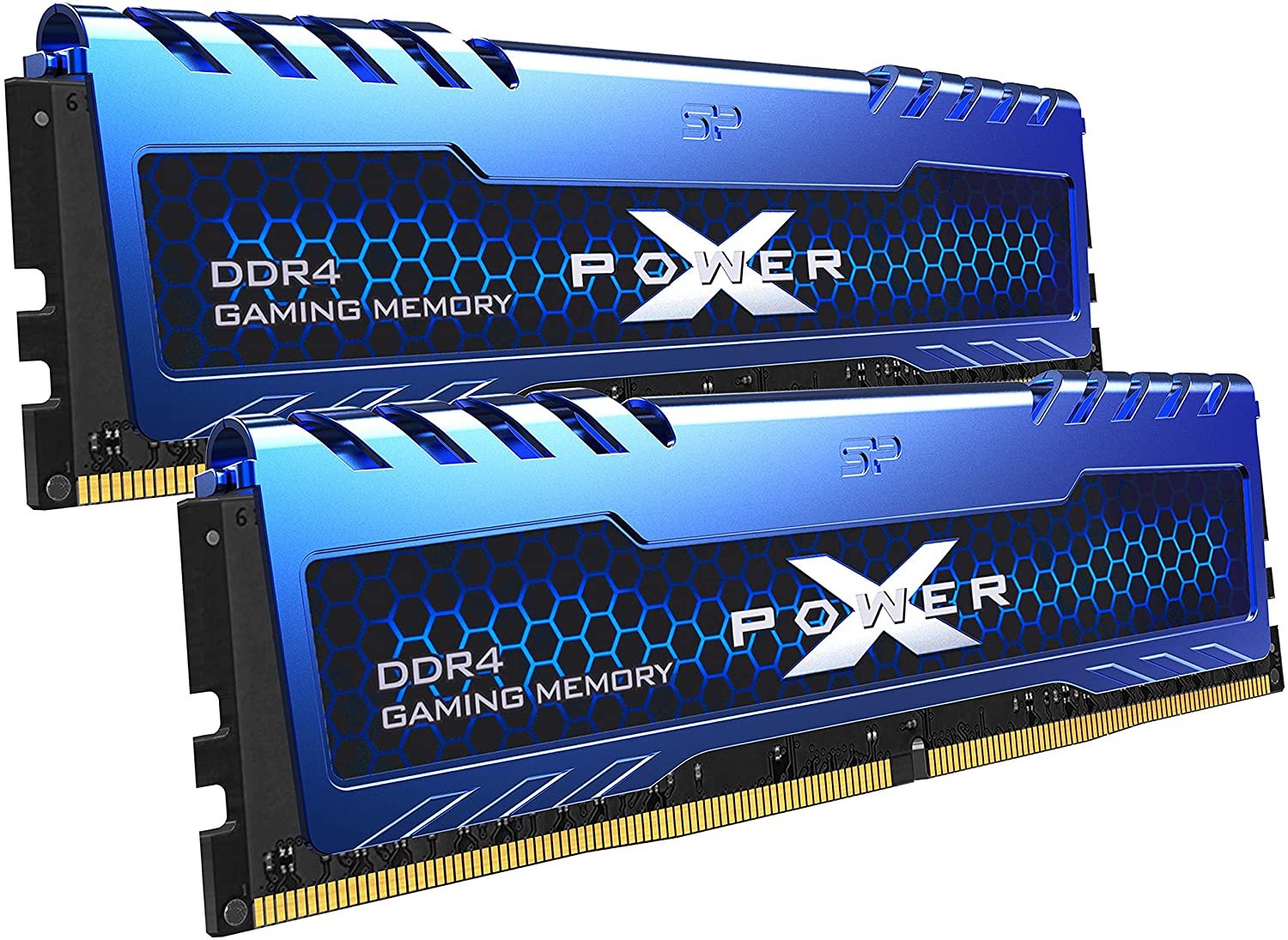 Editor's Top Pick
Experienced gamers, rookies, and multimedia professionals alike can enjoy a lag-less gaming and video editing experience due to the superior speed and performance offered by this RAM. It is fully compatible with the Intel Haswell-E platform, X99 series motherboards, and the Intel Skylake platform, and 100 series motherboards, so you don't have to worry about this RAM not working with your PC.
Moreover, this RAM offers super-fast data transfer speeds of 17GB/s, which is 33% faster than DDR3-1600. The DDR4 UDIMM has heat spreaders that offer greater thermal dissipation and a fantastic cooling effect. As a result, you'll just feel the heat of the game while your system remains cool and runs very efficiently.
Key Features
Supports Intel Coffee Lake Processors
1.35V voltage ensures fast heat dissipation and decreased hardware power consumption
Features XPOWER Turbine RGB DDR4 memory module
Comes with a lifetime warranty to ensure continuous technical support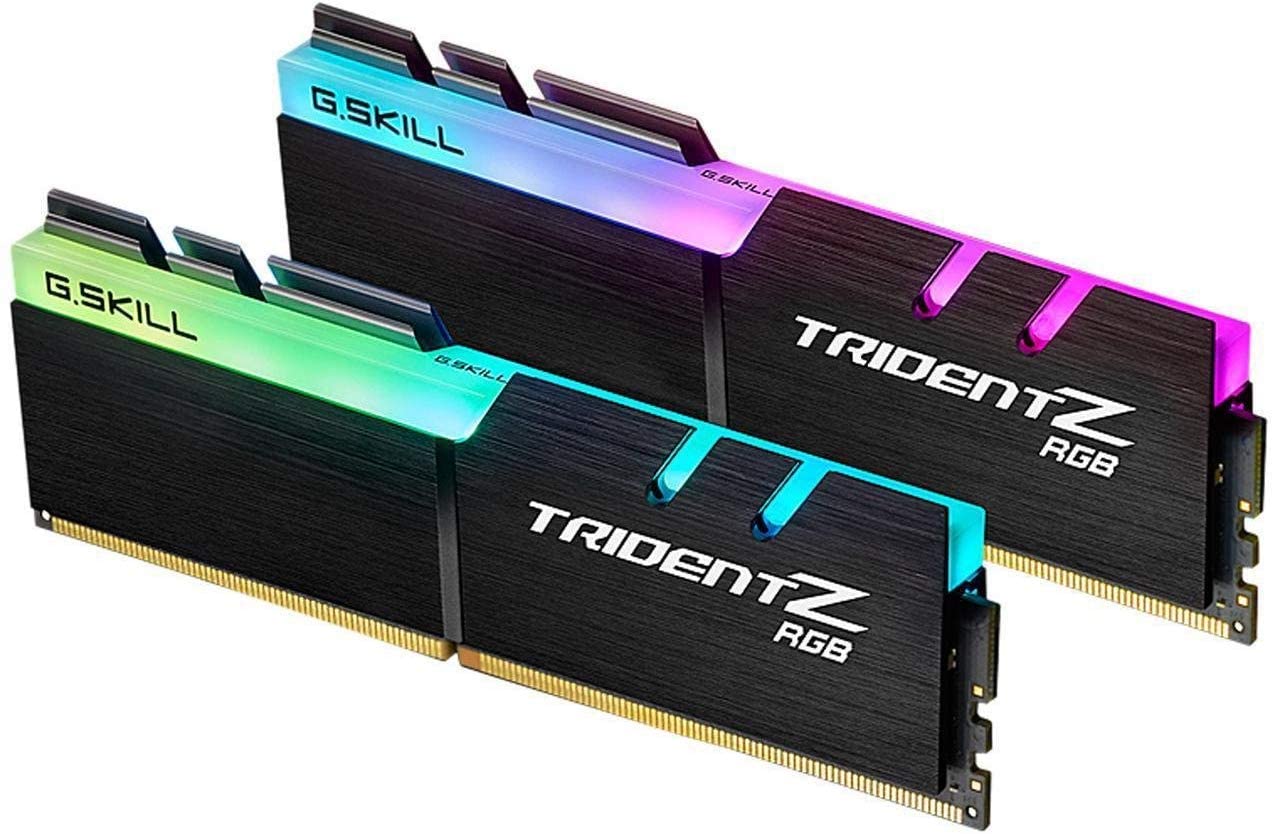 Easy To Install
The G.Skill Trident Z RGB DDR4 memory kit combines the most vivid RGB illumination with uncompromised performance. This RAM offers a fun and uninterrupted gaming experience. It has a completely exposed light bar with brilliant RGB LEDs that make it look very cool, while the award-winning G.Skill Trident Z heat spreaders ensure your system does not heat up even after hours of continuous gaming.
It is developed and constructed with the highest quality components to accommodate pro gamers. The default illumination is a full spectrum rainbow wave that moves fluidly as per your needs. You can customize the memory modules with more effects and colors by using downloadable software.
Key Features
High-speed 32GB (2 x 16GB) kit perfect for manual tuning
Excellent XMP performance
Speed ranges from 2600 MHz to 3800 MHz
Unrivaled selection procedure ensures that each memory kit comprises precisely screened IC
Amazing heatsink design comprising of vibrant RGB LEDs


Most Versatile
The manufacturer of this RAM utilizes the highest-quality materials to improve the overall performance of your PC to make you a gaming legend. The pure aluminum heat spreaders have an innovative shape that draws heat away from the ICs and onto your system's cooling route, allowing you to game for hours without worrying about your PC heating up.
Sinba's high-performance memory is trusted by overclocking champions, hardcore gaming fans, and high-end system builders worldwide. The brand offers various RAM options to buyers in terms of the frequency range, capacities, and channel packs.
Key Features
Verified Compatibility across DDR4 systems for dependable, quick performance
Hand-sorted memory chips provide great performance and enough room for overclocking
Compatible with INTEL and AMD platforms
You can choose from four capacities (4GB, 8GB, 16GB, 32GB)
Aluminum heat spreaders efficiently dissipate heat faster


Best Value For Money
Crucial Ballistix Max RGB features aluminum heat spreaders to allow exceptional overclocking. It is excellent for gamers and performance enthusiasts who want to push the envelope. With 16 RGB LEDs in 8 zones on each module, you can personalize your rig's light patterns and brightness with the accompanying software.
You can just use the JEDEC default profile for a phenomenal gaming experience and performance, or work with the XMP 2.0 support that automates the overclocking with pre-defined settings, allowing you to overclock to get the most out of your system without any effort. To guarantee that the memory is designed for maximum performance, this brand works with AMD/Intel, motherboard designers, and system builders to ensure seamless compatibility with their systems.
Key Features
Each module has 16 RGB LEDs in 8 zones, allowing you to tailor the color scheme as desired
Has a speed range of up to 3600 MHz
Features high-quality micron die low-profile form factor and extruder heat spreaders for high-end performance
Compatible with most systems including ASUS Aura, MSI Mystic Light, Gigabyte AORUS Graphics Engine, and more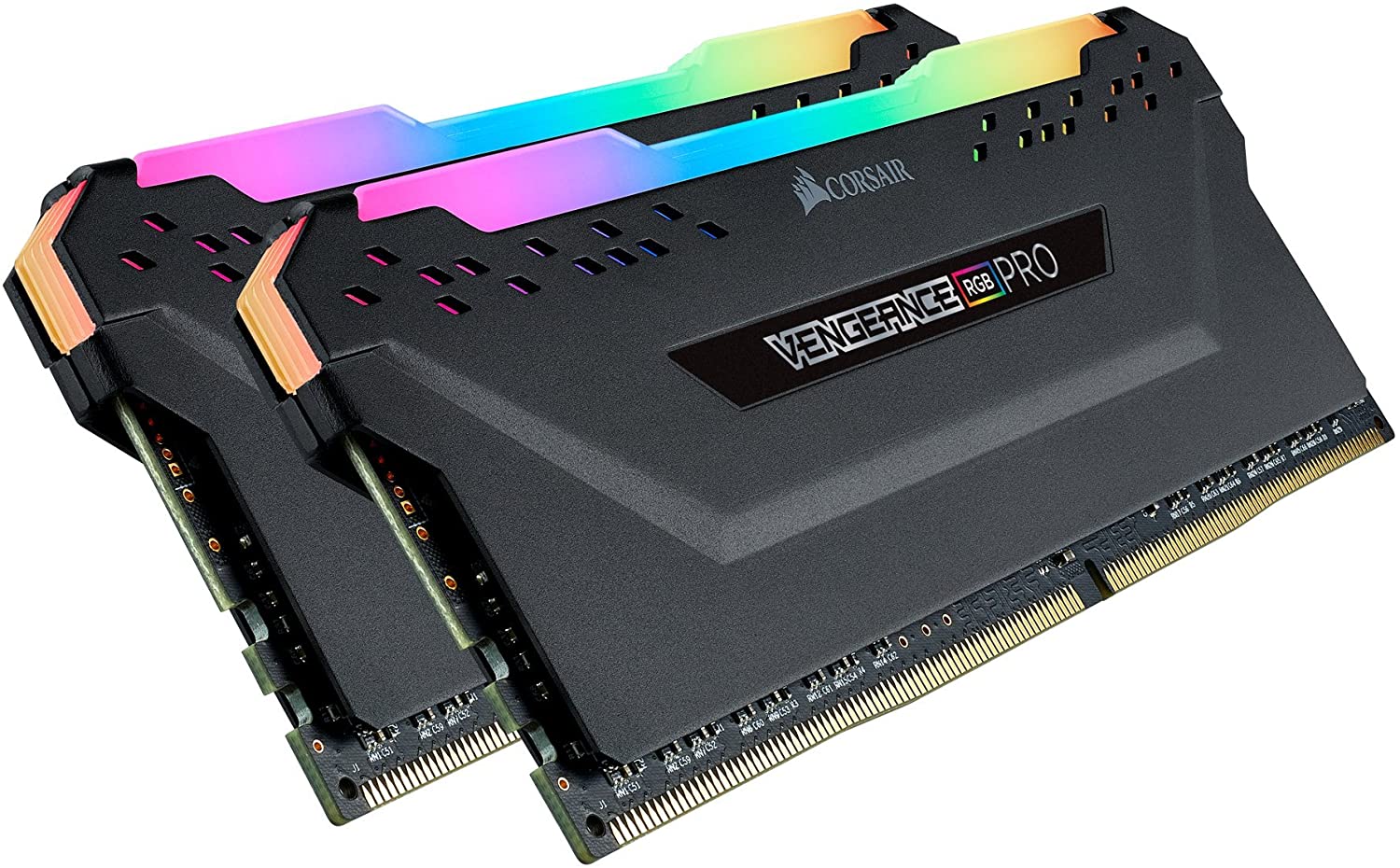 Reasonably Priced
Corsair Vengeance DDR4 memory adds captivating dynamic multi-zone RGB illumination to your PC while also providing the greatest DDR4 performance and reliability. Each module has ten dominator platinum RGB LEDs that can be controlled independently, and the wire-free design makes installation a breeze.
You can completely configure any of the light modules with Corsair iCUE software. The Light LINK allows you to simply coordinate lighting across all of your Corsair Vengeance devices. A custom-built PCB gives the finest signal quality for the best degree of performance and stability on the latest AMD and Intel DDR4 motherboards. Besides these, the carefully screened ICs allow better overclocking.
Key Features
Individually customizable light modules that offer vibrant, dynamic illumination
Contains thoroughly tested ICs to ensure improved overclocking
For a clean and smooth installation, no additional tools or wires are needed
Supports utilities from Corsair and other brands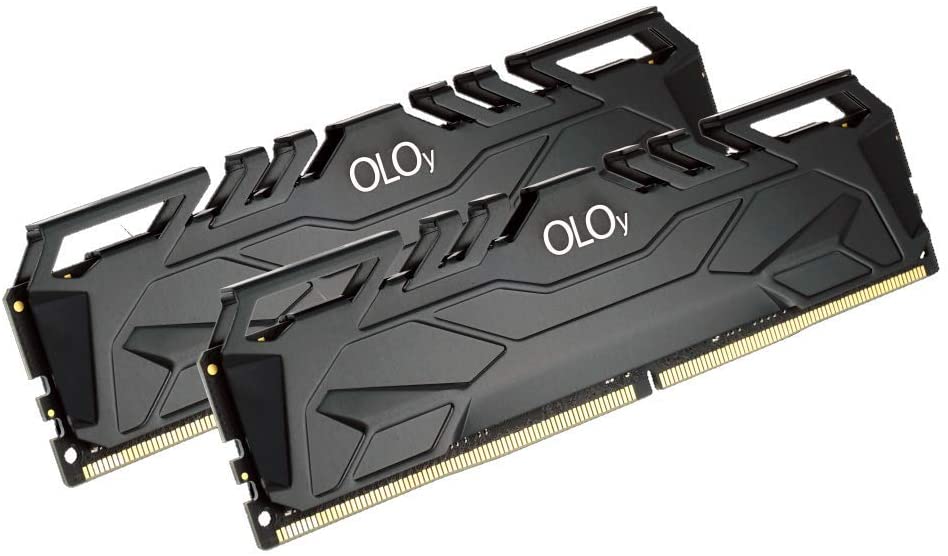 Most Durable
Quick and dependable, the OLOy DDR4 desktop memory is a great option for constructing a new gaming PC or updating an old one. It runs at a low voltage and generates little heat while providing outstanding performance for gaming, multitasking, content editing, and other tasks.
OLOy desktop memory is compliant with the DDR4 standard and runs at 3200MHz to offer substantially more bandwidth than DDR3 memory. Thus, its highly capable design makes it appropriate for today's increasing computing demands, especially for gamers.
Key Features
When compared to DDR3, OLOy desktop memory uses less power
Because of its low operating voltage of 1.35V, it produces less heat
Compatible with both Intel and AMD processors
Made of high-quality and rigorously tested components to meet industry requirements
Has white light diffusers that cast pastel hues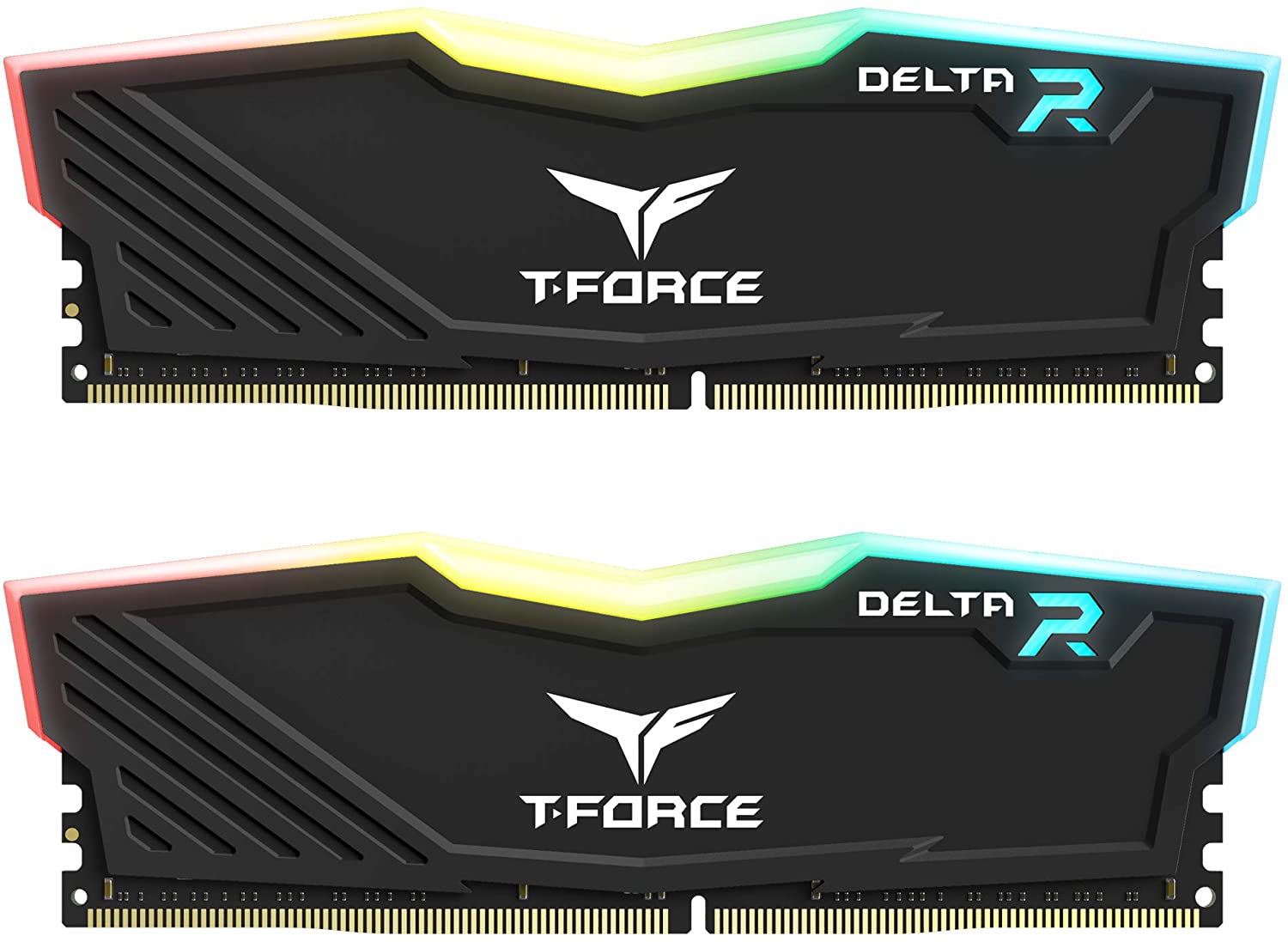 Best Stability
The R on the heat spreader stands for both RGB and Revolution, which stands for a unique design with no compromises. The heat spreader is made of a lighter and top-quality metal to dissipate heat properly.
The Incredible Revolution will give players a never-before-seen gaming experience. It certainly ticks all the boxes as it looks appealing when lit up and performs well. The embossed lines on the surface improve the heat dissipation area while also efficiently cooling the memory module, allowing for precisely controlled operating quality.
Key Features
Force Flow RGB lighting effect with full-frame 120° super wide-angle lighting
XMP2.0 one-click overclocking technology is supported
Heat spreader made of aluminum alloy with a simple asymmetric design

#Best RAM For Gaming Buying Guide
Whether you're purchasing a new gaming PC or upgrading an existing one, having powerful hardware is critical for optimal gaming performance. Despite the fact that the CPU and GPU are the two most significant components determining your PC's gaming performance, you should also consider acquiring one of the finest gaming RAMs.
We understand that solely having a list of the best RAMs for PC gaming is not enough. To make this decision, you must be aware of the factors to search for and the considerations to make when sifting through the plethora of RAM options available in the market. That's why we have curated this buying guide to help you make an informed decision.
#What Are The Different RAM Types Available In The Market?
When you head to the market or online marketplaces, you will come across the following types of RAMs:
#DDR
DDR, or Double Data Rate (DDR), is a term that describes the speed of the RAM to transfer the data. It means that each clock speed cycle involves two transfers. It's worth noting that you cannot install DDR2, DDR3, and DDR4 RAMs in a DDR slot. So, make sure you're aware of the many types of slots available on your motherboard.
#DDR2
These days, DDR2 is perhaps the most out-of-date type of RAM. There are 240 pins on the motherboard to accommodate DDR2 RAM. This RAM, however, has been superseded and is tough to come by these days.
#DDR3
Even though DDR3 RAM has been on the market since 2007 because it is compatible with many CPU generations, the market is still flooded with it and there is still some demand for them too. The number of pins on this RAM is the same as on DDR2 RAM. On the other hand, it runs at a lower voltage and has more precise timings.
#DDR4
This type of RAM was introduced in 2014, but it was unable to replace DDR3 completely. One of the major reasons behind this is the higher price tag of DDR4 RAMs. However, in recent years, the price of DDR4 RAM has dropped dramatically, and an increasing number of individuals are opting for it. This RAM uses lower voltage, and the pin count has been raised to 288.
#Things You Should Consider When Buying The Best Gaming RAM?
#Size of kit
The size of the kit just indicates how many RAM sticks are included in the package. You'll need at least two RAM sticks for dual-channel compatibility if you want the greatest performance out of your RAM kit.
The best RAM kits for gaming include two or four sticks. Although they both provide the same performance, a two-kit allows you to add two more sticks in the future if you require extra RAM. On the other hand, a four-stick kit fills all of your slots and costs slightly more than a dual-stick kit of equal capacity.
#Motherboard support
Check that your motherboard supports high-performance RAM before installing it in your gaming machine. You should look if the RAM will support Intel and AMD motherboards or not. If you want to boost your computer's memory performance, seek RAM modules that enable XMP 2.0.
#Warranty
You will almost certainly spend a significant amount of money while developing a high-end computer to play PC games. As a result, you'd like to make sure that all parts survive until they need to be replaced with newer variants.
In case you don't already know, RAM modules use high-reliability flash storage. As a result, all gaming RAMs come with at least a 10-year warranty. However, some of them are even backed by a lifetime warranty.
#Lighting
Many RAM stick versions include integrated lights, or RGB lighting, similar to other computer components. While having a transparent side panel will not affect the performance of your RAM stick, it will certainly improve the appearance. However, you have to pay some extra bucks for any RAM stick with RGB illumination. The price justifies the added aesthetics feature.
#How To Choose The Most Appropriate RAM For Your Specific Requirements?
To ensure that you are investing your money in the right product, you should try to find answers to the following questions.
#How Much Memory Do You Need?
Essentially, 16 GB of RAM is what you should be going for right now, as it is more than enough memory to run the most recent AAA games. These are also reasonably priced so you won't have to break the bank to get them.
If money is a concern and you're trying to create a competent PC on a shoestring budget, 8 GB of RAM will suffice. Even though it won't be the most future-proof choice, but you can always increase the RAM capacity in the future.
Finally, when it comes to gaming, getting 32 GB RAM or above is definitely overkill. Unless you want to use your PC as both a workstation and a gaming machine, there's no need to go higher than 16 GB right now.
#What Is The Fastest Speed?
RAM module has a different clock speed, just like a CPU or GPU. The RAM speed should not be slower than the memory speed chosen by your CPU. When it comes to the most recent CPU models, Intel favors 3200 MHz, whereas AMD favors 3600 MHz.
Of course, slower RAM will work with your system, but if you want to get the most bang for your buck, the CPU speed should be the bare minimum.
#What Are The Different RAM Channel Configurations?
"Dual-Channel" is another phrase you'll come across. It is the most common RAM configuration in gaming PCs, and it is also the most suitable for many users. The distinctions between the three basic setups will be discussed further down.
#Single-Channel RAM
Single-Channel RAM describes a situation in which all of the system's RAM is contained on a single RAM stick. It stops the RAM stick from reaching its maximum speed, which can be a significant barrier for DDR3 and lower-clocked DDR4 RAM.
#Dual-Channel RAM
Dual-Channel RAM describes a situation in which two identical RAM sticks are used in the same system. The RAM sticks can now function together and reach their full, rated RAM speeds in this case. In every circumstance, this is ideal.
#Quad-Channel RAM
As the name implies, quad-channel RAM refers to a situation in which four identical RAM sticks are used in the same system. While this does increase memory bandwidth, performance advantages are minimal to non-existent, particularly in games.
The only time you should use QC RAM is to increase the capacity of an existing DC system, not for performance.
#Best RAM for Gaming FAQs
Q: Is it true that 3200 MHz RAM is more suitable for gaming?
A: Yes, at this time, it is worthwhile to purchase. In general, it may work well for Ryzen-based CPUs. If you buy the AMD Ryzen 7, it's also a plus. It's possible to get the 5% increase in performance, but generally, it will be around 3%.
Q: Do you think 32GB of RAM is enough for gaming?
A: Yes, definitely! However, many game consoles do not support anything near 32GB. Therefore you should consider the gaming PC's overall power. There is no lag or other efficiency issues if you require maximum speed. At this time, 32GB will probably be the best option.
Q: Will 16GB RAM for gaming make a difference?
A: If you're a serious player who likes to stream games, 16GB of RAM is the way to go. 8GB of reasonably fast RAM should be enough for casual and hardcore gamers who don't use their PC for anything other than gaming.
This article was originally published by @technophile at What are the Best RAMs For Gaming in 2021?
---
The place for programmers, startups, CEOs, and gamers to share their stories with the world.
--- ---
Related Articles