Books 2.0: An AI-powered, social reading platform for books by Qwerty Thoughts
QwertyThoughts – Is running "Stories That Matter", a storytelling, discussions, book exchange and creative writing community meetup group in Delhi- NCR
As per an article published by Times of India, 'Indians are champs of reading! The average Indian is spending more than 10 hours reading books per week.'Communities, discussions, books exchange, storytelling and most importantly- the creative writing community meetup is what Qwerty thoughts has been doing for past 4 years.

QwertyThoughts was started by Jasleen Khurana and Prateek Gupta. The founder and creative head, Jasleen Khurana has over 7 years of experience in various MNCs and she has headed their HR, Corporate training and Communications. The co-founder and CTO, Prateek Gupta has over 7 years of experience in senior technology roles. Prateek is also a national level Rubik's cube player.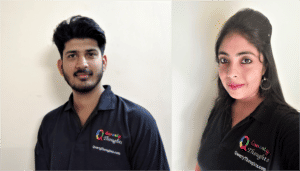 Prateek Gupta (left), CTO and Co-founder, Jasleen Khurana (right), creative head and Co-founder
QwertyThoughts –
Is running "Stories That Matter", a storytelling, discussions, book exchange and creative writing community meetup group in Delhi- NCR
Is an AI-powered book discovery, experience sharing, social book reading, and multilingual self-publishing platform
helps you connect, discuss and read books together with people across geographies, in real-time
has more than 6000+ members.
empowers you to write anything and everything, and share it digitally across the world
enables you to write and share your thoughts in the form of poetry, stories, and books to publish and sell them
QWERTY-THE FIRST 6 LETTERS OF THE KEYBOARD
The word "QWERTY" is made up of the first six letters of the keyboard. The web platform- QwertyThoughts.com was chosen to enable people to write and share their thoughts in the form of poetry, stories, and books instantly.
Jasleen says, "We are still carrying forward the thought process behind starting this meetup community, which is Every Thought Matters and that every thought, every story, and every book has its `own uniqueness and should be presented to the world without any bias or judgment.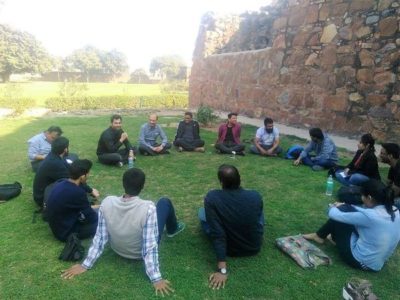 She further adds that people often fear speaking up or writing down what they actually feel, Qwerty Thoughts wants to remove that fear in people.
BOOKS HELP US LIVE A MILLION LIVES: FOUNDER'S WORD.
Jasleen has an interesting thought process. She says that books were created as a means to store whatever experiences humanity has discovered and become a medium to carry them forward to future generations. Understanding other's experiences and learning from them is what makes us different from other species. As the saying goes, books help us live a million lives, without even moving our feet.
It all started four years back, when Jasleen started offline meetup groups in Delhi-NCR related to storytelling, book readings, discussions and creative writing. While doing this, she realized that geography was a big challenge and only Delhi-NCR based reading enthusiasts could participate in these meetups.
"WE ARE WORKING TOWARDS EMPOWERING PEOPLE TO ACTUALIZE THE POTENTIAL AND PURPOSE OF BOOKS BY LETTING THE BOOKS DELIVER WHAT THEY ARE WRITTEN FOR- HELP PEOPLE EVOLVE." –JASLEEN KHURANA
Read. Interact. Discuss
Qwerty Thoughts is an AI-powered book discovery, experience sharing, social book reading, and multilingual self-publishing platform where readers can discuss "inside" books while reading them with people who have similar interests.
Find and choose a book you want to read or look for a book that you've already read. While reading the book, you can find people who have read that book in the past or are currently reading the same book. You can interact and discuss or simply leave your point of view and thoughts about what's written.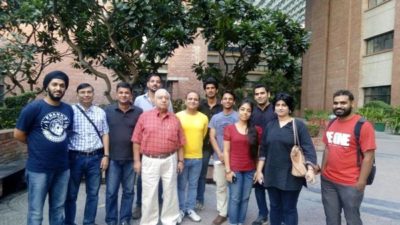 The platform has a range of free books, as well as books that can be purchased. Users can either pay for the complete book in one go or pay as they read. If reading together is not your cup of tea, you can also switch on "anonymous" mode and read without getting disturbed or noticed by others.
BOOKS ARE UNIVERSAL. EVERYONE CAN RELATE TO THEM.
QwertyThoughts.com will have a global impact as it is connected with almost everyone. We are redefining the way people interact with books, and how they are created and used by readers.
They have 360-degree approach when it comes to books. They are not only focusing on one aspect but have a comprehensive platform where full books are available for reading (free and paid). People from any part of the world can read them together and discuss while reading them with people having similar reading interests.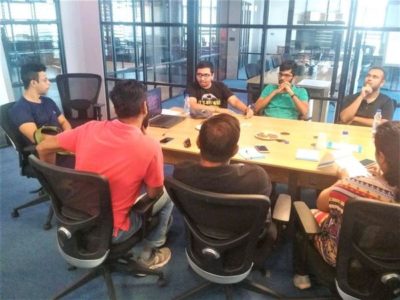 People can react, comment on and share every paragraph of the book. The paragraphs or quotes from the books can also be shared directly on any social media, blogs, websites and can also be saved as images to be shared on Whats App and other image sharing apps.
TARGET MARKET FOR QWERTY THOUGHTS
All aspiring writers published authors, readers and publishers are an important part of their ecosystem.
They are a multilingual platform, where people can write and publish books in English as well as 16 major Indian languages. In India itself, they are catering to a potential 500 million vernacular language internet users. They have users from a lot of countries, with a major audience from US, UK, Australia, and Germany. Readers, authors, budding writers, publishers – everyone is now a part of the community at QT, which has been growing rapidly.
REDEFINING THE WAY PEOPLE READ BOOKS : QWERTY THOUGHTS.
The decision of making something like this was a challenge in itself. Assessing and analyzing the market took a lot of time as not much research has been done in this industry, and no one has tried to explore much technologically either.
QwertyThoughts.com is a first and one-of-its-kind platform for books.
Prateek adds, "Technological innovation in the book industry is still at a very nascent stage and is slowly picking up momentum. We are here to catalyze this shift and redefine the way people read books".
REACHING OFFLINE TO THE READERS: QWERTY THOUGHTS.
They also do offline meetups. They have shifted our primary focus towards readers who love to read online, since this way we can reach a far greater number of people. This platform is for all those crazy souls who want to do more than just reading a book. It is about sharing your reading experiences. Jasleen says that it is for everyone who believes in living a million lifetimes in this one life.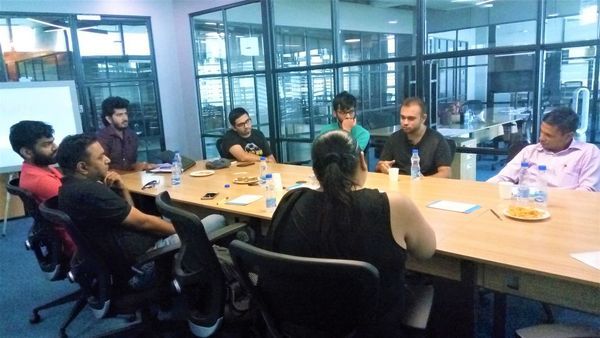 "ALWAYS HAVE A LONG-TERM VISION, FROM WHICH THE WORLD CAN BENEFIT IN SOME WAY. YOU SHOULD ALWAYS THINK ABOUT HOW YOUR EFFORT CAN MAKE AN IMPACT ON THE LIVES OF OTHERS AND IMPROVE THINGS IN THE WORLD. THERE ARE SO MANY PEOPLE TRYING TO FOLLOW OTHERS WITHOUT CAUSE OR JUST FOR SHORT TERM GOALS. BUT YOU SHOULD THINK LIKE A TREND SETTER, AND NOT A TREND FOLLOWER, IF YOU WANT TO DO SOMETHING DIFFERENT!" JASLEEN KHURANA.
---
Ideas are easy, Implementation is Hard, learn from the ones who knows how to start. A Publication by Tealfeed.
--- ---
Related Articles