How Branding Helped an Online Business Grow During the Pandemic
A Case Study
During the COVID-19 outbreak in early 2020, e-commerce retailers in Greece had to face an unprecedented situation.
One of MALVI's clients, Cozykids, is a Greek company that sells a wide range of toys, children's furniture and decorative items. Their management started to discuss contingency plans as they watched the coronavirus spread.
I'll jump the gun a little bit and give away the ending: The work we had done at MALVI with their brand strategy long before the arrival of the pandemic eventually made their sales take off during (as well as after) the lockdown in April.
Let me tell you the whole story.
Unforeseen Circumstances
In March 2020, the Greek government announced strict lockdown measures including controlled citizen's movement, and closed educational institutions and physical retail stores among other things. Restrictions were applied gradually during the short period leading up to March 23rd, when the strictest of the above measures were eventually imposed.
Cozykids was among the countless businesses that were affected by the pandemic. Apart from the online store, Cozykids' management own 5 physical stores, all of which were closed during what turned out to be a 6-week lockdown.
At the same time, the vast majority of people spent most of their time at home, thus resorting to shopping therapy as a means of coping with the isolation.
The First Signs
For Cozykids, all this resulted in a significant increase in traffic as well as in purchases on the online store. In March 2020 there was a 126% increase in orders compared to March 2019. Gross income increased by 210%.
During this period our advertising schedule was also affected and had to be modified at the product level, to ensure that advertising budget and resources were allocated wisely. For example, products such as bicycles or scooters were irrelevant during the lockdown and would be pointless to promote, even though they would otherwise have been advertised heavily in spring.
The focus shifted towards indoors activities instead, and especially towards products that encouraged creative play and interaction between children and parents.
By mid-March all metrics were already pointing upwards, suggesting the upcoming change — of unknown scale at the time. Seeing the first signs of increased demand and a better than expected average return on ad spend, the initial reaction was to cautiously increase the allocated monthly advertising budget for March by 25%.
In the beginning of April, Easter was just around the corner (Easter Sunday was on April 19th), a period with particularly high demand for toys as gifts. The company's internal processes and resource allocation were already being restructured so they could cope with the situation in terms of logistics and warehouse workload.
Personnel was repositioned from the stores to the warehouse to help with order fulfillment, and products were transferred back from the stores to meet demand. As demand kept going up, the monthly ad spend was eventually increased by another 68% for April (compared to the budget allocated in March).
In the meantime, due to high demand in online stores globally, delays were expected in shipments from suppliers. We were thus constantly alert about products that were on high demand, and the company proactively placed orders ahead of time to ensure that popular items were not out of stock during this time when product availability was of the utmost importance.
However, April brought about even more unexpected developments, which made it even harder for all retailers to cope.
The Heart of the Crisis
As online purchases skyrocketed before Easter, courier services were overwhelmed. Parcel deliveries were soon delayed more frequently and for increasingly long periods, which caused a serious bottleneck effect that paralyzed the whole delivery system.
The confusion in most distribution hubs was now so extreme that many deliveries were virtually impossible to track, and courier companies eventually failed to deliver most parcels within an acceptable time frame. Many were, unavoidably, never delivered at all.
This had an immediate impact on the toys and children's deco industry. Some high-volume retailers, whose logistical procedures were already being challenged by the rising volume of orders, ceased taking orders altogether as their deliveries were now severely — and in many cases indefinitely — delayed.
Due to these retailers shutting down their own websites, even more traffic was diverted to the Cozykids store which at that point was still managing to keep up with the influx of orders. On top of that, we built Google Ads campaigns to target searches that included terms relevant to these brands who were unable to ship for Easter, thus driving even more traffic to Cozykids.
It became obvious that delivering the products was now a much bigger problem than handling incoming orders. It was imperative that a resourceful and thorough approach was required if the store was to keep customers satisfied and indeed, if it was to keep taking orders at all.
The Solution
The complexity of the situation demanded, before anything else, flexibility in communicating quickly and effectively what would otherwise have been trivial information. Messages that informed potential customers that the online store was open for business and was taking and dispatching orders without problems were now crucial, given the unusual circumstances.
As delivery times for all stores gradually became longer, Cozykids customers were also notified about expected delays with appropriate messages inside the website and in purchase confirmation emails. All these actions helped keep customers informed before as well as after their purchase, and contributed to boosting their confidence that they are being served to the best of the company's ability.
The shipping issue, however, was the main obstacle that prevented the company from serving customers properly during that time. We realised that the only solution would be to skip that part of the delivery chain altogether.
Cozykids decided to deliver all orders made closest to Easter Sunday, that is between 15–17 April, using their own means, at least in Athens and Thessaloniki, the two biggest cities where the delays were the longest. They set a goal of having all parcels delivered on Saturday the 18th at the latest, in time for Easter Sunday.
At the same time, all this had to be communicated properly through advertising campaigns as well as on the website, so that customers wouldn't hesitate placing their orders this close to Easter.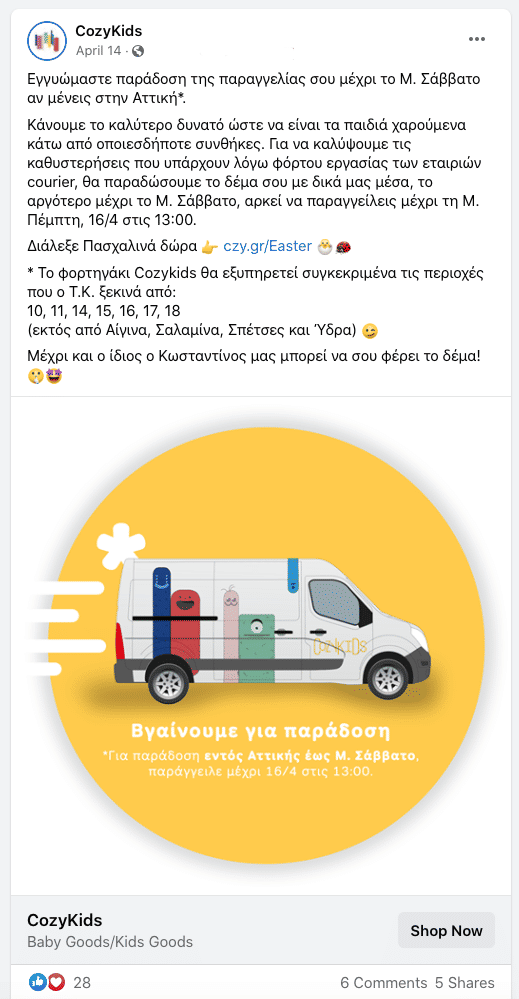 A Facebook post that informed customers about delivery in Athens using the company's own means — screenshot supplied by the author
Managing local orders was no easy task. A number of internal processes needed to be handled in different ways than usual, which meant that many automated procedures had to change for this short period. So, behind the scenes we implemented a custom delivery system on Shopify Plus within a day, which streamlined the whole process of accepting, managing and dispatching local orders.
Areas that needed to be dealt with included filing incoming orders separately based on their destination, sending out special confirmation messages to local customers since there was no tracking option for their order, and tweaking the order fulfillment and dispatch procedures to adapt to the new circumstances.
Shopify also identified the need for such a system, and a month later they presented a native solution that helps merchants deal with similar situations.
The goal was eventually achieved and all orders were delivered on schedule. Minor setbacks were unavoidable, as a fair number of previously placed orders still depended on courier services for delivery. Cozykids, however, managed to keep taking orders and sending parcels out promptly throughout the six weeks of the lockdown, thus keeping delayed deliveries to a minimum and, against all odds, delivered a large number of gifts in time for Easter.
As a result of the collective effort in logistics, communication, advertising, infrastructure and overall strategy, in April 2020 orders went up by 461% compared to April 2019 and gross income increased by 516%.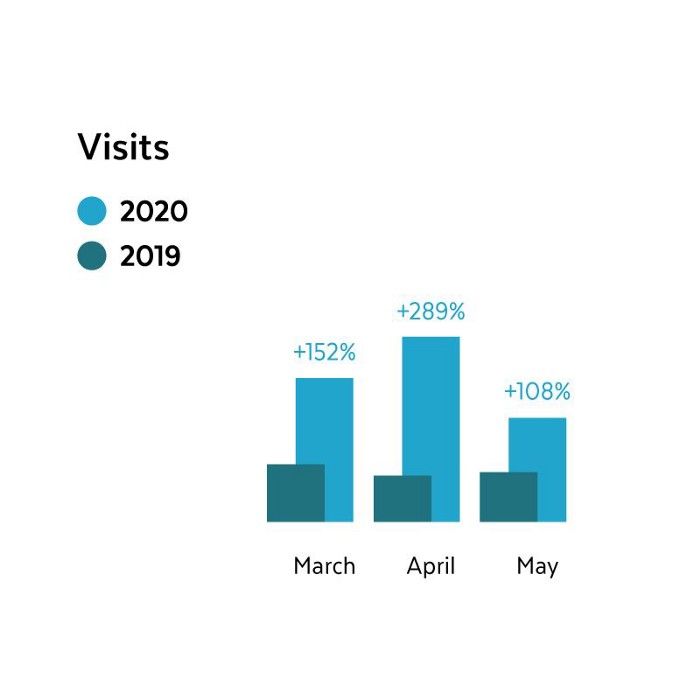 The increase of visits to Cozykids online store during the lockdown in Greece, compared to the corresponding months in 2019 —graph supplied by the author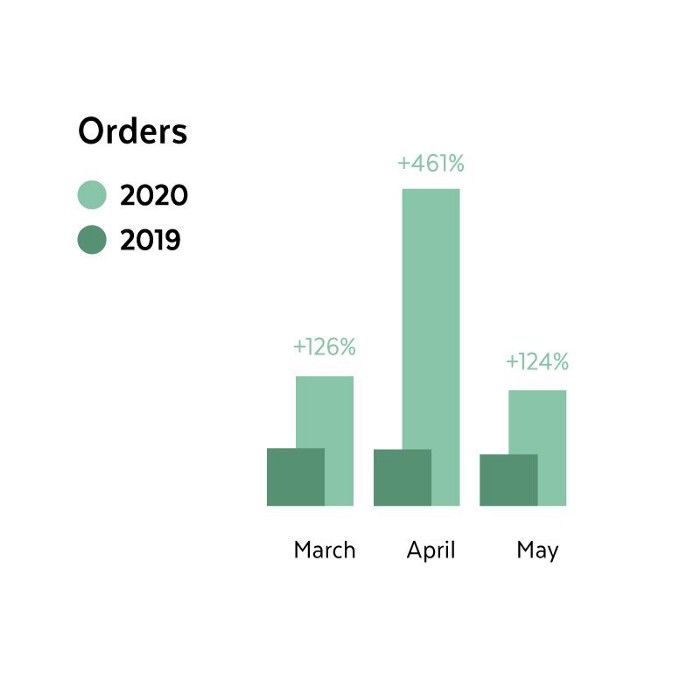 The increase of orders for Cozykids online store during the lockdown in Greece, compared to the corresponding months in 2019 — graph supplied by the author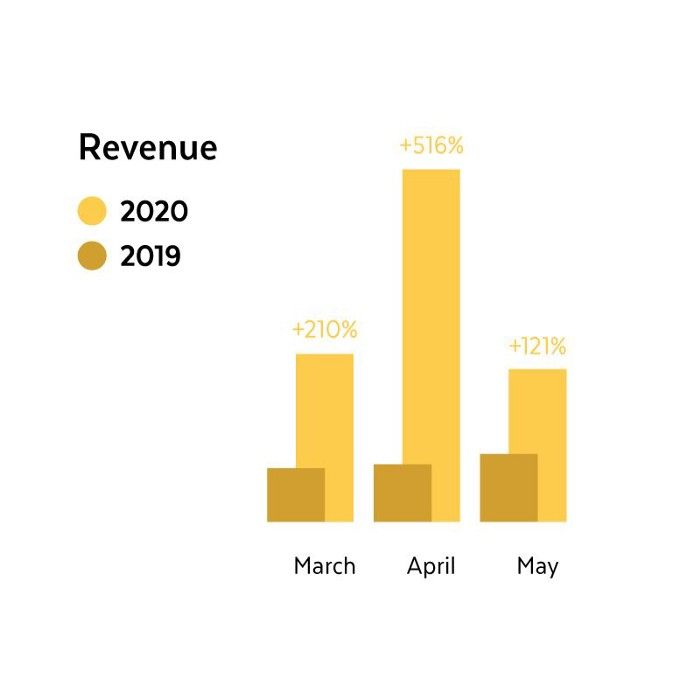 The increase of revenue for Cozykids online store during the lockdown in Greece, compared to the corresponding months in 2019 — graph supplied by the author
Cause and effect
Cozykids managed to overcome this crisis with enormous success, increased their income spectacularly and got out of a dire situation almost unscathed. The main reason for this achievement was customers' trust towards the brand. Since the store had gone online, more than 3 years earlier, we had been focusing our efforts on building authority and trust.
We worked closely with the company to build a customer-centric mentality and ensured this was applied in all departments, and in all interactions and purchases.
The online store itself was redesigned and rebuilt from scratch to be more user-friendly, robust and reliable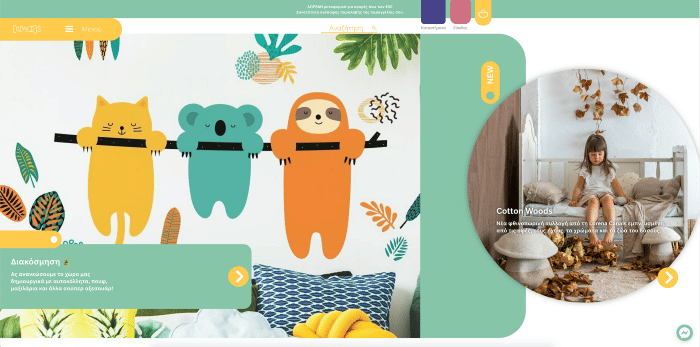 A screenshot of Cozykids' redesigned website — supplied by the author
Staff were guided to respond to requests properly
Orders are almost always dispatched on the same day or within 24 hours
Interactive, physical events are designed to reinforce the brand's values in parents' minds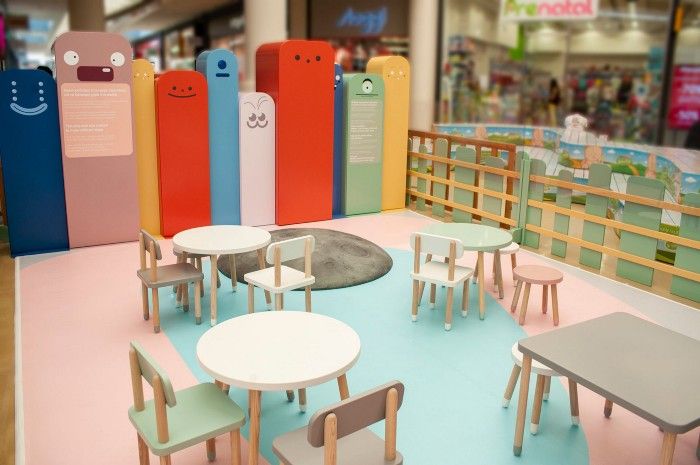 An interactive, physical Cozykids event — photo by Giorgio Papadopoulos, designed by MALVI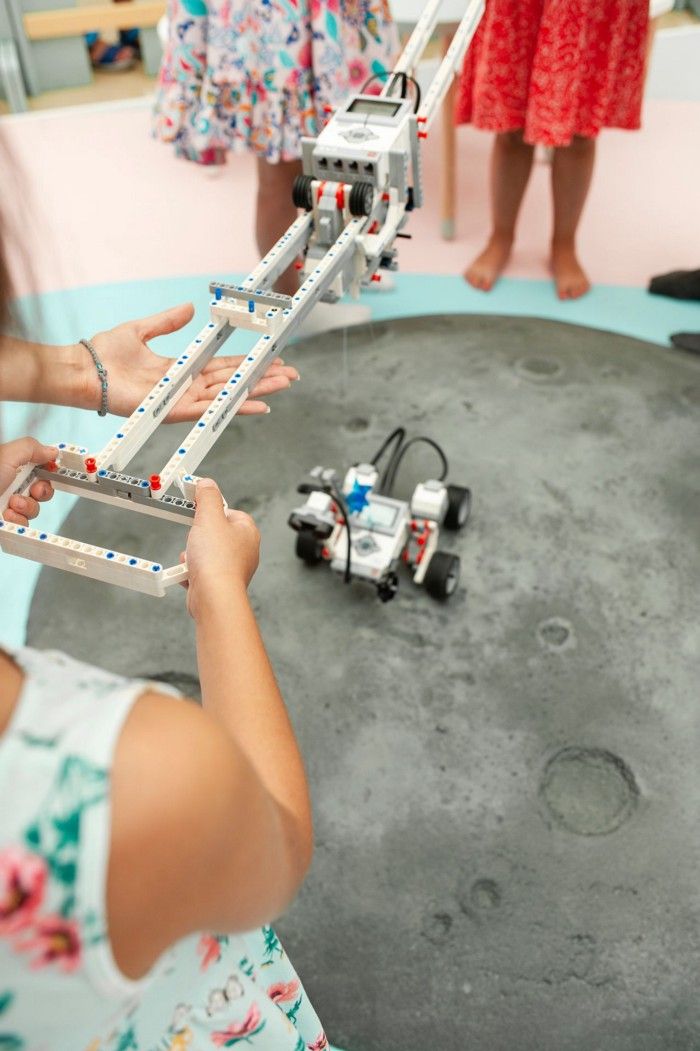 An interactive, physical Cozykids event — photo by Giorgio Papadopoulos, designed by MALVI
All communication and messages are structured so customers can tell they are important to the company. They are always kept up to date, their requests are responded to promptly, their privacy is respected, and all communication is personalized as much as possible. Above all, the customers' interests are the company's number one priority and this is obvious in all communication, be it online, in physical stores, in emails, through chat or in automated messages.
Content that is both valuable and timely is distributed frequently in different formats

Instructions on building DIY games and toys in the form of YouTube videos— screenshot supplied by the author
A visual identity was designed to bind all these together and seamlessly extend the company's image in the design of their new concept stores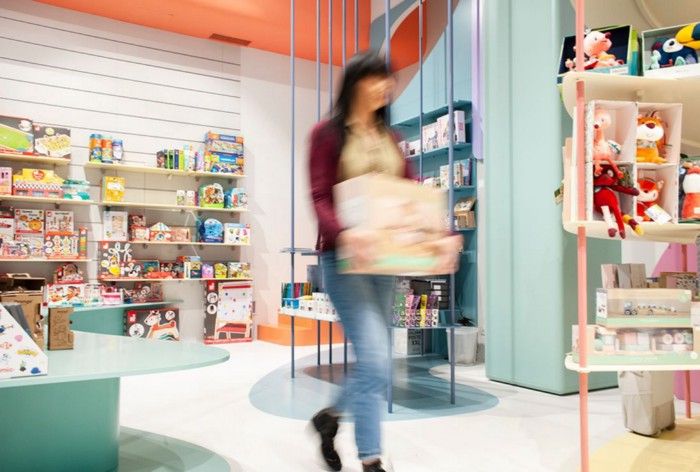 Cozykids' physical store interior —photo by Giorgio Papadopoulos, designed by MALVI
An example of content that was designed and published more than a year before the lockdown aiming to build trust, was a guide for indoor DIY activities that parents and children could engage in together during the winter months. During the COVID-19 crisis, this content was invaluable in driving traffic to the company's blog.
Similarly, a series of interviews with child psychologists and experts had already been under way, which were being published as a means for educating parents. During the lockdown, this concept was extended to include recorded Zoom calls with professionals who talked about these topics that were now more relevant than ever (daily routine when the whole family stays home, educating children about the COVID-19 situation, homeschooling, etc).
An online interview with a psychologist — screenshot supplied by the author
Needless to say, much of this traffic was eventually converted into purchases which couldn't have been made otherwise.
As a result of the overall strategy, evidence of customers' confidence in the Cozykids brand comes to the surface often. This trust becomes apparent through interactions with customers, as well as through metrics that show a steady and more than satisfactory annual growth rate.
However, the real value of the relationship that is being built from day one stood out during the strenuous period of the lockdown. Customers proved their faith in the brand by making purchases when everything looked bleak and, as far as they could tell, nothing could assure them that their orders would be delivered. The actions taken on our part during the 6 weeks of the lockdown only worked because they were an extension of the overarching strategy that has been followed faithfully since the online store's opening.
Investment in Brand Strategy Pays Off
In the aftermath of the lockdown, when most retailers witnessed diminished revenue levels, Cozykids' online store has secured an increased average monthly revenue. In July, August and September 2020 the increase had settled in the area of 66–67% for each month compared to the year before.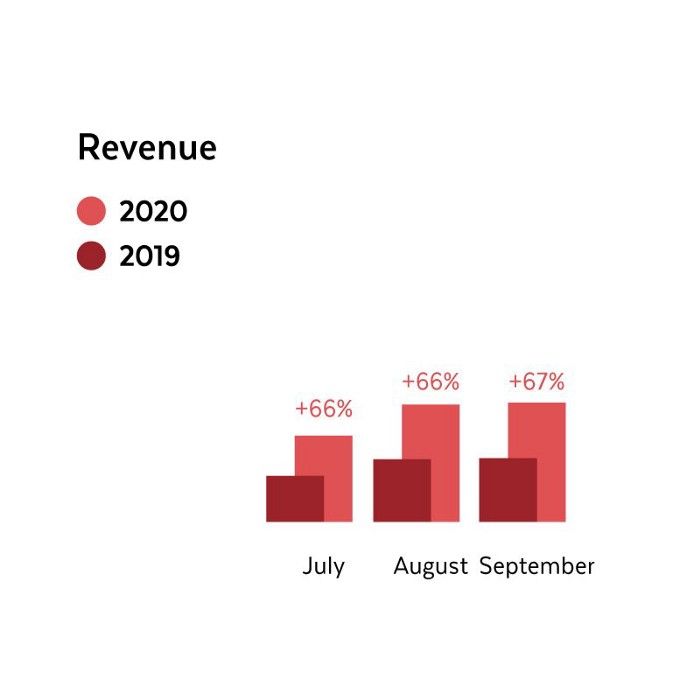 The increase of revenue for Cozykids online store during the period that followed the lockdown in Greece, compared to the corresponding months in 2019 — graph supplied by the author
Clever and inventive allocation of resources (human or otherwise), as well as budget and assets, was essential in order to adapt to a retail environment that changed rapidly and unpredictably during the lockdown and the months that followed. The results of these efforts would not have been brought about if it wasn't for the consistent delivery of value to a far greater extent than customers would ever have expected.
The crisis caused by the pandemic turned out to have a positive rather than a negative effect on the company, due to their constant investment in building confidence and trust with customers.
---
Created by
Kyros Vogiatzoglou
--- ---
Related Articles