Bridging the Gap Between Podcasters and Listeners: Optimizing Apple Podcast
Case study improving the podcast experience by bringing users closer to the content they love.
Project Overview
After consecutive years of being a loyal user of Apple Podcast I started to notice a gap between competitive streaming services and Apple Podcast's experience. This got me thinking, what use-cases could Apple Podcast expand to, that could take the podcast experience to a new and meaningful level?
The brief
How might Apple Podcast build a stronger streaming experience between listeners and their content that promotes organic discoveries and nudges long term engagement and satisfaction?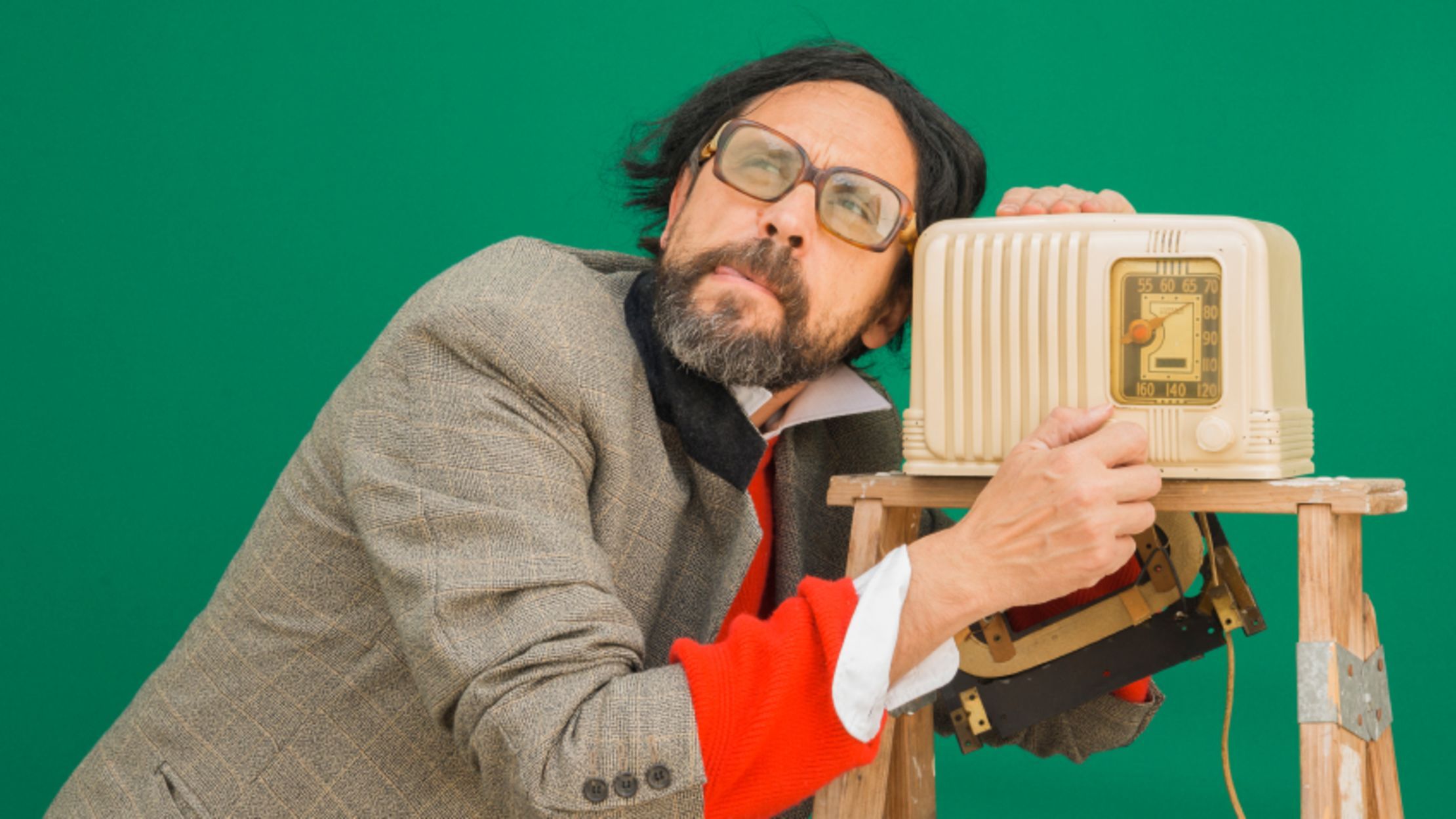 Why Podcasts? A medium of opportunity
Highly engaging and delivered digitally.
Easy to archive and update.
Listeners are growing more than ever.
Free nature increases listenership, and specific niches.
Before we start, did you know the word "podcast" is an amalgamation of the words "iPod" and "broadcasting"?

Design Process
This project was executed following a UX design framework. To compliment the speculative nature of a self initiated project, I dedicate extra time to observe heuristics, usability and competitive best practices to evaluate what other audio streaming services are providing and understand trends and areas of opportunities.
This is a speculative redesign, not affiliated with Apple. From beginning to end, this process took about 8 weeks from August to October, 2020

Understand
As I started planning the roadmap to rethink this existing digital service, I went back to the research board and crafted a brief survey to comprehend the users I'm designing for and validate assumptions. I then conducted user interviews that provided both quantitative and qualitative data, and alongside conversational interviews with ¾ of the research pool.
My goals were three main ones:
Understand what listeners are looking for when using a podcast app.
What drives long term engagement?
What are some successful contents inside the Apple Podcast experience that we could uncover to bring closer to audiences?
I learned users are satisfied with the vast content available in Apple Library, yet they are finding it hard to find the right content through certain user flows. Users like recommendations, playlists, and the ability to share content with friends. And listeners are often returning for major features like top charts, recommendations and curated content.
Research
I conducted an initial customer survey coupled with market research inquiries to understand trends and usability insights from existing users. This survey was based on customer satisfaction prompts, as well as competitive analysis and product comparisons.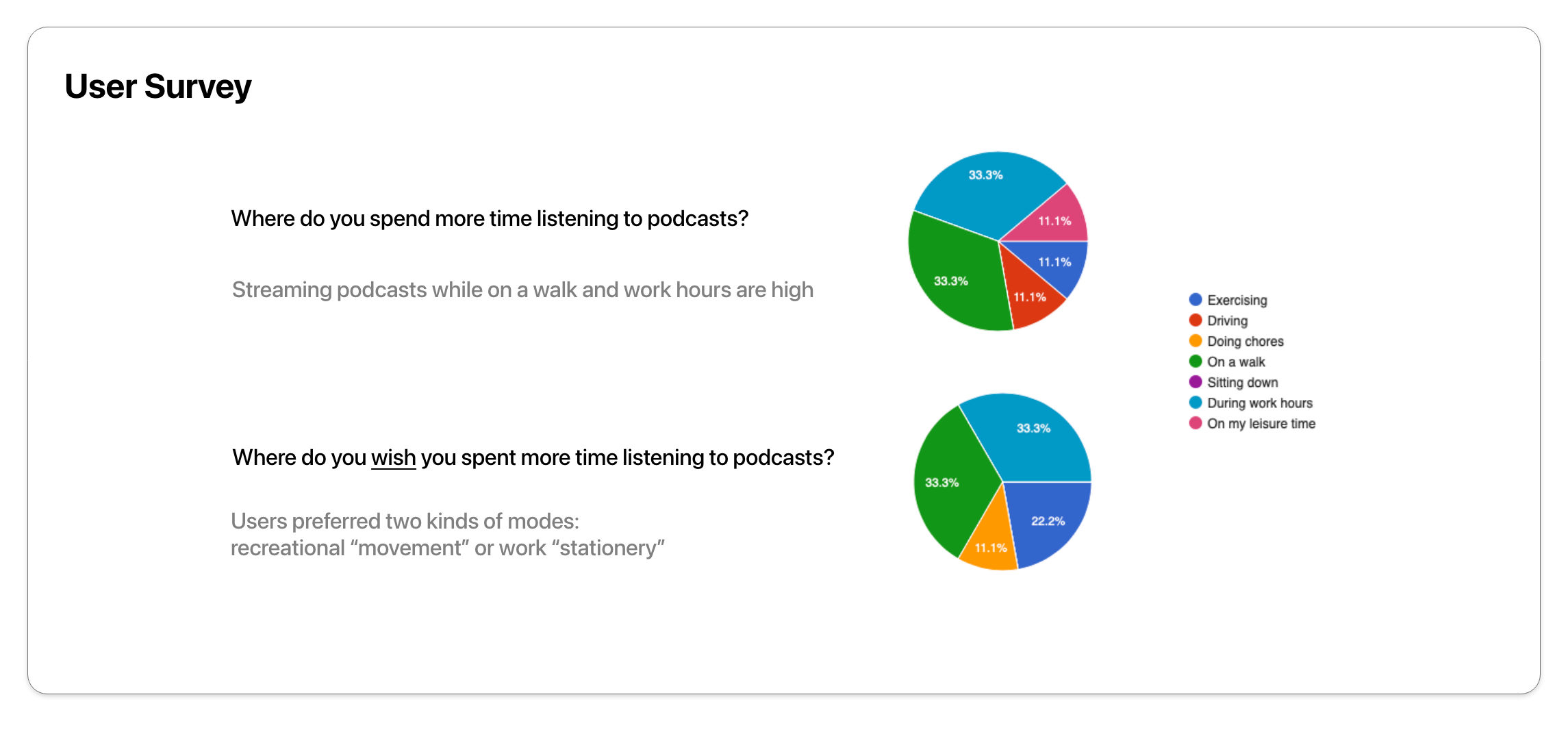 User Interviews
After analyzing the user survey results and quantitive data, I followed up with users to conduct user interviews utilizing generative research methods, and simple user interaction sessions. These conversations where conducted remotely with 3/4 of the interviewed user pool (12 total, 8 interviewed).
Obsessed with understanding what made people tick when using audio streaming services, and especially Apple Podcast, it was time to move to highlight preliminary findings and observations, and recognize insights. I highlighted insights, with secondary research to understand correlation with market trends.
What are users saying: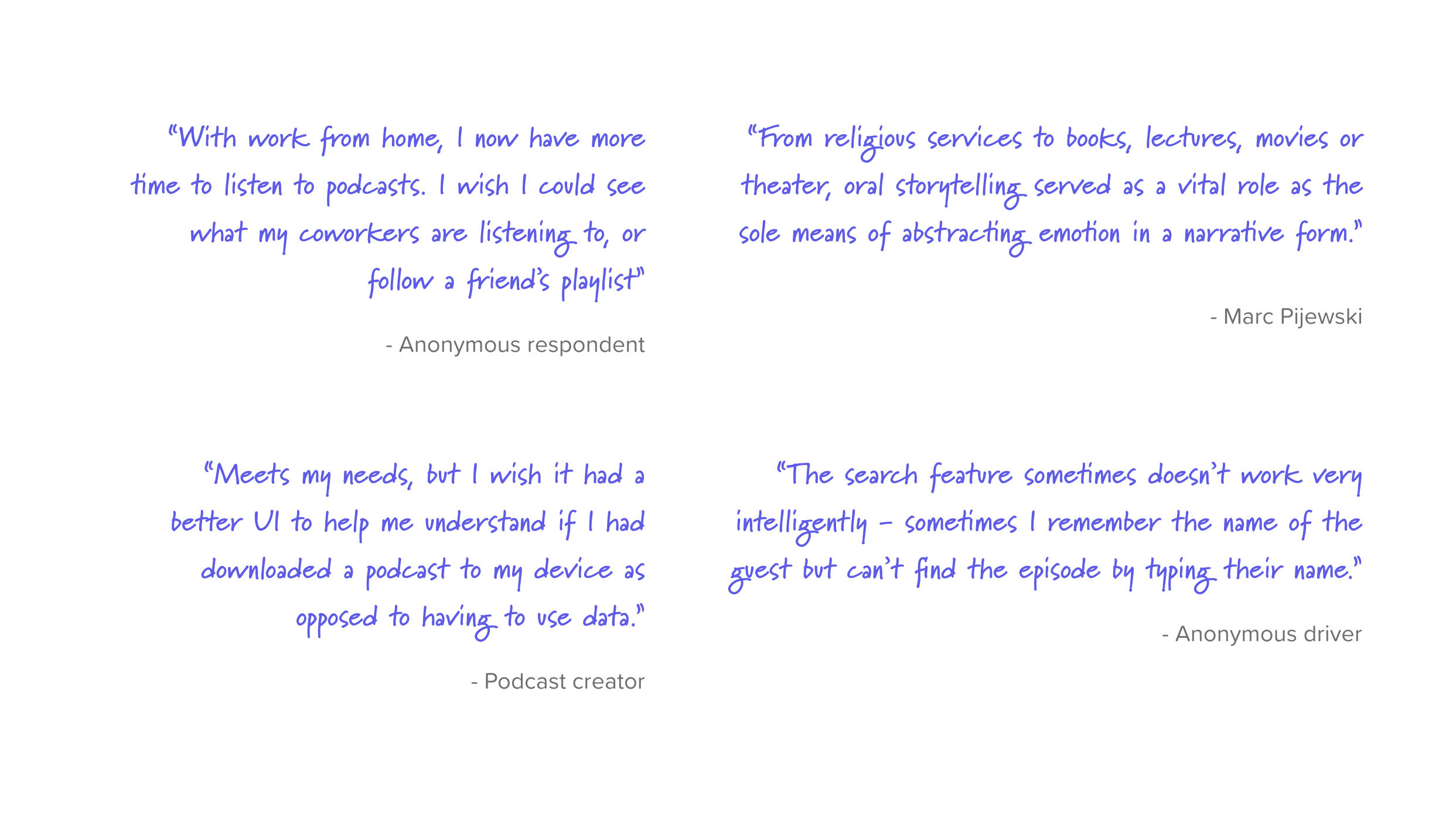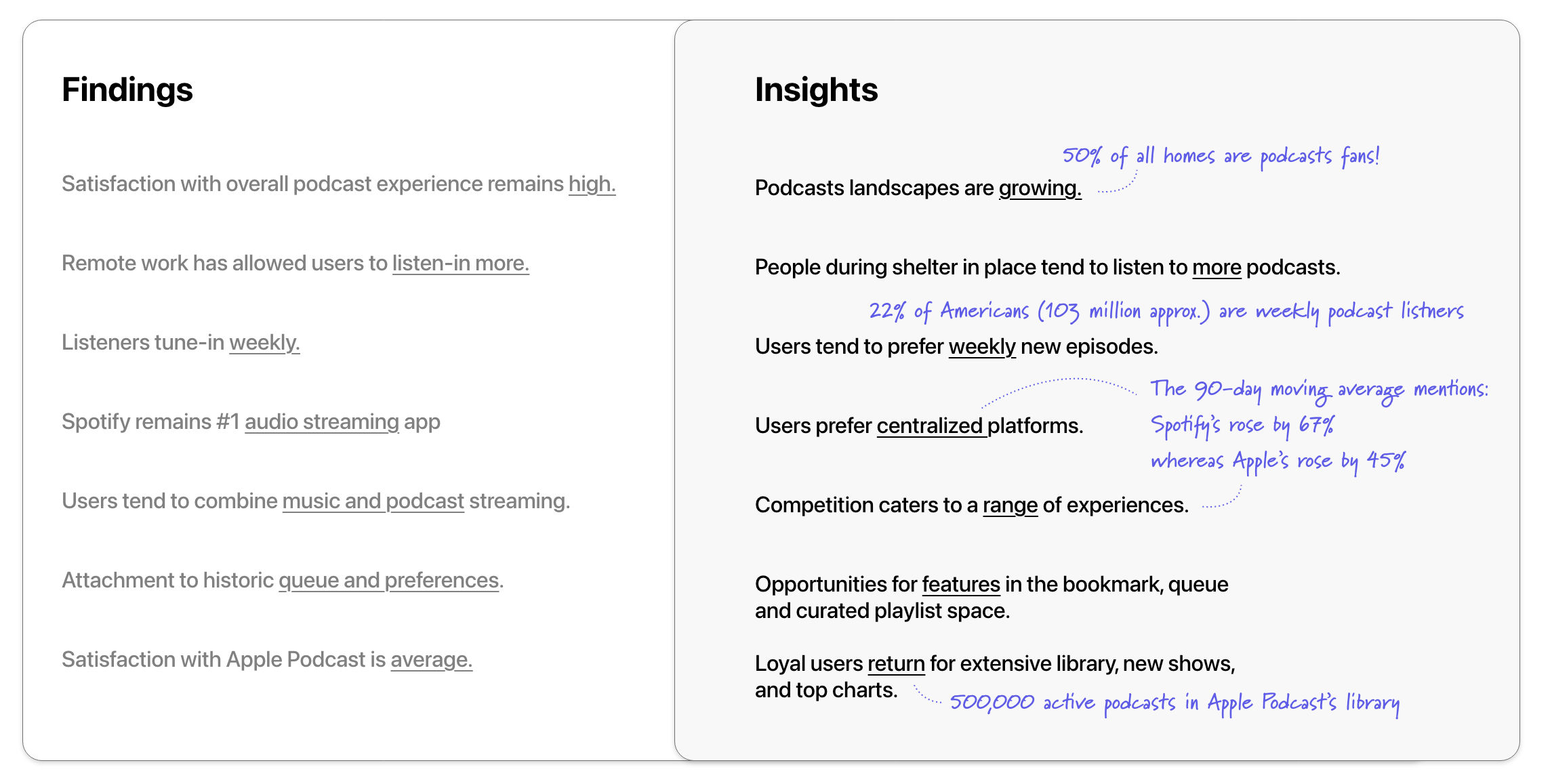 Ideate
Once I had narrowed down the findings and insights of the research efforts, it was time to ideate realistic solutions that could be implemented into this existing digital service. Keeping both feet of the ground, I took this opportunity to really work with the existing infrastructure, see constraints as benefits and ultimately focus on the mobile iOS version, as well exploring solutions that focused on the overall presentation of content, search-ability and ease of continuous listening-access to users.
I also took the challenge of ideating by conducting heuristic and usabilityevaluations, as well as extensive market analysis and learning from direct and indirect competitors.
Heuristics
Next, I jumped to an in depth app assessment from a heuristics point of view, following basic outlines like "10 heuristics for User Interface Design"by Nielsen and Molich as well as observing conducting comparative heuristics, and usability best practices.
As a takeaway, from a usability point of view, the Apple Podcast app could do a lot better. Although the app isn't bad, it's not up to the standards they set for themselves and I don't remember feeling so unsure where to go next when using an Apple app so continuously. The existing usability flaws add up for a clunky user experience that deviates the attention from finding new podcasts and enjoying the audio streaming experience itself.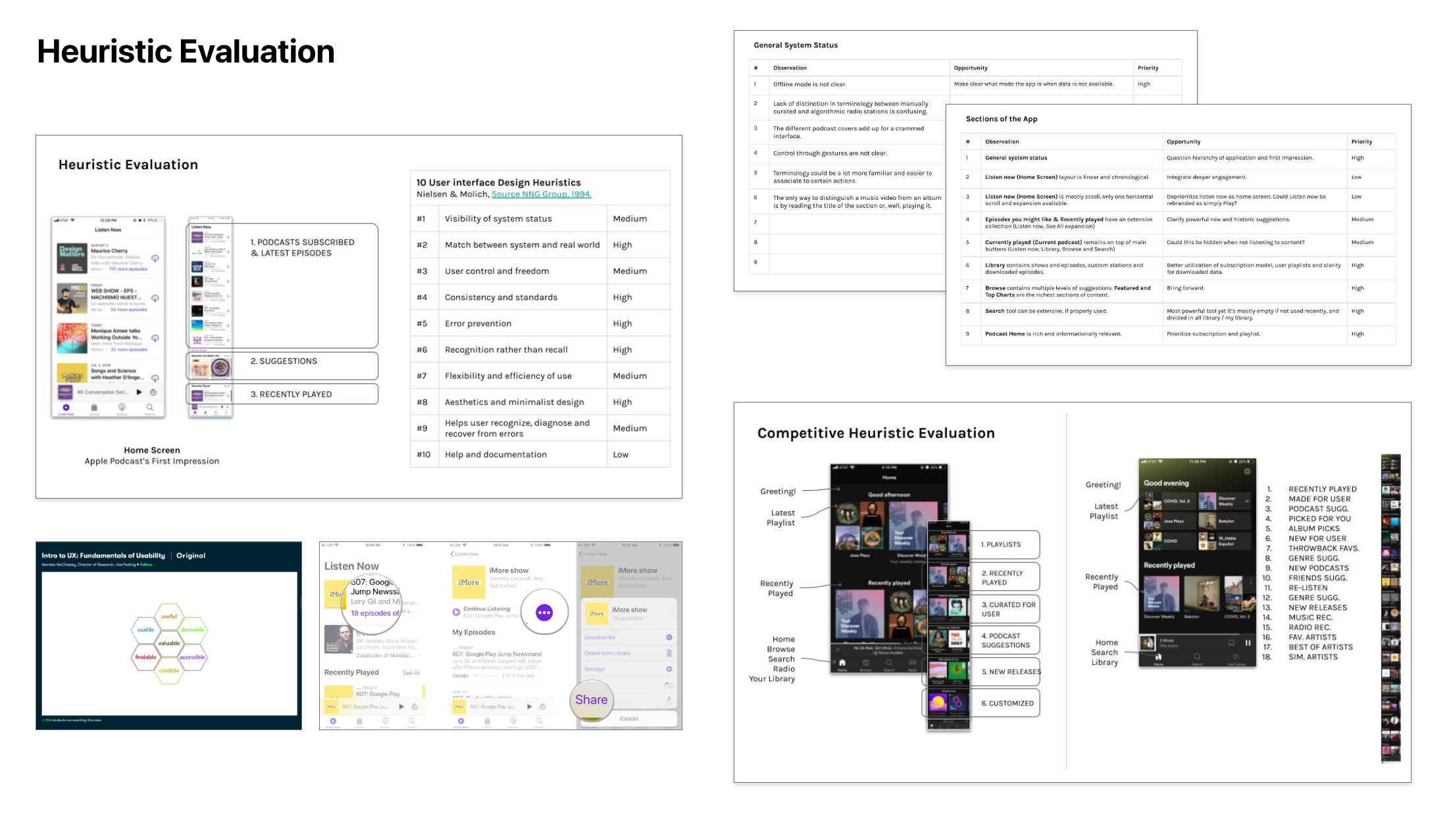 Learning from direct and indirect streamers
I continued with really understanding the competitive market by creating a competitive matrix chart, highlighting key categories regarding podcasts. Acknowledging Apple and Spotify are giants in the market, it is important to recognize an array of products are growing with the fast paced growth of the podcast and audio streaming industry. Similarly, it was a good reminder to speculative what's Apple Podcast's value proposition in the market today.
I also identified a few products that were already exemplifying aspects users are enjoying and working really well to see what I could learn from them.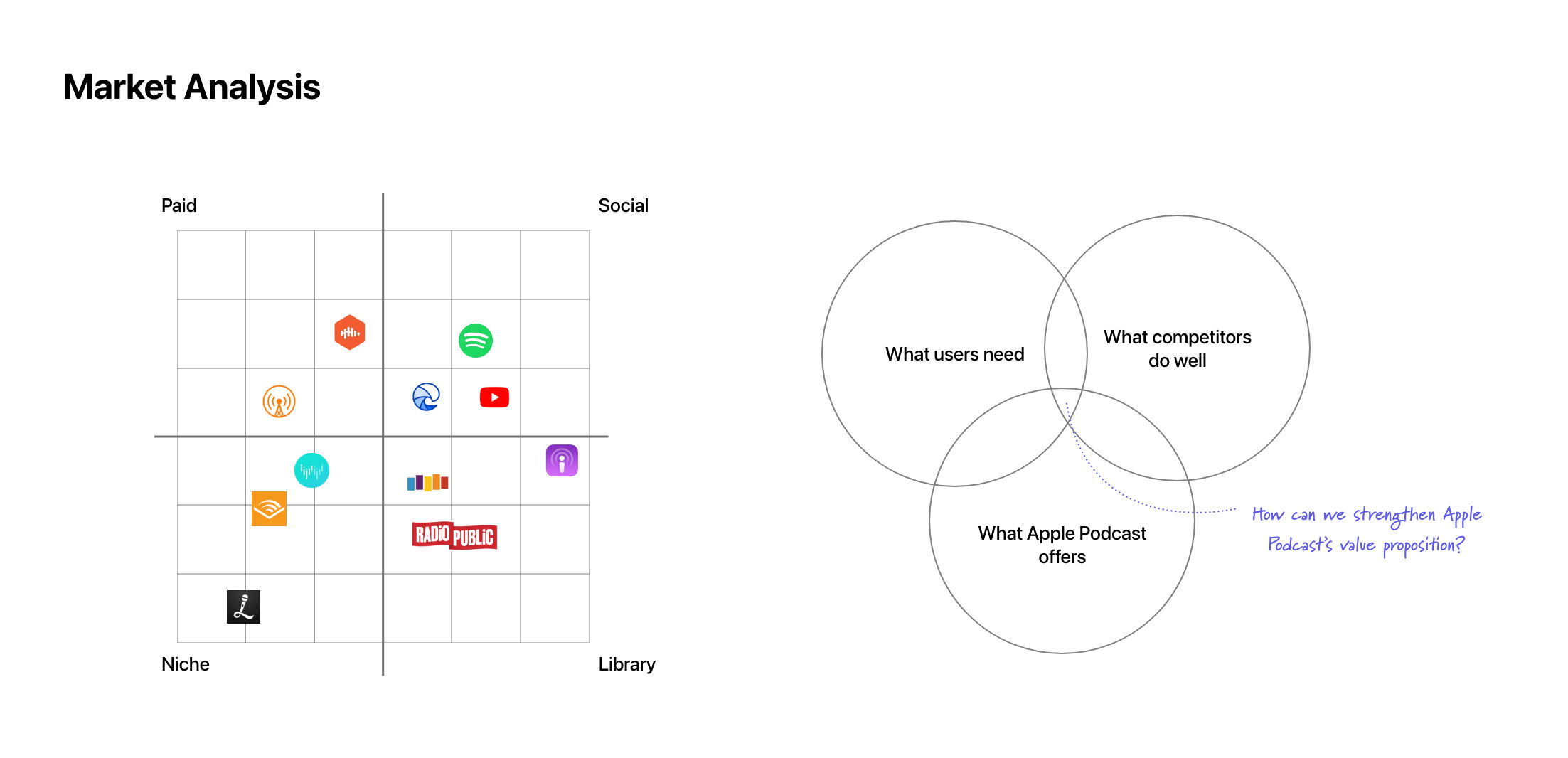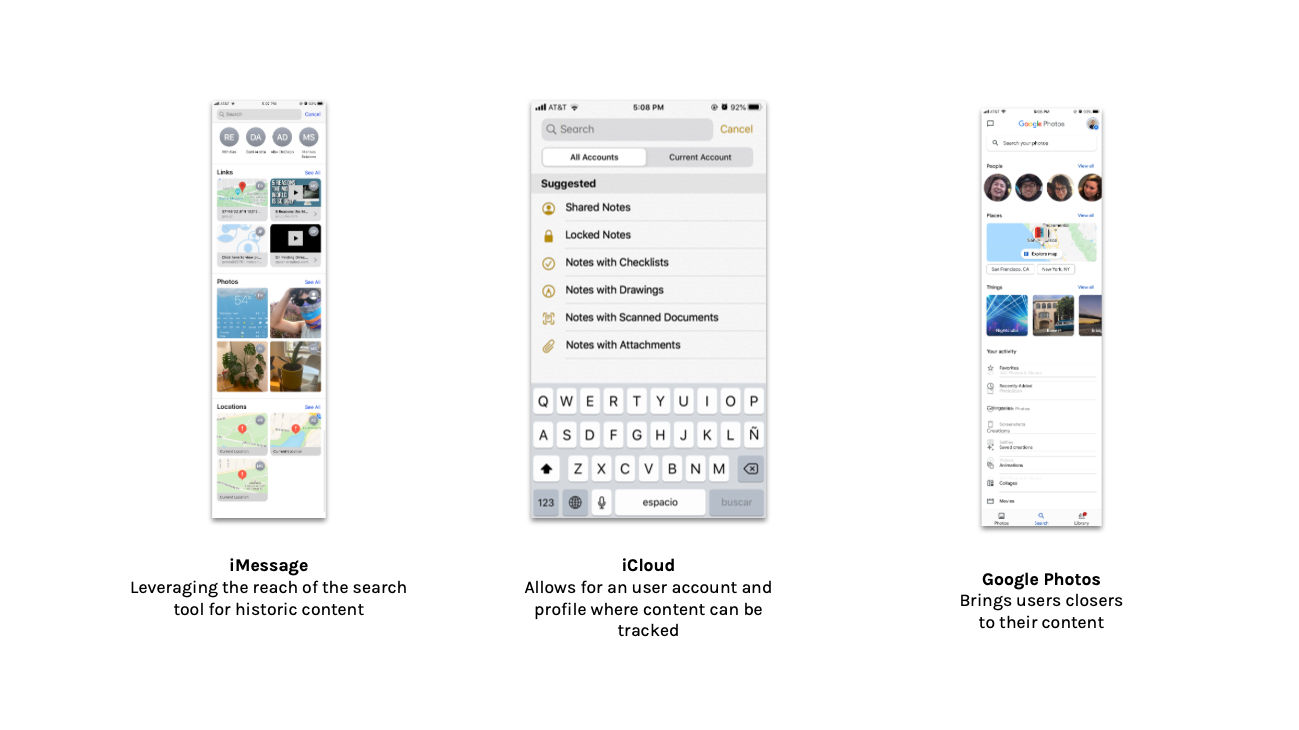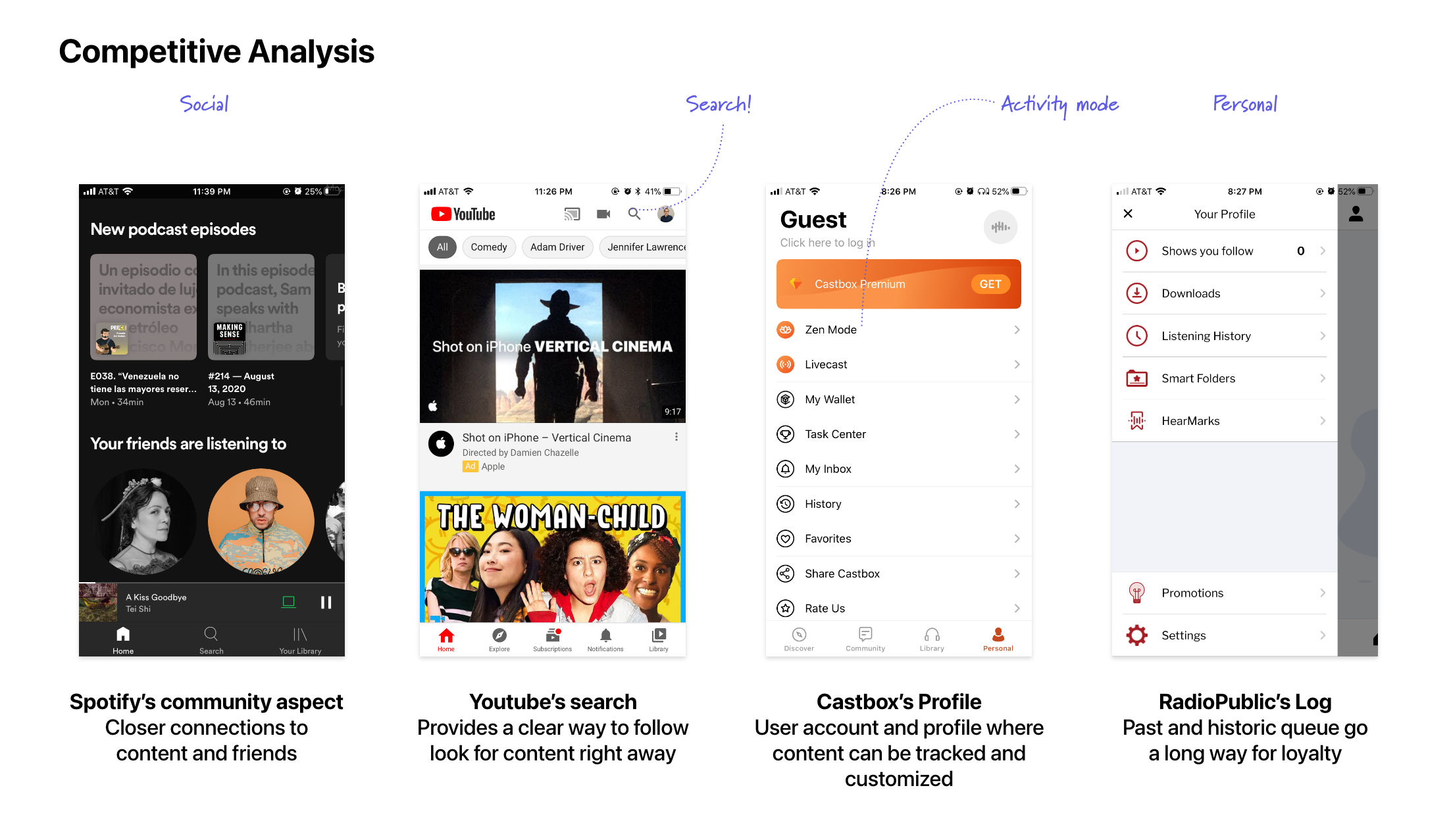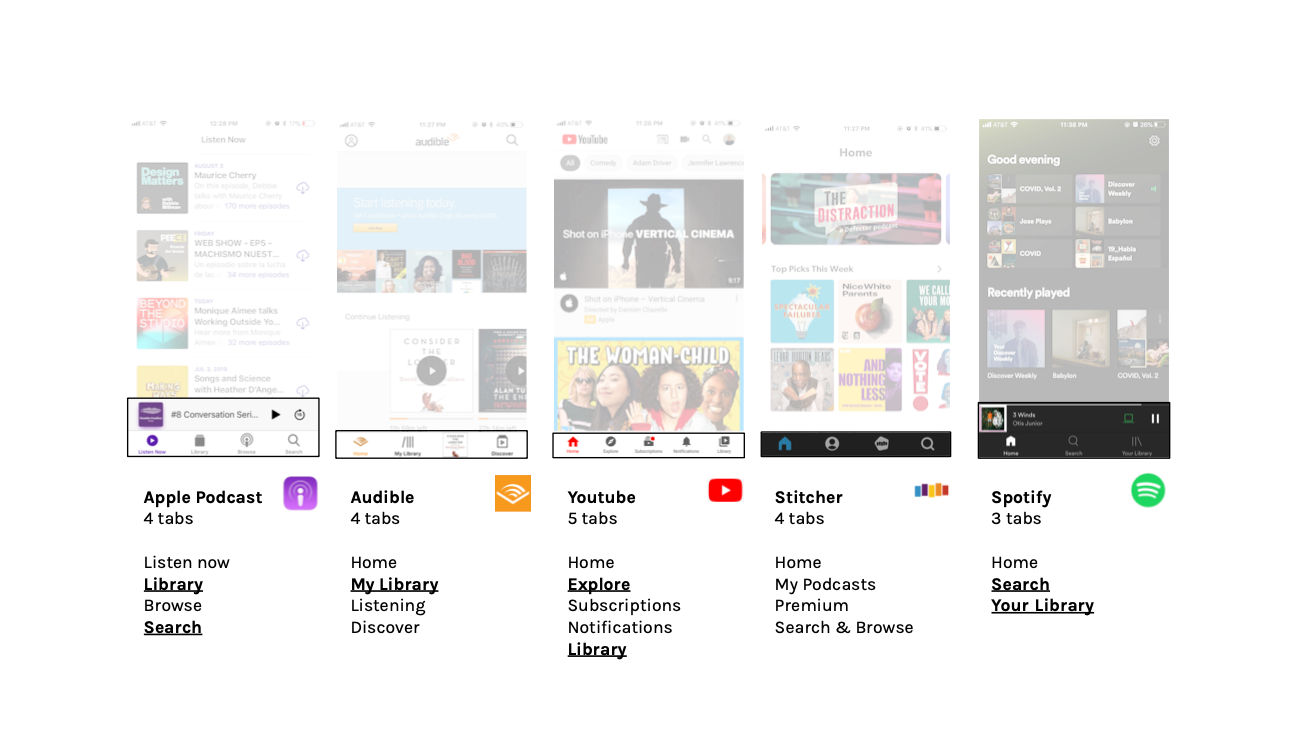 Wireframes
After having a good sense of what users are looking for, what existing services are providing and the best usability practices in the podcast experience, it was time to start very low-fidelity wireframes, exploring many possibilities of what these solutions could look like.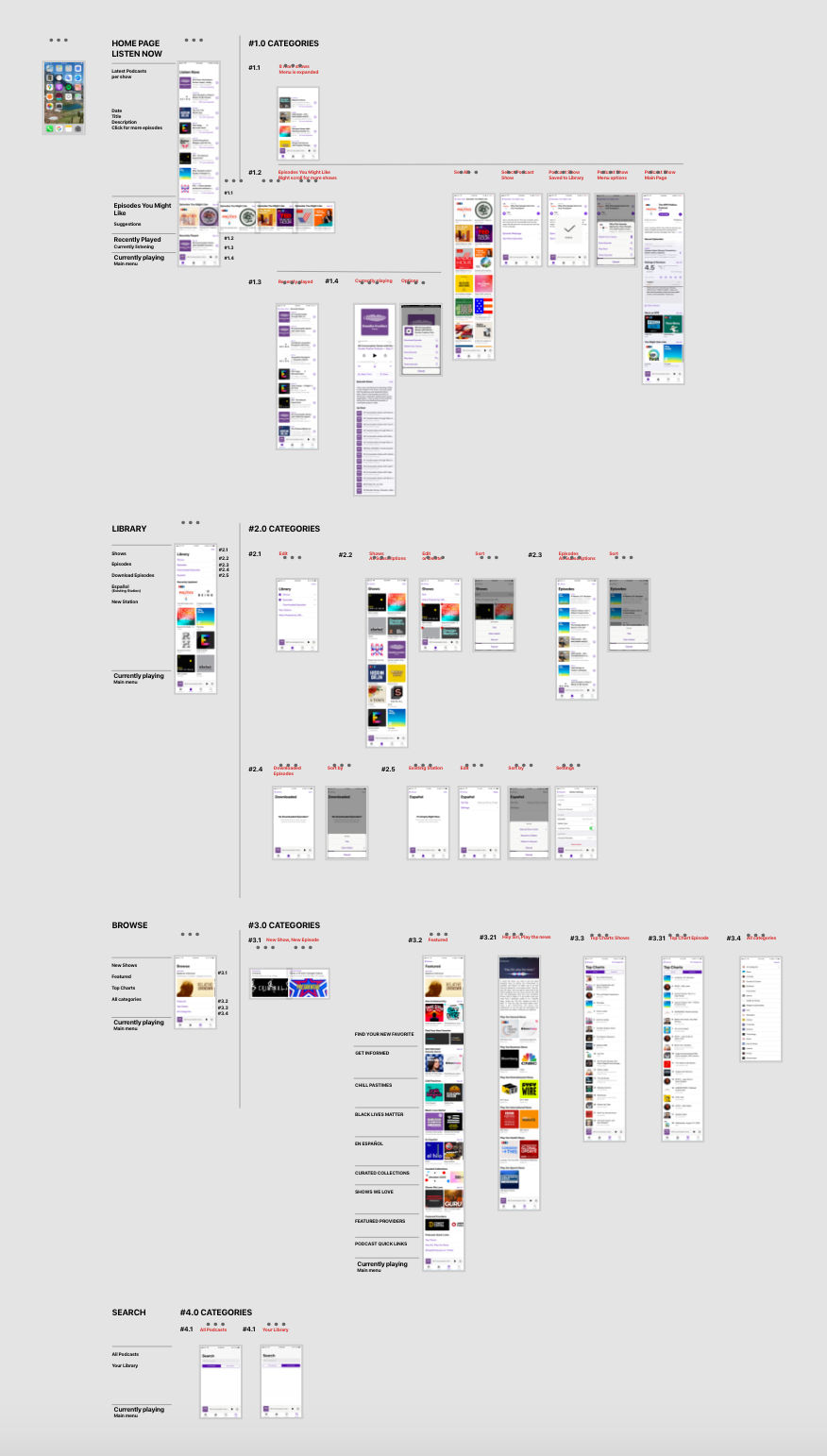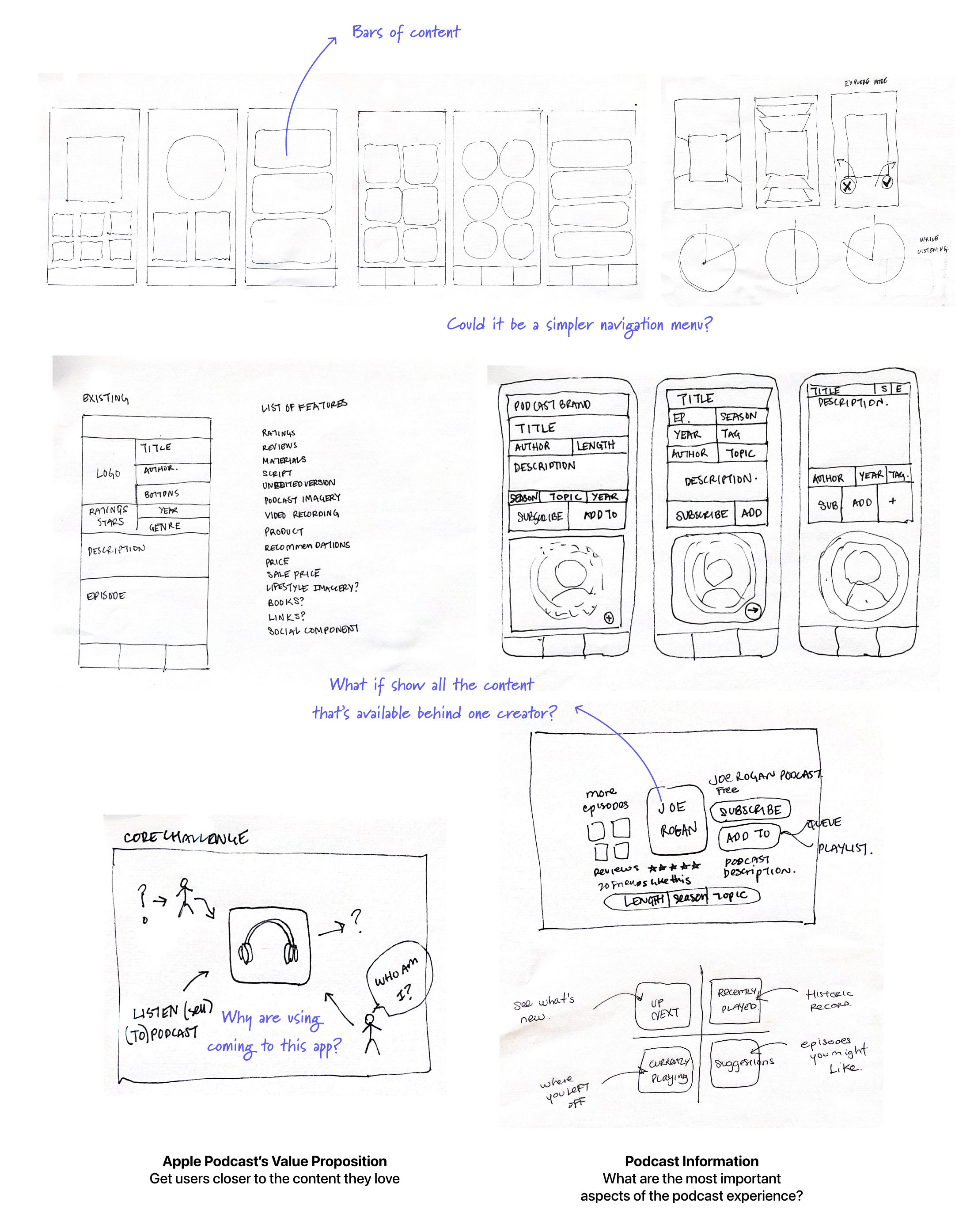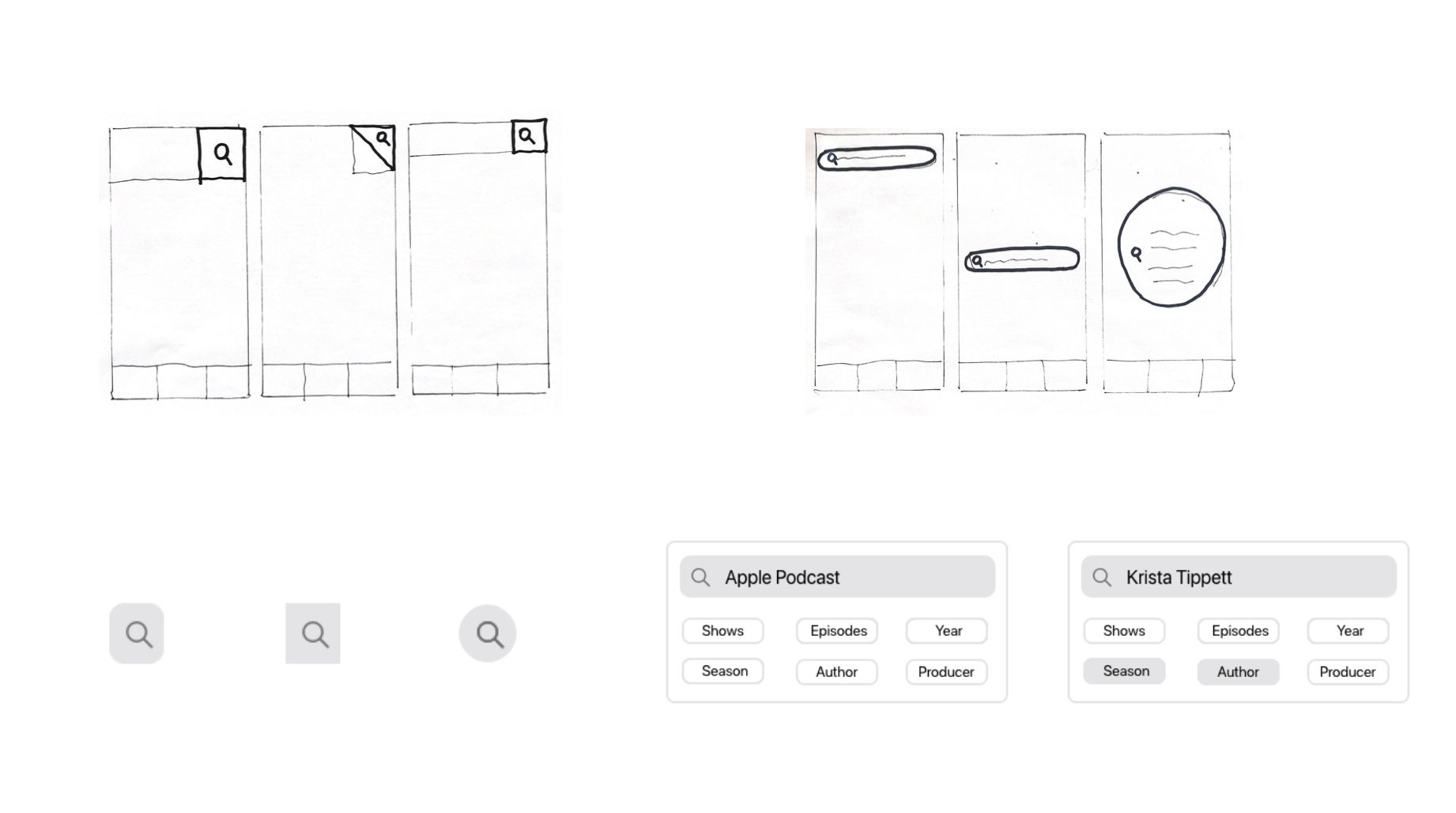 Prototyping
My proposal focuses on reimagining the way we discover podcasts. Changes are envisioned to be adopted incrementally and centered around 3 main categories:
Re-organizing the Information Architecture.
Prioritizing search-ability of content.
Refreshing the navigation bar.
After reviewing Apple's Human Interface Guidelines and Fonts, I recreated the app's search experience, browse page and podcast home, and seamlessly included the new features using Adobe XD.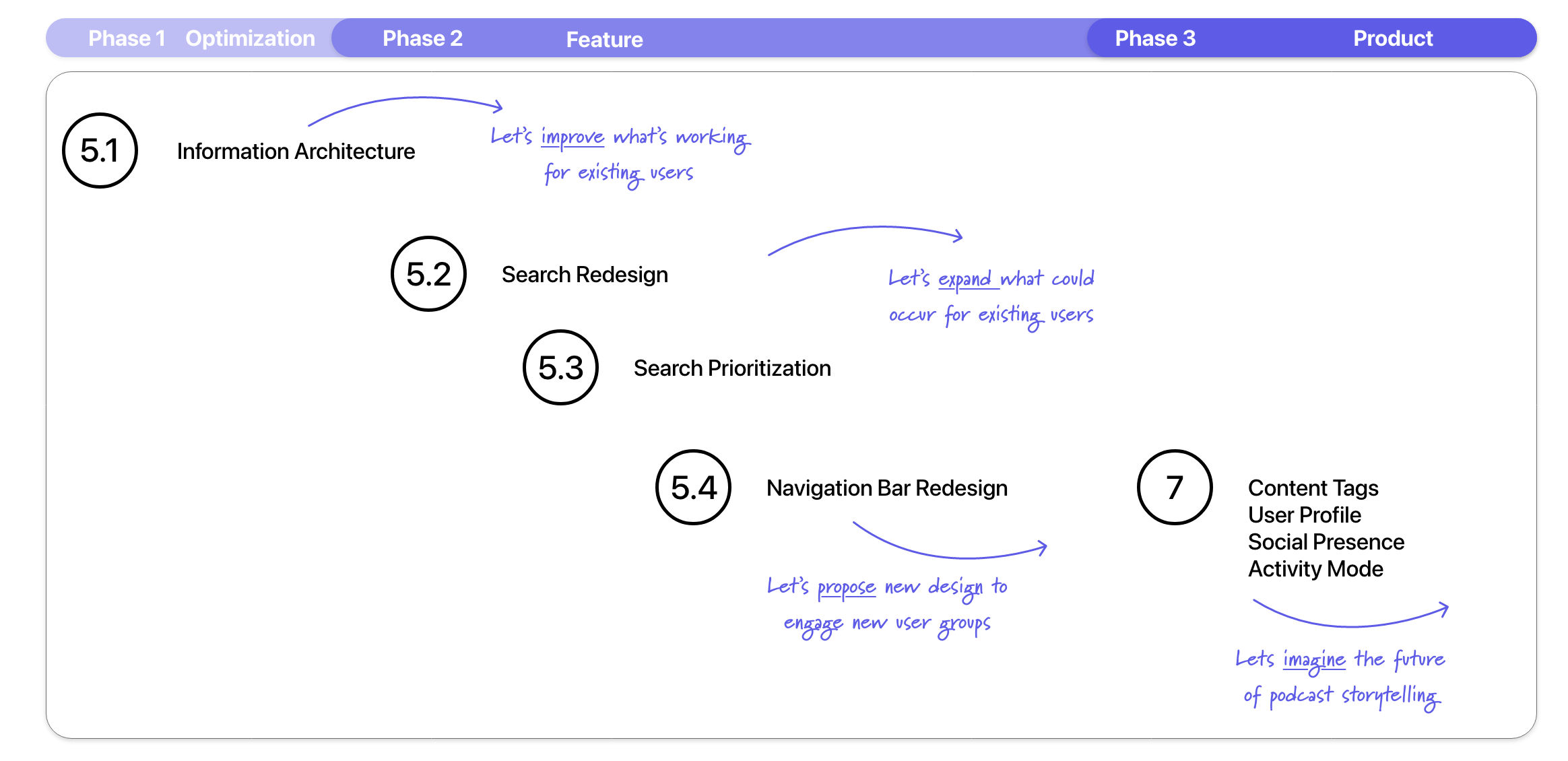 Information Architecture
The process started with returning to the initial research, an app structure to understand the existing app from inside out and consequently be able to inform the optimum path forward.
By utilizing my understanding the architecture of Apple Podcast, I created a sitemap which outlined the overall structure for the entire application. I organized it into the four distinct tabs which are clearly identified as the main segments of the existing digital service. The reorganizations aims to be seamless, and highlights in purple indicates areas to be developed.
Existing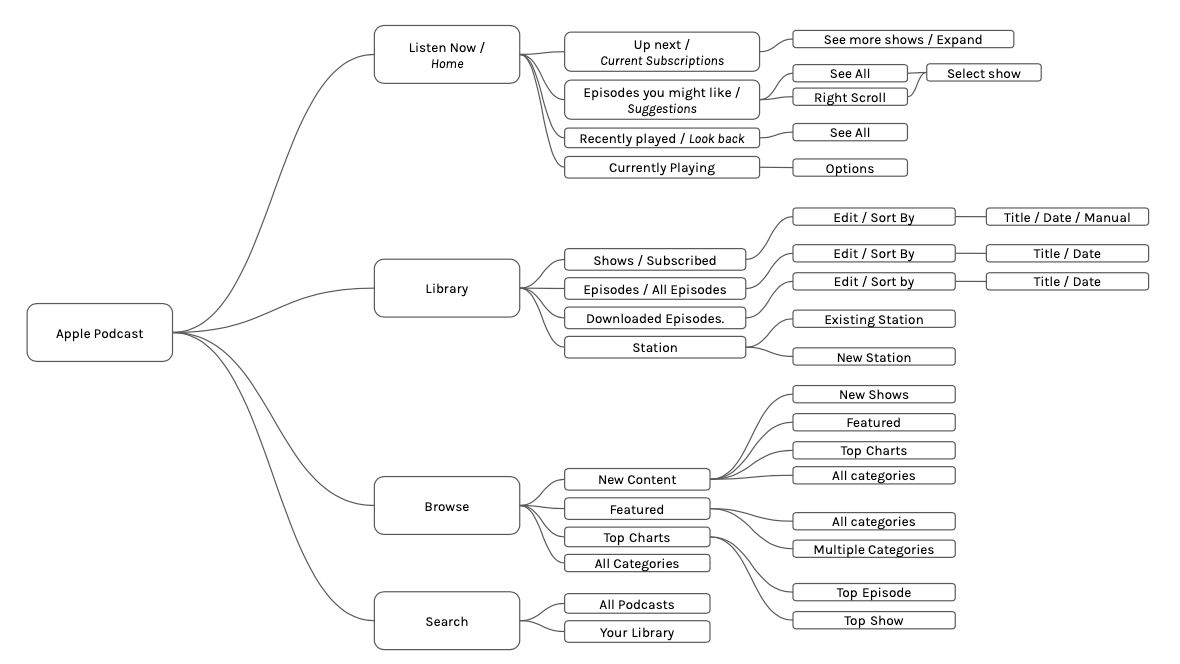 Proposed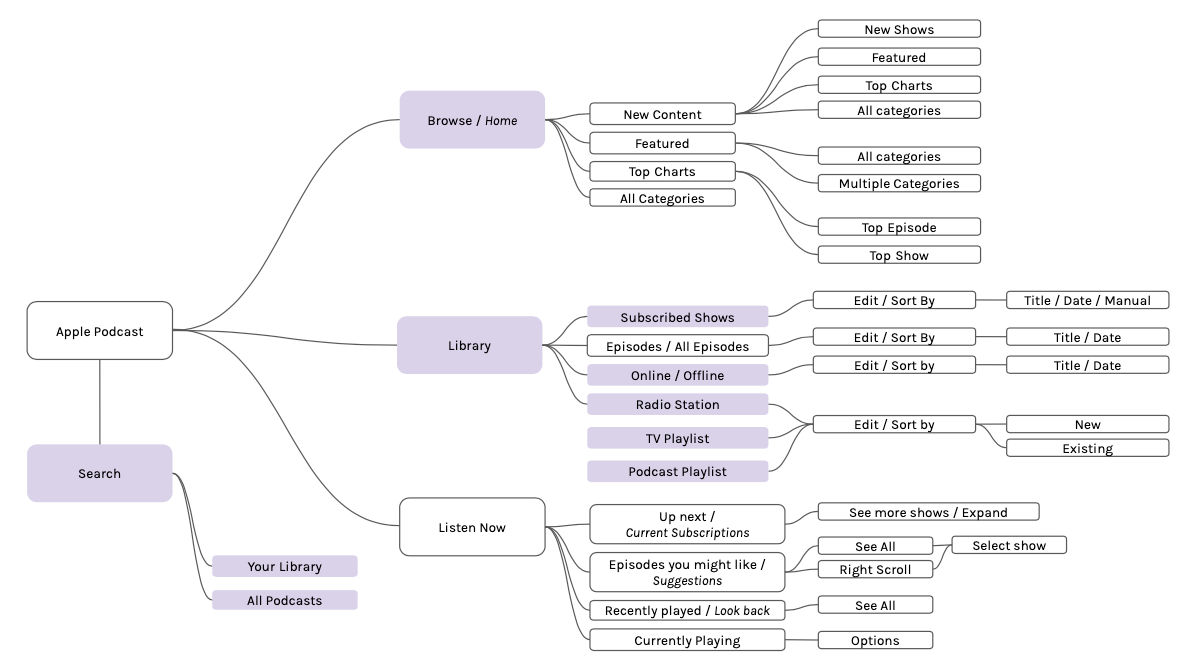 Search redesign
One of the main pain points of the Apple Podcast is how the search tool handles only two modes: where you can either search in Apple Podcast or your library — but not both. After countless hours using the app, not remembering the entire title of the podcast, but only knowing the author, I still find myself getting frustrated at being in the wrong mode.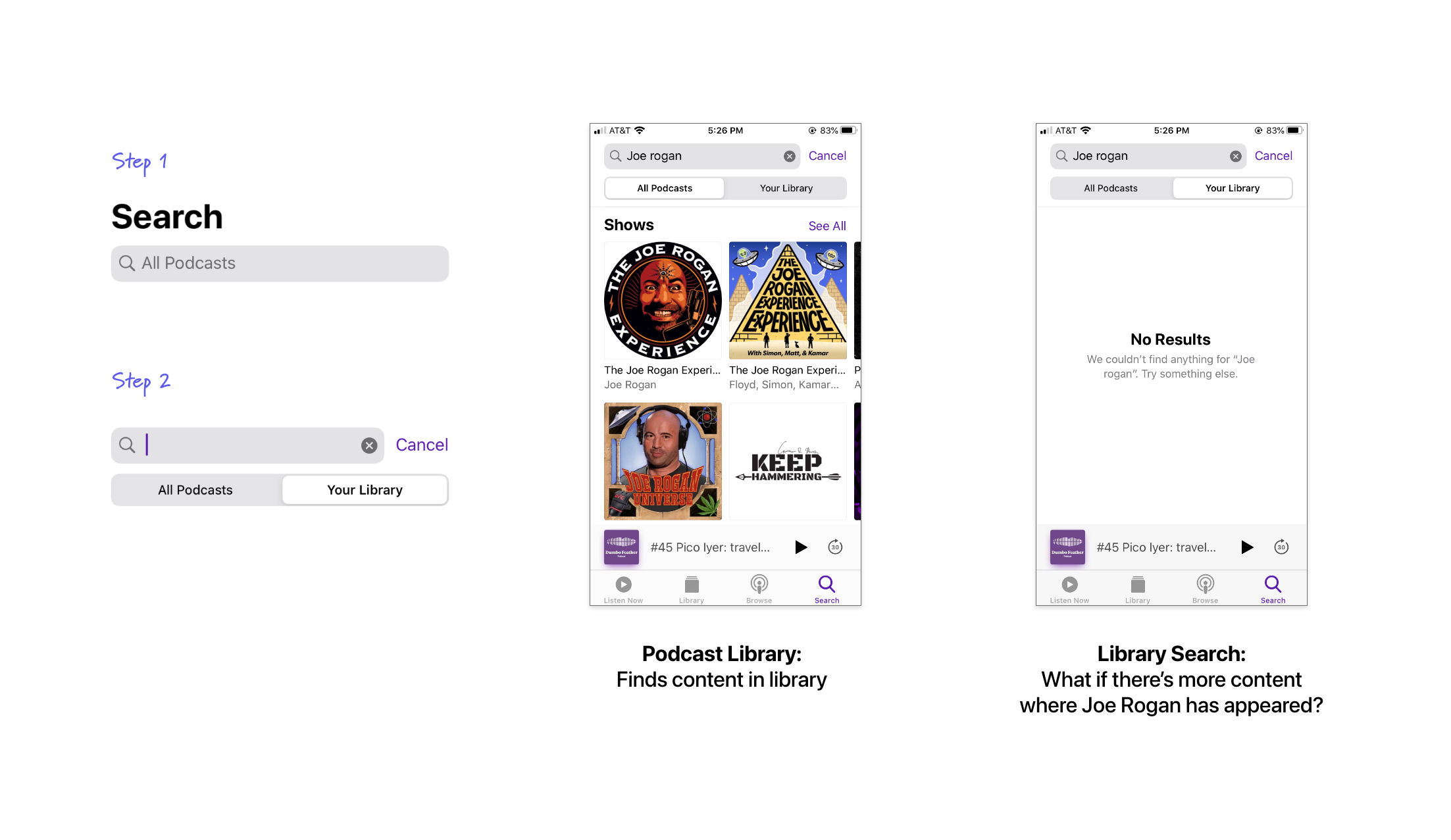 My solution was to provide the ability to search in more depth by categories like Shows, Episodes, and Seasons, and over time, offer broader category selections to include Year, Author and beyond.
And in the meantime, merge the two modes into one general search that displays results from the user's library first, followed by anything else that is available on Apple Podcast.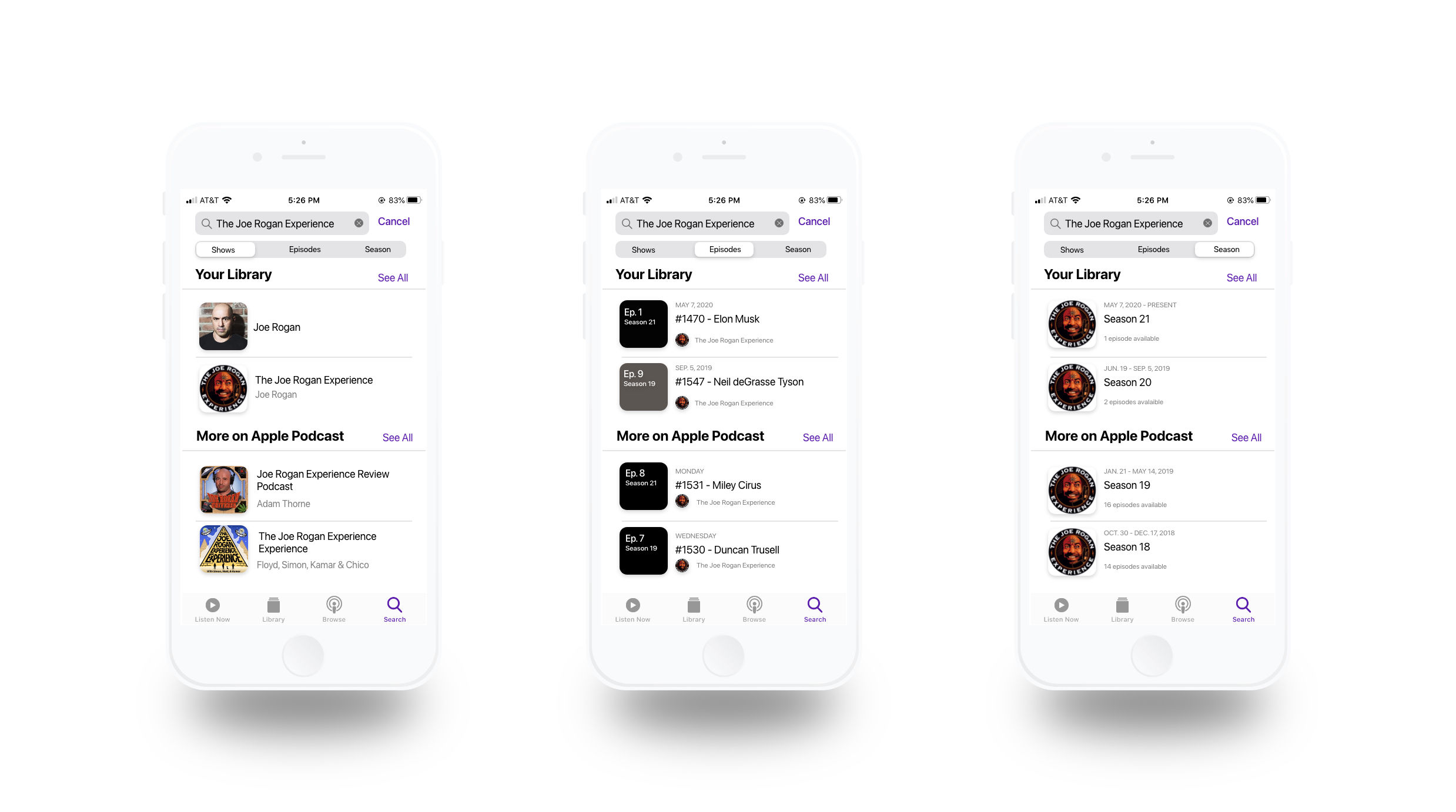 Search Prioritization
After spending time looking at the search engine and location in the navigation bar, it felt important to continue the considerations to prioritize search. This next step became a series of studies, sketches, conversations with users, and employment of tools like Hotgar and Usability best practices to understand the right solution.
After a good amount of studies and user feedback, it felt important to separate the search feature from the main navigation bar to open up the possibilities and build a stronger connection from users to they content they are looking for. This next prototype detaches the search from the navigation bar and focuses attention on the top right space of the screen.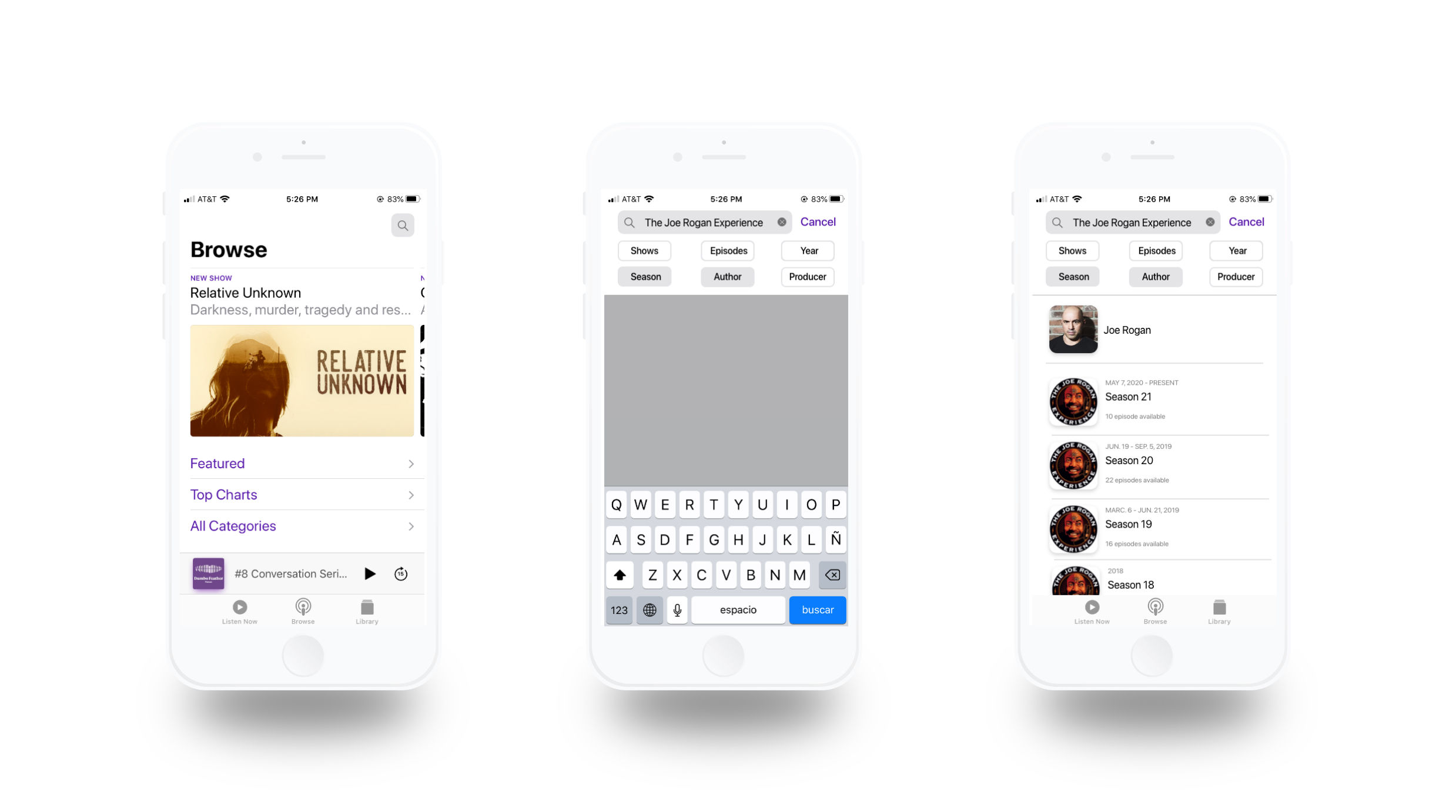 Navigation Bar Redesign
Currently the Apple Podcast app has 4 different tabs shown in the navigation bar:
Listen Now: Podcast episodes up next from subscriptions, recommendations, shows you might like and recently played.
Library: Shows the podcasts that users are subscribed. Downloaded content and stations.
Browse: Users can find podcast categories, rankings, featured podcasts, etc.
Search: Tool to find content.
My solution proposes a gradual change over time, that prioritizes the Browse content, clarifies Listen Now, and brings new life to the Library.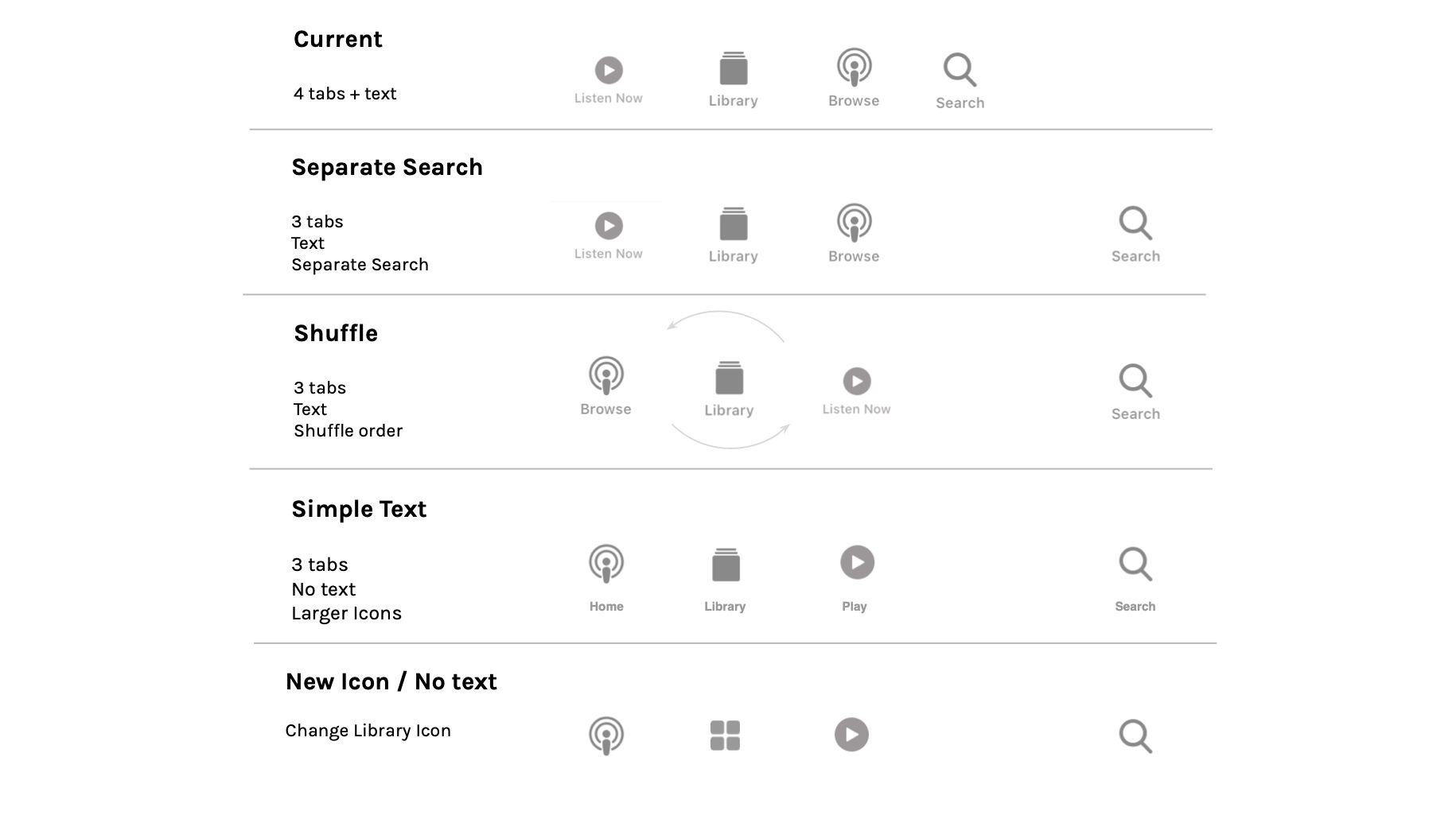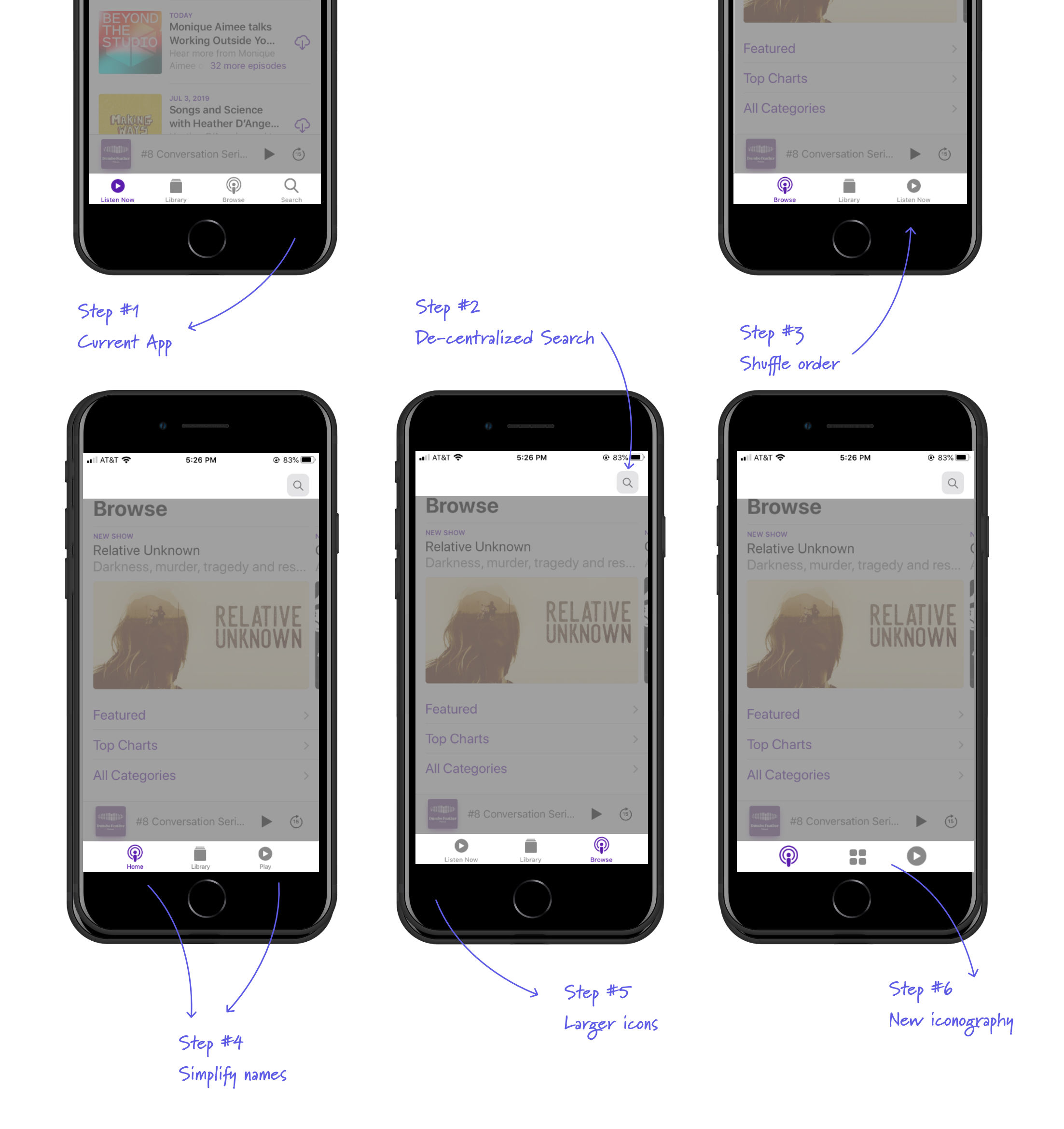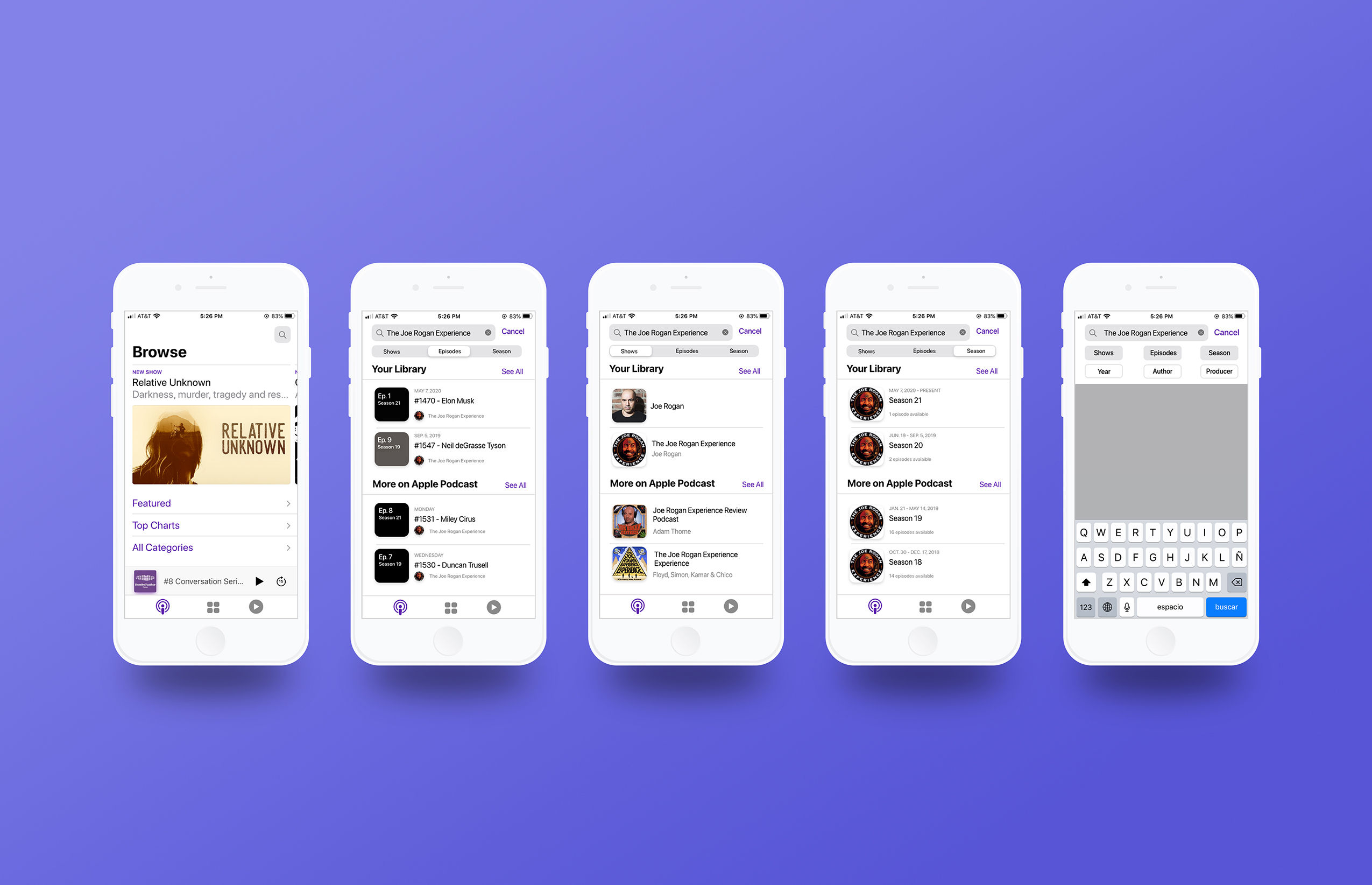 Speculative
Inspired by the research, ideation and insights through this project, I decided to take a deeper dive and think of speculative solutions for the podcast experience. Thanks to my architecture background and training, I've been familiar with this type of thinking, sometimes called critical design or design fiction. In short, it's a type of design thinking that asks us to think more of future scenarios and what ifs. It's a mindset that's less worried about the next thing to solve, and more about the next generation of future possibilities. As Erin Peace pointed out in her essay "Speculative design for the real world":
"It's not necessarily problem solving (prototyping); it's not trying to predict the future (forecasting), and it's not pure criticism. It's concerned with possibilities, not probabilities, pushing us to consider our preferences over a set of possible futures and the ways in which the objects we design help or hinder our attempts to build those futures."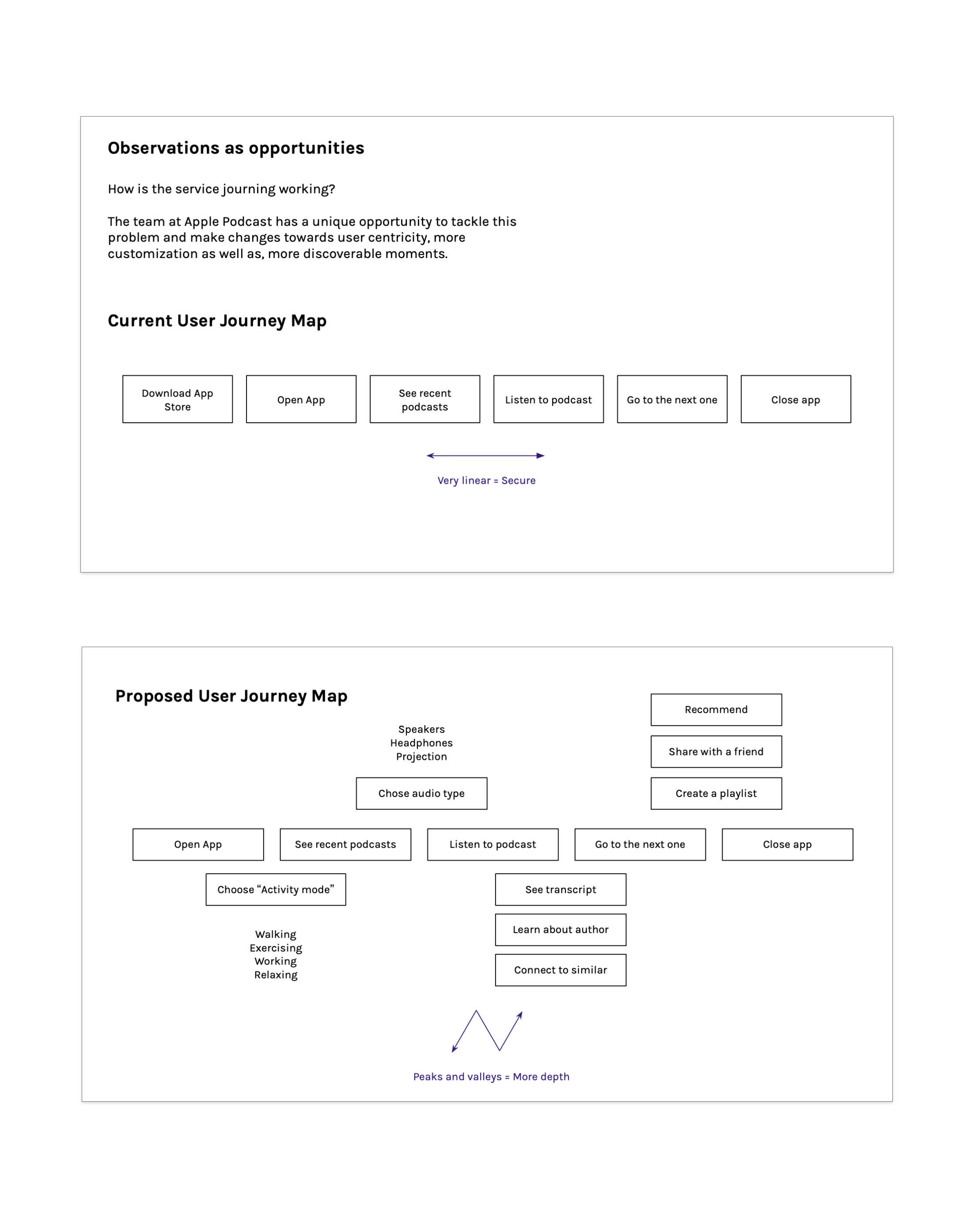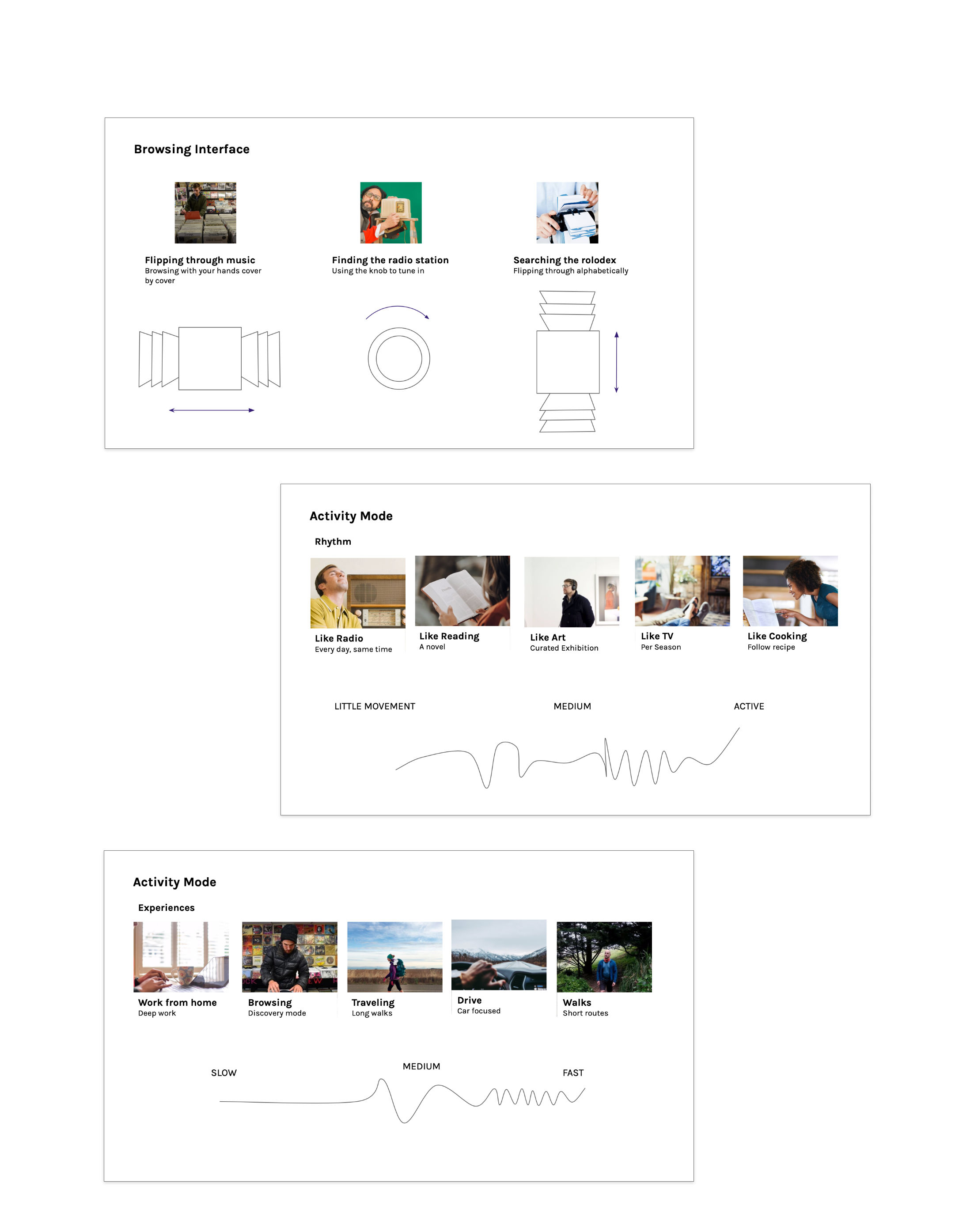 Next steps
Through this experience I've learned podcasting isn't quite like radio, and the listener isn't (and shouldn't be) a passive audience. So understanding podcasting isn't reporting, it's storytelling, how do we build new features that allow for new ways of bringing listeners closer to their content?
Learnings
Users want features that look familiar, yet challenge their thinking by creating deeper experiences.
Embrace existing constraints, innovate with limitations.
Always ask yourself, how does the user feel during this paint point, and how can we improve it, seamlessly?
Build on current successes. Even though I was a bit over my head to tackle such a classic brand like Apple, I decided to focus on lesser known app experience to unearth how this experience is keeping up with other Apple products.
Moving forward
Looking back I'm happy with the progress I've made in about 8 weeks.
I'd like to continue the work and prioritize items for Phase 3.
Create a follow-up survey focusing on iconography comparison, as well as overall feedback of improvements already developed.
Through this project I have come to understand the value of my architecture background, to not only think of problem solving complex tasks, but delivering consistent and reliable content in an incremental and multi-phased approach.
Conclusion
Thanks for reading if you made it all the way here! I would love to hear any feedback or thoughts you have about this post or answer any questions. Please feel free to leave a response below or shoot me an email directly to francescostumpog@gmail.com. I'd love to hear from you!
Original article published on Medium.com October 28, 2020.
Amongst the main resources utilized where:
Methods: User Research, Market Research, Secondary Research, UserSurvey, User Interviews, Heuristics Evaluation, Usability Testing, Competitive Analysis, Sketching, Wire-framings, Prototyping, User Testing, Information Architecture, Hi-Fi Prototyping, UI Design.
Tools: Adobe XD, Sketch, Adobe Creative Suite, Miro, Google Service, Excel, Hotgar.
Guidelines: Human Interface Guideline Standards, Apple Design Resources, Fonts for Apple Platform.
Sources
Whitner, Gavin. Podcast Statistics (2020) — [Infographic], Music Oomph!, 2 Oct. 2020, musicoomph.com/podcast-statistics/#sources.
Winn, Ross. "2020 Podcast Stats & Facts (New Research From Oct 2020)." Podcast Insights, Podcast Insights, 6 Oct. 2020, www.podcastinsights.com/podcast-statistics/.
Swan, Andy. "How Spotify Beat Apple To The Podcasting Boom." Forbes, Forbes Magazine, 30 June 2020, www.forbes.com/sites/andyswan/2020/07/01/how-spotify-beat-apple-to-the-podcasting-boom/.
Lopez, Ricardo. "Talent Agencies Turn to Popular Podcasts for New IP, Developing Film, TV Projects and More." Variety, Variety, 2 Feb. 2018, variety.com/2018/biz/news/podcasts-film-tv-development-1202684555/.
Bhide, Jaideep. "Audio 3.0: The Future Is Podcasting." Medium, Medium, 9 Feb. 2020, medium.com/@jaideepbhide/audio-3–0-the-future-is-podcasting-adf0d69b28cc.
---
Created by
Francesco Stumpo
--- ---
Related Articles