What do you call a startup that raises a Series C round, then immediately kills itself?
Most startups fail, and that's normal.
Deer tick, or Ixodes scapularis, feeds only 3–4 times during its entire life. At each stage, larva (Series A), nymph (Series B), and adult (Series C), the deer tick must eat a blood meal in order to molt and proceed to the next stage.
As adults, the male and female ticks mate after their final blood meal, and dies soon afterwards. Gross, right?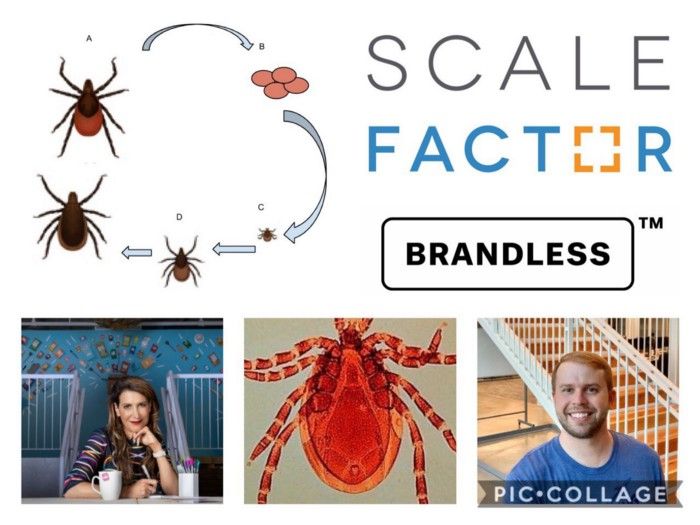 Let's meet two, a male and a female Deer ticks from this year.
ScaleFactor, a startup funded by Bessemer Venture Partners and Coatue Management, announced that it was shutting down on June 23, 2020. This was only 10 months after they raised a $60M Series C led by Coatue.
Founded by Kurt Rathmann (a male and self-anointed Chief Everything Officer), ScaleFactor was a hot fintech company providing automated bookkeeping and payroll services for small and medium sized businesses. Rathmann claimed that the company was a victim of the Great Pandemic.
Forbes reported, however, that it was in trouble even before that. In February, before the lockdowns, the company laid-off 40 customer service staff due to deteriorating financials.
The company said it would redistribute a portion of its capital back to investors, but declined to say how much.
— from the Forbes article.
A portion. How nice of him. Keep in mind he raised a total of $103M since founding in 2014 and the company was last valued at $360M, just last year.
Brandless, co-founded by Tina Sharkey (a female and the CEO until March 2019), was a direct-to-consumer e-commerce company that sold inexpensive food and household items. It gorged on a mind-boggling $292.5M of venture capital and had a peak valuation of $500M. It died in February 2020, less than 2 years after raising a huge $240M Series C led by Softbank.
Brandless can't blame the Great Pandemic for its demise. The Information reported back in July 2019 that it was already in trouble, and was forced by Softbank, its largest investor, to find ways to increase profitability (because apparently selling every item for $3 led to low margins). Also problems began early in the company's history.
Customer complained of poor product quality, and the company suffered inventory issues that led to a lot of waste.
Instead of swapping out the glass containers, Brandless came up with a quicker fix, opting to cushion them by swaddling them in rolls upon rolls of paper prior to shipping.
One of the former Brandless employees described the choice as "stepping over dollars in order to save pennies" and seemed at odds with the company's eco-friendly values.
— from The Information article.
I'm not here to poke fun at startups failing. As a startup CEO myself, I know first-hand how hard it is to get a new business off the ground. Most startups fail, and that's normal.
What's not normal is burning $100M+ to find out you suck at your job.
What's not normal is to still have gas in the tank but decide to blow up the car (and returning the unused gas).
Series C is late stage. Shouldn't you have stuff figured out by then? Shouldn't your business already be in a great trajectory? If you run into trouble couldn't you pivot with $60M cash in the bank and hire a new CEO? This is really, really bad.
This is why we need a name for this. Deer tick.
Deer ticks are often carriers for Lyme Disease.
If untreated, symptoms may include loss of the ability to move one or both sides of the face, joint pains, severe headaches with neck stiffness, or heart palpitations, among others.
— from Wikipedia article on Lyme Disease
I would imagine these symptoms similarly affect the VCs who thought they had a Baby Unicorn only to discover they backed a Deer Tick.
And there's a deeper problem. As a Black woman CEO of a tech startup, I'm judged to a different standard. When I tell VCs about my company raising a $4M Seed, they tell me my field is too competitive or that I don't have meaningful revenues. Yet these deer ticks can raise massive Series C rounds with no profitability and compete with Target, Walmart and Amazon.
These deer tick founders had no skin in the game. My husband and I committed most of our liquid capital to ours. We have our bones in the game.
These deer tick founders will get a soft landing because of their connections and experience. If I fail, I'll never work in tech again and we'll need to figure out how to pay for college for our 3 young boys.
That's the difference. That's the double standard. And that's why I won't ever quit. Winners don't quit.
I started writing because I want all of us to stop putting venture capitalists on a pedestal.
Even the best VCs get bamboozled by AI that they don't understand, virtue signal about backing Black founders, and get dazzled by gimmicks instead of people.
In order to effect real change in the VC industry, venture capitalists must be called out for their mistakes, biases, and stupidity. There will be no growth without accountability. After all, some of the money that VCs invest are from public university endowments and pension plans. It's our money and our parents' money.
They don't get to blow it on deer ticks without consequences.
You can help me by finding more deer ticks. Comment or message me and I will compile a list of deer ticks and post it here for all to see. Together we'll hold these deer tick founders and their respective VCs accountable.
This article was originally published on medium.
---
--- ---
Related Articles