Celebrate Your Freedom, But Don't Abuse It
Because these 5 communities — and many more — continue to struggle around the world
Because these 5 communities — and many more — continue to struggle around the world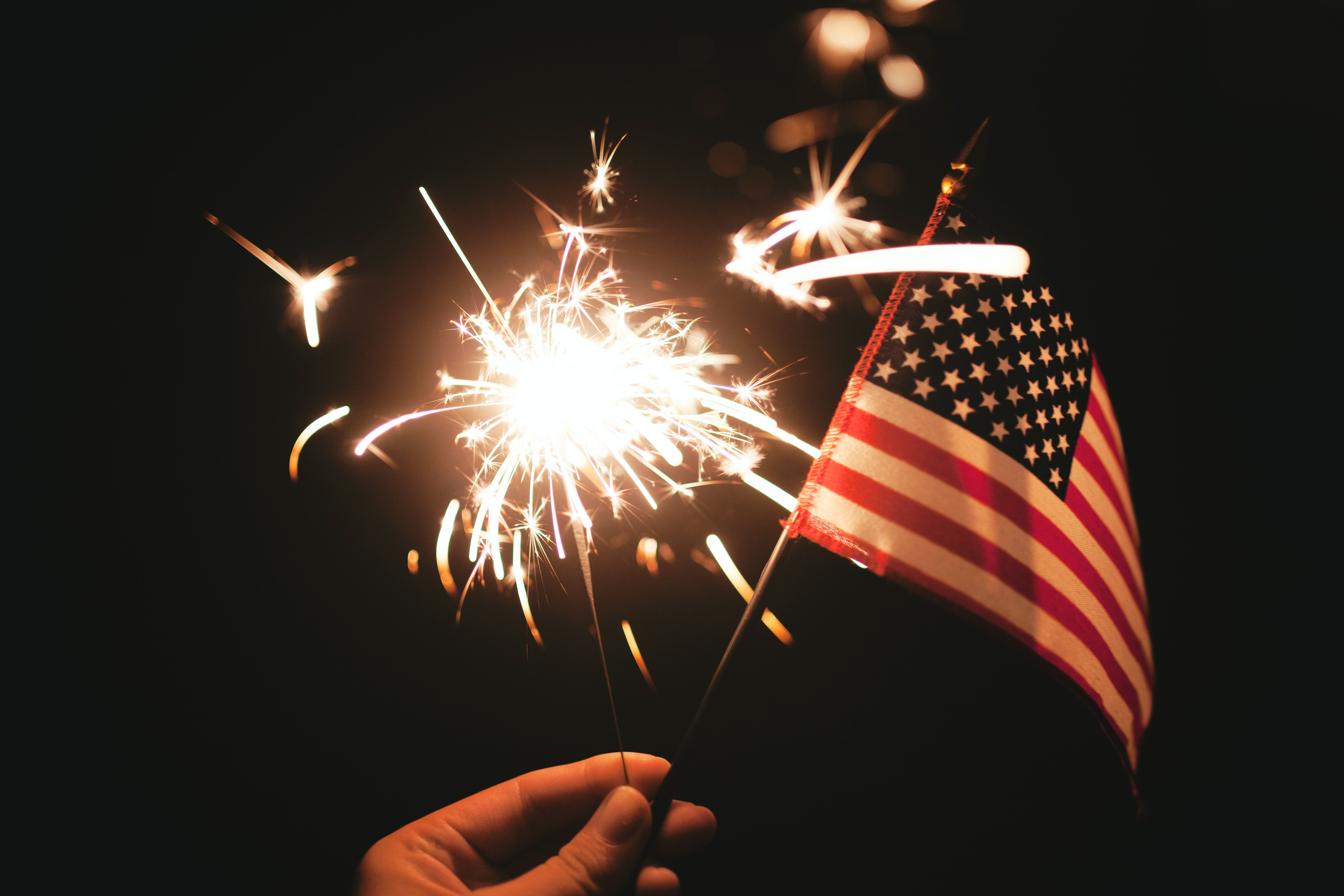 On this year's 4th of July, we Americans celebrate our patriotism in an unconventional way: by staying away from our usual firework crowds.
Perhaps some of us are hosting family barbecues at home while others may be planning Zoom parties. With the pandemic encouraging us to stay away from large gatherings, however, this year's Independence Day will not be the same.
Ironically, we celebrate our freedom in a time when we don't feel that free. The coronavirus, a surprising global actor, has stripped away the freedoms we have grown to cherish. Recent protests against racial injustice have shone a spotlight on our country's history of bondage, the absolute opposite of freedom that has continued to hinder true freedom in our country today.
In fact, in recent years, the United States has been slipping in Freedom House's annual freedom rankings, falling from a score of 94 in 2009 to 86 in 2019: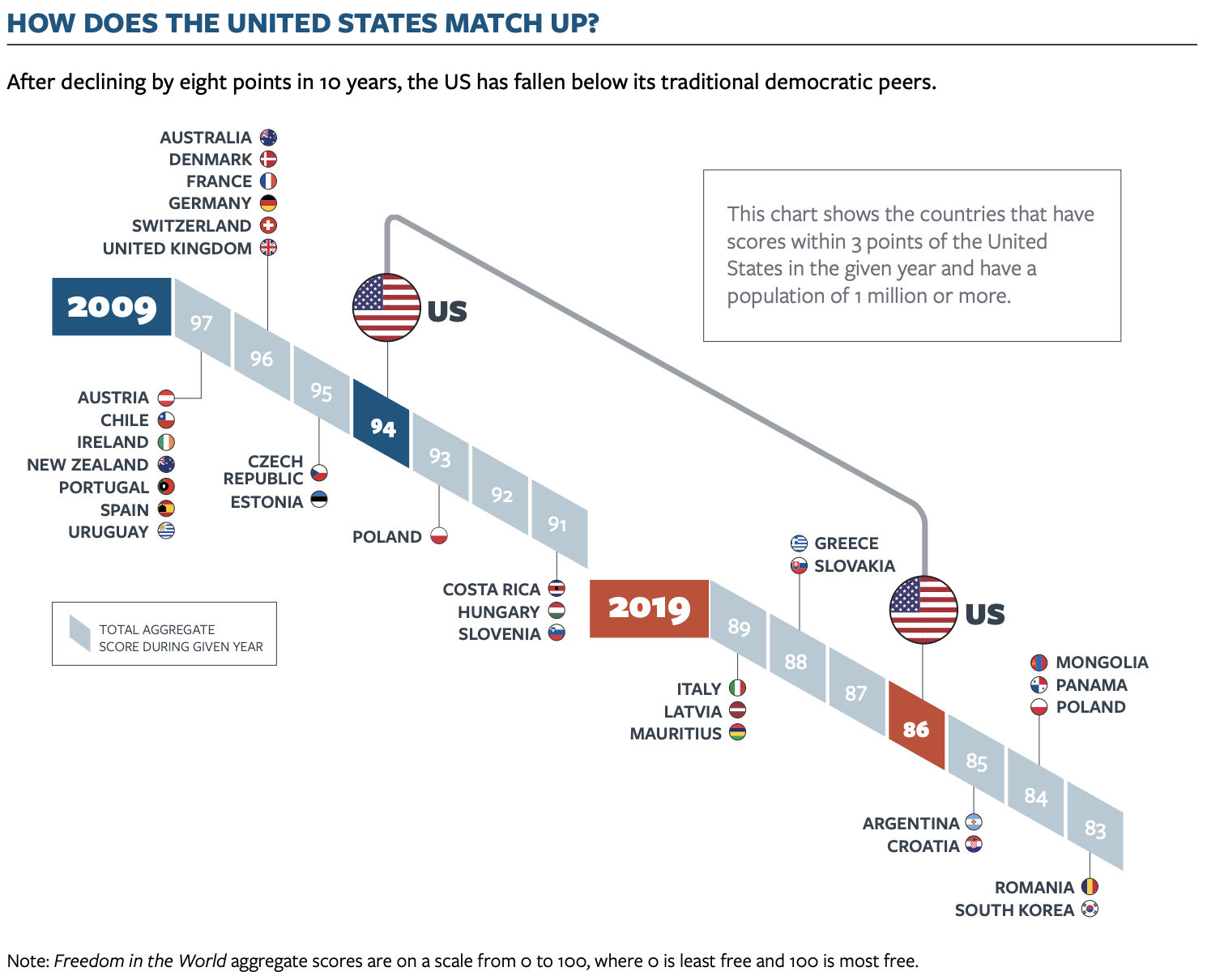 Around the world, democracies have been declining, and previously functioning democracies have seen an uptick of violence.
So this year, while we may revel in our own "land of the free," here are five communities sprinkled across the globe that continue to struggle with achieving true freedom today:
Hong Kong
Despite the initiation of "one country, two systems" in 1997, the Chinese Communist Party (CCP) has increasingly encroached upon the freedom afforded the former British territory. A wave of protests erupted in 2019, opposing a bill that permitted the extradition of suspected criminals from Hong Kong to mainland China. From April to September, demonstrators took to the streets seeking to protect their independence from the CCP, resulting in widespread violence and the tear gassing of protesters by the Chinese police force.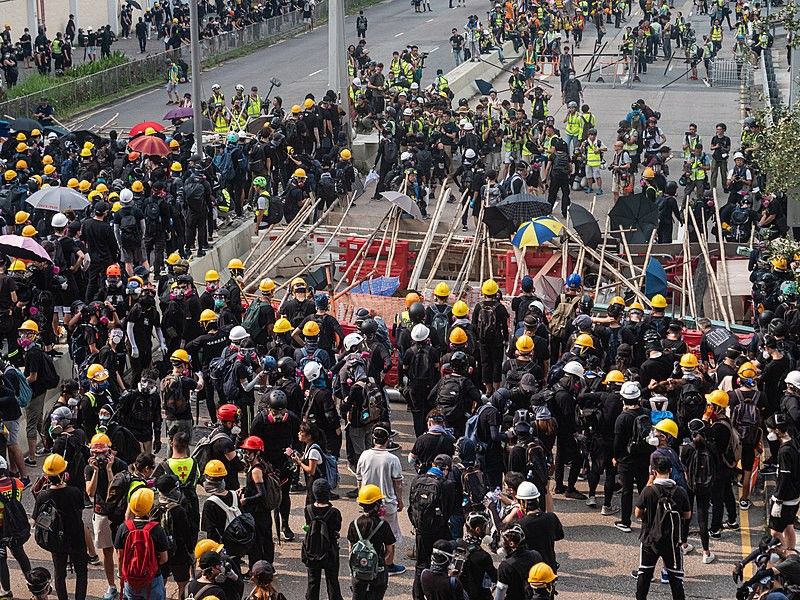 Most recently on June 30, the National People's Congress Standing Committee passed a new national security law that would impose harsher penalties for antigovernment actions and therefore increase Beijing's influence in Hong Kong. Contrary to "normal" procedure, the Chinese government acted without releasing a draft of the law for public comment, and even Hong Kong Chief Executive Carrie Lam had reportedly not reviewed the law's full text before its passing. Most worrisome for Hong Kong, the new law lacks clarity, which in time may leave China with the ability to interpret the ambiguous verbiage however it may wish. On July 1, the 29th anniversary of Hong Kong's return to China, China made its first arrest under the new law. China's actions threaten the democracy of its only free city.
Rohingyas in Myanmar
Myanmar has been a center of ethnic conflict for many years. In 2017, the majority-Buddhist Burmese government under former-Nobel Peace Prize laureate Aung San Suu Kyi began a major crackdown on Rohingya Muslims, an ethnic minority, leading to what the United Nations soon described as "a textbook example of ethnic cleansing." Millions of men, women, and children have flocked to neighboring countries of Bangladesh, Malaysia, and Indonesia. Bangladesh stopped accepting Rohingya refugees in March 2019 and Malaysia announced the same toward the end of June.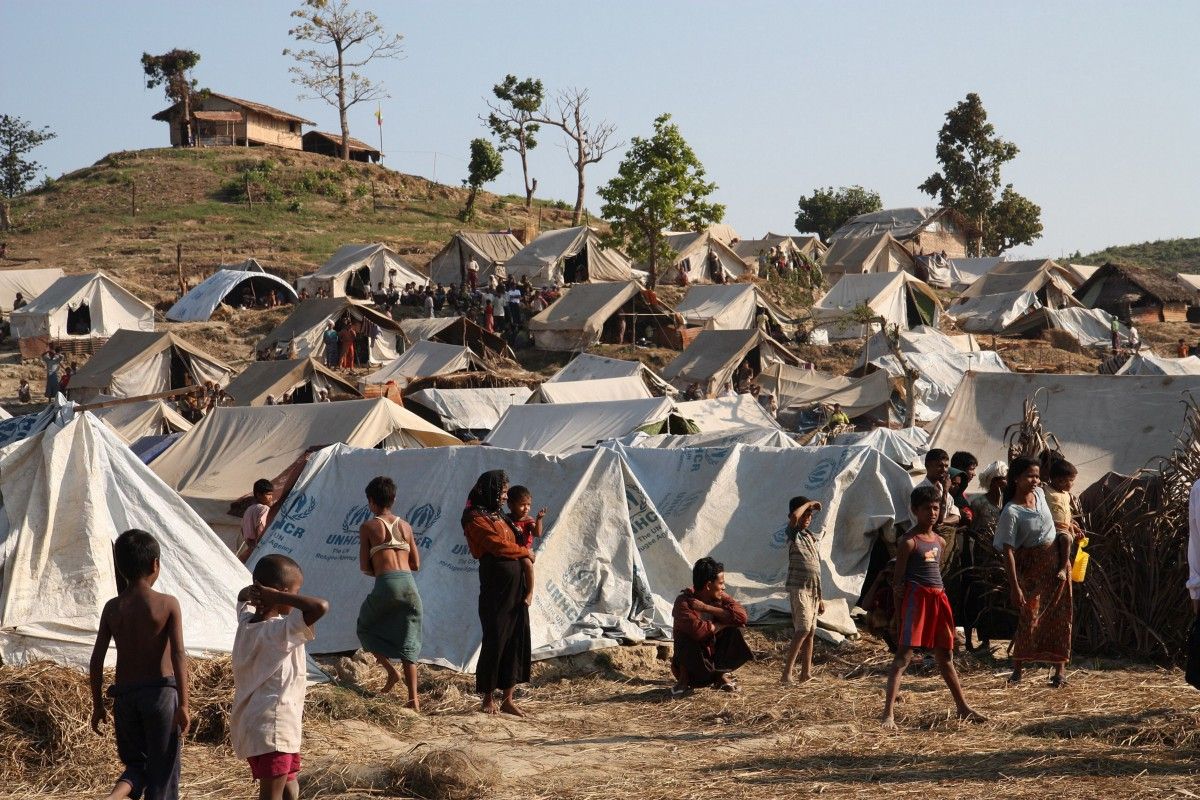 A few weeks ago, Bangladesh recorded its first COVID-19 death to be that of a Rohingya; a million Rohingya are currently crammed in Bangladeshi refugee camps, where any outbreak would be gravely dangerous and deadly. Nonetheless, there is some good news: Indonesia has been working with the United Nations High Commissioner for Refugees (UNHCR) and other international organizations to assist refugees arriving by boat. The government has even offered to provide shelter and other basic necessities to refugees amid the global crisis. Still, there is no end in sight for the plight of the Rohingya, especially as Myanmar continues to deny its mistreatment of the ethnic population.
Venezuela
Juan Guaidó has garnered less news lately, but his role in opposition to Socialist President Nicolás Maduro has not subsided. The political and economic crises in Venezuela began shortly after Maduro succeeded longterm leader Hugo Chávez in 2013. As oil prices plummeted and inflation skyrocketed, more than 4.5 million Venezuelans have fled the country amid shortages of food and basic supplies. Although Venezuela claims to be a republic, Maduro remains a dictator backed by military support.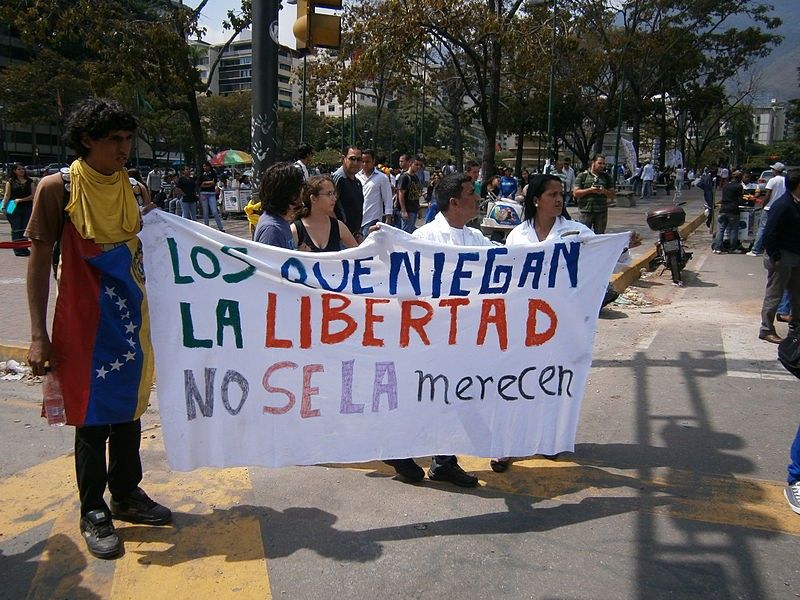 The government recently announced that it would be holding parliamentary elections this December to fill a newly-added 110 seats in the National Assembly, the only institution still held by an opposition majority. Guaidó has demanded transparency over all election procedures, tweeting "[t]he dictatorship will not give anything away; we must fight together to conquer our democracy." Over 60 countries continue to recognize Guaidó as Venezuela's legitimate interim president after the U.S. and dozens of other countries accused Maduro of rigging the 2018 presidential elections.
Ethiopia
Resting right in the Horn of Africa, Ethiopia has been known as one of only two African nations that managed to avoid European colonization during the "Scramble for Africa." However, the country has a bleak history of hindering free and fair elections, silencing critics, especially human rights advocates, and cracking down on protests. Under Prime Minister Abiy Ahmed, who won the 2019 Nobel Peace Prize, Ethiopia has finally made progress toward democratic reform, gaining five points in Freedom House's 2019 rankings. Yet Ethiopia's path to full freedom still faces many challenges ahead.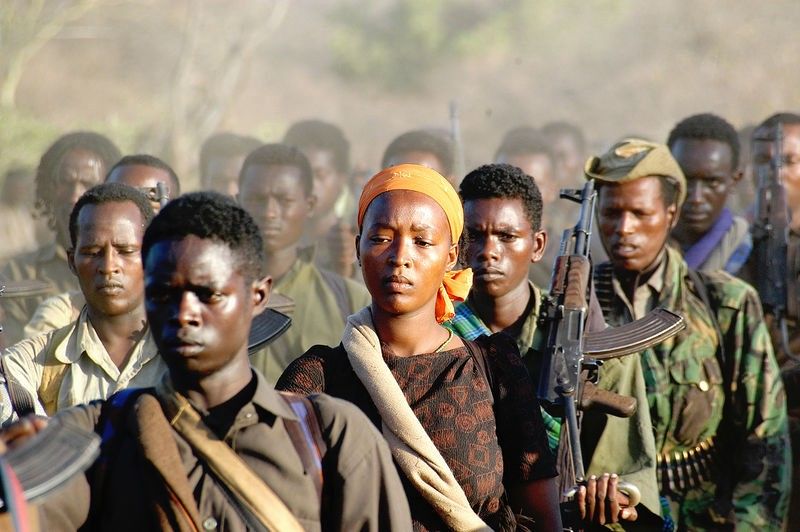 This past week, protests erupted after the assassination of the popular musician Haacaaluu Hundeessaa. Hundeessaa was a member of the Oromo ethnic group, which has suffered decades of government oppression. Consequently, his death has triggered widespread unrest; ensuing chaos and violence in the Oromia region has resulted in the slaying of at least 80 people. Despite making strides toward a more open democracy, the government responded swiftly by shutting down the region's Internet connection, hindering communication.
Iran
Although the Muslim-majority nation holds democratic elections each year, ultimate power rests in the hands of Supreme Leader Ayatollah Ali Khamenei. In addition to consistently escalating tensions with the U.S. (due to the drone strike killing of General Soleimani in January 2020, Donald Trump topped the country's list of "Most Wanted" when Iran issued an arrest warrant on June 29), Iran is notorious for disqualifying disloyal candidates and obstructing freedoms of speech, press, religion and expression.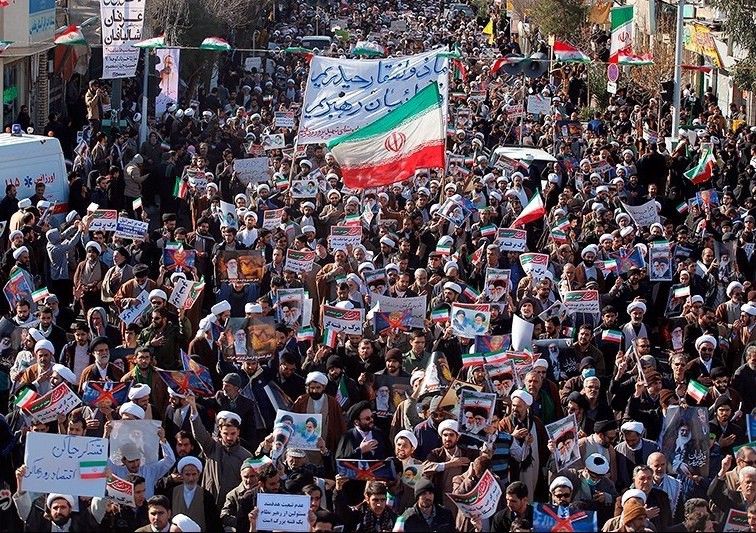 The pandemic has not stopped such silencing efforts. On June 30, Iranian opposition journalist Ruhollah Zam was sentenced to death for his activism and involvement in Iran's widespread protests of 2017. While living as a refugee in France, Zam ran Amad News, a popular website and channel on the messaging platform Telegram, on which he had attracted more than one million followers. Tehran's move is yet another that threatens the individual liberties of its citizens.
This short list by no means encompasses all the world's conflicts — North Koreans under Kim Jung Un, Russians under Vladimir Putin, Uighers in China, Syrians under Bashar Al Assad (with a Freedom House score of zero), Yemenis under President Abdrabbuh Mansour Hadi, and more remain repressed by authoritarian regimes. Unfortunately, the list goes on. In our very own country, we continue to oppress Black Americans through systemic racism, detain people who have crossed the border illegally in less than humane conditions, and selectively prosecute people to contribute to mass incarceration, all the while proclaiming ourselves as leaders of the free world.
On this Independence Day, we celebrate our freedom but also remember that our choices can harm others. Especially as the coronavirus continues its rapid spread, we must remain wary of our actions' ramifications. Let's not abuse the freedoms for which our country's founders have fought, and let's not be hypocrites about it, either. So many communities around the world do not even have the luxury to choose.
Originally published in Dialogue & Discourse on Medium @channingclee.
---
Southern California native studying International Politics in Washington, D.C. Passionate writer in political, cultural, societal, and international affairs.
--- ---
Related Articles