Co-working spaces after COVID-19: in conversation with GoFloaters' founder
Srivatsan Padmanabhan talks about what should co-working prepare for during and after the pandemic
The last 5 years, in fact, the last two years have been crucial for the co-working industry. The early adopters of co-working as a concept were primarily the independent professionals and start-ups.
By 2019, India was the second-largest market for flexible workspace in the Asia Pacific, second only to China.
Supply was driven to an all-time high in 2019 at 60.6 million sq. ft across eight major cities, according to global property consultant Knight Frank. The demand was expected to increase to 140 million.
But then, COVID-19 changed everything!
We have with us Srivatsan Padmanabhan, the Co-Founder & COO of GoFloaters, to talk about the co-working spaces, their evolution in India, and also about what to expect after this pandemic!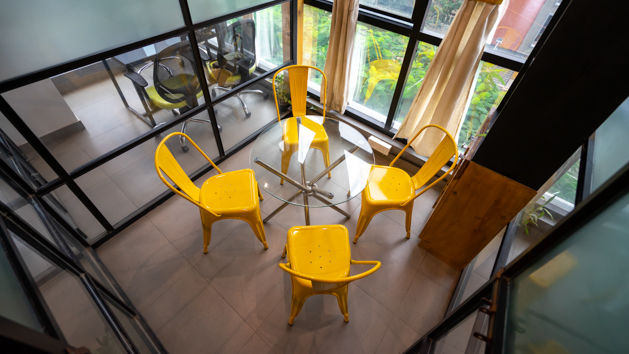 Q. How much has the industry of co-working spaces evolved in the last 5 years?
With the advent of technology, recognition of Flexible Workspace as a service & emphasis on work-life balance drove the enterprises and corporates to look at this as a viable option.
By 2019, a whole lot of corporates and enterprises began to look for co-working as an option. However, the last quarter was challenged with the debacle of WeWork which impacted the sentiment & the trust in the overall industry.
2020 had begun with optimism for the industry, but the COVID began to dampen the sentiments quite a bit.
If we must look at the brighter side of this effect, tomorrow is more about productivity and how we get our work done. The focus would be to create the right work environment, integration and surrounded around the well-being of the workforce.
Q. What were some major trends that dominated this industry last decade?
Co-working led Real Estate
In the last five years especially, our lifestyles have changed. We are just a tap away from our conveniences, which ranges from booking tickets online & availing various services at home to amazon deliveries.
Work industry was no less.
Once individuals from various domains including freelancers, consulting professionals & IT professionals started to adopt co-working space to work out from, the influx of real estate for the purpose has surged.
Early players like Cowrks, Awfis, Regus, Smartworks, 91springboard, WeWork saw a huge demand and doubled (& tripled) the expansions in the real estate and long-term leases.
Space-As-A-Service Model (SPaaS)
With leases and long-term commitments, the industry saw the 'hospitality' playing a determining role in space-as-a-service. The real estate backed industry brought in a paradigm shift & revolutionized the way they handled occupiers and service providers.
From millennials and entrepreneurs to capitalists & travellers, everyone thronged into coworking looking for more serviced options including furnitures, screens, free to use cafeteria, seamless connectivity, flexibility, cost effectiveness and networking.
The accessibility, automation, amenities, availability, and ambience, everything mattered in the decision making for workspace.
Focus on Collaborative Community Spaces
It is human to expect social connection in whatever settings we might be. And likewise, the co-working or the service providers were thriving with people from different backgrounds, cultures and experiences to create a dynamic environment.
The diverse groups made it even more interesting for people to walk-in everyday with new zeal and passion to drive results. Networking and collaborations with community members always trended in the co-working sector.
Q. Due to the corona outbreak, what kind of shifts could be expected in the growth and the trends of co-working spaces?
The post COVID world is a mystery and an uncertain one. But, the fact remains that the world would not be the same as pre-COVID. Every industry and business will take smarter steps to reboot.
The co-working segment will be no different.
The researchers and experts are speculating on how the industry is going to change. But, here is my take on three key factors:
On-demand Affordable space - There will be accelerated demand for spaces that can be booked for a shorter period of time as companies will shy away from longer term contracts. Waiving off deposits could be ideal in this situation. Spaces that are non-obligatory and have short-term contracts will encourage more walk-ins.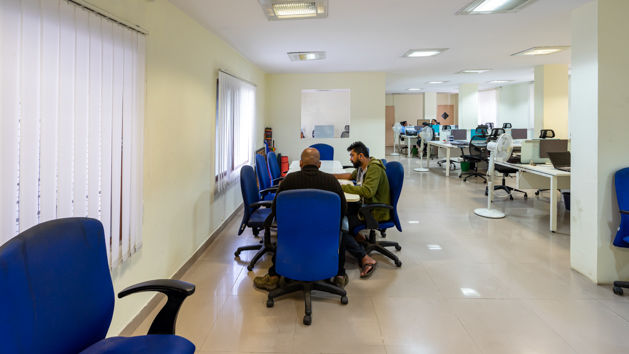 No more Hot Desking – We expect people to choose private cabins rather than hot desks. People will continue to practice social distancing and will evaluate risk factors before choosing a space. Even the space owners will restrict the entries to a limited number to ensure that the limited occupiers are given enough attention, hygiene and protection.
Hyper local – It has been said that it takes 21 days to form a habit, and the world has now been working from Home long enough to develop a habit. Work From Home will now be the new norm. However, in the long run, occupiers will opt for spaces out of their homes, but within or close to their neighbourhood. This would be done in order to be more productive, boost team collaborations and restrict one-on-one meeting opportunities.
Q. For any co-working space, what's the biggest challenge right now?
The world has embraced working remotely. From governments decision-making to online board meetings, remote work has engulfed our daily lives. There might be a silver lining to this, but the co-working industry must overcome the challenges of :
Pricing Policy – this will need to be re-looked by every player in the category. The economy and spending have been drastically affected, so the first concern would be pricing structure of spaces.
Space Contracts –Due to the financial impact across the board, professionals, businesses and entrepreneurs are rethinking, halting or cancelling their memberships, renewals, contracts.
Maintain Social Distancing - space owners cannot expect or should not expect a full house. This process is also going to take a hit in their RoI
Community Morale– in-person networking might take a step back, but brands and players must make efforts and properly plan their outreach program to encourage the loyal communities, supporting them through the downtime. That is the only way they will continue to have keep the organizations onboard.
Q. How's GoFloaters coping up with this challenge?
The COVID-19 has rocked every boat. But we are taking it in the right stride. We see this as an opportunity to revive and match-up to the new norms.
Thankfully, our business model has always been close to what the post COVID world would be. We have been in the forefront as on-of-its-kind on-demand and flexible space brands in India with an array of spaces and convenient choices to address the specific needs of tomorrow.
We think the on-demand segment combined with flexibility, individuals or smaller groups accesses will see a massive rise. We are already talking to and seeing the small, medium and some large companies coming forward to take up 'pocketed' flexible spaces for their employees.
Q. Take us through the journey of GoFloaters so far! 7. Talking about the concept of GoFloaters, how it's different from the other players? What made you come up with this concept?
We are first of its kind on-demand work, meeting and event space start-up in India that helps thousands of early-stage start-ups, freelancers, SMBs, independent professionals, solopreneurs, digital nomads, remote workers, media professionals, YouTubers, mompreneurs, sales and enterprise teams to find affordable plug-and-play work, meeting & event spaces through GoFloaters app – Android & iOS. We have partnered with the cafes, shared offices, coworking, meeting and event spaces for co-working & networking.
Today we have more than 1000 spaces spread across Chennai, Bengaluru, Hyderabad and Coimbatore.
Users get to choose the spaces through the app on a daily or monthly pay-as-you-use basis without having to worry about contracts, minimum commitments, security deposits, or retainer fees.
Q. How did this idea originated for GoFloaters?
In 2017, Shyam Sundar Nagarajan (Founder) while exploring his entrepreneurial acumen with his first Insuretech start-up – SMBSure, came across this eureka moment. He used to have meetings almost every day and travelled across the city.
During one such occasion and after spending 1000's of Rupees on work sessions and business rendezvous he realized, what and why is there an impending need to shell out Rs. 400 to 500 over food or beverage to occupy a seat in the café for meetings or to work. This brought focus on the large population which needs pocket-friendly, convenient work, meeting spaces and a need for a platform that enables networking possibilities in the hyperlocal model.
This sparked the idea for plug & play workspaces for the floating population- GoFloaters.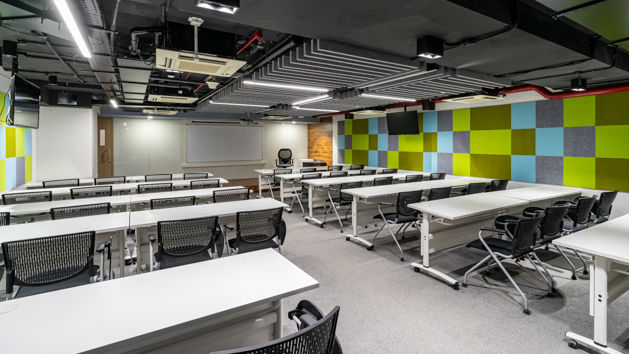 Q. With the nation-wide lockdown imposed right now, how should a co-working space remain connected to its existing clients and how to prepare for post-lockdown?
Webinars and online events are keeping members and non-members from different communities busy and letting them grow in the minds of people. This is a situation which is being borne across the board, so everybody understands why something is not going to work or is shut down.
The future is very unpredictable now. But we look forward to gaining momentum in 3-4 months once the market is completely open.
Q. It's a tough time to be an entrepreneur right now. What are the most important things to take care of right now?
I wouldn't use the word 'tough'. I would rather say 'challenging' times. Yes, it is.
Along with being a global pandemic, the COVID-19 is turning out to be an economic and business challenge for one and all.
Leadership with compassion | Back-up for cash and necessary operational cost| Research and think deeper to innovate and change with changing times| Take time to develop a Backup Plan| Over communicate with stakeholders to be transparent, control anxiety, fake news, & keep them motivated|
Q. What should a young individual expect after this pandemic and how should he/she prepare themselves for the period after lockdown?
It's hard to exactly predict how life is going to be. Much remains uncertain. It is India's public administrations and policing systems that have controlled the spread of pandemic in India. Otherwise, for the nature of our population, our numbers would have hit six digits.
This has led India to a large economic negative impact running to multi lakh crores. But the silver lining is it would bring in discipline in our communities and individuals.
As an individual, we must equip ourselves to embrace technology, be self-reliant and try making healthy habits. For example, from the time of the industrial revolution what has not changed is the way we lead our work life, picking up bags and leaving for work every morning, and snuggling in by night. But, this is going to be a major shift once markets open.
The normal may not be the norm anymore!
Q. What kind of productive activities one should indulge in while they are at home in this quarantine?
This outbreak has curfewed all of us and forced us to be at home. It is time people make the best use of this opportunity and prepare themselves with skills and knowledge especially the unfinished once. Below are some of the things to indulge in while at home
- Subject Expertise: Pick up a subject to specialise in. Learning always comes in handy. Focus on a subject you always wanted to learn. There are many courses available at a no or clashed down prices, some of them include Udemy, coursera and more
- Virtual Events: The current pandemic has forced us and many others to cancel or postpone many networking events. Experts, communities and companies are experimenting every day with newer topics through the online mediums and encouraging people to participate. These events not only help in knowledge building but also help us beat the loneliness blues. Personally, I love such series, take time out and catch up at least one a day. At GoFloaters, we love absorbing knowledge and debating. An effort to encourage a lot more of that, we constantly engage with our community through the GoSeeK Talk Series where we interview and interact with start-up founders, entrepreneurs, experts and publish these conversations.
- Personal Branding: More than ever, personal branding has become important now. In remote environments, this is more than just a strategy to drive reputation in your profession. This is a necessity to create an impact in the ecosystem and differentiate you in the market. Take time to create the right social channels, blog or anything else that will benefit your career.
- Catch Up on Reading: Successful people read books. Doesn't matter who you are, an entrepreneur, a corporate employee, independent or homemaker, reading is a virtue that must develop to exceed in life. It adds a lot of meaning and helps you grow professionally and personally. Some of my personal favorites are:
• Blitz scaling, by Reid Hoffman and Chris Yeh
• Peter Theil's Zero to One – must read for anyone who is on their start-up journey
• Michael Matthews' Bigger Learner Stronger – helped understand my body better and scientifically plan to improve my fitness
• Podcast - Start-ups School from Y Combinator, The Pitch, Marketing School
• In addition, you could also scan through some amazing list of TEDx Videos, audiobooks, blogs, etc, dailies and subscriptions
- Self-care: We always yearn for 'personal time'. This is the best time to focus both on body, mind and soul. Working out, yoga, meditation can bring benefits with an active and powerful mind.
** numbers are through data secondary sources
---
Ideas are easy, Implementation is Hard, learn from the ones who knows how to start. A Publication by Tealfeed.
--- ---
Related Articles