Comparing the Best Power Strip for Gaming in 2021
Most households and offices have a lot more devices than available power outlets in the wall, which is why power strips are so handy. They allow you to use multiple devices at a time without having to continually switch plugs. When it comes to your gaming setup, not only will you need those extra outlets, but you want some protection for your electronics as well. Your gaming PC and accessories probably didn't come cheap, so protecting your devices from power fluctuations will require everything
This article was originally published by @gamesharden at Comparing the Best Power Strip for Gaming in 2021
Most households and offices have a lot more devices than available power outlets in the wall, which is why power strips are so handy. They allow you to use multiple devices at a time without having to continually switch plugs. When it comes to your gaming setup, not only will you need those extra outlets, but you want some protection for your electronics as well. Your gaming PC and accessories probably didn't come cheap, so protecting your devices from power fluctuations will require everything to be plugged in correctly. Plugging your gaming PC into a regular power strip will not protect it from any electrical fluctuations. However, you can get more sophisticated strips that have surge protection and smart functions built-in. Using the wrong power strip or using it incorrectly can put your devices at risk. That's why we've put together a guide to the best power strips for gaming in 2021. Use this guide to pick your power strip unit for a winning gaming experience and peace of mind.
#Comparing the Best Power Strip for Gaming of 2021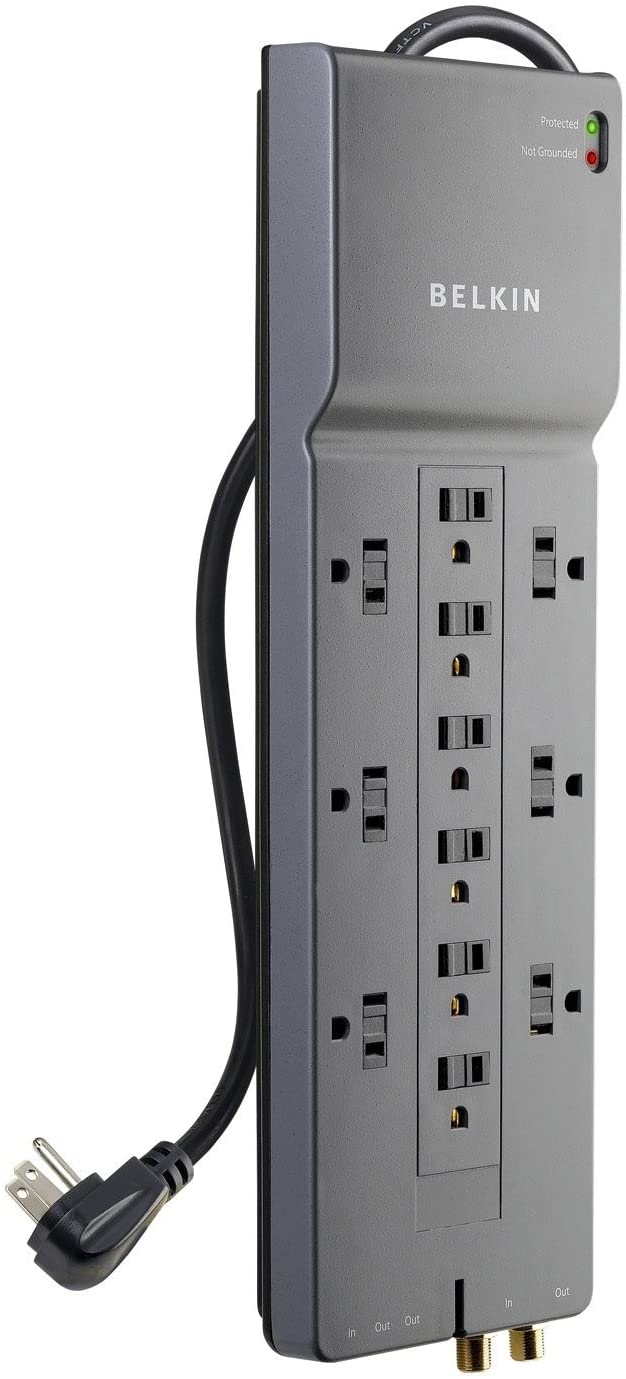 Best Overall Power Strip for Gaming
This multi-outlet power strip can power everything in your gaming setup with a single surge-protected extension cord. The device offers 12 AC outlets and features a heavy-duty 8-foot-long extension cord. The power strip has a 3940-Joule energy rating that provides reliable power supply and protection to printers, modems, and home theater systems. The unit has a slim design yet offers widely spaced outlets that give ample space for big-sized plugs. Also, Belkin's damage-resistant housing protects circuits from impact, rust, and fire.
Key Features
The unit is designed to secure electronic devices from power spikes, overload, short circuits, and power fluctuations
6,000 volts maximum spike voltage
Limited lifetime warranty with a $200,000 connected equipment warranty
Each outlet features a safety slide lock to safely close unused sockets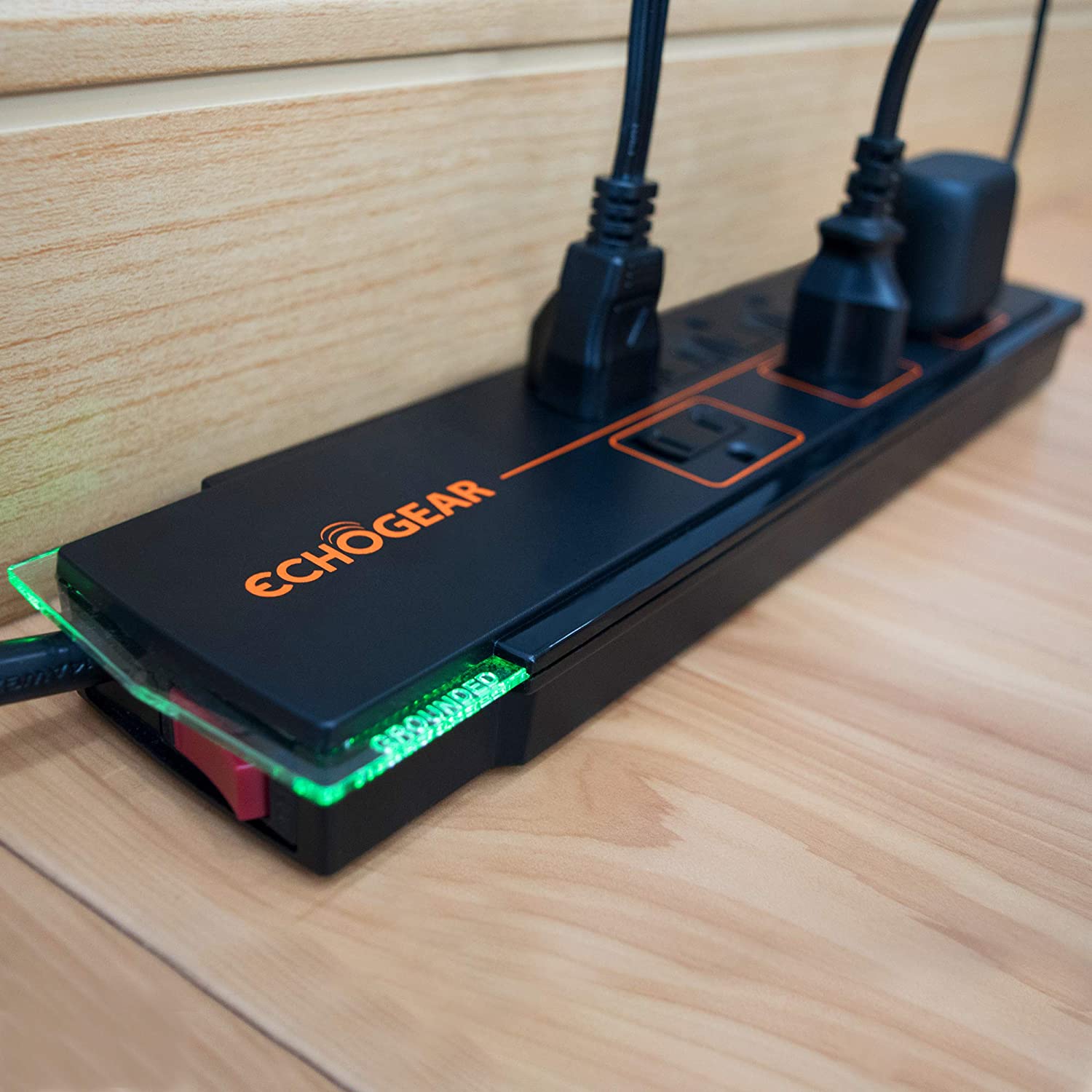 Best Mountable Power Strip for Gaming
This slim design 8-outlet surge protector power strip can power and protect your entire home theater, office, or gaming setup. The unit offers an advanced surge suppressor with 3420 joules of protection, allowing you to protect up to 8 devices at once. Even large-sized plugs will fit into this power strip since it is designed with extra space between 3 of the outlets to avoid blocking other plugs. Echogear's power strip is wall mountable, making it easy to reach and convenient to keep out of reach from pets and/or toddlers.
Key Features
Easily concealable under or behind cabinets, tables, or other furniture
It has built-in safety covers
Designed with fire-proof MOVs that absorb extra voltage
UL-certified construction
5-year $25,000 connected equipment warranty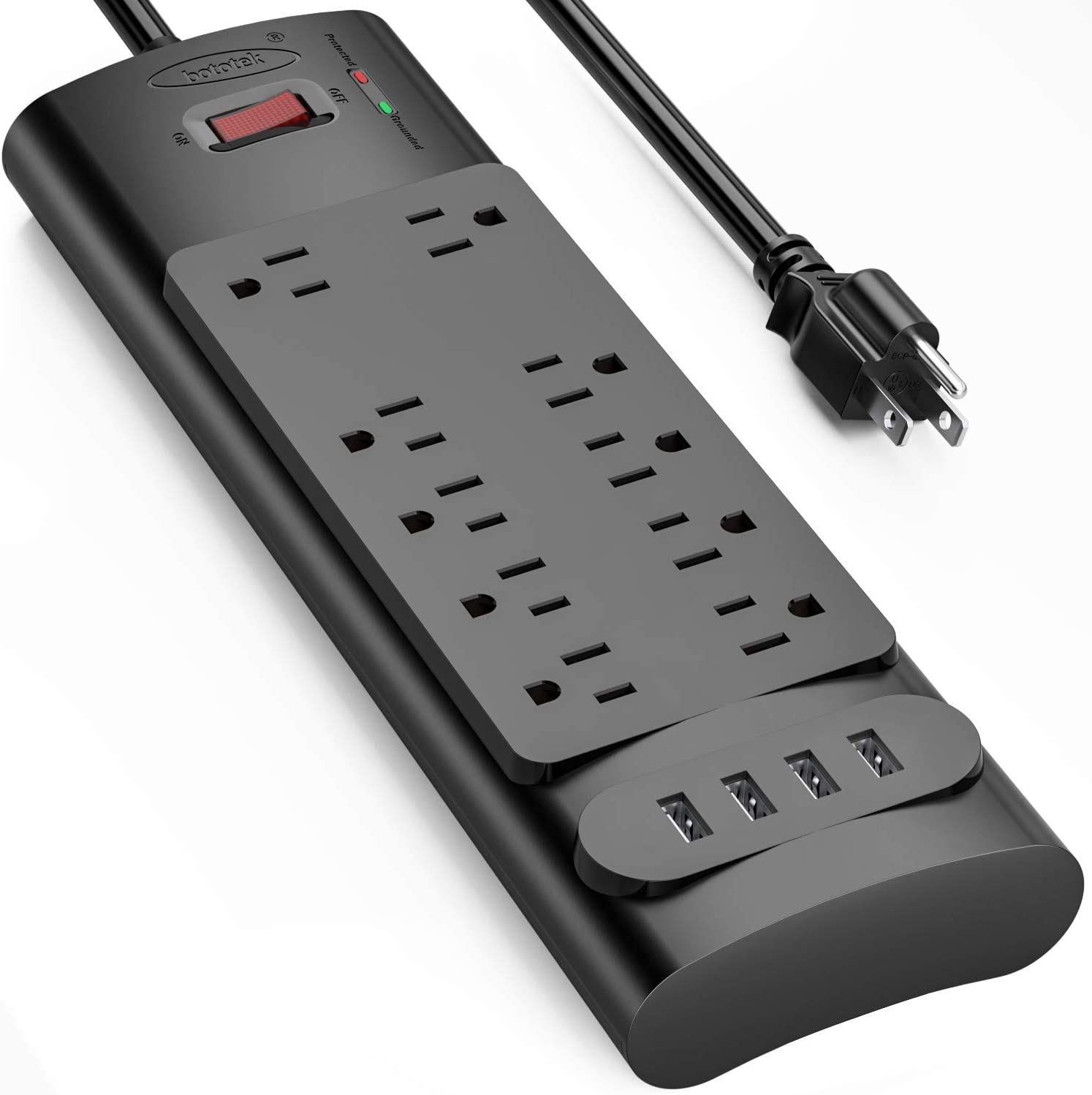 Best Multi-Outlet Power Strip
Bototek's surge protector power strip has an integrated circuit breaker for overload protection of all the connected outlets. The intelligent circuitry features built-in voltage sensors which detect your device's power needs to respond accordingly. The power strip has a light-enabled on/off switch, allowing you to save power by manually switching it off when not in use. The power strip makes allowance for two large adaptors with 2-inch spacing as well as 8 standard spacing outlets.
Key Features
10 x AC outlets and 4 x USB charging ports
6-foot long heavy-duty extension cord
A surge protector with overload protection against power spikes and fluctuations
Quality guarantee, ETL listed, and FCC certificated

Best Gaming Power Strip and Surge Protector Tower
This desktop charging station features a 10-foot extension cord, 8 AC outlets, 4 USB ports, and serves as a surge protector. The unit has two power buttons located at the top to control the USB and AC outlets. It is designed to provide enough space for oversize adaptors and USB ports without taking up excessive space on your desk.
Key Features
The tower is made of high strength fireproof ABS and PC material that can stand temperatures up to 1,382℉
A circuit breaker ensures protection for devices from electrical short circuits, overheating, overcharging, and overvoltage
UL and FCC certified
The 100% copper cord of the surge protector power strip ensures safety while charging devices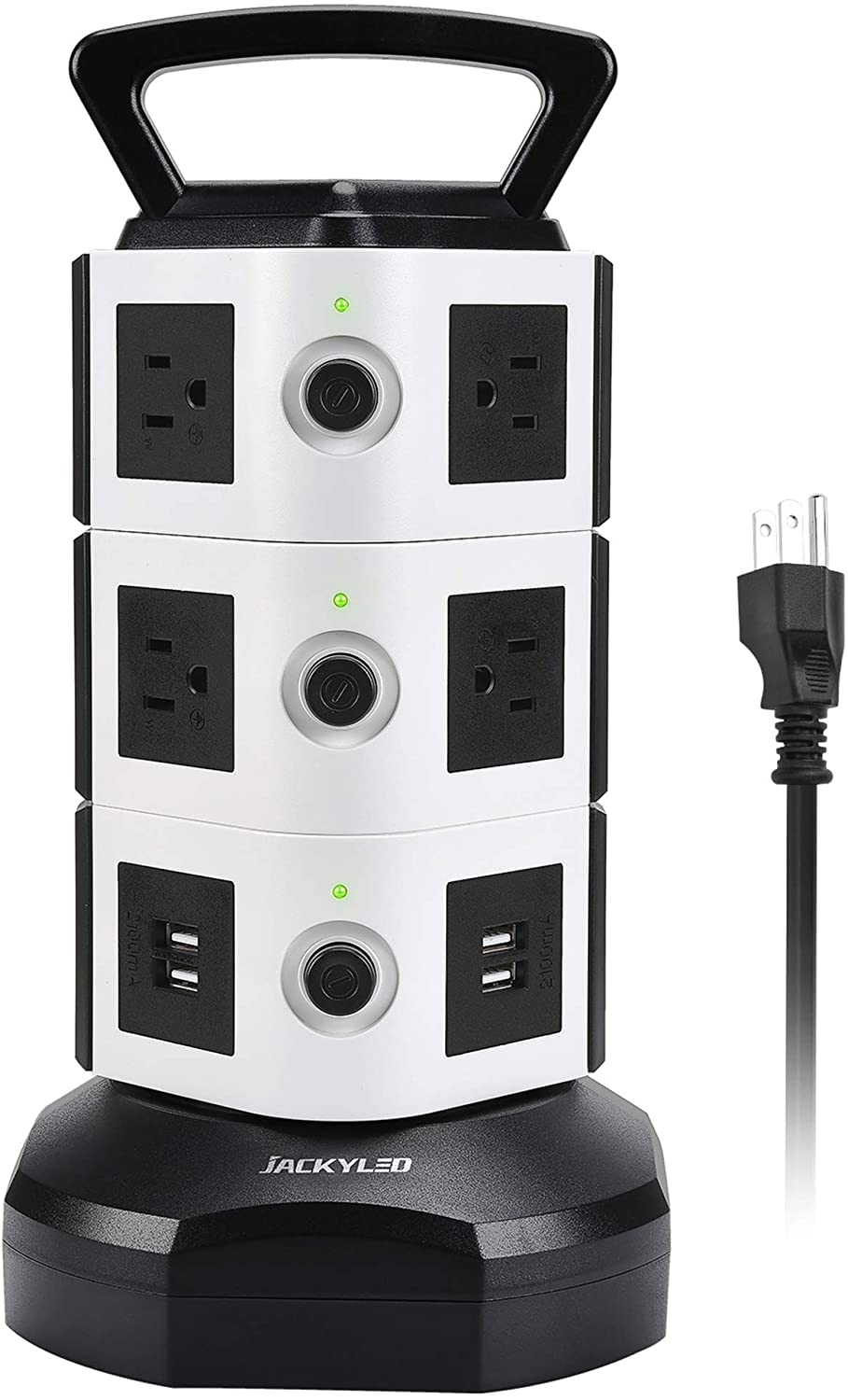 This power strip and surge protector vertical tower features 10 outlets, 4 USB ports, and a 6.5-foot heavy-duty extension cord. Each layer of the tower has an independent switch allowing you to save electricity when the outlets are not in use. The device automatically cuts power when the voltage surge is excessive to protect connected devices. The 4 USB ports can charge two cellular phones together, an iPad, or a tablet fairly quickly.
Key Features
RoHS, CE, and FCC certified
The power strip has surge protection (900J), and protection against short-circuiting, overloading, over-current, and overheating
6.5-foot pure copper retractable cord
Easy carry with a top handle to move the entire unit without much effort

Look on Amazon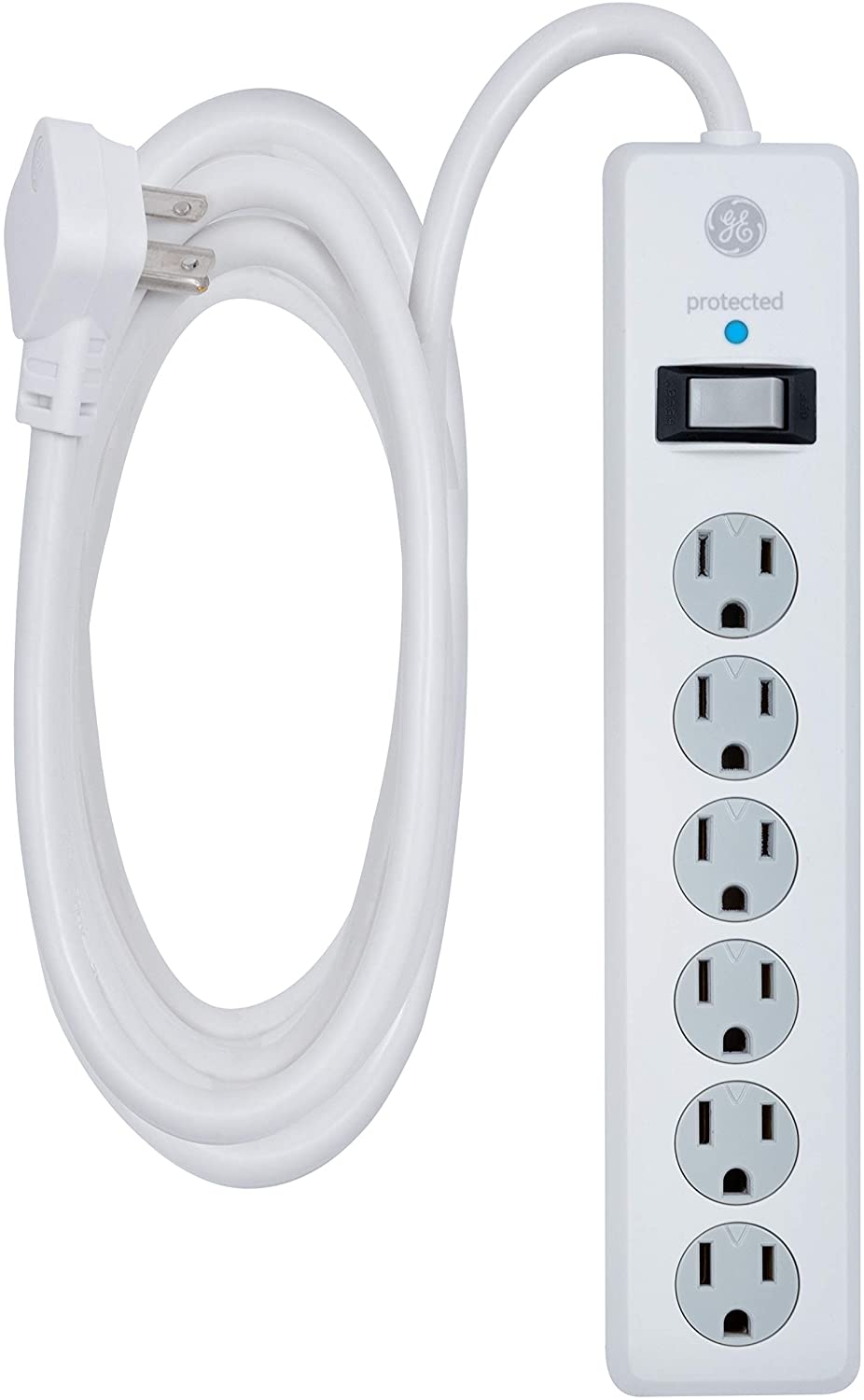 Best Power Strip Extension Cord
This power strip with surge protector allows you to extend your power reach with a 10-foot extension cord. The strip has 6 outlets with safety covers. The unit can be mounted using keyholes on the back to keep it out of the way of children, pets, and for better reach of outlets. GE also offers power strips with longer-length cords measuring up to 20 feet.
Key Features
Extra-long 10-foot cord for optimal reach
Flat power strip for easy mounting or a tidy fit behind furniture
An integrated circuit breaker ensures the safety of your electronics
800 Joules protection rating
UL-listed trusted brand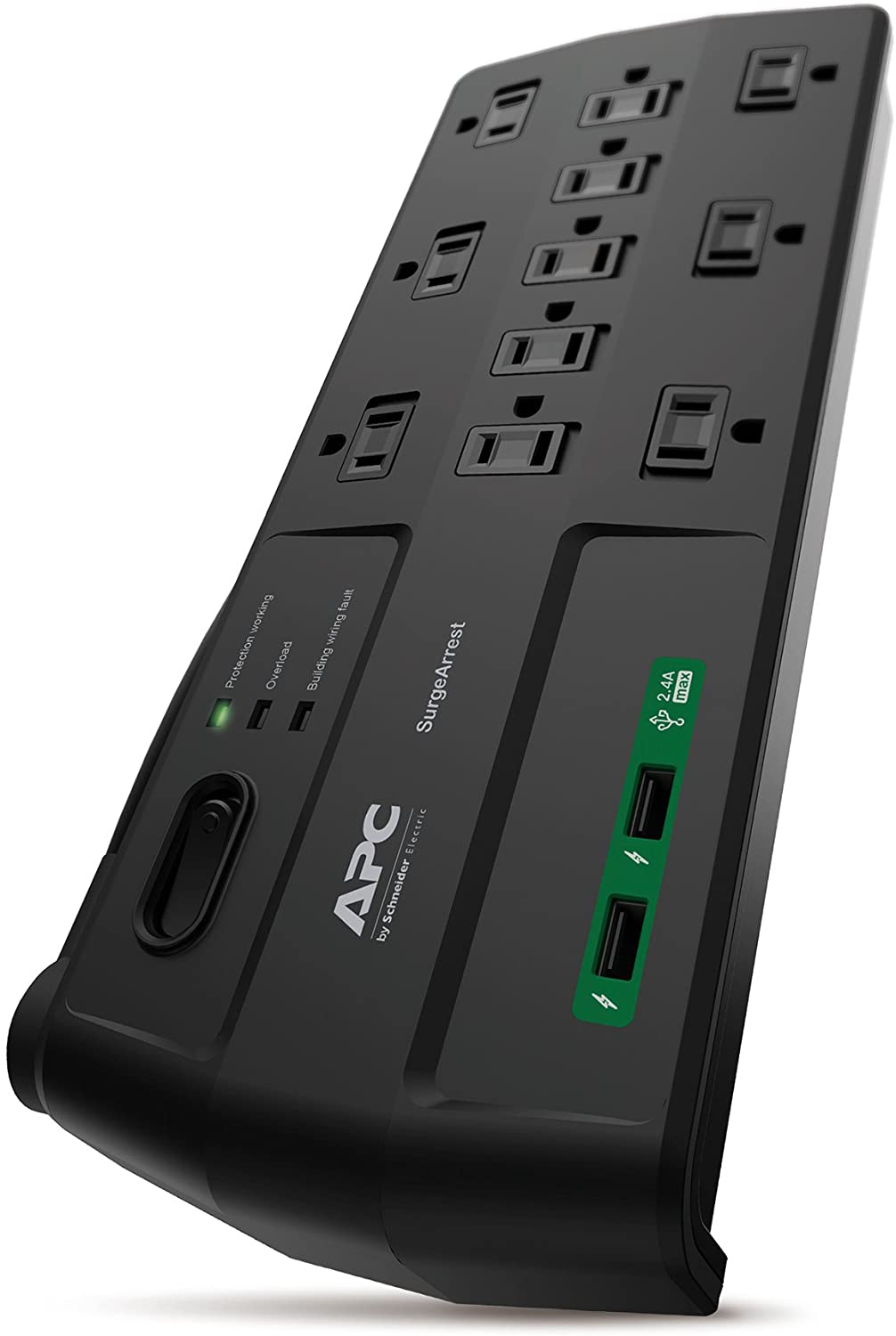 Best Flat Surge Protector
Connect and protect up to 11 electronics and conveniently charge other devices via 2 additional USB ports with this stylish black power strip. The unit offers essential surge protection to your PC and electronic devices. Display lights on the unit signal an overload, wiring faults, and active working protection. The flat design looks incredibly tidy for office setups and fits well on desks, or between furniture settings.
Key Features
Protects electronic devices from surges and power spikes
Complies with stringent IEEE testing and safety requirements
6-foot power cord
2880 Joules surge energy rating
11 Outlets and 2 USB ports

#Best Power Strip for Gaming Buying Guide
Many people assume that all power strips offer surge protection because surge protectors usually come in the form of multi-plug strips to protect several outlets at once. However, unless the unit is specifically labeled as being a surge protector, your devices will not be protected.
To understand what kind of power strip you need, it's important to know the protection your device requires. When you plug your PC or any other electrical device into a regular power outlet, it should receive a consistent level of power to function correctly. Under conditions such as power outages or when there are issues with a power grid, spikes (a momentary increase) or surges (prolonged increase in the voltage) can occur. Any sudden increase in voltage can damage your device and even render them useless. In this guide, you will learn everything you need to know when choosing the best power strip for gaming to prevent any electrical damage to your precious equipment.
#What Is The Difference Between A Power Strip And A Smart Power Strip?
Regular power strips are an affordable solution to extending the number of electrical outlets required from a wall socket. The convenience of having multiple sockets available does however result in most people leaving their electronics plugged in all the time. Many devices continue to draw power even when not in use. Items such as printers, computers, and plasma TVs generally have standby modes that draw significant power on the sly, costing you money, wasting electricity, and increasing your carbon output.
Smart power strips assist with this problem by shutting down power to devices that go into standby mode. This can decrease your power consumption by 5 to 10 percent and, of course, it can make a big difference to your expenses. Although you can also do this by unplugging everything you are not using every time, smart power strips offer a much easier solution.
#What Is The Difference Between A Power Strip And A Surge Protector?
It is important to realize that not every power strip is a surge protector. While a power strip divides your power outlet into multiple ports, a surge protector features a protection mechanism designed to protect your gaming PC, television, and other electronics against power surges and other power interferences. Although surge protectors are more expensive than regular power strips, they are worth it in the long run since having one will prevent you from having to replace your entire device if something happens.
#What To Look For When Buying The Best Power Strip For Gaming?
The most important thing to look for with a multi-power outlet for your gaming setup is protection for your devices. You need to make sure that your power strip is also a surge protector. Once you have established that, also consider the following important characteristics:
#The Number of Ports
Surge protectors can have anywhere from three to twelve ports. Buying the correct number of ports with an allowance for one or two extras is essential. You do not want to daisy chain power strips, so make sure there is enough space for everything you need to plug. At some stage, you might need to plug in an extra device or two, so it would be ideal to have free ports for those instances.
Keep in mind that even if a power strip has eight ports to offer, you might not be able to use them all as some oversized plugs will overlap the adjacent port on the strip, blocking access to the outlet. Whichever design you choose, ensure there are enough ports and that all the required plugs fit the strip design.
#Use of the Surge Protector
Here you want to consider what you will be plugging into the surge protector. In this case, your gaming PC or home entertainment system will require a robust surge protector of good quality. For those looking to get the lamp on their nightstand and phone charger onto one power strip, a cheaper option will do.
#UL Seal Certification
To make sure the unit is going to protect the equipment you plug into it, check for a certification seal. Make sure that the surge protector you are planning to buy has a UL seal which will mean it is certified by Underwriter's Laboratories. This means that it meets UL 1449 standards that allow it to carry the "transient voltage surge suppressor" label and ensures that it is designed to offer protection.
#Clamping Voltage
The energy absorption rating refers to the amount of energy that can be absorbed by the unit before it fails. You need to look for a unit that offers at least 600 to 700 joules, or higher, energy absorption rating. Higher is preferable in this regard.
The clamping voltage, on the other hand, refers to the voltage that will trigger the surge protector to start absorbing energy. Here, lower is better and you need something around 400 volts or less. Also, check if the manufacturer lists the response time. The lower the response time, the better since it allows less time for damage to take place.
#3-Line Protection
Surges can occur between ground, neutral, and hotlines. Choose a protective unit that safeguards along all three lines.
#Additional Features To Consider For Surge Protectors
#Alarm
An alarm notifies you that the surge protector is no longer providing protection and should be replaced. This is a helpful feature if the unit doesn't offer power shut-down protection or if the light signal is out of sight.
#Warranty
Warranties on surge protectors can be tricky. Although manufacturers may offer to repair or replace devices damaged due to the malfunction of the surge protector power strip, you will also need to prove that a fault in their surge protector was the reason that your device no longer works. This may entail shipping the surge protector to the manufacturer at your own cost and paying to have the electronics assessed. Warranty claims, therefore, only make sense on expensive items. Check the warranty status before purchasing to determine exactly what is included and the claim procedures you'd have to follow.
#Remote Control
Being able to control the power usage with remote control is beneficial if you have power outlets in places that are hard to reach, such as behind an entertainment center or cabinet.
#Safety Tips For Power Strips And Surge Protectors
Only use power strips and surge protectors in dry indoor areas
Do not exceed the electrical rating of the unit
If the strip features a power cord, uncoil the cord before use
Do not cover the power cord with any flammable material or anything that could be a potential fire hazard
Keep the cord and power strip safely hidden away from pets and out of reach of children
#Best Power Strip For Gaming FAQs
Q: Is it okay to daisy chain multiple power strips?
A: No, this can cause a circuit overload and is a major electrical fire hazard. Avoid plugging regular power strips into each other and also do not plug multiple power strips into a surge protector.
Q: What devices should you not plug into a power strip?
A: It is best to avoid using a power strip for high-powered electrical appliances as this can cause an electrical fire. This includes appliances such as heaters, microwaves, and freezers.
Q: Can a surge protector be plugged into an extension cord?
A: This is another no-no. Plugging a surge protector into an extension cord can drastically reduce the effectiveness of the surge protection.
This article was originally published by @gamesharden at Comparing the Best Power Strip for Gaming in 2021
---
The place for programmers, startups, CEOs, and gamers to share their stories with the world.
--- ---
Related Articles