By connecting doctors through Curofy, these 3 Forbes 30U30 fellows are curing the problems of medical industry
Curofy is a medical networking platform for the medical teams and doctors across the globe. It was founded by Nipun Goyal, Mudit Vijayvergiya, and Pawan Gupta
According to a paper released in Lancet, our medical system doesn't have equally proportioned resources. In community health centers in rural areas of many states, ranging from Gujarat to West Bengal, the shortfall of specialists exceeds 80%. Moreover, in light of recent events in West Bengal and other parts of the country, this app shines harder-than-ever as the need of the nation. Here is a start-up company called Curofy, knowing exactly what to do for the heroes of the medical community.

Curofy is a medical networking platform for the medical teams and doctors across the globe. It was founded by Nipun Goyal, Mudit Vijayvergiya, and Pawan Gupta, 3 Forbes India 30 under 30 members, in July 2014. The Gurugram based company is specially designed for doctors and medical experts to interact at a single platform. It helps doctors discuss cases with each other across the globe, with other specialists and doctors, thus promoting better solutions. Curofy:-
Helps Doctors discuss cases with specialists and senior doctors, and stay updated with News, Journals, Medical Guidelines, and medical jobs, etc
Has over 350,000+ users from across 1500 cities discussing and solving critical cases.
Has over 1000+ Specialties and Sub-specialties who regularly discuss updates on the app
Has over 350,000+ doctors who are actively discussing more than 12000 real-life patients every month.
CUROFY: REMOVING HINDRANCES OF CLOSED-DOOR COMMUNICATION AMONG DOCTORS
The founding members of Curofy realized the changing trend of the world. One of the members told us that digital media had become one of the few places where doctors really interacted. Even with increasing usage of Whatsapp groups, their interaction was only with a few medical specialists they were connected to. This felt as an injustice to the world. The founders recognized that keeping knowledge behind closed doors was not beneficial as it won't help anyone.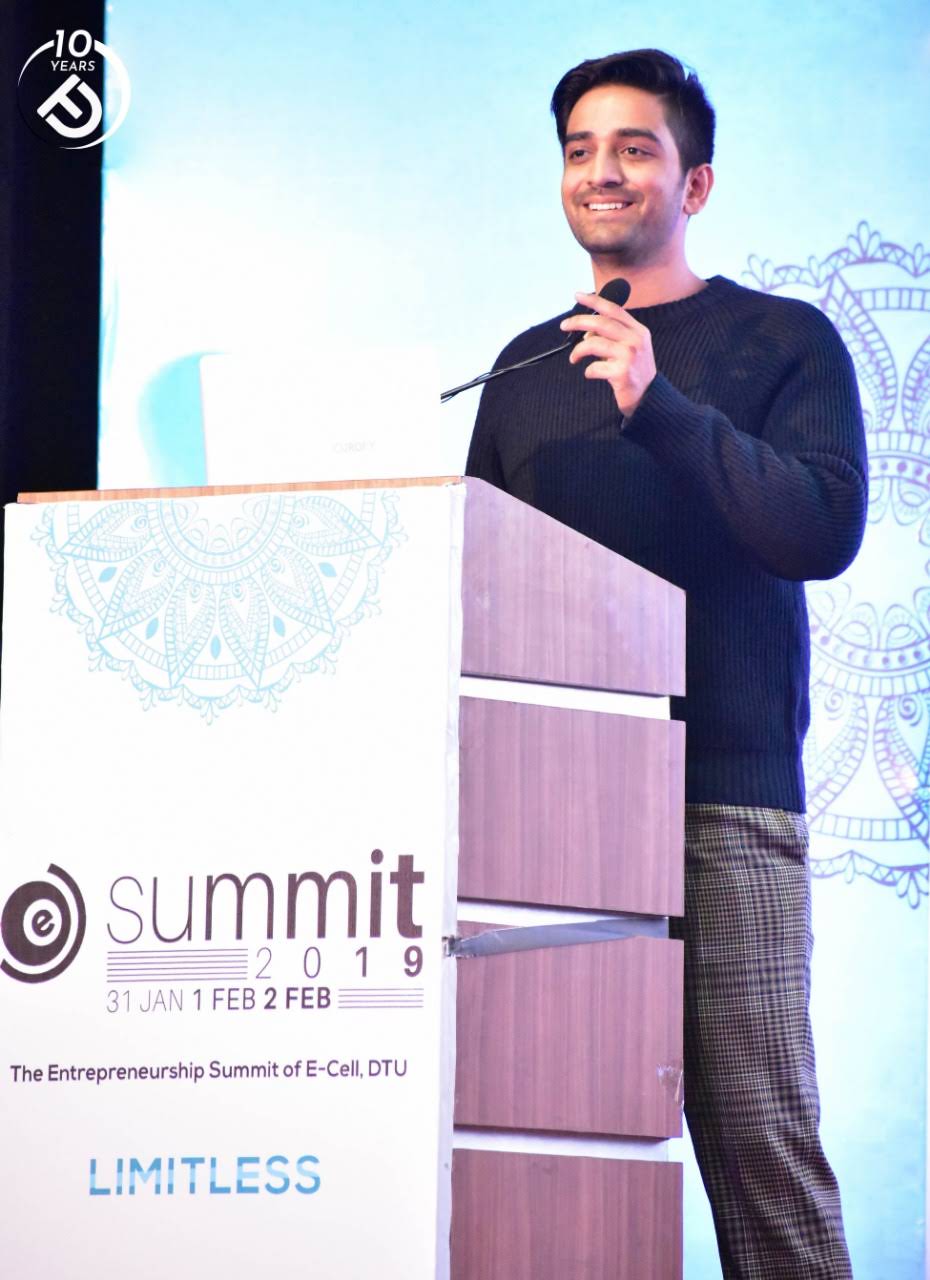 Thus, the main ideology for establishing Curofy was to remove all the hindrances in communication for the doctors. The app provided a single platform where medical practitioners across the globe could interact with each other and solve even the most typical cases.
THE STORY BEHIND THE CLOSED CURTAINS OF CUROFY
Curofy has now over 30 full time working members. But initially, it all started with three friends who wanted to bring something big and different for the world.
Read More: How the launch of Dror App is proving to be a breakthrough moment in women's safety
"One of us belonged to the family of doctors, so we shortlisted health care. Thereafter, we meet several doctors across different places, they were suggested to do medical tourism. That time, each of us had our jobs, but we had committed ourselves to this project. So, we kept working on the project for about 2 years. It was medical tourism venture, which was to bring patients from outside India because the facility was cheaper here. But, then we realized, this medical travel happens domestically as well, and not just on international levels." told Mr. Nipun Goyal, to CoFoundersTown.
He continued,
WE HAD NOW REALISED THAT DIGITAL COMMUNICATION FOR HEALTH CARE WAS BROKEN FOR US. AND THERE WAS ONE SIMPLE REASON TO IT THAT THE DOCTORS WERE NOT ONLINE. THEY HAD NO PLATFORM TO INTERACT WITH EACH OTHER. THIS CAUSED PATIENTS TO UNNECESSARILY TRAVEL ACROSS CITIES IN INDIA.
Thus, the three founding members of Curofy started to reach doctors and realized there was so much potential and technology to be used for innovation. All of this technology was untapped because the doctors had no contact with each other over an online or offline platform.
"There were so many things to make the life of patients easy, but there was nothing going on for making the lives of doctors easy. Doctors are the engine to the whole train of health and care. It all started with a small project, but later took a turn towards something much bigger and important," said Mr. Goyal.
CUROFY: CURING TYPICAL CASES WITH THE HELP OF DOCTORS AND MEDICAL SPECIALIST ACROSS THE GLOBE
It started as a directory but very soon turned into the largest platform for doctors to discuss difficult cases. Curofy solves the problem for doctors who need consultation from the specialist, but could not earlier due to area restrictions. It removes all the geographical boundaries and restrictions of knowledge to solve any particular case.
Read More: By connecting travelers to senders and receivers, CarryMates is rejuvenating Courier & Logistics industry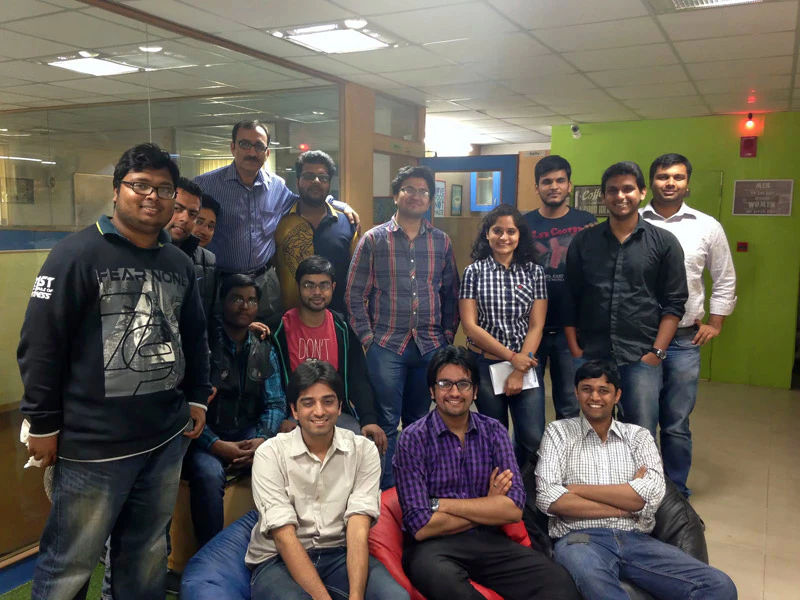 Curofy was started with an idea to ensure that no patient is left untreated because of a symptom which was omitted by a doctor. Most difficult cases are discussed with various experts and specialist of all the nations. The mission for Curofy remains simple, 'To fix the broken healthcare system and making doctors lives easier so that they can deliver the best patients care.'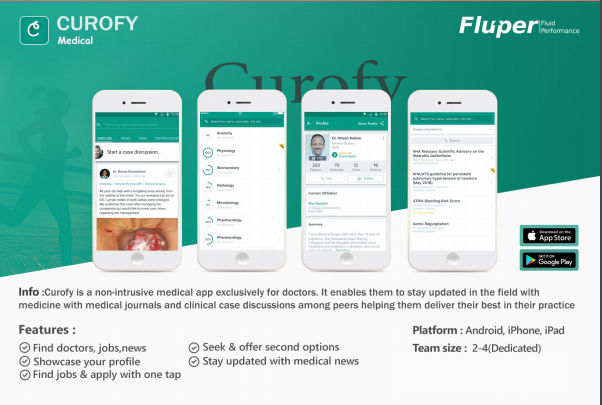 HOW DOES CUROFY FUNDS THE INITIATIVE OF HELPING DOCTORS?
Curofy raised its initial funding from a reality show. The company later attracted various investors attention throughout the journey. Investors, not only from India but across the world were interested in the major initiative taken by Curofy. The major investors involved were from the US. With the unique attribute of the online platform, Curofy definitely stole the limelight for the investors.
"Every case that is discussed on our platform is a life being saved."- Mr. Nipun Goyal, co-founder, Curofy
THE 5-YEAR CUROFY JOURNEY
It's been 5 years since the company hit the market. One of the founding members, Mr. Nipun Goyal told us all about it.
"We had a rough time when we started, but because we were 3 members, it got easier to carry the burden. The people who worked with us supported us throughout. The teamwork and dedication the members showed really pulled us through our toughest times. Having a culture of friendship and a healthy relationship between the different employees of the company was really supporting."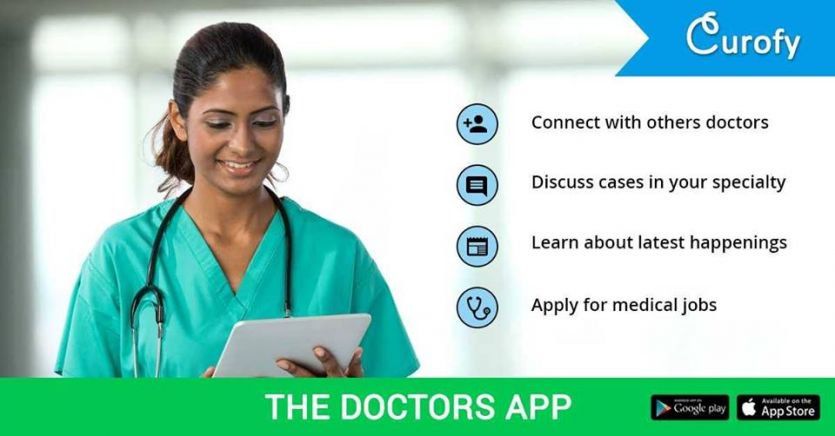 THE INITIAL CHALLENGE TURNED INTO THE MOST POSITIVE THING FOR US, SAYS NIPUN GOYAL: A MESSAGE FROM THE ENTREPRENEURS SAVING LIVES
"We were projecting to innovate something that might help doctors and for that, we had to talk to the doctors. Initially, it was difficult to do so, because it was difficult for doctors to entertain people, as they had their busy schedules. But today, that challenge is becoming a big value proposition for us, As it was difficult to reach out to doctors, it opened a large possibility for us. Slowly, doctors started talking in their circles about our app. Once we got a critical mark, we started focusing on digital marketing as well, " said Nipun Goyal.
PEOPLE SHOULD LOOK FOR PROBLEMS THAT ARE MEANINGFUL AND START WORKING ON THEM. WHEN YOU SAY IDEA, IT IS ACTUALLY A SOLUTION TO A MEANINGFUL PROBLEM. WHENEVER YOU GENERATE AN IDEA, IT'S BASICALLY SOLVING A PROBLEM, YOU WILL FIND PEOPLE TO SUPPORT YOU. SO, WORK PERSISTENTLY ON IT, YOU WILL SUCCEED.
– MR GOYAL, AS HIS MESSAGE TO THE BUDDING ENTREPRENEURS OF THE NATION.
---
Ideas are easy, Implementation is Hard, learn from the ones who knows how to start. A Publication by Tealfeed.
--- ---
Related Articles