How is Coronavirus (Covid-19) affecting the SEO Industry?
COVID-19 has had a definite impact on the world.
COVID-19 has had a definite impact on the world. It has damaged and crippled large numbers of industries, it has significantly changed the way in which many businesses work, and it is a challenge to think about an area of life which has not been almost permanently altered by this global pandemic.
Search engine optimisation, or SEO, is one of the many industries which has been affected by COVID-19. However, the actual extent to which the virus has changed the SEO industry remains unclear to many businesses.
In order to try and alleviate some of this unawareness, we have attempted to examine just how deeply the SEO industry has had to change in order to cope with the outbreak of coronavirus.
COVID-19: Monopolising the Internet
Let's begin by taking a look at the impact of COVID-19 on SEO as a general evaluation. Obviously, as is the case when any organisation or pandemic or event becomes the topic of news, traffic surrounding them will understandably creep up. Search engines will have a massive influx of people looking for information.
However, it's never quite been to the same scale is the coronavirus. What you have to understand is that this is something which is affecting the entire world. It's a global pandemic.
There are no guarantees that anybody will survive the following contact with a virus, exposure to it, and dealing with it. So there are people all across the world, from all walks of life, all ages, races, gender, sexuality, religions, all searching for information about this virus.
Consequently, this means that search engines have exploded with an outpouring of terms relating to COVID-19 and the coronavirus. As both are treated as different entities, there is double the amount of traffic looking for the same information, but simply doing so via a different word.
Selective Searching
In terms of how the SEO industry manages to function during and after the period of COVID-19, we have to look at the way in which the coronavirus influenced searching as a general concept.
You have to understand, entire businesses and companies were now shifting to become more coronavirus friendly. They wanted to advertise the fact that they were actively trying to combat the spread of the virus, but they are protecting people, and that the services they were offering were now customised to suit coronavirus.
Your entire business was now judged based on your relevance to COVID-19. If you were a company that sold hygiene products, then this was now tied directly to the coronavirus.
If you were a company offering services, it would be how you could offer those remotely, what their relevance to COVID-19 actually was. Everything that you did as a business would now be determined by how effectively you contribute to the situation as a whole.
Consequently, what this meant was that businesses started to think about how they could adapt their services to be more contributory towards dealing with coronavirus outbreaks.
So for example, those who offered personal hygiene products or cleanliness products for industrial premises were now much more geared towards public-friendly services. They now wanted to tap into that bigger market, which is the general public, all of whom were looking for ways to shield themselves from the virus.
Organic Searching
The way in which organic searching began to take place would now start to change for every business. It was not uncommon to see a lot of keywords and terms used purely for search engine optimization now be altered to include coronavirus or COVID-19 in them.
For example, let's pretend for a moment that a company selling cleaning supplies was still providing services during the outbreak. This company would now have to think about how their services could be tailored to benefit the immediate issues being brought up by Corona.
So for example, their services may include "cleaning services for coronavirus outbreaks" as a key term. It was this organic searching which businesses were trying to tap into, trying to divert all of the available traffic that was occurring into their websites where they can effectively market their services to people who needed them.
Industry-Specific Impacts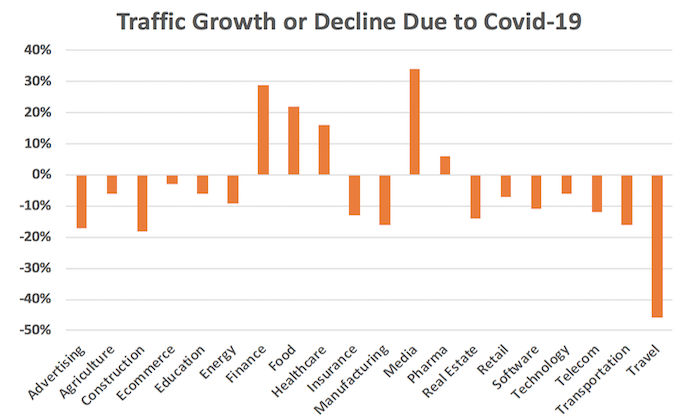 Image thanks to neilpatel.com
What was most interesting to take a look at when it came to search engine optimisation was how the coronavirus outbreak had changed the way specific industries were viewed by the public.
It was not uncommon to see different rises and falls in terms of the amount of organic search and depending on what type of industry you were based on.
To list an example, if you are a company which sells very specific commercial products, then you would usually expect to see your organic searches drop because there was no longer a demand for your services.
Contrastingly, companies which offer personal protective equipment for businesses, or organic health foods, for example, saw a rapid increase in the amount of organic searching that was done for services like them.
The way in which services would benefit and be affected by the outbreak would be entirely contextualised by their relevance to the outbreak itself.
Those industries which did not offer anything towards dealing with COVID-19, be that avoiding exposure to it or protecting services or properties from it would not get the same level of organic searches as companies and industries which could.
Organic whole foods, famous for their natural health benefits, quickly became a massive source of comfort for people who thought that by eating healthily, they could stave off the effects of a virus.
How Can Companies Protect Against Negative SEO Impacts?
So, as a business, how could you protect against the impacts of your industry being negatively affected by the COVID-19 outbreak?
Thankfully, there are many ways in which a business can take the appropriate steps required to protect themselves from the impacts of COVID-19. This will involve changing the way that you look at SEO.
The first thing that you're going to want to do is think about getting all of the content on your website rewritten to contain terms which are more friendly to the current climate.
Basically, what you will need to think about doing is including the words COVID-19 and coronavirus in some of the services that you provide.
Examples of this can include services which are conveniently stylised for COVID-19, with an emphasis on just how vital they are during this period of uncertainty.
So, for example, if you were a business which specialises in delivering marketing campaigns to clients, you could talk about how in the "middle of the coronavirus outbreak". your team will step up and provide crucial services.
It's all about how you manage to tailor your website to keep up with the current demands. The Coronavirus does make things a little bit different, and it's often the case that when it comes to your website and the way that you advertise your services to the world, that you are on the ball and ready to provide the best possible options.
Another critical example that a lot of people will need to think about doing is making sure that they make the most of the content that you offer. A lot of people have a blog. It's like a way for you to connect with your audience. But unless you do it right, it'll be a wasted source of potential.
Let's be honest — businesses like to talk about their products. But that's not what customers want to hear about right now — they want information about the crisis, and things connected to the crisis. It's the most important topic of conversation for them.
Unfortunately, this isn't how things are going to be right now. You're going to want to make sure that when it comes to the type of content you produce, you are actively seeking to connect with the audience based on what they want to hear.
More often than not, this will involve talking about Corona, and making sure that you understand exactly how it's spreading, the situation at a glance, and, where applicable, how your products are successfully assisting with tackling the crisis.
Digital SEO — A Rising Star?
Another issue which a lot of people are running into is the fact that conventional SEO may not be the same again.
Digital search engine optimisation may not be the way forward, as the conventional brick and mortar stores that we run may be rendered obsolete at the end of the crisis. It's impossible for us to know exactly how COVID-19 will have an impact on things, but at the moment, there is no need for any physical locations.
If you are going to successfully connect with an audience, then you need to think about how this will appeal to the broader public. You have to kind of keep one eye on the future here, looking towards search engine optimization trends in order to predict how your website will need to be. COVID-19 will change the landscape for SEO, and there is no doubt about this.
In absolute truth, the shift towards digital search engine optimization is probably going to be the dominant trend for the future, especially as we move towards a post COVID world.
Governments and world leaders have been talking for quite some time about how life may never be the same after the outbreak has been dealt with, and this is true no matter who you are. You may never have the same level of search engine optimization that you previously did, so you may have to reconsider your entire strategy for ranking highly on sites like Google.
It is worth taking a look at the digital SEO side of things right now. The effects are already being felt across the industry, and so no matter what type of business you run, you're going to have to think about this.
It is absolutely essential that you consider the permanent effects of SCO. A digital trend may now be the dominant way in which businesses rank, because the majority of people may simply stay inside from now on.
You're always going to find those who are changed by the crisis irrevocably, and so they will stay indoors out of the way of everybody else. The way that they use the Internet, and the types of searches that they make, will be different to everybody else
Closing Thoughts
COVID-19 has definitely left an impact on the world at large. There is no denying that entire industries have been changed permanently as a result of what's going on. Whether you are in an industry which has felt the effects more prominently or not, you have to compensate for the fact that search engine optimisation is now a completely different beast.
For the time being, things will be tied to their relevance to the coronavirus outbreak. Those companies that can provide services which are actively beneficial in the wake of this outbreak will be the ones to have the best traffic and organic searches.
Whether this means that entire businesses will have to rethink their search engine optimisation strategies or not is unclear as of yet, but it is important to be cautious about how you move forward.
You have to try and understand how the industry is progressing as a result of this outbreak. Things will be different now, both in the way that people search organically and in the way the optimisation will take place.
It will definitely be interesting to see how we all move forward in a post coronavirus world. Obviously, you have to understand that when it comes to optimisation, it was already an ever-changing notion anyway. Search engine optimization grows and develops over time, but this is such a radical change in such a short period.
A lot of businesses would be wise to consult with professional services in order to better understand the situation, and to see what they can do personally to make sure that that organisation continues to prosper regardless of the challenges brought about by COVID-19.
This article was originally published by Jon Goodey on medium.
---
--- ---
Related Articles