Coronavirus: Leaving Thousands of Airplanes to Die
It's no secret that the COVID-19 pandemic has devastated aviation to a degree never seen before
It's no secret that the COVID-19 pandemic has devastated aviation to a degree never seen before. Air travel fell by 95% in the United States, and the rest of the world has suffered similar hits.
With demand falling massively below what it used to be and supply remaining relatively the same, the difference between the two can be measured in terms of excess workers, excess flights, and excess aircraft.
In this case, tens of thousands of excess aircraft, or more than 60% of all commercial jets worldwide.
Airlines have already slashed their schedules to match the reduced demand for air travel, leaving as many as hundreds of aircraft per airline without any scheduled flights.
Even the aircraft that are still kept in service are flying significantly less, partially because airlines are intentionally using more aircraft than what is necessary to operate their barebones networks of flights.
By using more than the minimum number of aircraft required, airlines can keep more aircraft airworthy and up-to-date from a maintenance perspective whereas if these aircraft were kept grounded, they would be forced to undergo lengthy maintenance evaluations before they were allowed to fly again.
Still, not all aircraft can be cycled into the airlines' flight networks and must be parked indefinitely instead.
It may seem relatively easy to park an aircraft, but what goes on behind the scenes is a logistical masterpiece, a process that begins before the aircraft is even parked, and won't finish until it's flying again.
The process begins when airlines decide where to park their aircraft. Many may wonder why parked aircraft can't simply be left at an airport gate; after all, travel demand is low enough that these gates won't all be needed, right?
In some cases, this is exactly what happens. Some parked aircraft are kept at gates, but there aren't enough gates to go around.
After there's no more room at the gates, the next available location is open space on the airport ramp. When ramp space runs out, even runways can be used to park aircraft.
Airports with multiple runways, like Atlanta's Hartsfield-Jackson International Airport, can be seen with entire runways full of parked aircraft, owing to the fact that these runways are no longer required for operations due to the reduction in flights.
If an aircraft cannot be parked at one of the operator's hub airports or the operator simply doesn't want it to be parked there, the airline must look for other airports to park its aircraft.
The best candidates are airports that receive little or no commercial service, leaving plenty of room to park potentially hundreds of aircraft, while also being located in a hot and dry climate, which helps to prevent corrosion while the aircraft are parked.
Delta Air Lines chose Victorville Southern California Logistics Airport, a site that meets all these criteria, as a location to park hundreds of excess aircraft.
Victorville already functions as an "aircraft boneyard" where old planes are parked, some of which may see a new spell of service under a different operator while others will be parted out and scrapped.
Victorville is an especially ideal site for temporarily storing aircraft due to the specialized maintenance facilities and services located on-site, services that are especially important for keeping parked aircraft airworthy and damage-free.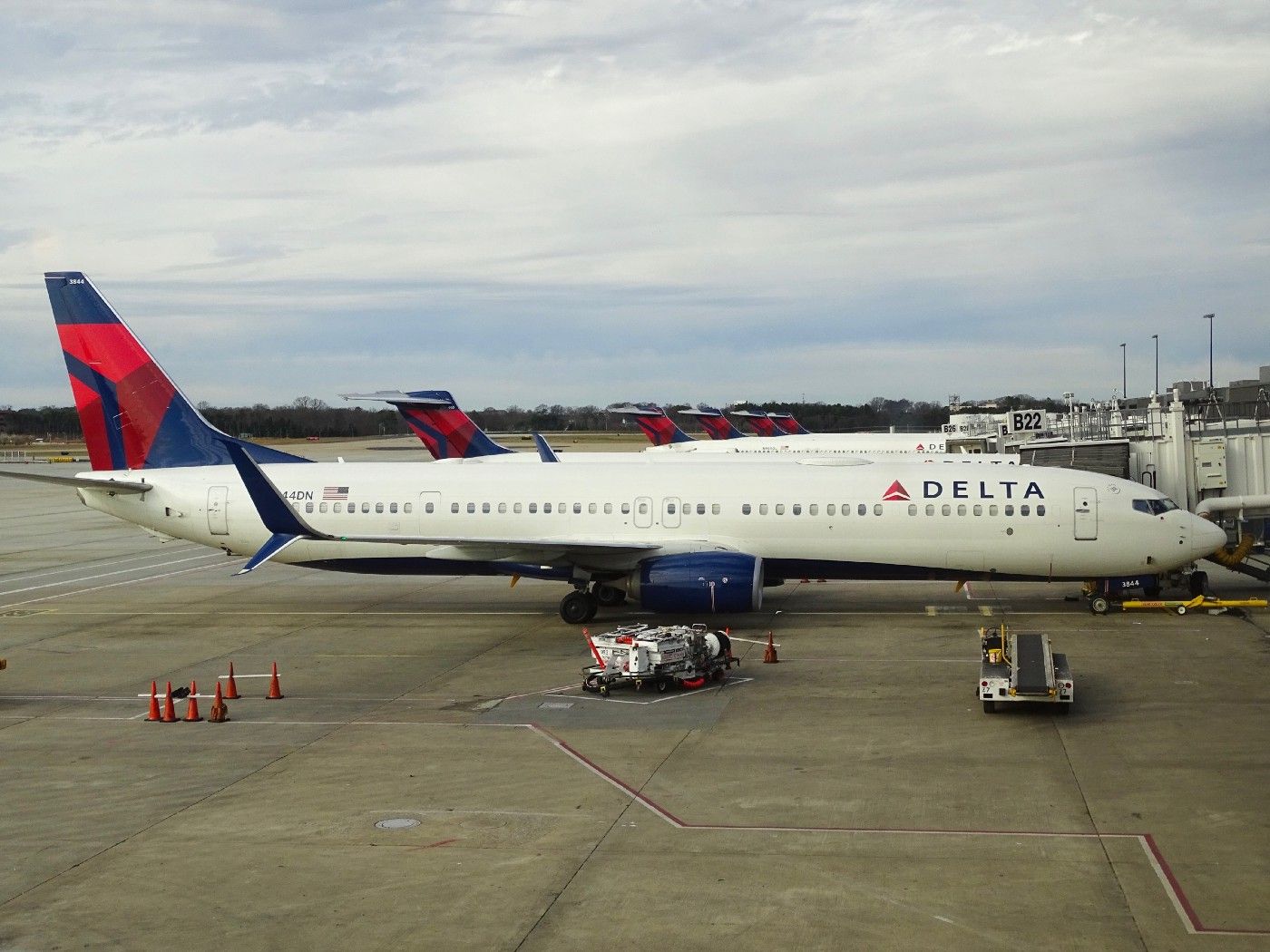 Delta Air Lines has parked hundreds of aircraft, including this Boeing 737–900ER, wherever they could find empty space. Photo by Miguel Ángel Sanz on Unsplash
Once it has been decided where an aircraft will be parked, the aircraft is flown to the location just like any other flight, only there are no passengers and minimal crew members on board.
After it arrives there, the aircraft will be parked in very close proximity to aircraft of the same type in order to maximize available space.
On narrower surfaces such as runways, aircraft will often be parked at a slight angle in order to fit two rows of aircraft on a single runway, because runways are typically too narrow to hold two rows of aircraft if the aircraft are parked in straight lines due to their large wingspan.
All parked aircraft will typically be left with fuel in their tanks in order to keep them balanced and firmly planted on the ground, a step that is especially important because winds can sometimes be strong enough to push aircraft slightly off their parking positions.
The engines and sensors of the parked aircraft will then be covered by a protective material to keep out sand, dirt, and other contaminants. Some airlines may opt to cover cockpit windows and even passenger windows with protective material, but this action is typically reserved for aircraft that will be stored for years on end.
Even while the aircraft are stored, they require maintenance checks before they can fly again to make sure all critical systems are still operating correctly.
According to Boeing, "Because of airplane system inactivity and the lack of regular maintenance checks during parking, the following may also occur: component mechanisms may lose lubrication, batteries may discharge, contamination of potable water systems or fuel tanks may occur, and some systems or components (such as oxygen cylinders, tires, hydraulic systems, and landing gear shock struts) may lose pressure."
These are just some of the potential issues that may arise when an airplane is left inactive for an extended period of time.
Detailed maintenance checks must be performed as the aircraft sits to prevent them from occurring, followed by several other procedures and evaluations before the aircraft reenters service to ensure no issues were missed and to fix problems if any are found.
After all these checks have been performed, the aircraft can finally return to service…or maybe not.
Even once aircraft begin reentering service, they won't all take to the skies at the same time. International travel has suffered far more than domestic travel, meaning aircraft that typically fly international routes will see longer spells on the ground.
As demand for air travel returns, short-haul aircraft like the Airbus A320 and Boeing 737 will see plenty of use, especially on domestic routes, but also on some international routes in certain regions where many international flights are short enough to be flown by these relatively small aircraft.
On the other end of the scale, it will take much longer to reintroduce long-haul aircraft because they require a very large amount of paying passengers on board in order to fly profitably.
The Airbus A380, configured by most airlines to carry between 500 and 600 passengers, is sitting grounded worldwide despite nearly 250 of the massive aircraft having been built.
In recent weeks, the number of A380s in the air at any given time has fluctuated between zero and two, with nearly all of these flights being operated by a single carrier: China Southern Airlines.
It is almost a certainty that China Southern is operating these aircraft at a loss if they are carrying passengers, but it is also known that a fair portion of their recent A380 flights have been cargo-only.
It is these massive four-engined aircraft like the A380 and the 350–400 seat Boeing 747 that are having their lifespans cut short by the COVID-19 pandemic more than any other aircraft; Europe will lose 46% of its A380 fleet and the Middle East will likely see similar losses as UAE based carrier Emirates is expected to retire many A380s as well.
Announcements have yet to be made regarding early retirement of the Boeing 747, but these announcements can be expected given that the 747–400 is old; the final passenger 747–400 aircraft was built in 2005, and Boeing already offers replacements for the aging, inefficient aircraft through the 777–300ER, 747–8, and 777X types.
Unfortunately, due to the inefficiency of flying a four-engined aircraft (often with many empty seats) instead of flying one or more fully booked twin-engined aircraft, A380s and 747s just don't fit into our skies the way they used to.
With the retirement of these types already on the horizon and with demand for air travel taking months or years to return to something comparable with what it used to be, it's simply more economical to retire these old jets than to operate them at a loss for an unknown duration.
So, what happens to all these retired aircraft?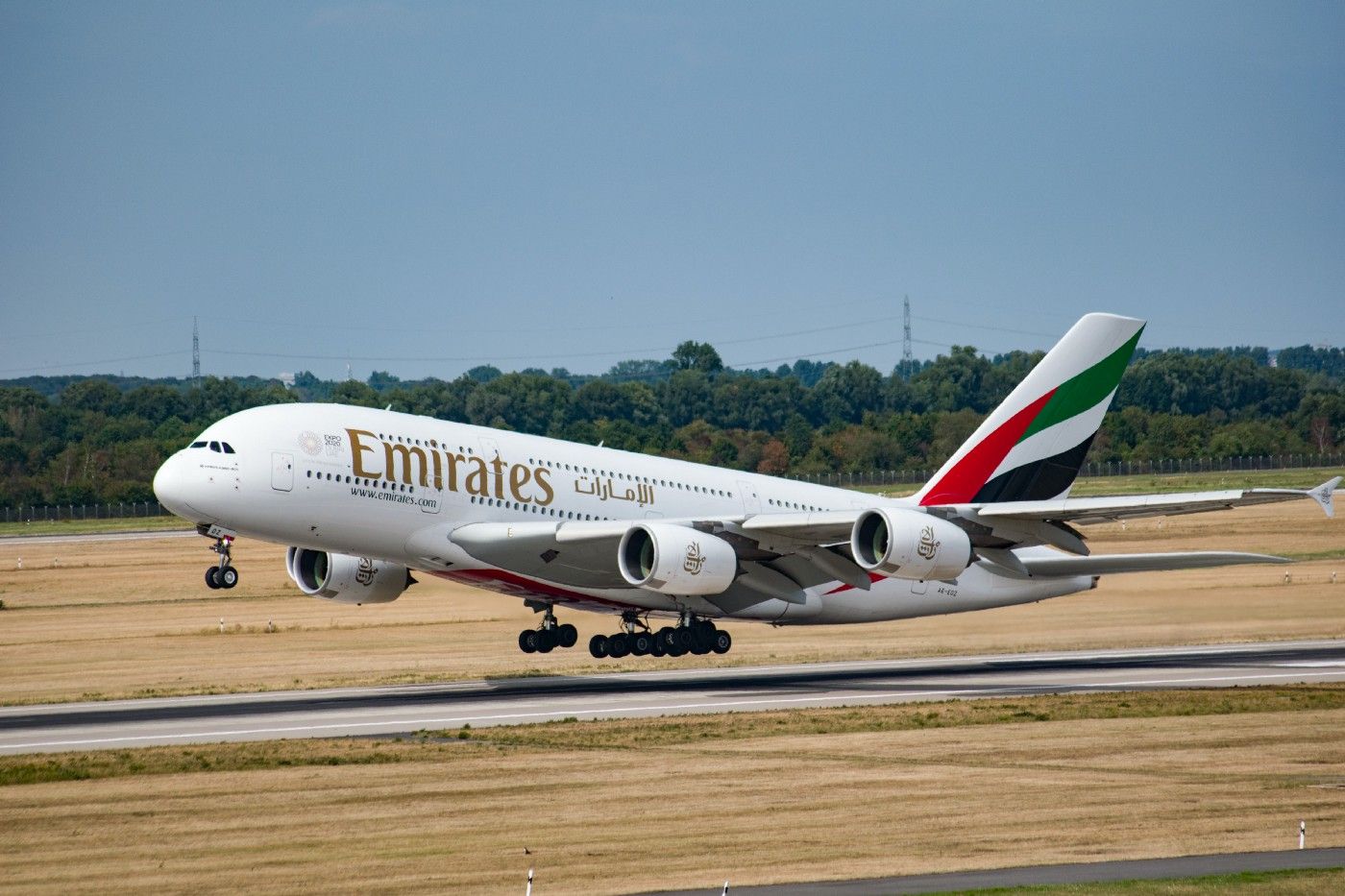 The Airbus A380 has been hit much harder than other aircraft due to the limited number of routes it can operate economically. Photo by Tim Dennert on Unsplash
In a typical situation, a retired aircraft would be saved from immediate scrapping to allow airlines to get the most value out of it, usually by "cannibalizing" the aircraft, or taking spare parts from it to support the rest of the fleet.
However, the scale of the COVID-19 pandemic is so great that rather than simply retiring a few aircraft, airlines are retiring their entire fleets of certain aircraft types. American Airlines announced it would be parking all 80 of its Boeing 757, 767, Airbus A330, and Embraer E190 aircraft, none of which would be returning to service with the airline.
In this case, cannibalizing these aircraft for parts does not benefit the airline, so they are left with two choices: have the aircraft salvaged for parts to support the fleets of other airlines and then scrapped after all valuable parts are removed, or attempt to find a new owner for the aircraft.
The former is typically easier to arrange but is much less profitable because a working aircraft, even an old and inefficient one, is almost always more valuable than just the parts from the aircraft.
The latter is often difficult to arrange because prospective buyers are becoming less and less interested in old aircraft due to new technological developments that mean buying a newer, more fuel-efficient aircraft is generally more economical than buying an older aircraft at a bargain price.
It is easier to find a buyer for a smaller aircraft such as the 100-seat Embraer E190 because it can be used for shorter routes with lower demand, just the kind of routes that a new or low-cost carrier (the most common buyers for these smaller old aircraft) would be flying.
In today's market, the only companies that would typically be interested in an old widebody aircraft such as the 200+ seat Boeing 767 are those in the cargo industry.
This business strategy can easily be seen through the fleets of FedEx and UPS, two cargo-only airlines that both use older aircraft such as the Boeing 757 (production ceased in 2004) and the McDonnell Douglas MD-11 (production ceased in 2000) because they were able to purchase them secondhand for bargain prices.
For American Airlines and their 767s, finding a buyer through a cargo company is just what happened. Flight-tracking service Flightradar24 showed the beginning of the process as an American Airlines 767–300ER was flown to Tel Aviv, Israel for conversion from a passenger configuration to a cargo configuration by Bedek Aviation Group, after which the aircraft will be redesignated as a 767–300ER(BDSF) or Bedek Special Freighter.
As for aircraft that are not supported by these conversion processes, airlines must hope they can find a buyer for at least some of these aircraft, or else they will inevitably be parted out and scrapped.
---
Created by
Johnnie Norsworthy
--- ---
Related Articles