Create Your Best Content With Your Audience In Mind
Ideally, those on social media want to maximize the potential of every piece of content they create to get the best return on their investments.
Perfect strategic alignment brings big smiles all the way around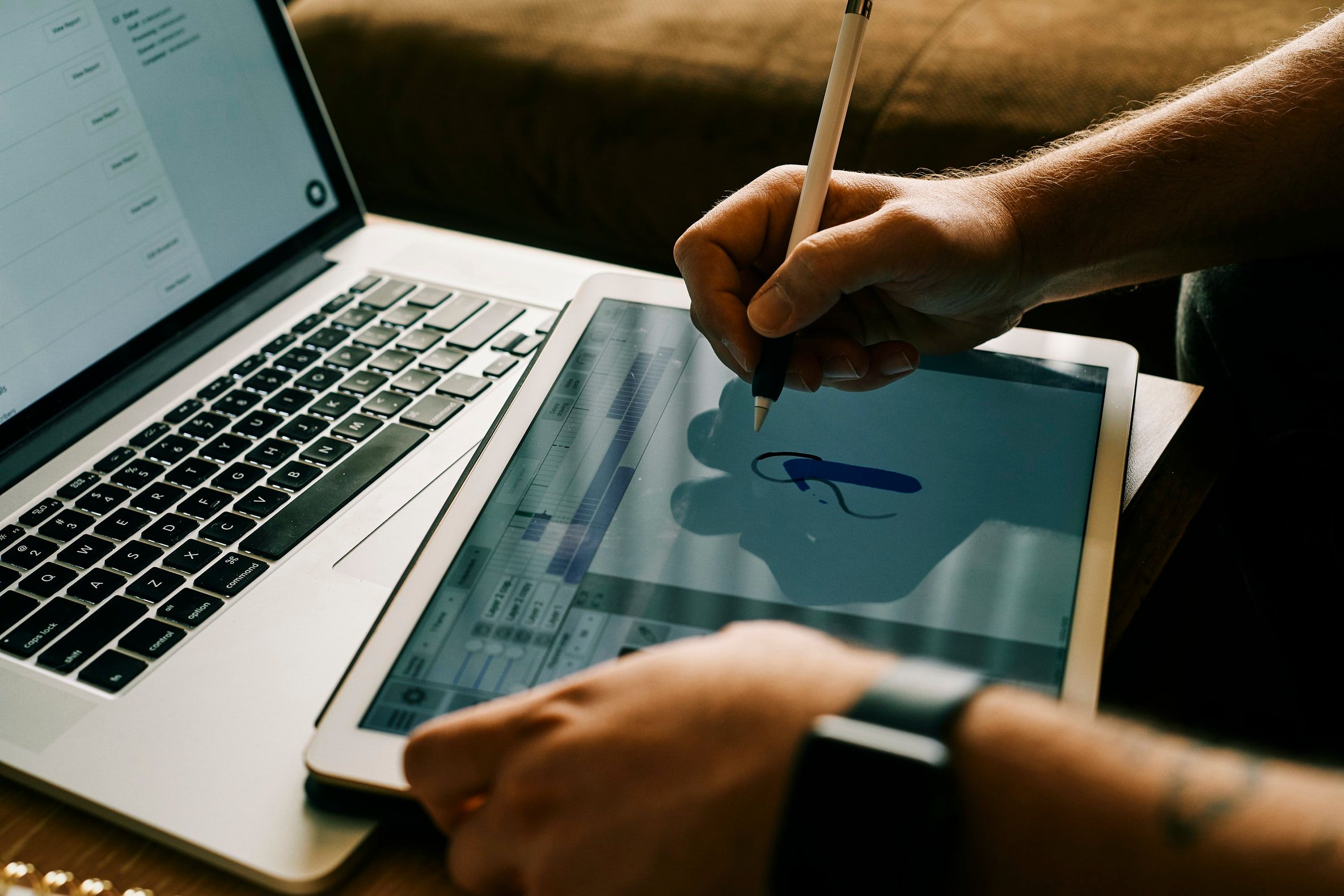 Ideally, those on social media want to maximize the potential of every piece of content they create to get the best return from their efforts. Creators who succeed know their objective.
"Keeping your target audience at the center of everything is extremely important when it comes to content creation," said Melanie Namulwany Hapisu.
She has extensive knowledge in this area. Being a digital marketer, Namulwany Hapisu is also an advertiser, strategist and trainer. Her drive for content creation arises from personal engagements.
Great Customer Experience Begins With a Quick and Easy Smile
Success comes with the right blend of humanity and technologymedium.datadriveninvestor.com
"I see the smiles on my clients' faces after I create content that aligns with the strategy they had in mind," she said.
"Then there's the impact the content has on the audience," Namulwany Hapisu said. "The target audience takes a certain action or even engages with the content."
During an Africa Tweet Chat, she talked in depth about why creating content is so important for a brand.
In short, a brand needs content to talk about itself and be in control of its message.
"Content answers your audience's questions," Namulwany Hapisu said. "Through awareness, you make them know more about your brand and what you do.
"Its content helps a brand build trust and develop relationships with customers," she said. "That will lead to increased conversions and lead generation."
Responsive to Questions
Namulwany Hapisu cited an Instagram brand that creatively answered its customers' frequently asked questions.
She added that content creation is the result of several processes:
Identifying a theme or topic your brand would like to talk about.

Deciding the best platform to deliver the message such as on social media, via email or an article.

Deciding the best way to deliver the message. If on Instagram, you can use Reels, Stories or others.

Producing the content.

Distributing the content on various platforms.
Organic growth fuels the wealth on social media
Knowing you audience will strengthen mutual attractionmedium.datadriveninvestor.com
Your content should reflect who you are. Then it should speak to how you can address your audience's pain points.
Namulwany Hapisu recommends taking these into consideration:
Who

are you creating this content for? Your target audience

What

type of content appeals to them? Video, articles, pictures

Where

can you find them online? Helps you know what content to create for which platform

Why

should your target audience pay attention to your content? Do you make them stop scrolling?

How

much information do you need to communicate? To help you know the best platform to use
"For example, when it comes to minimizing the information you need to communicate, you can make use of carousel posts," Namulwany Hapisu said, citing one she did for a client.
She also wrote an article that dives deeper into her recommendations.
Content With a Theme
You can create content across the audiovisual spectrum. Tell your story in words, pictures, sound and video.
"Use content themes," Namulwany Hapisu said. "How do you come up with a theme? Simply ask yourself what type of information your customers would want to know from you.
"If I owned a bank, some of the things people would want to know are the different types of accounts the bank has, branches, process of applying for loans and so on," she said. "From here you have a good guide to create conversations around this topic."
Take a Fresh Look at Treasures From Your Past
Repurposed content keeps your brand in everyone's eyesmedium.datadriveninvestor.com
Regardless of niche or topic, writer's block is real. This might be a time to revive golden oldies.
"Repurpose existing content," Namulwany Hapisu said. "This basically involves changing the format of your content from one type of content to another — from a blog to a social media post or a video to a podcast.
"Many people do not use repurposing of content from an existing website," she said, noting that they should.
Different types of content can increase engagement.
"It depends on what works best for your target audience based on research or based on the experimentation you have done," Namulwany Hapisu said. "It could be dependent on the platform you are using."
This visual shows several options for content.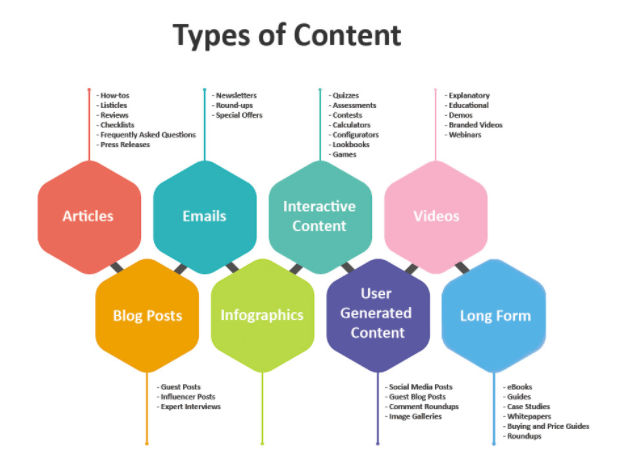 Creative Tools
One of the most important and convenient content creation tools is your cell phone. With a little knowledge you can start to create for your audience. Namulwany Hapisu added specific suggestions for tools:
For design work:

Canva

For hashtag analysis:

Hashtagify

For podcasts:

Anchor

For exploring trending topics: Google Trends

For analyzing headlines for articles:

CoSchedule
Kind Thoughts and Value Attract More People on Social Media
Saying something meaningful helps others to engage with youmedium.datadriveninvestor.com
To know if your content is working, look to comments, likes and shares to know if what you produce is reaching your audience. The goal is increased sales for return on investment.
Namulwany Hapisu uses these metrics:
Increased action from customers based on the brand's call to action

Engagement including likes, comments and shares

Inquiries via direct message

Website visits
"You need to track your content against your digital marketing goals, which you develop when you are coming up with a strategy," Namulwany Hapisu said.
A sample report shows how consumers engage with the client's content.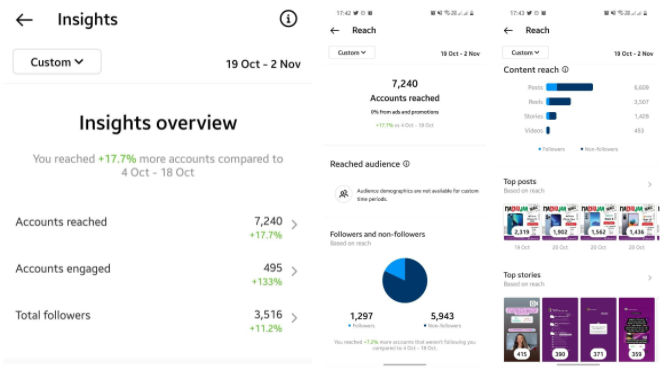 To stay relevant with the ever-changing creative process, look into industry developments to build on. Don't get bogged down with technology that takes your eyes off the prize.
"Research. Research. Research," Namulwany Hapisu said. "Stay updated with the blogs that talk about content creation using HubSpot and Hootsuite. Learn from other people's content.
"Follow people who talk about content creation and more online such as Janet Machuka, Elvis Mvoi and Barrack Onyango," she said. "Be a part of a tweet chat to stay updated on topics like content creation."
In a podcast, Namulwany Hapisu talks about how a brand can leverage content marketing to grow business.
About The Author
Jim Katzaman is a manager at Largo Financial Services and worked in public affairs for the Air Force and federal government. You can connect with him on Twitter, Facebook and LinkedIn.
---
Created by
James L Katzaman
Jim Katzaman is a charter member of the Tealfeed Creators' program, focusing on marketing and its benefits for companies and consumers. Connect with him on Twitter, Facebook and LinkedIn as well as subscribing here on Tealfeed.
--- ---
Related Articles