How to create NFT assets for the Metaverse?
How to create NFT assets for the Metaverse?
---
poojanegi
10 months ago
|
4 min read
---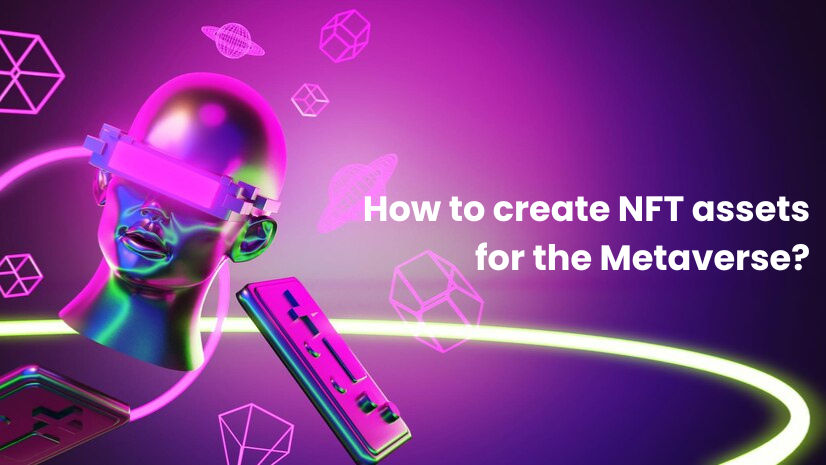 Non-fungible tokens, also known as NFTs, have taken the world by storm. We are already in the Metaverse in many ways. We expect faster internet speeds and greater access to more places around the globe via consumer devices. We are not yet able to create the 3D virtual environment that science fiction movies have been referring to. NFTs are digital assets that reside on the blockchain. A digital file is a digital asset that can be used to store any information. A digital asset that is online can be considered value if someone pays a price. Imagine the many ways we can program the NFT to perform certain functions over the internet.
Many people claim that the internet can replicate the physical world using blockchain technology. It can also be enhanced with digital artificial intelligence. This is affordable and easily accessible for all internet users around the globe. This includes the internet of everything revolution to program the machine universe. Interoperable standards that are reflected in real-time smart data on the chain unlock new business models. Now is the best time to create blockchain-based services and tools. As Web 3.0 grows around the globe, we will see an influx in talent and capital move to this new world.
It is time to search for NFT assets in the metaverse. Now is the time for NFTs to be expanded.
Virtual Land
We all know that land is an enabler for the physical economy to create generational wealth. The metaverse economy's land sales are also on a steady track. There are many reasons virtual Land allows everyone to own land. Blockchain technology has the advantage of allowing ownership records to be immutable. This eliminates a major physical world limitation. The forgery or falsification of land ownership records is a major cause of many judicial cases. This is due to increasing prices and urbanization.
Every week, there are new metaverse projects. It is possible to make Virtual land NFTs part of your own metaverse economy. It has a lot of upside potential and is part of a metaverse community of landowners. There will be more people who own land in the metaverse than the physical world. It is much easier to create land on the blockchain than it is to fix it in the real world. Many people prefer to own utility assets, rather than for investment or entertainment. We need more tools and services.
NFT Lending, Renting and Dividends
Financial models are essential for the Metaverse economy in order to meet everyone's financial needs. These are opportunities that they wouldn't otherwise have discovered in the physical world. NFTs are assets with demonstrable utility and value. It can be used for the same purpose or another. Because blockchains can be interoperable, this is possible. One blockchain's NFTs could be used to access another blockchain's application.
In exchange for governance tokens, we can rent and loan NFTs. This smart contract uses your NFTs to generate passive income. This creates a new revenue stream that is not possible in the real world. This is due to restrictions on distribution and a lack of a decentralized database. This is what a blockchain can do to solve. The blockchain has logic at its core. It is both open and accessible to everyone at the same time. Everyone has the power to make positive changes.
Smart contracts allow artists to set the amount of royalties they want. This happens when your NFT is secondary sold on other blockchain platforms. Artists can now build their communities online for the first time in history. This is a deal of ownership. It is also completely free from any intermediaries and global in scope.
Play-to-Earn games
Professionals might believe that crypto and gaming are compatible. It is also the future of the internet. Now, the only thing left is to wait for the rest of the globe to get on board and set up blockchain bases. The world will be able to reach its potential audiences once this is done. This is the ideal world and the metaverse powered by NFTs.
We are in a battle between a portion of the gaming community that uses NFTs in Blockchain games. We are abstracting the obviousness and benefits of games that use NFTs and decentralized financing. This is to ensure that gameplay remains seamless. Games must find ways to accommodate decentralized finance in their gameplay.
Most likely, the gaming economy will be the most important and largest of all the metaverse economies. Because many applications will look and feel like games, this is why. Blockchains and cryptocurrencies will replicate the complexity of the real world. The financial system is also needed to create a parallel global economy. This intelligence layer provides the coordination necessary to manage the physical world.
Virtual Events and Social Networking
Social networking has changed how we view person-to-person communications. Since we started texting or talking more, or both, this has been changing. Social media has become a powerful tool for business networking. People all over the globe coordinate. Therefore, come together to build products, communities, or social identities.
Social networking in the Metaverse will be more complex and sophisticated. The Metaverse will enrich and enhance personal and professional communication. This is done to improve the quality of social interactions. Both the professional and personal worlds will be merged in many ways. This will mean that we will be more aware of the value of physical experiences and spend more time outdoors when they are available. Every passion will have an online presence thanks to NFTs or the metaverse.
We can see how they can make a difference. Let's work together for a better world. Let's work together for a decentralized society. To create an egalitarian world, a world where social media is at the forefront of everything must have many things. This vision is possible with blockchains, and there are many reasons to believe so.
Summary
A once-in-a-generation change in technology is currently underway. Early adopters assume the majority of the risk and reap the majority of the benefits. Similarly, you may start assembling an NFT library of metaverse assets right away!
Clarisco Solutions is an organization is a leading metaverse nft marketplace development company that assists businesses, brands, and artists in developing and launching their own Metaverse NFT marketplace.
---
--- ---
Related Articles