Custom, Off-the-shelf, or Hybrid ERP: Which Do You Need?
Should you choose custom ERP development for your business? Read here: types of ERP, risks and benefits of custom, off-the-shelf or hybrid solutions, and signs that your company needs custom ERP!
An enterprise resource planning (ERP) system is a life-changing tool that all companies should try. But with all the out-of-the-box ERP software, why would you be interested in custom ERP development? Spoiler alert: one reason is cost-effectiveness. Let's unpack this.
An enterprise resource planning system integrates different applications to automate various company branches and operations into a single database. An ERP system can manage the following:
Marketing
Human resources
Finances
Projects
Compliance monitoring
Business intelligence
Automated reporting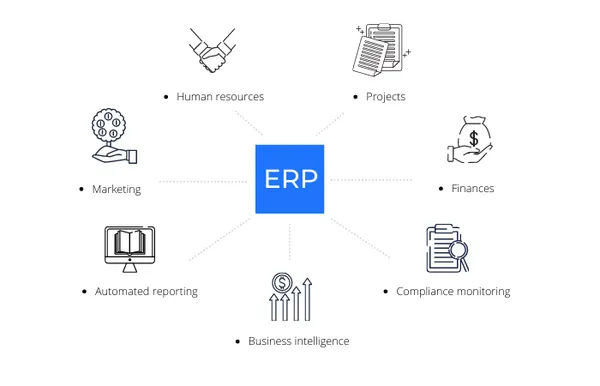 Many organizations have been quick to adopt ERP software due to its efficiency. By eliminating manual procedures and legacy applications from day-to-day work, companies can boost productivity, eradicate data duplication, and ensure an extra layer of data integrity. ERP systems also help businesses control their financial situations and their potential to invest assets into meeting new challenges. The 2018 ERP Report from Panorama Consulting Solutions states that 95% of interviewees saw improvements in a few or all of their business processes after integrating an ERP solution.
Types of ERP solutions

When deciding on which ERP to purchase, you can choose between three broad types:
#1 Fully customized software, also known as custom software. In this case, your chosen development team will build an exclusive ERP system from the ground up based on your requirements.
#2 Ready-made software, also called off-the-shelf software, is a pre-built ERP software package.
#3 Hybrid model. You can choose a hybrid option when you already have an existing ERP solution but wish to develop new modules.

To customize or not to customize
Let's think about it this way: Would you rather buy a TV dinner (which might be okay) or get a five-star chef to create the most enchanting dish with delicious ingredients of your choosing?
Fundamentally, the main differences between ERP solutions come down to users' demands and how complicated it is to integrate with your company's existing software. Custom-built ERP systems can be made with all of the features of your choosing. On the contrary, off-the-shelf ERPs are not easily adjustable. This often results in companies needing to rearrange their whole workflows to fit the software. You can imagine how frustrating the adoption process might be, as every business operates in a special way. The hybrid model involves customizing off-the-shelf software to a customer's specifications and can take advantage of current building blocks or no-code/low-code development environments to accelerate implementation. Each solution is effective and appropriate in its place and time. Hence, you should weigh all the pros and cons.
Custom ERP software
Benefits
#1 Cost-effectiveness
It's complicated for company leaders to decide which ERP to buy when considering pricing. You should keep in mind that the cost of ERP software should be evaluated over the long term. With a custom solution, there's a higher initial cost. However, after development, you'll hardly spend anything on the system. On the contrary, with a ready-made solution, you'll constantly be paying to use it. This makes custom solutions quite cost-effective over time.
If you're convinced that a custom system is what your business needs but you are hesitant due to the price, consider hiring an offshore ERP development company from Eastern Europe or Asia. Generally, developers in these regions have affordable rates and can build tailor-made ERP software for an attractive price. This way you'll get spectacular software without compromising on the quality.
#2 Control
When you develop a custom ERP, you become a product owner. You get to choose what features and instruments you want. The programming environment, software structure, languages, design — it's all up to you. Also, you're in full control of your employees' access to data. You can build a custom ERP step by step while conducting careful testing at every level. It's a smart way to spread your budget throughout development.
#3 Scalability
You can make your custom ERP system highly scalable and easy to integrate modules into. This way you can stay ahead of the competition in times of crisis or expansion and can save time and money. Your business can quickly and efficiently adapt to market changes. You can also easily move to another ERP system development company if your current company no longer fits your needs. And since custom ERP software is specifically tailored to the demands of your business, it will almost certainly provide you with increased revenue and a reliable user experience.
Moreover, as your company's demands increase, you'll have the agility to meet them with a custom ERP solution — for instance, by adding new functionalities whenever you want.
#4 Customization
A big plus of ERP customization is that developers can design a custom ERP around your business. During development, programmers concentrate on building an ERP system in accordance with what the company requires: what they want the ERP to do and the process it should follow to perform and facilitate operations. Each custom ERP system is made to match and automate a company's current processes and experiences. An ERP system development company will spend time getting to know your business better. The consequence is a steady workflow, as the custom ERP modules are tailored specifically for your enterprise's needs.
#5 Easy integration with third-party services
Off-she-shelf tools offer lots of integration options. However, you can't be certain that every third-party service can be added. By choosing custom development, you ensure that any additional tools which your business needs, will be integrated in the system.
#6 Support
Users of out-of-the-box solutions frequently complain about weak customer support. Unfortunately, even the best ERP companies have trouble with providing good quality support. Users detail situations where they would experience issues, and support workers could only provide scarce help or were not able to answer all of the questions. This is due to the company not being able to teach the support workers all of the intricacies of the ERP solutions that they offer. Thus, when users are having troubles with the system, they can't fully rely on the support. They have to search for and hire a skilled ERP consultant to resolve the issues. This often happens during the implementation phase, since the learning curve of ERP solutions can be high, which results in large unplanned expenses.
When you have your ERP custom-developed and implemented, the communication is much more efficient. You communicate directly with the people who built your system, know your company and business processes. Hence, any time an issue arises, the whole team starts working to resolve it and provides much better answers than support workers.
Risks
#1 Development time
Since ERP systems cover all of a company's work, they're large and complicated. Therefore, the development time might be extensive to achieve a high-quality end product. After the initial development stage is finished, continuous support is also required. Professionals advise planning development of an ERP system software in advance to guarantee an effortless launch.
However, you can gradually create a module per department and introduce a new ERP system into your workflow piece by piece. This is another way to develop software if you don't want to wait for the entire system to be finished.
#2 Cost uncertainty
It's quite an elaborate task to calculate the final price of a custom ERP because it depends on the intricacy of demands and the project's overall complexity. However, if you collaborate with an experienced software developer, they can help you establish an approximate budget with ease.
If you're a startup or a smaller business and your budget is limited, consider outsourcing your ERP development to programmers in Ukraine, Belarus, or India. They frequently offer lower prices than developers in North America and Western Europe and can guarantee an excellent product in the end.
Off-the-shelf ERP software
Benefits
#1 Good choice for certain companies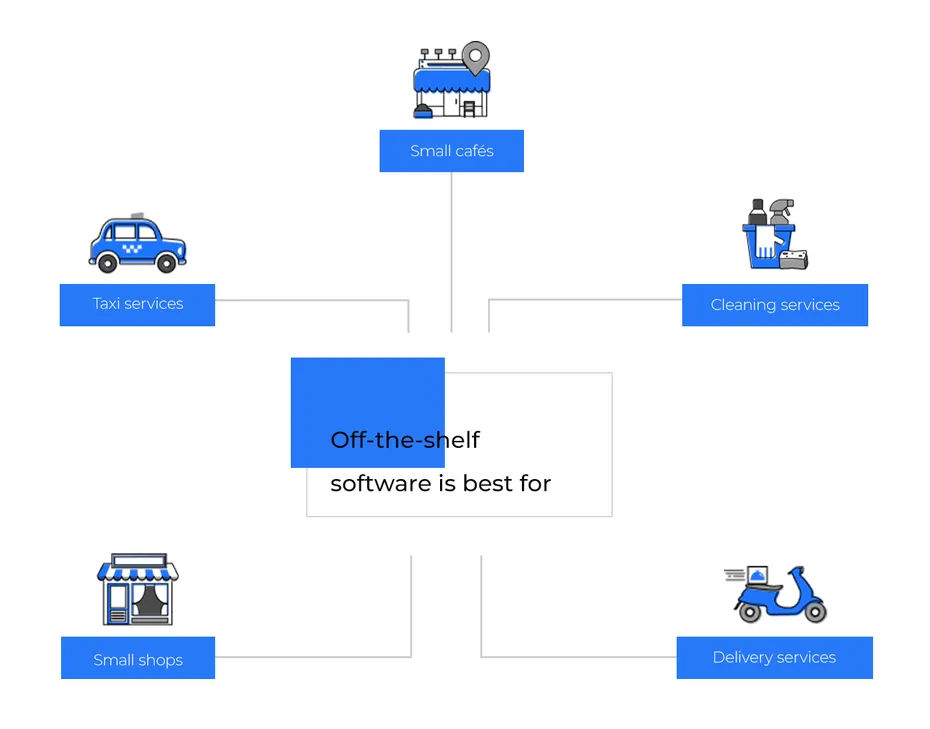 If you're a small service business such as a cleaning company, taxi, delivery company, local shop, or cafe, you can benefit from an off-the-shelf solution, since your structure and business processes are typical.
Similar smaller companies often prefer off-the-shelf ERP systems, since they don't need a lot of customization and are pleased with the features offered. The full lifetime cost of an off-the-shelf ERP system is also simpler to determine upfront.
#2 Fast to deploy
If your company is not very large, you can implement off-the-shelf software fast. However, there can be some integration difficulties due to the number of parts. In this case, your in-house developers can customize parts of the software, manipulating the source code and APIs. However, this can slow down the implementation.
Risks
#1 Limited customizability and functionality
Integrating an off-the-shelf ERP solution often means having to pay for the entire package, whether you require all the features or not. Along with that, making changes to an off-the-shelf ERP frequently requires lots of resources. It takes hard work, a lot of time, and cash. By all means, you can start small and add the essentials as you progress. But you need to be certain that you can afford to make constant changes without disrupting everyday business operations.
Off-the-shelf ERPs might not be able to fulfill all of your business needs due to them being built for the mass market, not a specific company.
#2 Fees and adoption
Licenses for third-party ERP software can be expensive. Some base licenses cost around $1000 a month.
Adopting an existing system can also take longer and be more complicated than adopting a custom system since businesses have to fit their processes into an off-the-shelf ERP system.
Hybrid model
A hybrid model is for businesses whose needs are in between what custom and off-the-shelf solutions offer.
Consider a hybrid model if you find yourself in one of the following situations:
#1 Your company can efficiently run on ready-made ERP software and you require just a couple of additional features.
#2 Your company already has a custom ERP developed by your in-house team or an offshore development team and you would like to add new modules.
The hybrid model is initially less expensive than fully customized software because a lot of the development work has already been done. Hence, you're not starting from scratch.
Implementation takes weeks compared to months with custom software or off-the-shelf enterprise solutions. And a lot of this time is spent mapping out the process steps, users, rules, and specifications.
Does your company really need a custom ERP?
To quickly determine whether your business truly requires a custom ERP, we've prepared a list of issues that signal you might need a tailored system.
Your current software tools don't communicate with each other efficiently.
Your ERP is not able to generate custom reports.
Users cannot access your software on mobile devices.
You struggle to meet clients' requests.
You don't have a functional CRM system.
If you have these issues in your current business processes, don't hesitate to contact Steelkiwi's professionals for a quick consultation. Complicated and unconventional ideas can rarely be implemented using off-the-shelf software. Non-standard cases are our speciality, as you can see in our case studies of Watagames, Beffers, and Radonmeters.
Summing up
Custom ERP development can solve many business issues without being bloated. Programmers can fit your ERP to your industry or niche and adjust the workflow to your company. In the current business environment, where services and products of an organization have to constantly compete on the market and stand out, a custom-built ERP system is one of the best tools to adopt. It will be individually designed to meet the company's needs, desires and organisational processes. In addition, a well-done custom ERP system can prepare the company for the future challenges, by being highly scalable.
Off-the-shelf systems, however, can be a good solution for smaller companies with typical business operations. If no off-the-shelf systems fit your business processes, discuss a hybrid model with your software development company. Maybe it can be your perfect match!
We offer our customers access to prototypes of their software for testing purposes all throughout the development cycle. In our experience, accessible prototypes provide priceless feedback to our development team, help users acquire confidence in the end product, and generate ideas for the final tweaks.
Have a good look at your company's current processes. If you're unsatisfied with them, we're here to help!
---
A strong team of software engineers, designers, quality assurance specialists, and project managers
--- ---
Related Articles