Customer Journey: Improve Your Reader's Experience
A marketing concept applied to writing.
Photo by Luca Laurence on Unsplash
One of the most attractive things about reading a novel is the journey it takes you on. The writer not only has to be able to develop an interesting plot; he also has to make you feel part of it.
It can be a novel, but it can also be a movie or a song. The more it evokes intense emotions, the easier it will be for us to connect with what we are perceiving.
This is known by such brilliant novelists as Stephen King, Neil Gaiman, or Isabel Allende.
It's not just about creating stories by putting ourselves in the character's place; it's also about putting ourselves in the reader's place.
What is Customer Journey?
Initially, it is a concept that is attributed to marketing. It basically consists of a kind of map that allows us to track the process -and with it the stages- through which our potential client has to go when he decides to purchase a product or service.

This map allows us to understand the consumer's purchase process, needs, preferences, and even emotions.
How do I use it at the time of writing?
The concept of Customer Journey is very extensive and we can divide it into different phases.
For the moment, I want to leave that part aside and focus on what it encompasses as such and how we make it tangible once we bring it to a sheet of paper.
"The description begins in the imagination of the writer, but it must end in the reader.
- Stephen King.
When you set out to write something — a novel, story, essay, etc. — you have to start by asking yourself what your story is going to be about, and then what you want to convey to the reader. Ask yourself:
What emotions do I want to evoke?
What things do I want him to ask himself?
You have to put yourself in the reader's place and imagine he or she is going through a journey, but a journey that is not linear. According to the plot of your story, you will want to put many curves, slopes, descents, or stairs. What do you want your reader to feel at each curve? What emotion would you like to see emerge at each descent?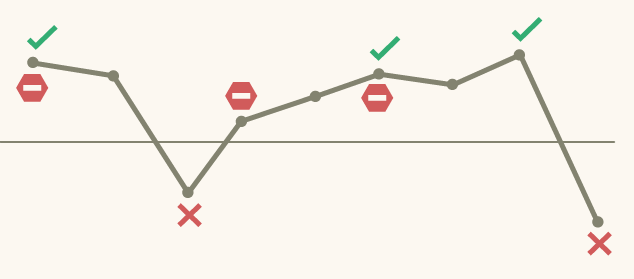 Is not the same:
"I opened the door and knew I was alone"
To write:
"I held the door handle tightly and pulled it shakily. Quickly, a cold sweat ran down my entire body. I knew I was alone."
I know how hard it can be to find the exact words for what you want to say. The reality is that there are no exact words; there are thousands of ways you can express the same thought.
How I use it.
I want to share with you how I applied this concept in what I write and what was the reaction of the people who read me.
This text that I am going to put next to you is the confirmation email that my subscribers receive in my newsletter:
Reading a story has to do with setting out on a journey. To navigate through the thousands of words that have been written and spoken over the centuries is to understand that the whole world moves through them.
Reading, ultimately, is not about getting carried away by a story. It is about appropriating it.
Every story involves a path, and every path involves a traveler.
Introducing myself, traveler! 🛤️My name is Aranza, I'm 21 years old and I'm currently writing and studying something that I love: Philosophy. I am very happy to have you here.
I want you to know that I value and appreciate your time, that's why when you subscribe to my newsletter I will always strive to give you reflections, letters, readings, and texts that I know can leave you with something important to apply in your life.
Feel free to share your doubts, suggestions, and reflections with me. Remember that there is no dialogue that involves only one person.
Thank you for trusting this path. Thank you for trusting this journey.
Everything that involves letters also involves a path. What better than to do it accompanied.
-Aranza S
If you could tell, I took advantage of that space not only to thank the person for signing up but also to put it into a narrative. In this case, I used the analogy of a traveler with the reader so that he or she could feel emotionally hooked.
Remember to think of your reader as a traveler.
---
--- ---
Related Articles