How this Daughter-Mother duo from Jaipur is empowering women & breaking all the stereotypes of beauty
Beauty begins the moment you decide to be yourself. To, all the those women with beautiful curves, THE PLUS SIZE STORE BY MEERA CREATIONS is here
Beauty begins the moment you decide to be yourself. To, all those women with beautiful curves, THE PLUS SIZE STORE BY MEERA CREATIONS is here to make all your dreams come true.
THE PLUS SIZE STORE was started back in 2012 in the Pink city of Jaipur by Aanchal Bhatia and Priti Bhatia. It is a one-of-its-kind store, excelling at manufacturing and selling the trendsetters' wardrobe in the apparel industry with specialization in the Plus Size segment.
THE PLUS SIZE STORE:
Aims to make every individual look beautiful in their own self
Creates and manufactures clothes with creative and distinctive designs
THE CORE TEAM MEMBERS OF THE PLUS SIZE STORE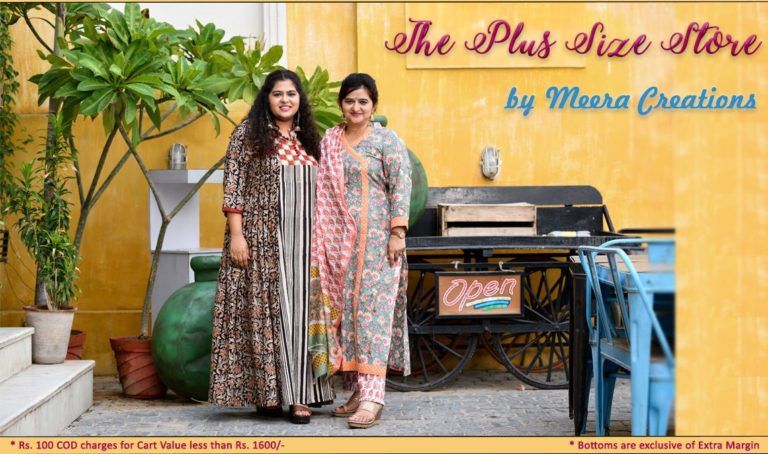 Priti Bhatia and Aanchal Bhatia are the founders of Plus Size Store. This initial team of 2 people has now mushroomed to a team of 20 -25 people. The co-founders being a virtuoso in the fashion industry are now leading a team of specialized professionals including managers & helpers of various fields.
Since 2012, they have been successfully spreading wings and establishing their footmarks in Indian and International Markets.
HOW IT ALL STARTED?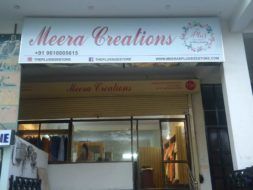 Priti, driven by her passion and strong self-belief sowed the seed of MEERA CREATIONS in 2012. Following her footsteps, her daughter Aanchal joined her. Today, they form an invincible team of fashion fiestas known for their unique styles and designer clothes. They believed that every woman is beautiful in her way, despite her body shape. They realized that it is possible for every woman to love herself for who she is. And to bring out the best, and match every woman's need, they launched The Plus Size Store under Meera creations, about 18 months ago.
A store that was started as a leap of faith is now expanding every passing day, growing their customer base. All thanks to the immense response and feedback, they bagged from their customers in initial years itself, an achievement that is every business's dream.
WHAT MOTIVATED THEM TO START THIS PLATFORM?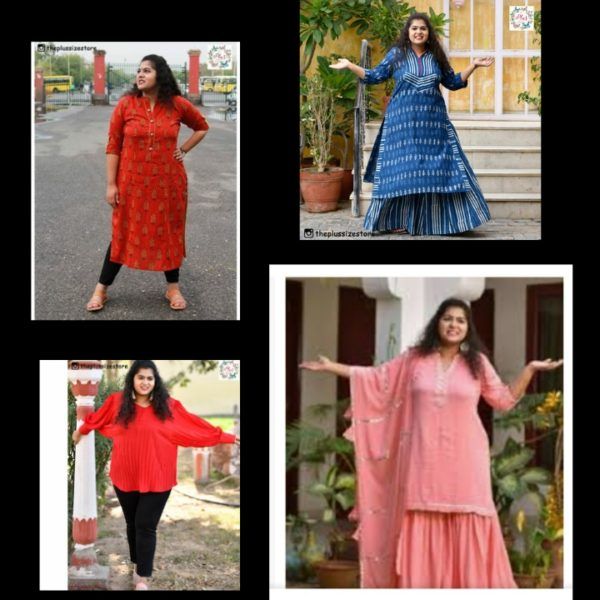 According to Aanchal, her mother Priti is her greatest inspiration. Aanchal said that due to the ever-growing responsibilities a woman carries on her shoulders, an average woman always lags in the race for a perfect body figure. Consequently, most women today feel or are made to feel under-confident about themselves and their body. It is imperative that they have a positive body image. Her passion to make someone happy about their body and boost their self-esteem is what motivates her the most.
Moreover, appreciation and response from her clients makes her day.
The boost they feel when their clients sing praises about how confident and elated their designs made them feel is all they need to keep themselves going.
ANYTHING & EVERYTHING YOU NEED TO KNOW ABOUT THE PLUS SIZE STORE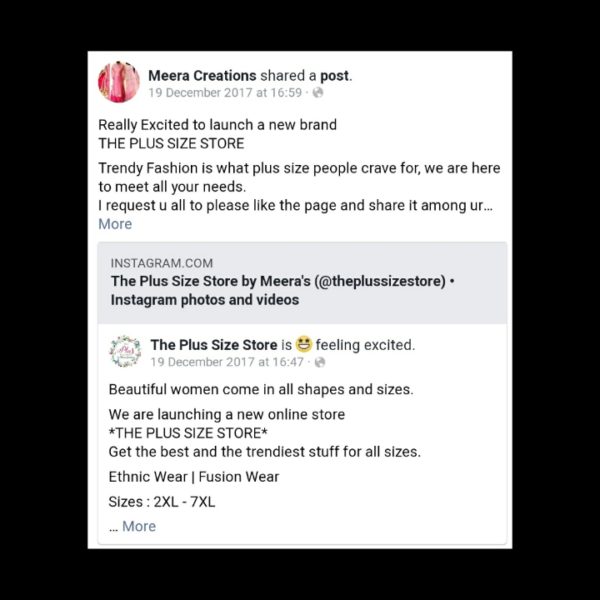 Aanchal is a Graduate in Bachelors of Technology ( B.Tech) from a reputed institute. But she was always interested in this segment. She is the face of the brand. Her mother and the co-founder, Priti is also from the IT background and has 10-12 years of experience in it. They found their calling and passion in the conept of 'feel-good clothing' and today they have successfully personified it in the fabrics and designs they present to their customers,
Aanchal, being from a technical background started her journey by managing the website designing, social media as well as techniques behind pitching. While Priti managed staffing and in-house designing.
They efficiently used social media and handles to spread the word about their journey, passion and most of all spreading the idea of feeling comfortable in your own skin. For initial 6-8 months, they operated through Facebook and Instagram. Gradually, they created a website for the store and since then, they never had to look back.
They work in a very friendly environment wherein each one is a family.
HOW IS THE PLUS SIZE STORE DIFFERENT FROM ITS COMPETITORS?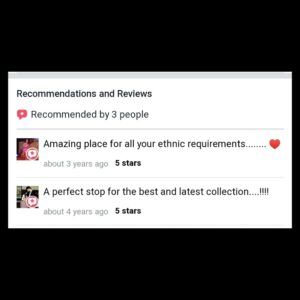 Aanchal and her mother, Priti focus on Customer satisfaction more than any other factor. They believe that all their customers should feel a part of their family while enjoying their shopping experience with them. Moreover, the products they deal with are in-house manufactured and sold.
"Style is something each of us already has, all we need to do is find it." – Plus Size Store By Meera Creations.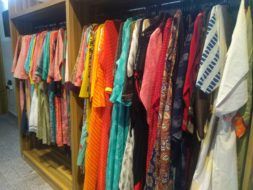 MESSAGE FOR THE BUDDING ENTREPRENEURS AND YOUNG INDIA: THE FOUNDERS DESK.
Aanchal is amongst those young entrepreneurs, who found her interest at the right stage and pursued it. She realized her potential and with her interest and grit-determination, started her own manufacturing company.
Don't try to fit in, Sky is the Limit.
---
--- ---
Related Articles