A Day in the Life of a Quarantined Digital Nomad
Spoiler Alert: My work-from-home routine hasn't changed much since the pandemic, but my income has.
---
Kristin Wilson
2 years ago
|
12 min read
---
After more than forty-five days on lockdown, the verdict is in: life hasn't changed much for people who worked from home before the pandemic (caveat: unless you have kids). Most remote workers still have some income coming in, work all day, and only leave the house when we have to. For better or worse, we're good at self-isolating.
Digital nomads are part of a small percent of remote workers and online freelancers who travel full-time, but I would argue that our daily routines are pretty similar. After more than ten years as a digital nomad, here's what a typical day is like for me, including:
My daily work-from-home routine;
How I make money online;
How many hours I work per day;
How I stay healthy and productive while working at home;
What's changed for me since the pandemic and what hasn't;
What's next for those in the digital nomad lifestyle.
First, what is a digital nomad?
A digital nomad is someone who works online while traveling to varying degrees. The term was coined by Tsugio Makimoto and David Manners, authors of the 1997 book, Digital Nomad, where they predicted in great detail how technology would provide for "the biggest lifestyle change [in] 10,000 years."
People will be able to ask themselves, 'Am I a nomad or a settler?' For the first time in 10,000 years, that choice will become a mainstream lifestyle option.
Twenty years later, "digital nomad" has become a buzzword, albeit also a reality for millions of people (at least 4.8 million in the U.S. alone).
Some of us country hop once per month, while others maintain a home base or slow travel throughout the year. Like many remote workers, we're proactive, tech-savvy, and skilled at time management and self-motivation. We have to be. If not, we could end up broke on an island somewhere (it happens more often than you'd think).
Scientific studies on digital nomad demographics are limited, but early research indicates that the average digital nomad is in his or her mid-thirties and makes less than $100k per year.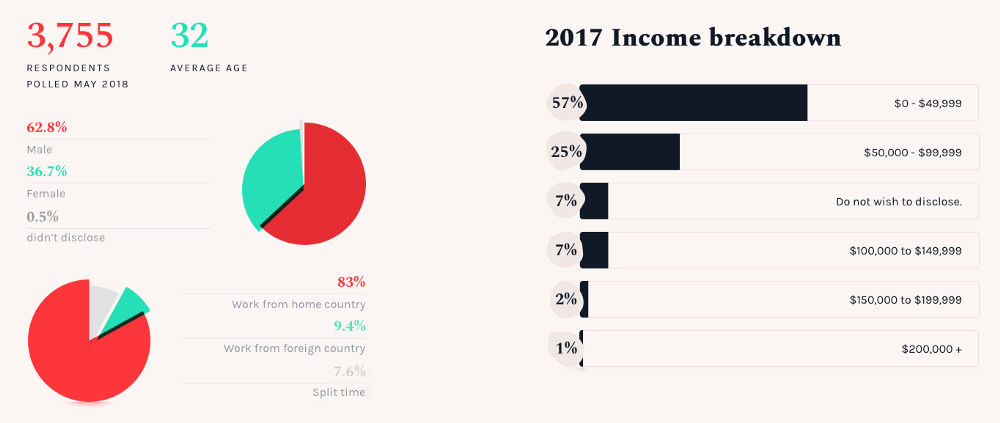 Source: AndCo Anywhere Workers
In my own non-scientific polling, I've found that digital nomads are more likely to be self-employed online freelancers or business owners rather than full-time remote employees. This feedback aligns with AndCo's findings, that 65% of "anywhere workers" are freelance or self-employed.
Digital nomads are just like you.
Except, rather than watching Tiger King from a flat screen with surround sound, we watch from our laptops. In the next few years, however (depending on how what happens with the coronavirus), some non-zero percentage of the billions of new remote workers will start traveling more — because they can.
If that sounds like you, it's time to start preparing for the shift.
How digital nomads make money online
How do digital nomads make money during the quarantine? For the most part, the same way we did before — through freelance clients and various online income streams.
Of course, some drop-shippers have started selling masks instead of mascara. And travel bloggers might be in for a rough ride. But many of us are continuing with business as usual.
I've had to adjust more than most because my main business for the past eight years has been international relocation consulting and property management.
Now that borders are closed and vacation rentals have screeched to a halt, I'm working as a professional content creator, writer, and video marketer.
Online entrepreneurs are used to being flexible, so many of us have simply shifted our business plans accordingly.
Most of the early adopters of the digital nomad lifestyle are adventure-seeking minimalists who embrace uncertainty and discomfort. Whether we're surviving a pandemic, getting stranded in an airport, or transforming an Airbnb kitchen table into a home office, we're used to making do with what we have.
My various online income streams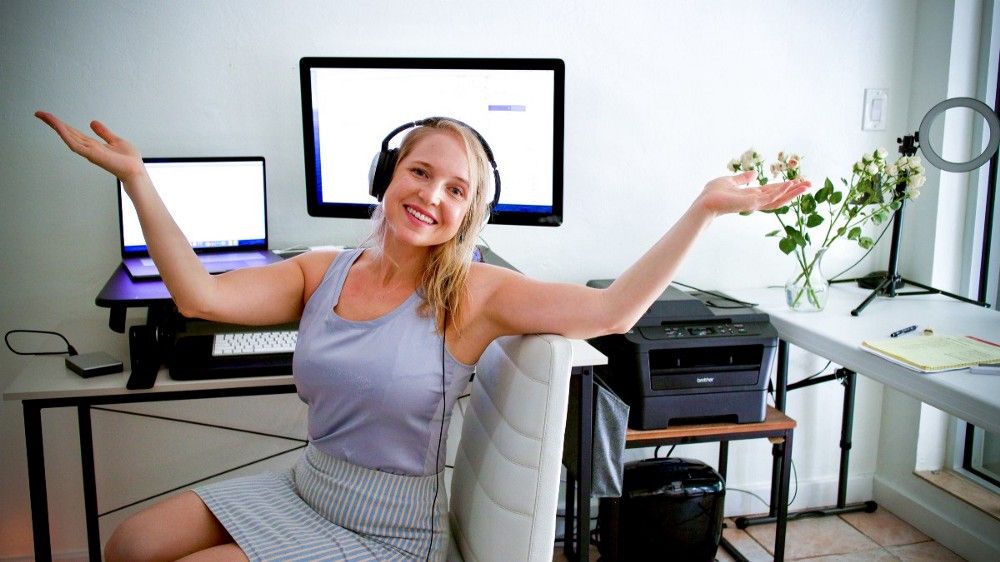 Welcome to my temporary office. (Instagram: Traveling with Kristin)
In the post-coronavirus world, it's important to think about what you can do to diversify your income sources before the next global crisis.
Before becoming a digital nomad, I worked as a real estate agent in Costa Rica. I'm glad that's no longer the case because real estate is a location-dependent industry that's highly sensitive to external macroeconomic conditions.
Housing markets could be all but decimated by the time the pandemic is over and agents almost exclusively make money through sales commissions or property management fees.
With an online business model, however, there are no limits on where you live or how many revenue streams you can have.
I currently earn income from eight sources, although they vary from month-to-month. Since I started working for myself online full-time in 2008, my income has ranged from -$0 per month up to $40,000+ payouts. My cost-of-living is all over the place, too.
For example, in Bulgaria last year, my rent was only €150/month (not a typo). However — depending on where I'm living or how much I'm traveling — my credit card bills can reach $10–15k/month at times.
Here are my primary income streams:
Ad Revenue: I launched my YouTube channel in late 2017 and make anywhere from $100–500 per month on AdSense. It's not that significant, but every little bit helps.
Affiliate Income: I earn affiliate income from products I use and recommend through my blog, YouTube videos, and Amazon store.
Collaborations: As my podcast and YouTube channels have grown, I've been able to start working with brands and negotiating sponsorships.
Consulting: The majority of my income still comes from consulting. Like many solopreneurs, I'm a specialized generalist with multiple areas of expertise. I consult on travel planning, relocations, real estate investing, remote work policy implementation, SEO, content marketing, and helping people start online businesses.
Digital Products: Since the quarantine started and I have more time, I've begun developing more digital products. I just launched my first online course to help people make money online, and I'm in the process of editing my first book and eBook, Digital Nomad 101.
Video Production: I produce full-length and social media videos for brands, entrepreneurs, thought leaders, and small business owners. I love it and am forming a creative agency to help more people with video marketing and advertising (watch out, Gary Vaynerchuk 😉).
Writing: I earn some income each month through the Medium Partner Program (up to $1,000/month so far). I also do freelance writing, copywriting, and ghostwriting for different clients.
Another income stream I have is my savings and investments, although I try not to spend any of that.
My daily work-from-home routine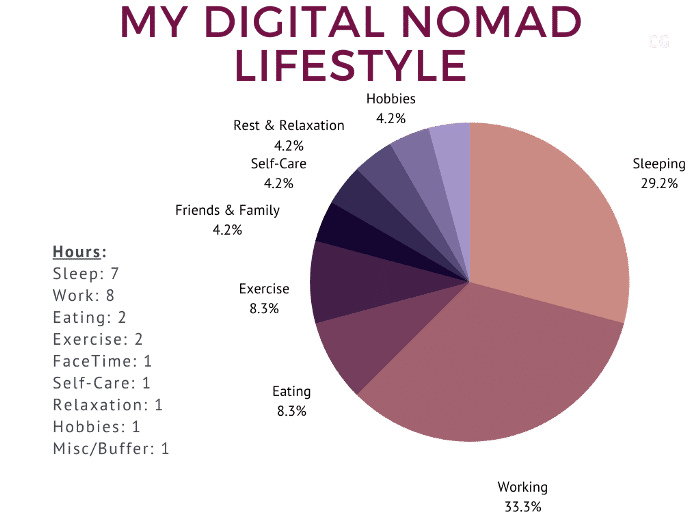 How I spend my time these days
While most people take having a daily routine for granted, finding consistency is a challenge for many digital nomads. I love traveling, but it sometimes comes at a cost to my productivity, mental health, and overall well-being.
For the past four years, I've spent between 400–500 hours per year travel planning, packing, unpacking, or in-transit. That doesn't count all the hours I've spent jet-lagged.
Since entering the shutdown, however, I've been able to establish a routine for the first time in years, and my body is thriving because of it. I've lost five pounds, I'm sleeping better, I'm exercising more, I'm more productive, and I have more energy.
Here's what my current day in the life as a quarantined digital nomad looks like:
7–8 am: Wake Up
Every morning, the first thing I do is go to the bathroom, brush my teeth, and drink 10–12 ounces of water before I make coffee. Then, I meditate for up to an hour. I've been meditating for over 1,000 days now, and it's changed my life. More on that here.
9 am: Workout
I don't have to tell you it's important to exercise right now. Hopefully, you've found something that works for you. I take a Pure Barre class online or do a Tracy Anderson Method workout. I also go for a walk every day (usually in the evenings).
10 am: Breakfast
I always make breakfast while listening to a podcast or audiobook because it helps put me in a good mood and generate motivation to start working.
I eat eggs every day with veggies or potatoes, coffee, and a side of fruit. Sometimes I splurge on oatmeal or paleo pancakes on the weekends. After I eat, I read or journal for about thirty minutes.
11 am: Work Block #1: Deep Work (3 hours)
I do my deep work first every day, while I'm high on coffee and feeling focused. Deep work activities include writing, editing, research, or other content creation.
If I have a client project to work on, I'll also do it in the morning while my brain is fresh. Examples of client work include planning a relocation, ghostwriting for a company or website, producing videos, creating a lesson for my course, or developing a content marketing strategy.
I also theme my days for productivity purposes. For example, Mondays are for mastermind calls, Email, and promoting and distributing my podcasts. Wednesdays are for writing. Fridays are for phone calls and interviews, and the weekends are for passion projects.
2 pm: Lunch
I always eat something light, like a salad, and sit outside to clear my head and take a break from my screen.
3–5 pm: Work Block #2: Shallow Work (3 hours)
My lowest energy hours of the day are between lunch and dinner. This is when I'll check Email and answer messages, comments, and social media notifications.
If you don't know when your peak hours of the day are, you should find out. It makes life a lot easier. Track your mood for a few days and re-arrange your work-from-home schedule accordingly.
6 pm: Stop Working — Leisure Time
By 6 pm, I'm usually completely burnt out on mental tasks, which is fine because it's time to stop working (for the love of God). Around this time, I'll go for a walk/run around my neighborhood while FaceTiming with friends and family or listening to music or a podcast. If I couldn't go outside at all, I think I would go crazy.
I also sometimes run essential errands in the afternoons, like going to the grocery store or post office and doing laundry. Then, I come home, take a shower, and get ready for dinner.
8 pm: Dinnertime
Like breakfast, I eat almost the same thing every night: protein, veggies, and a gluten-free carb, like squash or sweet potatoes. I love cooking and don't miss eating out that much. I completed two rounds of Whole30 this year, and I'm feeling great, so I've continued eating mostly whole foods.
Since I live alone, I usually watch a show, FaceTime my sister, or read while I eat. The Daily Show, A Closer Look with Seth Myers, and Last Week Tonight are always good for a laugh.
Confession: I haven't ordered any takeout or deliver since the pandemic started.
9 pm: Hobbies and Passion Projects (3 hours)
At night, it's time to relax. I'll work on my DJ skills, edit a video for fun, watch more YouTube, or do other miscellaneous stuff.
If I'm on a project deadline, I'll also squeeze a third work block in during this time, although I don't recommend it. One of the biggest struggles for remote workers is working too much. In that sense, quarantine conditions can be very dangerous for workaholics.
I haven't taken a day off in at least three weeks. I'm not proud of it, but I'm working on unplugging more. Being single and living alone probably contributes to my workaholism, but it is what it is. Although, I recommend a healthier work-life balance.
12am: Go to bed
I wish I went to sleep earlier, to be honest, but my body seems to like this 12 am-8 am schedule. I've tried for years to wake up at 5–6 am, but it never sticks (probably because of my constant jet lag).
Total Hours Worked Per Day: 6–9*
*Sometimes up to 12 if I'm editing or in a flow state.
Things I avoid: Email, News, and Social Media
When it comes to productivity, what you don't do each day is just as important as what you do. Here's what to avoid:
Checking your phone when you wake up
Watching the news
Answering Email in the morning
Devices, news, and social media are the enemy of productivity and mental health. If I want to check social media, I always do it at night when there's nothing else to do— never during the workday.
To stay on top of what's going on in the world, I'll read news headlines, check Twitter, and indulge in my guilty pleasure of watching political commentary and comedy shows on YouTube.
The importance of connection and community
Another crucial aspect of my day as a digital nomad (especially while quarantined) is connecting with other people online.
During the coronavirus times and always, it's important to make it a priority to talk with friends and family each day. I'm eternally grateful for today's technology because it wasn't that long ago that I had to go to an internet cafe to send an Email or call home from a payphone abroad.
If you've suddenly found yourself home alone, joining a Facebook group of remote workers is a great place to start making remote friends. Here are a few:
There are also plenty of online forums and Slack groups for remote workers.
Quarantine hobbies
Since we can't travel right now, I've picked up some new hobbies, like stand-up paddleboarding, feeding fish in the lake by my house, and learning how to DJ. Since I don't have kids or a partner, I've been using this extra time for passion projects, experimenting, and self-care.
Post-pandemic: What's changed and what hasn't
Some digital nomads are struggling to adjust to the fact that we can't travel anymore, let alone go to co-working spaces or coffee shops.
Dating is even harder than it was before, and we can't sightsee or meet up at events. Most of us have also had to get more creative with our income sources. But, for the most part, we sit at our screens all day just like everyone else. We work for ourselves, decide how we spend our time each day, and remain connected with our friends and family online.
On the work front, I still batch my work and theme my days — something I've been doing for a few years now. I prefer to single task on one thing for hours at a time and work on one project until it's done rather than taking on a scattered to-do list with 10–20 tasks. Also, I don't do meetings. Most of my communication consists of asynchronous written and voice messages.
The idea of working in an office with constant interruptions is my worst nightmare. I'm eternally grateful that I've never had to commute to a job I hate, only to squeeze in 2–3 hours of work. And, frankly, I don't think anyone should have to live like that again if they don't want to.
What's next for digital nomads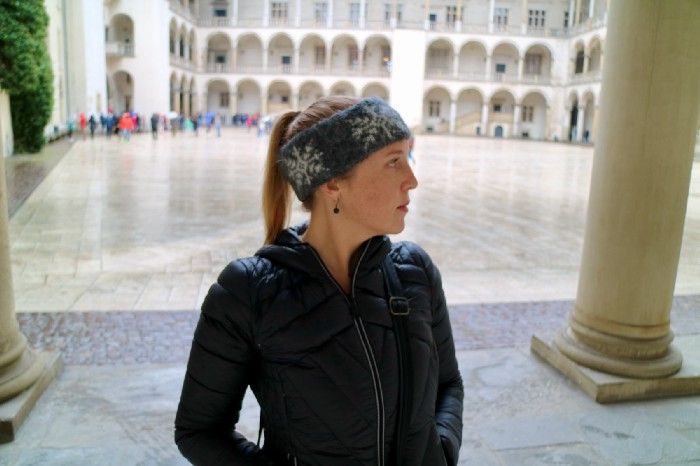 Solo traveling in Krakow, Poland (Photo: Traveling with Kristin)
Digital nomads are used to spending a lot of time alone — whether we're working from home or solo traveling. As such, we spend a lot of time thinking, reflecting, planning, and observing our immediate surroundings.
Many of us identify as world citizens who have witnessed a lot of poverty, suffering, and injustices during our travels. We tend to feel a connection with and compassion for others wherever we go, even if it's just searching the Web.
As the pandemic (hopefully) wanes, I'm looking forward to arriving at a new sense of normalcy for the world. I hope that people find a greater sense of purpose in their careers, a healthier work-life balance, and a renewed focus on what's most important in life.
If you're working from home right now, make sure to set consistent work hours, unplug when possible, and reach out to people if you feel lonely. Digital nomads or not, we're all part of one global society, and we're all in this together.
Originally published on medium.
Subscribe to me YouTube channel
---
--- ---
Related Articles