Decoding the Art of Storytelling in the Indian Market
Learn about the rise of public relations in politics and how it has changed the way we get our news. Discover how PR professionals use communication strategies to shape the conversation around controversial topics and understand their impact on society.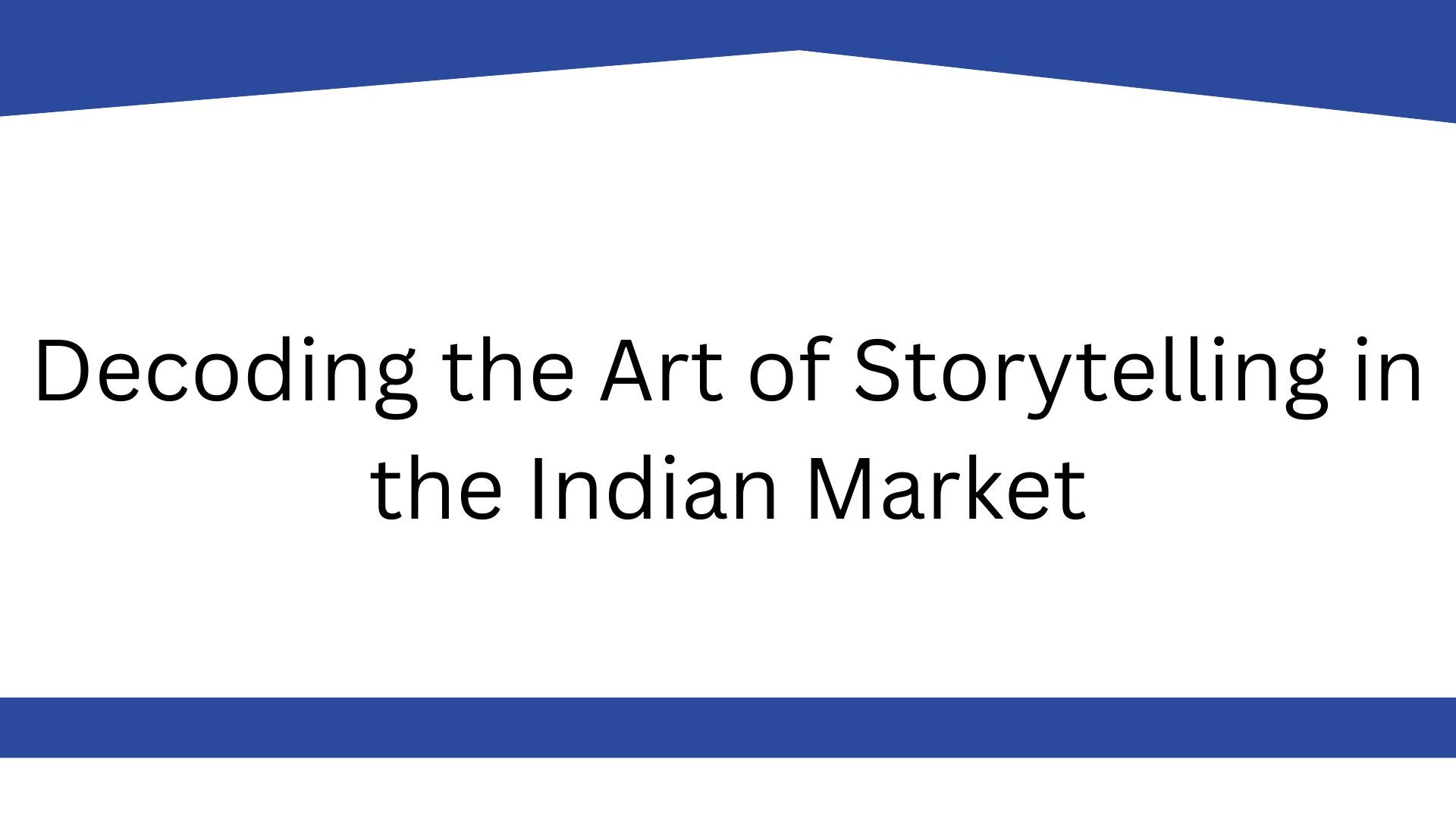 The above proverb signifies, ''when you are living in, or visiting, a community of people, you should follow the laws and customs of that community', which means you need to adapt yourself to the place you are living in; integrating yourself into another society. No one can understand this better than PR professionals working in regional markets.
Stories are all about the emotional connection they build. Once you know who your customers are, you should make them feel like they're part of something. Tanishq's TVC of connecting sister-in laws was an epic example of emotional story telling by brands. The jewellery brand celebrating the beautiful bond of a sister and her sister-in-law highlighted how the relationship between the two evolved. The TVC shows two women bonding with each other, despite being told to set boundaries between them. It ends with the woman gifting her sister-in-law a bracelet.
In today's increasingly crowded marketplace, where most people suffer from information overload, the ability to cut through the clutter differentiates successful brands from their counterparts.
Easier said than done when you are competing to be heard amidst the vast amount of noise; so what will it take to achieve local growth? The answer is simple—good storytelling.
Stories may not breathe, but they can animate. Stories work with people, for people, on people, affecting what they can see or understand. Now, you may ask what is it that stories do? Stories impart a sense of self and construct a relationship with a sense of purpose. Good stories inspire people, make them want to do experiments, and make them feel part of something. Storytelling provides a highway to connect to consumers unlike any other. When brands share and sell their values and personality in a way that feels less like advertising and more like a concerted effort to strengthen relationships with customers, it leaves a mark on the target audience. If the storytelling is relevant to the regional audience, its effect increases tenfold.
How to do storytelling for the regional market?
Today, consumers look for unique consumption experiences and products or services that appeal to their emotions and dreams. Stories about products or services help create such experiences. Today, a number of brands have shifted their focus to Tier II and Tier III cities. However, it's not as easy as it seems.
The players may be the same, but the rules have changed. You need to know and understand the conditions of every market and strategise your campaigns accordingly. Here are some rules that you should know before planning your story:
1. Understanding your market
Deep understanding of the ground situation in the respective geographies can provide deeper insights into localising the outreach strategy. Research, know your target market, and plan your story accordingly.
Through your story, you're providing an opportunity for audiences to connect with what you have to offer emotionally and through their beliefs. This can leave them feeling like they know your company better and make them more inclined to support it. Authenticity is an important concept since every place has stories that have not been told. Brands just need to find them and use them accordingly.
2. Go regional
To engage with the local community, brands must bring their attention to issues of their consumers at the grassroots level. When your story is relevant to the regional people, their issues, their culture or tradition, it elevates their curiosity about your brand. Regional storytelling will help you connect with your consumers on a much deeper level. Locally connected stories will help the brand remain rooted, real, and raw. Using regional flavors, be it in cuisine, attire, or languages, can connect with viewers. If a video tells its story, audiences are more likely to listen.
Take Amazon for instance. One can say that Amazon's key strategy to dominate the market might just be 'think globally, but act locally'. Combining global scale and resources with a deep understanding of each hyper local market, Amazon has achieved this feat of being one of the strongest e-commerce platform in India. Initially, as a foreign brand, Amazon started out with urban regions using English or Hindi language, but soon it started tapping regional markets by going hyper local, using regional sentiments and language, and from there onwards, Amazon's sales skyrocketed in India.
3. Regional media and language
We want to hear stories in our own languages, so that they can make more sense to us. Make your audience understand your brand. Appealing to your audience's taste and preferences is a great way to make their experience unique. Using regional language and popular slang will make them feel more connected with your brand.
Take, for example, the micro-blogging platform, Koo. Surrounded by so many competitors, Koo has managed to build its empire with over three million users. One of the reasons behind its growing popularity is because it gave importance to regional languages. It motivated its audience to share their stories in their regional languages.
4. Keep your story simple and unique
Storytelling is based on the metaphors that are most relevant to the audience. When consumers are forced to face the facts and arguments, they tend to adopt a skeptical attitude. When storytelling is used, people have fewer negative associations and find it more convincing. That leads to increased brand trust & awareness.
5. Make sure your story is not deceptive.
Stories need to rely on real events if consumers are supposed to perceive the story to be real. However, consumers also enjoy made-up tales if they are relevant to their lives. A story that seeks to entertain its audience does not necessarily need to be true. However, a story should not be deceptive, as pretending that fiction is reality can lead to less brand trust.
A different strategic approach is needed for different markets. In the national market, audiences are identified as one unit; hence, your story can be the same for everyone. However, when you go for regional markets, you cannot use one story for every market. You need to be more diverse. When you are tapping a specific audience from a specific culture or area, you need to use a different tactic for each of them.
Storytelling can serve as a source of inspiration and leaves the choice to the customer as to whether he wants to follow the path or not. Stories have the power to change perception and ideas, which is why they have become one of the most powerful tools in brand communication.
Disclaimer: This blog has been previously published on reputationtoday.in. Please consult a professional if you have any specific questions or concerns regarding the content of the blog post.
---
Atul Malikram is an Indian political strategist, PR consultant, author, philanthropist, and anger management expert.
--- ---
Related Articles