Who Delivers The Best Customer Experience When It Comes To Shipping?
The Criteria
Working from home and not being close to shops/malls/etc, encouraged us (my wife and I) to shop online for everything from groceries, to sporting goods, clothing and more.
As a Customer Experience Designer I am always conscious of experiences I receive from brands, so today I wanted to break down how well various brands are performing when it comes to shipping online orders and provide some best practices that I observed.
The Criteria
To compare apple to apple, I am scoring the various experiences on a scale from 0–5 ("Needs Work" to "Best of Class"). The criteria below are based on the phases of a typical customer journey (from users clicking the order confirmation button to receiving the actual order).
Shipping options: What shipping options does the brand provide? Are there express options or even in-store pickup options (to be fair, it is sensible to not have this option during the COVID-19 period).
Also, can I select a specific date and time period (for example tomorrow 2pm-4pm) or is it the usual "3–5 working days" which will keep me guessing every days when my order arrives.
Order Confirmation Email: This is the email that you receive right after you place an order. Here I expect all order information to be clearly stated, so I can be reassured that I ordered correctly. Plus points, if the brand provides customer service contact information in case I decide to cancel my order (buyers remorse) or have any questions about my order.
Communication Updates: Most orders nowadays take just a couple of days to arrive or can even arrive the same day, but keeping customer up to date on when they can expect their order and choosing the right channel (SMS/email) is still very important.
For example, Redmart (a online grocer) sends a SMS that "my order will arrive in the next 15 minutes", which is super useful. Or an email that "your order has left our warehouse", will cut the perceived waiting time dramatically.

Shipping duration: How many days did the order take to arrive and was it within the promised time period? There are some brands that think once the order leaves their warehouse, it is not their problem anymore while others control the whole journey to make sure you get your order as promised. Big difference!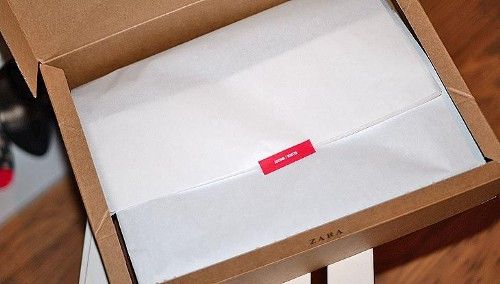 Zara Packaging is simple, but practical.
Packaging: This is a very subtle point, but again can make a huge difference when it comes to creating an amazing customer experience. The type of packaging obviously depends on the product type (groceries vs. high end clothing), but some brands come up with very creative ways to give their packaging a nice touch without spending a lot of money on it (for example in the image on the right Zara that has developed a all paper packaging).
Reviews: Reviews have become one of the most important tools for online sellers and I am sure many of you rely on reviews when making purchasing decisions. So it is very important for brands to follow up with customer after they received their purchase to (1) ensure that they were happy with the experience, so if there was a problem they have a chance to fix it. (2)
This is an opportunity for brands to generate reviews (even negative ones are good because they show that they are real) that they can post on their site.
The Brands
To keep the reviews concise, I will rate each brand based on the above criteria and provide highlights of the experiences.
Sephora
Shipping options: 4/5
Order Confirmation Email: 5/5
Communication Updates: 3/5
Shipping duration: 4/5
Packaging: 4/5
Reviews: 2/5
Highlights
Sephora operates based on a "6–9 business days" delivery time model, which is not only a long time in general (many of us are used to "same day delivery"), but also leaves customers guessing when the order will arrive. On the positive side, Sephora's packaging is branded (black/white stripes) and comes with samples, which encourages more online shopping.
Zara
Shipping options: 4/5
Order Confirmation Email: 4/5
Communication Updates: 4/5
Shipping duration: 5/5
Packaging: 4/5
Reviews: 2/5
Highlights
Zara has almost perfected the process and the order arrived within 2 days (promised was 3–5 days). The packing is done in a way that makes it look like a present that you can unpack, which makes the process exciting. A nice touch is that all materials are recycled paper (no plastic), which is in line of what customers expect in 2020.
Adidas
Shipping options: 4/5
Order Confirmation Email: 4/5
Communication Updates: 2/5
Shipping duration: 1/5
Packaging: 1/5
Reviews: 1/5
Highlights
While I am a big fan of Adidas, they deliver a poor experience after you clicked the "Confirm Order" button. Shipping time can take as long as 4 weeks without any option to track the package. Items are packaged in black plastic bags which is not a very branded experience and in contrast to the environmentally friendly image they are trying to cultivate (Parley shoe).
RedMart (online grocer)
Shipping options: 5/5
Order Confirmation Email: 5/5
Communication Updates: 5/5
Shipping duration: 5/5
Packaging: 4/5
Reviews: 3/5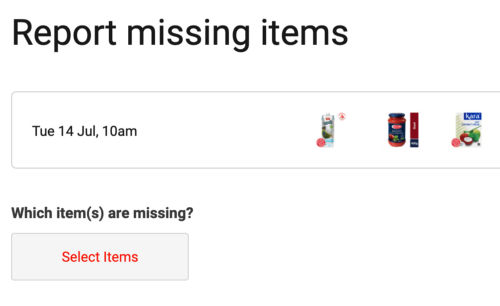 Best Practice: Redmart is making it easy for customers to report issues with the received order.
Highlights
For an online grocery getting the shipping experience right is really important and RedMart really nails it: You can select a 2 hour delivery slot (next day delivery), so you know exactly when to expect your delivery.
You will get an email in the morning reminding you that there is a delivery coming and 15 minutes prior to the delivery, they send you an SMS. Finally, everything is packaged in recycled bags, which makes you feel good shopping with them.
If you have a problem with the order (items missing), you can solve it on their app within minutes without any questions asked.
Shein (clothing)
Order Confirmation Email: 5/5
Communication Updates: 5/5
Shipping duration: 5/5
Packaging: 4/5
Reviews: 5/5
Highlights
When ordering from overseas, you might expect orders to take a little longer to arrive, but Shein's (retailer in China) order arrived nicely packaged within 3 days in perfect condition. They even send a survey that allowed me to not only rate the product itself but the shipping company.
Cartier
Order Confirmation Email: 5/5
Communication Updates: 5/5
Shipping duration: 5/5
Packaging: 5/5
Reviews: 5/5
Highlights
Most of high end retailers have perfected the offline store experience, so it was interesting to see what kind of experience Cartier would deliver when it comes to an online order. They did not disappoint: The order arrived on the next time in a beautiful paper box.
For Cartier reviews are not important, but as a customer centric company they follow up with a hand-written note that allows you to get in touch with them to leave feedback, which creates a beautiful personal experience and brand loyalty.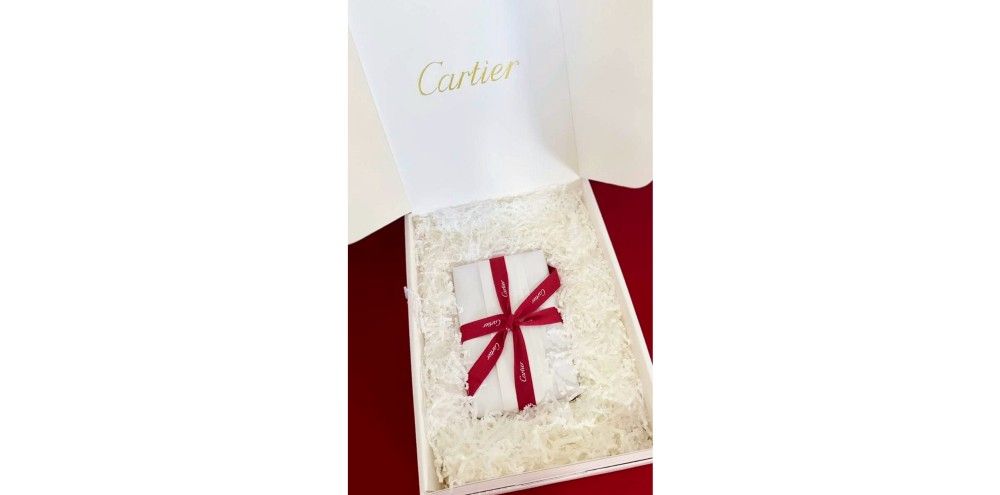 Cartier is delivering orders in high quality branded and sealed boxes.
Best Practices
While each brand has obviously their own approach when it comes to shipping online orders (they face different challenges), there are some best practices that can be observed:
Set expectations
Smart brands under promise and over deliver. This means if you know you can usually deliver within 2–3 days, build in a buffer of 1–2 days in your stated "delivery time". This will guarantee a better customer experience than letting people wait for your orders and breaking your promise.

Bonus: Check out this video by Google Senior UX designer Mustafa Kurtuldu on how to make waiting time appear shorter than it has to be.
Shipping IS your problem too
Although not every online seller can afford to establish their own logistic chain, customer will ultimately hold them responsible if orders are delayed or getting lost.
So the best online retailers integrate the shipping service with their experience:
(1) Provide tracking links/numbers in the order confirmation email.
(2) Send email/sms updates to customers to give them updates.
(3) Ask customers to rate their shipping experience and use this feedback to improve or even incentive your logistic partner.
Care about your packaging
The act of opening a nicely wrapped package brings anyone joy (hence "unboxing videos" exist). So creating a nice packaging is not only a good way to protect the good during shipping but will create memorable experiences with your customers that lead to online sharing and loyal customers that will lead to free user generated content on Instagram.
Follow up (survey) & Reviews
Except Shein and Cartier, none of the brands followed up and asked for a review. That is a shame. Reviews are a great opportunity to generate free social proof and reassure customers that they can trust the brand and products.
Shein has taken this even a step further by encouraging customers to leave text or video feedback of the cloth they boughts. The result are thousands of reviews per item that will not only encourage shoppers to spend more, but is also a data gold mine for Shein to improve their service, products and experiences.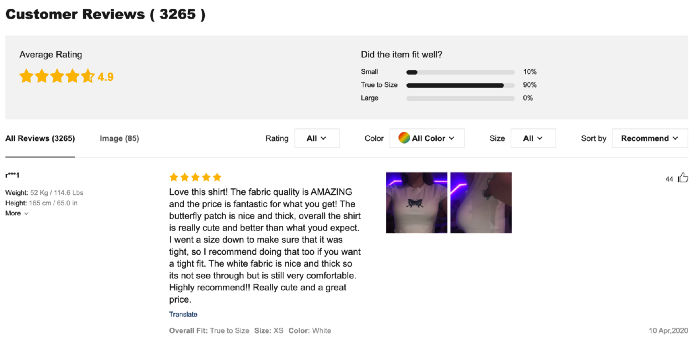 Screenshot of Shein.com customer review system
Thanks for reading! Please share what kind of customer experiences you encountered when ordering online.
---
--- ---
Related Articles