How to design for people who don't read
People don't read, they scan
Are you a writer? By definition, a writer is someone who has written something or who writes. So whether you consider yourself a writer or not, there's a high chance that you actually are a writer.
And a writer who writes for the internet often thinks "I wonder how many people actually read my content"
Let me cut to the chase and give you the answer:
None. People don't read.
Well, if we go through the data, 79 percent of the users don't read, and only 16 percent read word-by-word. So it's better if we assume that nobody reads.
So when I say that no one reads, it's not really a fact(so don't get discouraged :p), but you should act as if it's a fact, for it'll make your writings easier and friendlier.
People don't read, they scan
Did I just catch you off guard? You're scanning, right?
People rarely read Web pages word by word; instead, they scan the page, picking out individual words and sentences.
Web pages have to employ scannable text, using
Highlighted keywords (hypertext links serve as one form of highlighting; typeface variations and color are others)
Clear, noticeable headings and subheadings (Meaningful, not "clever")
Bulleted lists and bold text
One idea per paragraph (users will skip over any additional ideas if they are not caught by the first few words in the paragraph)
The inverted pyramid style, starting with the conclusion(place up information upfront)
Use plain, simple language (to keep content concise and clear)
But scanning all of the text on a page, or even a majority, is still extremely rare. Even when users do scan content in its entirety, they never scan it perfectly linearly.
They jump around pages, skipping some content, backtracking to scan what they skipped, and rescanning content they've already scanned.
Use these principles to make it even easier
You might have heard of principles of Proximity, uniform connectedness, and good continuation. To easily define them, the concept underlying these principles is grouping.
When we have a group of objects, we tend to see them forming coherent groups and we decide whether they would make sense or not.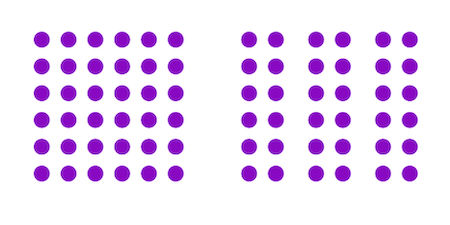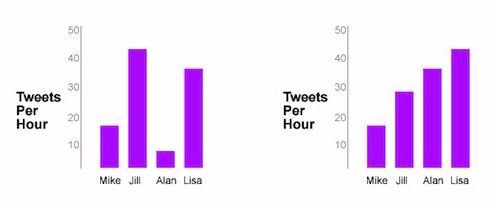 Users won't read web content unless the text is clear, the words and sentences are simple, and the information is easy to understand.
What you need to keep in mind
While a website's visual design is how your company looks online, the site's writing is how your company sounds online. The tone of voice and great content is crucial for communicating on the Internet.
You can ensure this by focusing on 3 key areas-
Legibility
It's whether people can see, distinguish, and recognize the characters and words in your text. Legibility is thus mainly determined by visual design, specifically typography.
How to ensure legibility in your writing?
Use a reasonably large default font size, have high contrast between characters and background, and use a clean typeface. Do these and you're good to go!
Readability
Readability measures the complexity of the words and sentence structure in a piece of content.
How to ensure Readability in your writing?
Use plain-spoken words and avoid made-up terms; use short sentences and active voice.
Comprehension
Comprehension measures whether a user can understand the intended meaning of a text and can draw the correct conclusions.
How to ensure Comprehension in your writing?
Use user-centric language — terms familiar to your audience.
Use the inverted-pyramid writing style: start with the conclusion or an overview of the main point, followed by the most important supporting information, and end by giving the background.
Use pictures or conceptual diagrams to explain things better than the realm of words.
The importance of Credibility
Users want to know who's behind the information they're reading(or skimming). They want to know whether a page can be trusted.
Credibility can be increased by
high-quality graphics
Good writing
Outbound hypertext links
Links to other websites show that the author has done their homework and is not afraid to let readers visit other sites.
Conclusion
The way users read on the Web is different from the way they read printed pages. People rarely read word-by-word on the Web.
Internet users scan a page until they find something of interest, and then they read. So we should write accordingly and make it easier for people to read, scan, and understand better.
---
--- ---
Related Articles