How To Develop an Online Marketplace Website Like Etsy?
Etsy is inspiring entrepreneurs to build their own E-commerce marketplaces due to its unique approach. Learn how to build online marketplace like Etsy.
---
Ishan Gupta
10 months ago
|
4 min read
---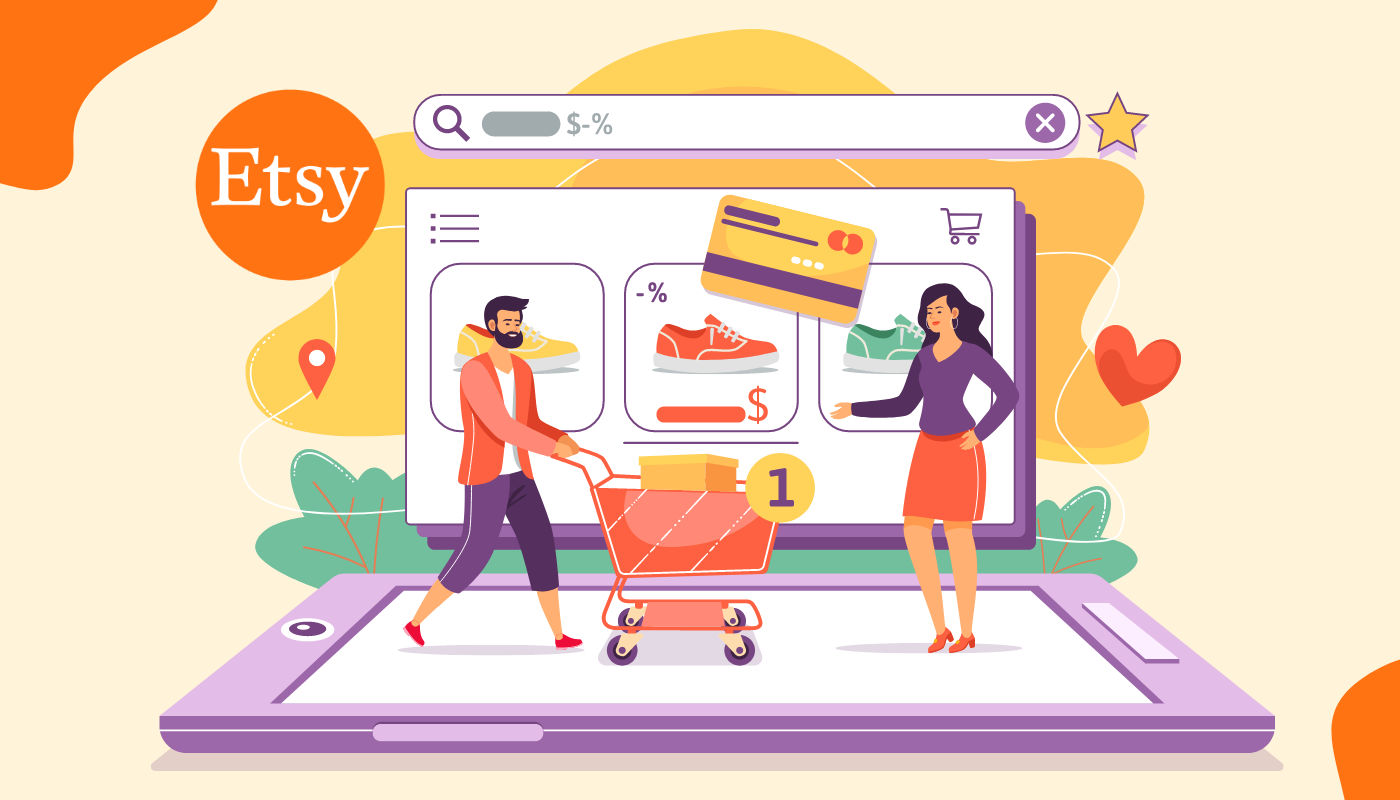 E-commerce online marketplaces are registering exponential growth. The online marketplace places are inspired by Ecommerce giants like Amazon, and Flipkart and unique idea websites like Etsy. Etsy is inspiring entrepreneurs to build their own E-commerce online marketplaces due to its unique approach to creating a global handicraft business. And inspiration brings the question, "How to build a website like Etsy?" With this article, you will gain the ultimate information about starting your own website like Etsy.
Understanding the Etsy online store and its working
Since 2005, Etsy is building its online marketplace and now the company has registered 5.2 million active sellers and a sales revenue of $2.7 Billion.
The major focus of Etsy's E-commerce marketplace development was to build a unique website bringing designer products creative gifts vintage items and promoting handmade businesses. The business partners, Chris Maguire and Haim Schoppic were not an expert in the web development domain, so it's evident that the company has availed of multivendor e-commerce platform development services and later hired web developers to keep their business sustainable.
The business model of Etsy is similar to other online marketplaces However, the focus of products is relatively different than any other online marketplace. For the payment gateways, Etsy uses PayPal, Worldpay, and other licensed payment service providers.
Etsy monetization model
Etsy's monetization model is quite similar to online marketplaces. Here is how the platform makes money.
Transaction fees:

The company charges up to 5% on every product for ensuring a secure and smooth online purchase experience.

Subscription charges:

Etsy offers advanced tools to businesses to boost their sales. The monthly subscription fee is up to $10 per month.

Pattern tool fees:

Sellers can set up their own customized online shops with the Pattern tool offered by Etsy with a monthly charge of $15.

Listing charges:

Vendors have to pay at least $0.20 to list their products and there are thousands of products listed on Esty.

Advertising:

Promotion is a key element for online marketplaces since they invest in AI-based algorithms to show customers relevant items. The company charges in the form of Cost per click on the advertisements.
E-commerce app development like Etsy
With detailed knowledge about the platform, let's analyze the development part. Here are the steps involved in eCommerce app development like Etsy.
Step #1: Defining niche and audience
Every E-commerce business starts with defining its niche or products and understanding the consumers. According to CB Insights, no market research is the main reason for startup failure. Start by clearing the goal of your website. What do you want to build? For example, a gadget website will have gadgets as its product niche. The Myntra-like website has clothing as its niche. Amazon targets everything, but it is not advisable to start as big as Amazon because it requires massive capital.
Step #2: Understand the problem and prepare a right solution
In India, handmade products are yet sold only in local markets. E-commerce platforms yet have not focused on handmade businesses in India. This is why identifying the problem and preparing the right solution becomes important for every business. Your business must solve a real problem in the market.
Step #3: Deciding your revenue model
Etsy E-commerce marketplace has multiple monetization methods. You too have to decide on a revenue model for your business from transactions, subscriptions, listings, advertisements, etc. You can opt for Etsy's revenue model as your choice of monetization strategy. However, you must consider that your app might need a different strategy so prepare a plan according to the specific needs of your business. You can opt for MVP development and ask users to feedback on your website to further determine your revenue model.
Step #4: Blueprint your feature and functionalities
Every business has its own set of features and functionalities. You have to prepare a detailed blueprint of the features and functionalities you want in your app. The Etsy marketplace has focused
unique design
Categories

catalog of products

Push notification

Payment methods

Shopping cart

Ratings and reviews
Step #4: Choosing tech stack
Choosing the right technology affects your development budget. Decide strategically about your:
Front-end or client-side requirement

Back-end or server-side stack

Third-party integrations
The front end determines the look and feel of your website. It is what users see, and a great design will determine your conversion rate. React is the most popular language used for front and end, and the same is used by the Etsy marketplace. Further, you can choose technologies like JavaScript, Vue.js, and HTML 5 for Ecommerce marketplace development.
The back end is the server-side implementation that determines the behind-the-scenes of the front end. For example, if a user clicks a button, the backend determines what will happen behind the scenes. Etsy uses Python and Java Programming languages. However, you can use Ruby on Rails for your E-commerce marketplace development.
Third-party implementation is another component in E-commerce app development. You have to use payment gateways for your mobile app. Further, use cloud services like AWS and Microsoft Azure for your cloud computing requirements.
Ending words
E-commerce app development like Etsy can be a complex process, but a great idea to start. Online marketplaces are growing, and taking a step into this business looks promising. But we suggest you approach a web or mobile app development company to build a revolutionary website
---
Ishan Gupta is a CEO and Co-founder of RipenApps, a leading web and mobile app development company specialized in android and iOS app development. Deploying feature-loaded mobile & web app solutions to SMBs globally, it transforms business all around.
--- ---
Related Articles